5 Thanksgiving-flavored foods that mash together the entire meal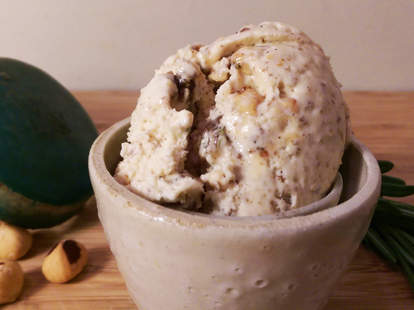 You might tell yourself you're only going to have one plate of turkey and potatoes this Thursday, but you know you're going to go back for seconds, and then thirds, and then eat a personal pie before slipping into a self-loathing nap on Grandma's lap. The Thanksgiving flavors are all just too good to pass up -- and that's why several evil geniuses have merged their magical properties into singular foods. Whether it's Thanksgiving-flavored cupcakes or gumballs, these finds have all the trimmings of a typical Turkey Day dinner, with probably a quarter of the calories. So if you're looking to "cut back" this holiday, consider munching on these snacks.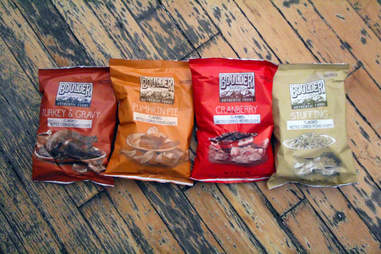 Adam Lapetina
Thanksgiving chips
You're liable to eat half a bag of potato chips during the pre-dinner Bears or Eagles game anyway, so they might as well be seasonal. Boulder Canyon Natural debuted this set of themed chips to much fanfare a few weeks back, and we can assure you they're not as gross as you think.
Thanksgiving cupcakes
At first glance, Yummy Cupcakes' roster of holiday desserts isn't all that crazy. Pumpkin Pie cupcakes sound delicious, this Marshmallow Yam pick looks amazing, and whatever a "Lime Jiggly" is, we trust it's good. But then's there's the Cranberry Turkey Gravy cupcake, which is either the most horrifying or ingenious idea of the decade. If you live near their LA location, you can go decide for yourself.
Thanksgiving donuts
The UK grocery store's "Weirdoughs" line (which also includes Smoky Bacon and Cheese & Onion) got a new family member this month in the form of Turkey & Stuffing mini donuts. The treats actually got top marks from at least one review blog, so Tesco might wanna follow up with some Christmas Ham donuts come December.
Thanksgiving gumballs
Remember when Violet Beauregarde puffed up into a blueberry after chewing Wonka's three-course gum? Well, Archie McPhee is offering you a similar experience -- minus all the bloating -- with their Thanksgiving gums. Each tin houses over 20 gumballs in assorted turkey, pumpkin pie, and cranberry flavors. Chew enough of them, and you might just hallucinate some Oompa Loompas.
Leela Cyd
Thanksgiving ice cream
Never one for boring scoops, Portland's Salt & Straw has managed to distill a whole Thanksgiving feast into ice cream for two years running. Both times they've offered safe picks like the Spiced Chevre Pumpkin Pie with the significantly bolder Salted Caramel Thanksgiving Turkey, and both times they've made Ben & Jerry's look unimaginative.
Bonus beverage: Thanksgiving sodas
For several gastronomically confusing years in the mid-aughts, Jones Soda rolled out a pack of Thanksgiving-themed drinks each fall. The flavors varied slightly, but pretty much always featured the Turkey & Gravy soda, alongside stuff like Green Bean Casserole, Wild Herb Stuffing, and even Antacid. While they don't make holiday packs anymore, you can always score the stuff off eBay.
Kristin Hunt is a Food/Drink staff writer for Thrillist, and would rather drink lighter fluid than turkey soda bottled in 2004. Follow her at @kristin_hunt.