Transform Your Thanksgiving Leftovers with These Next-Level Recipes
You can do better than a sandwich.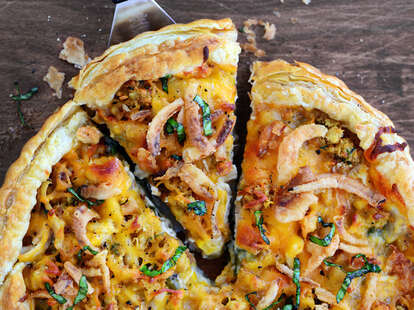 Photo courtesy of The Gunny Sack
It is a truth universally acknowledged that the most satisfying part about Thanksgiving isn't the meal itself, but rather the accumulation of glorious Thanksgiving leftovers for days to come. And while there's certainly no shame to be had in eating plain leftover mashed potatoes with a spoon out of the fridge, there's a whole world of glorious leftover recipe possibilities out there just begging to be eaten. Check out these recipes for ideas on how to transform your humble Thanksgiving leftovers into swoon-worthy meals and impressive packed lunches.
Thanksgiving pizza
Pizza is life. Pizza is love. Honor it by taking whatever you've got lying around in the fridge and wrapping it up in sexy, flaky puff pastry to make the ultimate Thanksgiving pizza. It starts with a base of mashed potatoes and gets more decadent there. Get the pizza party started over at The Gunny Sack.
Turkey grilled cheese with cranberry and Brie
A standard leftover sandwich with just turkey is a thing of beauty. But this grilled Brie and turkey is a work of art. The Brie is the beautiful temptress that keeps the sandwich exciting, mellowing out the cranberries and helping turning plain ol' turkey into a symphony of cheesy goodness that's sure to bring out the kid in you, especially if you were a French kid who frequented art galleries or something. Get the recipe over at Life Tastes Good.
Thanksgiving leftovers stromboli
Bring your leftovers back to a more delicious place by stuffing everything you've got into prepared pizza dough, roll it up, and bake to create a delicious stromboli that's as hassle-free as it gets. Think of it as a warm, buttery hug that happens when pizza dough and leftovers meet. Learn the method to this madness over at Betsy Life.
Leftover stuffing waffles
The waffle iron is an unsung hero of the kitchen, and putting pretty much anything in it is a good idea. Add stuffing to that list of "pretty much anything. Top your savory waffles with turkey, gravy, cranberries, or even just plain maple syrup. Waffles don't discriminate. The perfect stuffing waffle recipe awaits at Just a Taste.
Leftover Thanksgiving lasagna
Finally answering the unasked question of what Garfield would eat for Thanksgiving, this thing loads sweet potatoes, Brussels sprouts, turkey, and cheese into a mammoth concoction that feeds up to 12 people. The Kitchn has this kitchen-sink recipe right here.
Cheesy breakfast stuffing cakes
A simple and delicious way to transform leftover stuffing into breakfast. These cakes only take 20 minutes to make and can be topped with an infinite variety of leftovers. We're thinking turkey, bacon, spinach, and gravy for days; hell, just about anything you've got lying around will complement a nicely cooked egg atop a cheesy stuffing cake. Become a stuffing cake boss over at Well Plated.
Thanksgiving leftovers casserole
Not all casseroles are created equal. This bad boy starts out with a layer of stuffing before being topped with the works— with turkey, mashed potatoes, and veggies all making an appearance here. It's like a Russian nesting doll of Thanksgiving that will give your sweatpants a stress test. Learn how to make it at It's a Keeper.
Turkey poutine
You've already got a bunch of gravy sitting around. Might as well get some fries, some curds, and make yourself some Thanksgiving poutine, which we'd like to imagine is the dish of choice at Thanksgiving tables across Canada. Figure out how to assemble it at Rock Recipes.
Janelle Albukhari is a contributor for Thrillist. She's currently dreaming up ways to transform her stuffing. Follow her adventures on Twitter.