When it comes to barbecue, opinions are like pork butts: there's almost always a rub. There's a reason the term "mecca" gets thrown around about places like Austin and Memphis or the Carolinas, but as much love as these bastions of brisket and palaces of pork deserve, plenty of smaller scenes that might not be as worthy of a cross-country pilgrimage are still booming hubs of beautifully cooked meat.
Since we here at Thrillist love the little guys as much as we do the legends (especially if there are smokers involved), we've compiled a list of 10 cities whose burgeoning barbecue scenes are deserving of more attention. Some of these cities are overshadowed by their neighbors. Others have fostered unique cooking cultures based on geography. And some have just been flying under the radar. However you slice it, these cities have earned a place on just about any combo plate.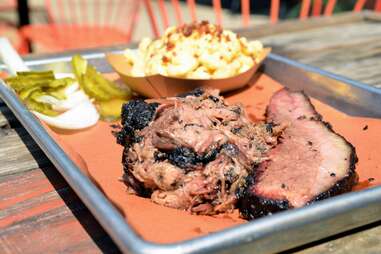 Dallas, TX
For years, the Dallas area was a mere pit stop for pilgrims headed to revered joints in Austin and Lockhart, but the rising tide of brisket appreciation has lifted all Texans. In the sprawling DFW metroplex, Pecan Lodge is king, earning a coveted place in the top four of Texas Monthly's much-respected BBQ rankings. The mesquite wood makes for a distinct demarcation from its Austin neighbors, and although the brisket's obviously the star, the Lodge pulls out a few extra stops like the Hot Mess barbacoa baked potato.
Other standouts include Lockhart Smokehouse, which tastes more like Central Texas than Dallas (the owners are descendants of Kreuz); Slow Bone, which is experimenting with brisket tamales and kale & beet salads; and freelance red-meat renegades like D.W.P. Grill MD. You can even find the occasional pork peddler, like the Memphis-style rib-slingers at Baby Back Shak. It's proof that even though Austin still has an edge, the mavericks to the north have plenty of smoky tricks up their sleeves.
Key players:Pecan Lodge, Lockhart Smokehouse, Slow Bone, Cattleack, Baby Back Shak, Smoke
Decatur, AL
Big Bob Gibson's fame hangs over the Decatur BBQ scene, and for good reason. For more than seven decades, the legendary joint's smoked turkey, St. Louis ribs, and chicken with signature white sauce -- a concoction of mayo, cider vinegar, lemon, and black pepper -- have become synonymous with Northern 'Bama BBQ.
But while Bob alone could make Decatur a BBQ destination, that white-spattered chicken is hardly the only game in town. From hardwood-smoked wings and pulled pork at Moe's, to traditional hickory-tinged chicken at Nash, and ribs with honkin' buckets of Brunswick stew at Whitt's, there's something for every Southern BBQ fan in Decatur. But the best time to visit is during Riverfest, when more than 70 pro and amateur BBQ masters descend on the city to try and snag a bit of Big Bob's legacy. The spoils of the battle are legendary.
Key players:Big Bob Gibson BBQ, Whitt's Barbecue, Nash BBQ, Moe's Original Bar B Que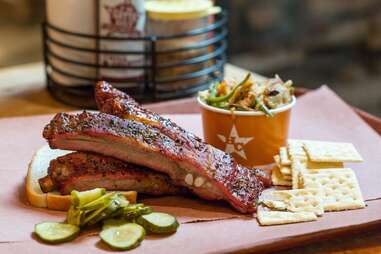 Washington, DC
When it comes to meat comas in the nation's capital, half smokes, pit beef, and chili from some guy named Ben have been the traditional culprits. Depending on how strictly you take the word "barbecue," all of these regional specialties make a case for DC earning a spot on our list, but what cemented the capital's place is a new breed of cook taking a serious approach to smoked meat.
We've praised DCity Smokehouse as the best in the state for its cherry- and oak-smoked Brisket Champ sandwich and there are at least 10 reasons to visit relative newcomer Fat Pete's, but the trailblazing Hill Country's still a solid choice for a faithful representation of Texas. And as much as we love a tasteful homage, we've gotta give it up to folks like Pitmasters Back Alley BBQ for refusing to settle for anything less than prime beef, even if we're still just as happy to trek to Baltimore for a down-and-dirty top-roast sandwich straight from the pit.
Key players:DCity Smokehouse, Fat Pete's, Hill Country Barbecue, Pitmasters Back Alley BBQ
Ocean Springs, MS
These days, most people associate the cuisine of the Mississippi Gulf Coast with catfish and casino buffets, but in backyards across the region, journeymen pitmasters are playing with some serious fire. Although Texas and Tennessee are unquestionably bigger barbecue strongholds, something about Mississippi's do-it-yourself ethos has resulted in more championship Memphis in May teams than any other region.
The Shed is the current hometown hero thanks to a 2015 Memphis in May grand championship win, and you can catch the pitmasters singing the gospel of their home state on TV and the competitive circuit -- but they're not the only game in town. Other Mississippi Gulf Coast barbecue joints united around the burning of pecan wood: Pleasant's BBQ, which has been flipping ribs within a stone's throw of its used-tire shop since 1982; Darwell's brand of BBQ-influenced home cooking earned it props on Diners, Drive-Ins and Dives; and Cheryl's Steakhouse takes a wood-fired approach to superior steaks. Plus, you can score an excellent barbecue chicken almost anywhere thanks to Mississippi's status as the No. 2 producer of chicken in the country. And that's not even to mention the catfish...
Key players:The Shed BBQ and Blues Joint, Pleasant's BBQ, Darwell's, Cheryl's Steakhouse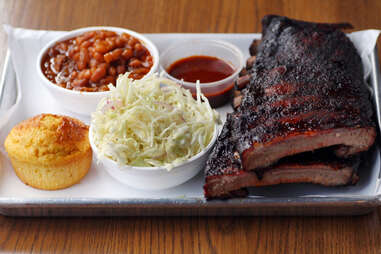 Chicago, IL
Chicago's long been a world-class food town, but the barbecue game has just recently caught up with the city's more molecularly minded star chefs. Our Chicago correspondent wrote a savory treatise breaking down the city's stylistic dividing line as such: South is pork ribs, rib tips, and hot links over a live fire, whereas the North mixes other regional styles into "BBQ for the Food Network era."
Any way you slice it, there are enough serious smokers in the city to give us a case of the meat sweats just thinking about it. Smoque has been gaining praise for nearly a decade and rightly so, Lillie's Q is cooking tri-tip like few places outside of California, and nearly every bucket of rib tips owes Lem's a debt of gratitude (it's been doing it since the '50s). Italian beef better watch its back.
Key players: Smoque, Lillie's Q, Lem's BBQ House, Honey 1 BBQ, Green Street Smoked Meats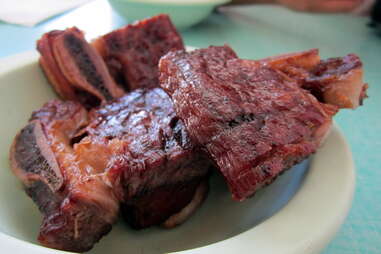 Honolulu, HI
It's easy to overlook Hawaii when talking about American food culture, because all anyone returning from the island can seem to talk about is how floored they were by the the white/black/sand-colored beaches. Also, mountains! But let's not forget the legit star of every cheesy tourist-trap luau: kalua pig.
You'll no longer find underground pits behind legacy restaurants like Helena's (est. 1946!), but the pork is still steamy enough and the short ribs smoky enough to earn praise from James Beard. Aside from the obvious kalua, Asian-influenced takes on barbecue are what really set Hawaii apart and make it deserving of more 'cue tourism. There's an eye-bulging amount of bulgogi to be consumed (we suggest trying Gina's), and the Land of the Rising Sun is celebrated at the Side Street Inn by way of Japanese fried chicken and hoisin baby backs. You'll even find teriyaki-spiked sauces on the more traditional meats at joints like Bob's Bar-B-Que. And once you're ready to get away from, um, getting away from it all, a short drive out of the city will land you at solid Southern smokers like Molly's Smokehouse and Uncle Bobo's. What color were the beaches again?
Key players: Helena's Hawaiian Food, Gina's B-B-Q, Side Street Inn, Bob's Bar-B-Que, Molly's Smokehouse, Uncle Bobo's, Young's Fishmarket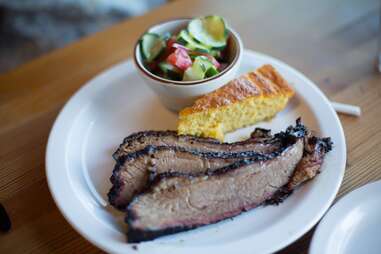 Portland, OR
One of the few criticisms levied against Stumptown's food scene is that, due to the influx of culinary transplants, the city's got no style to call its own, an argument that sounds ridiculous in all cuisines except for BBQ. But in the past year, Portland's BBQ scene has gotten creative thanks to newcomers like Matt's BBQ -- manned by a dude who trained in Australia and highlighted by a white-oak brisket -- and the People's Pig, a former food cart that specializes in tender smoked pork shoulder and a smoky fried chicken that tastes like bacon and the Colonel had a love child.
Other spots are manned by pitmasters who bring their hometown skills to the rainy Pacific Northwest, including incredible Central Texas mastery at Podnah's Pit and Road Runner, everything from St. Louis ribs to white-sauced chicken at Russell St. BBQ, Hawaiian pig at Ate-oh-Ate, and spectacular ribs at soul food emporium Dub's St. Johns. For a town that, about five years ago, used "Snoop Dogg's uncle makes ribs here," as its only BBQ cred, it's come a long way.
Key players:Podnah's Pit, People's Pig, Smokehouse Tavern, Road Runner BBQ, Dub's St. Johns
Nashville, TN
Much to the chagrin of its neighbors to the northeast, Memphis ranked fourth on our best BBQ cities list. Traditional Tennessee wisdom has always given Memphis the edge (the outlying dissenting voice is Travel + Leisure), but much like Dallas, Nashville's coming into its own, and not just for its hog-headedness. Much of that is thanks to the 25-year competitive-circuit veteran behind Peg Leg Porker -- who, with just two years of restaurant experience under his belt, was invited to cook at the James Beard House -- and relative newcomer Martin's perfection of the whole hog (and invention of Redneck Tacos).
But as much love as Peg Leg gets lately, it's standing on the shoulders of some truly giant swine. Jack's Bar-B-Que's pork has godfathered the scene since '76, but there are plenty of restaurants staking out their own territory, with regional imports like Hog Heaven's white sauce, Edley's quick-to-sell-out brisket, and Jim 'N Nick's Carolina-style chopped pork. Give Nashville another 10 years and it might just win over the achy-breaky hearts of Memphis die-hards.
Key players: Peg Leg Porker, Jack's Bar-B-Que, Martin's Bar-B-Que Joint, Hog Heaven, Edley's Bar-B-Que, Jim 'N Nick's Bar-B-Q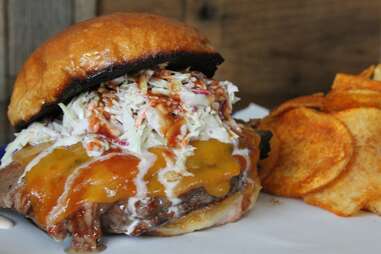 Detroit, MI
Detroit's BBQ scene -- and yes, we're including the metro area -- has existed for decades as a way of life so low-key, outsiders would be forgiven for thinking there isn't one. But while those same outsiders associate smoke rising from Detroit neighborhoods as another sign of the city's plight, those in the know will recognize the scent of hickory and sizzling fat emanating from corners across the city, where unofficial pitmasters smoke their wares. It's magnificent, and a huge community builder.
For those who prefer their BBQ made in an actual restaurant, though, the city has tons to offer. The most famous is, of course, Corktown's famous Slows, which helped revitalize the corner of Michigan and 14th 10 years ago and hasn't looked back, shelling out quality meat-stacked sandwiches to the masses. Bert's in the Eastern Market isn't just a great place for ribs, it's a place where you can learn about the history of the city from folks who have always been there. Lazybones brings Detroit-style rib tips and KC-style burnt ends, while Bad Brad's hits brisket sandwiches with smoky au jus and Lockhart's offers up a tour of BBQ styles -- chopped pork, smoked sausage, ham, smoked provolone -- all under the same bun. There's something for everybody in Detroit's BBQ scene. You just need to know which doors to open, or which corners to round.
Key players: Slows Bar BQ, Bad Brad's BBQ, Detroit BBQ Co., Lockhart's BBQ,Bert's Marketplace, and any random smoker selling ribs streetside
Oakland, CA
Since SF's affordability rating is tanking faster than Volkswagen stock, Oakland's the next Bay Area frontier and that's just fine by anyone who enjoys low-and-slow-smoked meats. Although the last decade has seen a handful of legendary spots close, there's still plenty of old guard left, most notably Everett & Jones Barbeque. It set the bar for quality in the early '70s and remains one of the city's best.
In the fresh-meat department, one of the biggest standouts is BBQ Hut, a 2014 newcomer whose baby backs earned a "Best in the Bay" endorsement. Going experimental is the move at Phat Matt's, which rocks specials like bacon-wrapped smoked tenderloin nuggets (as well as reps Cali with a serious tri-tip). Brown Sugar Kitchen keeps things soulful, even after the shuttering of its more smoke-centric outpost, B-Side BBQ.
Oakland's spots alone are enough to justify its underrated status, but when you branch out farther in the East Bay to Berkeley, the case is even stronger thanks to the much-loved Texan behind Smokey J's and Perdition Smokehouse, whose spectacular Black Angus brisket and Compart Duroc hogs would seem right at home in the Lone Star State.
Key players:Brown Sugar Kitchen, Perdition Smokehouse, BBQ Hut, Phat Matt's, Smokey J's
Sign up here for our daily Thrillist email, and get your fix of the best in food/drink/fun.
Dan Gentile is a former staff writer at Thrillist. He lives in Austin, TX, which is very appropriately rated as the best BBQ city in the country. Follow him to not-at-all-humble brags @Dannosphere.