There is no better region to eat in than the South. Am I biased? Yes. Do I care? No. And you won't either once you see what these hyper-talented, uber-creative chefs are doing all over the South, from reinventing Southern cuisine in Charleston to recreating the entire dining experience in Atlanta and re-establishing Oxford as the best college town in the world for eating and drinking and wearing bow ties. And while our list runs all over the South, as per usual it does not include Texas, as Texas is a country unto itself. Anyway, here are our picks for the best restaurants in the South. Bring your stationary embossed with your monogram so you can write a proper thank you note once you finish your new favorite meal.
Walland, TN
I went to school on an isolated plateau in Tennessee; my parents live in a city that has no stoplights; I used to live in a city with a population around 417 (give or take). What I'm trying to say is that small towns don't exactly surprise me. And yet, Blackberry Farm and its restaurant The Barn, situated in teensy not-really-existent Walland, are a constant revelation. The Barn, which is a 8,000sqft, uh, barn, relocated to the bed and breakfast is helmed by a James Beard Best Chef Southeast winner who plates insane multi-course meals of the signature Appalachian "Foothills Cuisine," with dishes like wild Burgundy snails with a deep ham hock broth and potato puree. And, in 2014, the restaurant brought in the prize for Outstanding Wine Program, which means to get the best wine service in America you don't go to NYC or Chicago or San Francisco… you, surprisingly, go to a tiny town somewhere relatively near Knoxville, TN.
New Orleans, LA
Leah Chase, rightfully, bears the title "Queen of Creole Cuisine" and worshipping in her cathedral means you'll get uncomfortably full at a luncheon buffet of red beans & rice and perfect, crispy fried chicken -- so much fried chicken -- or ordering off the menu for a bowl of her famous crab, sausage, shrimp, and chicken-laden gumbo. However, the real get at Dooky Chase's -- and that says a lot since the lines have wrapped outside at lunch since the '40s -- is a bowl of the Maundy Thursday Gumbo Z'Herbes, a nine-green gumbo only available one day of the year. Whatever day you go, just bring your running shoes (remember: uncomfortably full) and don't plan to eat dinner.
Atlanta, GA
Once we get around to writing it, expect ESS to also find a place on our "best restaurants with lawn games." From James Beard winner Hugh Acheson (Five & Ten, The National, The Florence) with exec chef Josh Hopkins, Empire is the type of place that you could actually go to multiple times in a day -- in the morning for a Georgia iced coffee (using beans from Counter Culture or Four Barrel), for lunch to get a fried chicken po'boy dressed with pimento and to play some bocce, and then back for dinner to crush some Catfish Bouillabaisse and a sourdough fritter. That consistency made them an easy inclusion (well, that and the pimento with bacon marmalade).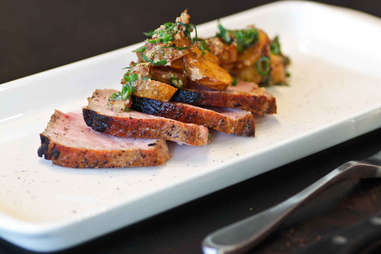 Atlanta, GA
The experience is one thing. Food comes on rolling carts and trays to your table, as if you were getting dim sum or at one of those Brazilian steakhouses. But this is no dim sum menu. The menu changes weekly -- as we write this there is talk of a Middle Eastern style pizza and sweetbreads with truffles & soubise and some sort of delectable sounding beef short rib. Chef Kevin Gillespie's eclectic tastes seem to have nothing in common, except that they all strive for meaty deliciousness. Whether he can or would even want to sustain this type of crazy, ever-changing experience for a long time is yet to be seen, but it's very clear something special is happening on Garrett Street in ATL, and you should get involved as quickly as possible.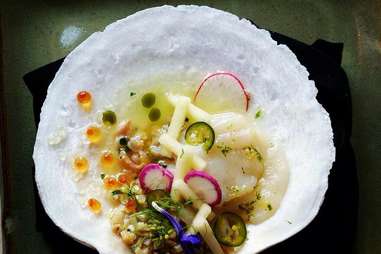 Birmingham, AL
Before the Civil War, if you were a member of the Hot & Hot Fish Club you were 1) a wealthy South Carolina man, 2) in a private dinner club that met every Friday in June through the end of October, and 3) bougie as hell. For the last 20 years, though, chef Chris Hastings, whose relative was a member of the club, has operated the Birmingham, AL version, a much less exclusive dining experience, but one that still focuses on and celebrates the local Southern harvests. Hastings, who won a James Beard Best Chef of the South award in 2012, was doing that whole farm-to-table thing since he and his wife opened the spot, so the plates depend entirely on which fish is swimming through the Gulf and what's sprouting in the Alabama fields, but, if it's in season, get the namesake Hot and Hot Tomato Salad, a well-balanced mix of heirloom tomatoes, fried okra, and bacon plopped atop corn and field peas stewed with -- what else? -- a ham hock.
Charleston, SC
We love Sean Brock. We love his theory on burgers. We love that he was one of the originals in what has now become a crowded field of people re-thinking and re-creating typical Southern food. And though his Nashville version of Husk has been deservedly lauded as the new bastion of his particular brand of creative genius, we had to pick the original for this list. If you need us, we'll be in Charleston, digging into Buffalo pig's ear lettuce wraps with BBQ cabbage slaw and spiced peanuts; Carolina gold rice and Sea Island red peas Hop-n-John with Blue Ridge Bison short rib; and that damn beautiful cheeseburger. Please hold our calls.
New Orleans, LA
After building a temple to meat (Go to Cochon, get the rabbit & dumplings. Walk next door to Cochon Butcher, buy at least 7 bottles of sweet potato habanero hot sauce. Trust me.), Donald Link turned his attention to the Gulf. His NOLA ode to native seafood has placed tip-to-tail fish in menus across the country -- but when his redfish with salsa verde is the daily whole fish, there's nowhere that does it better -- and the restaurant's raw bar is one of America's best. Also, get the crab and artichoke fritter. Again, trust me.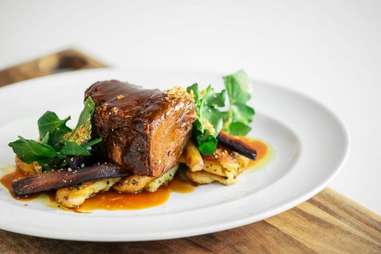 Louisville, KY
Before we even get to the food, you'll know that this is, indeed, in Louisville when you head to the bar and find out they stock over 75 Kentucky bourbons. Proof is often cited as, um, proof of Louisville's continued climb in the rankings of food cities in this country, and it has been carrying that torch since 2006. Now the food is in the hands of the immensely talented Levon Wallace, and it continues to shine. If you're smart you'll get their famous Roasted Bones (best part? They recommend pairing it with a PBR), as well as the smoked Kentucky Catfish dip, before doing the damn thing with a hog chop. Still hungry? Then maybe it's time to get back to those bourbons...
Asheville, NC
Chef John Fleer seems to have the magic touch. He can almost take home credit for that last bite of trendy Benton's bacon you had in Los Angeles or New Orleans or Brooklyn. Fleer was the apostle whose evangelizing brought the Tennessee smokers' porky goods out of the Appalachian foothills and onto practically every single menu that uses bacon. And speaking of those mountains, Fleer was the chef at Blackberry Farm for 15 years (he left in 2007) and lifted the region's rustic Southern cuisine of to be today's go-to trendy food throughout the country. Rhubarb, opened in 2013, is the newest addition to his legacy and the simple fried green tomato and pickled South Carolina shrimp app is quick evidence that he's still got it. And yes, Benton's pork is on the menu.
Nashville, TN
Though the idea of "modern peasant food" conjures up the image of bucket-to-table gruel, the food at Philip Krajeck's Nashville restaurant is anything but poor. His fantastic Italian/Southern/American menu is filled with nods to both the Old World and the old South, like sweet potato agnolotti and heritage pork with sauerkraut, gala apple, and spaetzle. The cocktails are equally as enchanting and come with the added bonus of having amazing names -- start with the Apertiefer Sutherland and then get pumped for the Bourbon/Cynar-based Cyarnold Schwarzenegger. Or maybe the Absinthe Father. Or the Silence of the Lambrusco. We can keep going.
Richmond, VA
The Roosevelt's website bears the simple phrase, "Stop by and say hi," which manages to convey the whole hanging-out-on-a-Southern-front-porch spirit that the Richmond resto has… despite not having a front porch on its century-old building. But it's relaxed and welcoming and a neighborhood spot and, whether it's over pimento cheese with pork rinds and a Seersucker cocktail (bourbon, sweet tea syrup) or the double cheeseburger with bacon onion jam, The Roosevelt will constantly make you want to stop in and say hi. Just don't be weird about it.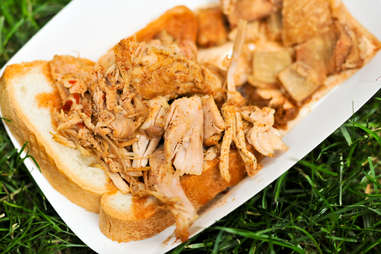 Hemingway, SC
If you've never driven to the middle of the countryside or just a teensy town whose closest large city is the #1 destination for 19-year-old Spring Breakers along the Carolina coasts, just for a lunch of smokey pulled pork, you're lazy, but also it's time to take a trip to Scott's. The Variety Store and 'cue spot has been operating since'72, and it's truly a family affair with son Rodney as the pitmaster that brought them to national fame. Order a 1/2lb of pork, slow-smoked and well-seasoned overnight, get your sauce spicy -- you finally took this pilgrimage, so make the best of it -- ask for crispy, fresh-fried pork rinds like you're a regular in the know, and, then, whatever you do, remember to get at least 2lbs of pork and a gallon of sauce to go. Because, sadly, you aren't a regular, but you'll want to eat like you are as long as possible.
Oxford, MS
Anywhere else, "Bubba Brasserie cuisine" would make no sense. Seriously, none at all. But at Snackbar, with its menagerie of bucks and mallards mounted to the walls and menu that ranges from country style pork terrine to duck confit, it works. If you were blindly visiting Oxford, you'd never know it's a sister 'straunt to City Grocery, the classic, balcony-bearing spot that earned chef John Currence his reputation. But, to be honest, I'll take this whiskey-sipping sister any day. Pro-tip: If you actually want to pretend this is your own hunting haven (we've all been there, it's fine), head on a Saturday in the fall when the rest of Oxford is watching Ole Miss play. You'll have the run of the restaurant, but sit at the bar and keep the oysters coming.
Liz Childers is the associate editor of Food & Drink, and she deals with her homesickness by buying collard greens by the tub-full from her favorite Southern restaurant in NYC. Write her digital thank you notes with your monogram @lizchilders1.