According to doctors and the backs of cereal boxes, breakfast is the most important meal of the day. And because we always agree with whatever they say on Lucky Charms boxes, we spent months eating those breakfasts at places all around the country, and then going back for more biscuits and gravy... just to make sure.
At the end of it all, these 21 spots offered up our favorite breakfasts in the nation (and no, we're not talking about places that exclusively serve that made-up weekend meal of brunch -- these places do breakfast all the time). If you disagree, or think we omitted something, or just want to tell us an unrelated anecdote because you need someone to talk to on the Internet, drop it below in the comments. But for now, just come in and sit down. Breakfast is served: 
Recommended Video
Here's Our Travel Guide to This Nation of Over 7,000 Islands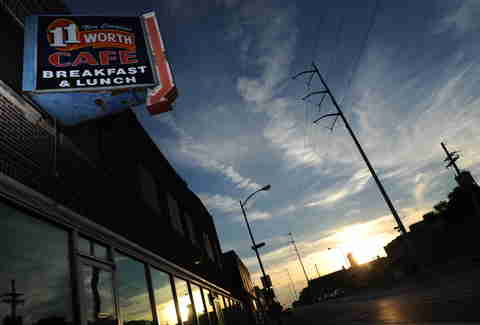 WHAT YOU'RE GETTING: Country Potato Casserole with two eggs and toast
Most VIP Clubs require you to be a high roller, or, at the very least, be highly invested in wearing tight black T-shirts and sunglasses at night, but all it takes to get into the 11-Worth Cafe VIP Club is filling out a member form when you go to eat at the legendary Omaha joint run by Tony Caniglia and his family. And when you go, you better be hungry, especially if you opt for our move, and get the #18, aka the Country Potato Casserole, aka hash browns sautéed with onion, tomato, pepper, mushroom, American & Swiss, plus chicken-fried steak, all topped with their infamous country gravy. You can get two eggs and toast on the side as well for an extra $1.50... or cheaper if you happen to know any Very Important People.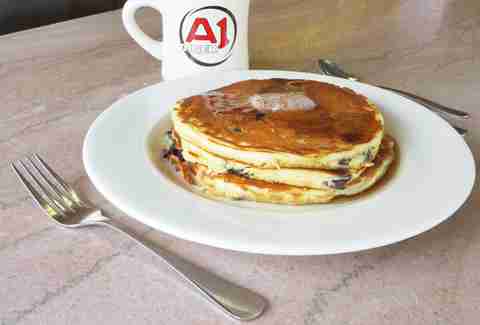 WHAT YOU'RE GETTING: Blueberry pancakes
Brief history lesson: back in the early 1900s, a man named Philip Duprey started the Worcester Lunch Car Company, which had the peculiar gig of just building "lunch cars" or diners. The company lasted 51 years, making over 600 in that time, including one that, since 1946, has sat in Gardiner, Maine. As you may've guessed from every other clue, that is now A 1, and though the scene inside does feel a bit like a time capsule, the food is very much up-to-date, and delicious (what other diners are regularly whipping up Korean vegetable pancakes with spicy green beans, huh?!?), though -- being that it is Maine -- we prefer to keep it simple with their light, crispy local blueberry pancakes. Luckily, the nostalgia comes free.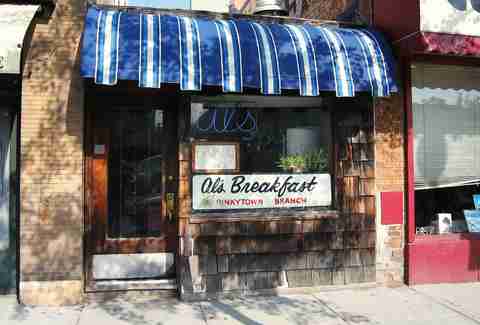 WHAT YOU'RE GETTING: Bacon waffle
The Dinkytown diner is only 10ft-wide, a planked shack that would look just as at home on a weathered beachside strip as it does propped up by two buildings in the narrow alleyway where it's been wedged since 1950. Come early -- a line before the 6am opening is completely normal -- and plan to wait with stalwart regulars for one of the 14 stools. While hash browns -- cooked on a griddle so well-seasoned that Southern cast-iron skillet-wielding grandmas would be jealous -- and blueberry pancakes are also winners, trust us on the bacon waffle. Rather than wimpy bits of crisp pork, huge chucks of salty porcine goodness are layered through this fluffy monster. Pour on syrup for a sweet-savory breakfast that's basically a side and main baked into one.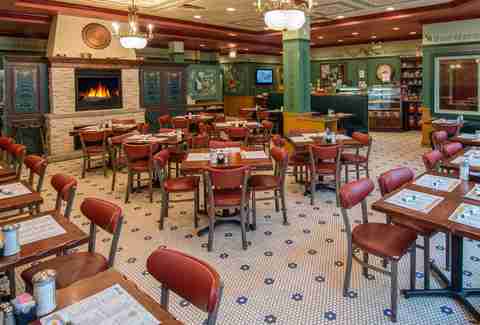 WHAT YOU'RE GETTING: Swedish breakfast sampler & free cinnamon rolls
The Chicago morning institution offers plenty of your standard breakfast fare, but you'll want to give a nod to their Swedish roots with their sampler (technically listed as a special but always available), consisting of one of their Swedish pancakes with lingonberry jam, a juicy potato sausage, a Swedish meatball (weirdly tasty at breakfast time), and an egg in whatever your preferred egg-consumption method is. Normally it'd be a fairly easy breakfast to tackle, but since you will have already mowed through their icing-laden cinnamon rolls that they lay down on the table before the main course, you're walking out of here stuffed.
WHAT YOU'RE GETTING: Chicken and Bacon Waffle
If you knew nothing of San Francisco, and just spent an entire day in the Ocean Beach neighborhood, you would come away thinking that SF is not all that different from its more beach-focused Southern counterparts. The hood (which obviously sits right across the Great Highway from the actual Ocean Beach) is more of a surfer's enclave, more laid back and less bustling than the rest of the city, and offers some (relatively) undiscovered gems, Java Beach owners' Patrick and Buffy Maguire's Beachside Coffee Bar being one of them. Though they keep the same exacting standards with the coffee that they do at Java Beach, it's the food here that shines, from the fantastic Irish Breakfast Sandwich, to our personal favorite, the fried chicken and waffle, with their bacon-in-the-batter waffle substituted in.
WHAT YOU'RE GETTING: Occidental French Toast with a side of bacon
Smack in the middle of the picturesque mountain town of Buffalo, the Busy Bee is a tiny, charming cafe housed on the end of the town's centerpiece, the historic Occidental Hotel, which also houses a saloon that hosted everyone from Buffalo Bill to Teddy Roosevelt. The modern-ish cafe specializes in huge, cowboy-tranquilizing breakfasts ranging from overstuffed breakfast burritos to baked goods and locally farmed chicken-fried steaks. But nothing is quite as insane as the Occidental French Toast, which is actually a gigantic cinnamon roll dipped in French toast batter, fried, and soaked in maple syrup. Pair it with a side of bacon and maybe book a room in the hotel. You're not getting up for a while.
WHAT YOU'RE GETTING: Corned beef hash
You cannot talk about Clary's without mentioning Clint Eastwood, which, perhaps, isn't the best start to breakfast (or maybe it is?). But the cafe, which reached national acclaim thanks to its role in John Beredt's Midnight in the Garden of Good and Evil and Eastwood's film adaptation, was famous in Savannah decades before. Its reputation in the film as a local hangout for snagging the gossip is true, albeit there's a lot more tourist traffic these days. While you may not know who the regulars are discussing, you can at least pretend to be part of the Southern town while housing the giant plate of corned beef hash, which is meal enough on its own, and that's before you get to the two eggs, grits, and a biscuit. Get your eggs fried, let the rich yolks mix with the salty, malty, oniony goodness of a forkful of hash, and layer it up on the biscuit. You may not be able to eat again all day, but maybe that's the point.
WHAT YOU'RE GETTING: Biscuits and gravy
You can find a greasy spoon diner in any neighborhood in America, but few griddles are blessed with the level of charm as Counter Cafe. Save for a few sardine-packed tables, CC is almost all counter, and the line cooks are close enough that you'll be able to smell every single piece of bacon that comes off the grill. But what sets Counter Cafe apart is food, which nails the platonic ideal of breakfast with plates like biscuits smothered in sausage-studded gravy. 
WHAT YOU'RE GETTING: King Cakes
The first time I went to the Toast, I was so intimidated by the menu, I think I ended up just getting a plain waffle, and it felt like everyone else in the restaurant was sad for me. FT is not a place for regular waffles (though they are made using a homemade mix and are delicious). It is a place to get something a little outlandish (after all, their Daily Specials the other day were all based around Full House characters), like their Sklarmageddon omelet "built to kill" with sausage, bacon, ham, red-chile pecans, jalapeño-Jack & Swiss, plus a zesty maple sour cream, or my new personal favorite, the King Cakes -- two not-very-"mini" pancakes packed with chocolate chips/bananas, slathered in peanut butter, topped with whipped cream, and surrounded by bacon. Suck it, regular waffle.
WHAT YOU'RE GETTING: Hawkeye Hog omelet with a side of Cinnamon Roll French Toast
Forget about the fact that presidents now consider it a must-stop on their way through Iowa or that we sat next to a signed picture of Roseanne and Tom Arnold from the very early '90s or that it happens to be the oldest family-owned restaurant in Iowa City. You can even forget about the fact that No.'s 1 and 3 no longer exist, or the fact that I may've gotten really excited about buying a T-shirt from here on a drive back to the airport in Chicago, and only discovered it was youth size when I was 30-miles from O'Hare. But don't forget their omelets, especially the terrifyingly unhealthy/delicious Hawkeye Hog, featuring sausage, hash browns, and American cheese, all smothered in country gravy. Or really make the state proud and make that Hawkeye Hog a Tater Topper, and then tuck griddled home fries or hash browns under it. Oh, and while your eyes are locked on Tom Arnold's sick 'do, you might as well get the Cinnamon Roll French Toast too (and maybe a large adult T-shirt for me).
WHAT YOU'RE GETTING: Bacon 'n Brie hotcakes
Located in the Rockwellian mid-Michigan town of Fenton, The Laundry has become an institution of the downtown scene, a rock-solid bakery that doubles as a supper club, a cocktail bar, and a destination for locals and out-of-towners looking for an amazing breakfast with a side of small town charm. Most small town joints, though, aren't rolling with upscale stacks like the Bacon 'n Brie hotcakes, topped with apple-cinnamon compote, or highbrow takes on lowbrow fare like a skillet of chorizo-, egg-, and cheese-topped tots. Save room for pie, some of mid-Michigan's best (which, in orchard country, is not a statement to be made lightly). Or use that room for a breakfast cocktail and take the pie with you to eat before napping on a Silver Lake beach.
WHAT YOU'RE GETTING: Waffle and bacon
When Matt and Ernie Pool first opened their breakfast spot a decade ago, it was a simple homage to the old-school diner but set inside a vamped-up 25-seater. Today, the simple formula is still working with delicious, fresh, organic meats and breads from local vendors, but the hours-long waits have forced a move a few blocks North to a 50-seater spot. The wait is still unavoidable, but you'll forget all about it when you watch that sweet, buttermilk Belgian waffle slowly soak up the maple syrup. The real star though is the bacon. It's thick-cut and mouthwateringly crisp, yet chewy with a peppery coating that balances the porky fat. People have been known to order more on the side, and NO ONE IS JUDGING YOU, OKAY?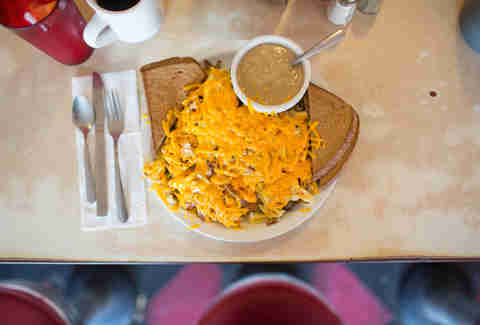 WHAT YOU'RE GETTING: Bacon Scrambler
In college, when we wanted to go to Mickie's -- obviously never on a football Saturday, when the hours-long wait cut into precious three-story beer bonging time -- we'd have to do it when my buddy Coby was around, because he had a car. We'd head over, squeeze into a booth in what could've been the malt shop in a slightly more realistic Pleasantville, and order Scramblers: imposing piles of meat, potatoes, about 47 eggs, shredded cheese that's still in the process of getting perfectly melty when it hits the table, plus about a coffee cup's worth of gravy. We'd eat, rest, and pour on more gravy, and repeat until the deed was done, then cram back into Coby's '80-something diesel Benz, stoned on protein. Walking home was simply never an option after that kind of delicious self-abuse. We lived a block and a half away.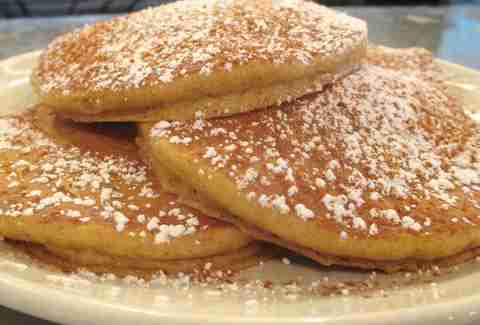 WHAT YOU'RE GETTING: Tennessee Country Ham with pancakes
This mom & pop shop's formula for success includes a lot of family tradition, regular trips East into the Great Smoky Mountains for fresh-milled TN flour, and a secret recipe base that Robert Baldwin, the current owner's father, concocted when he opened Pancake Pantry's doors in 1961. And, despite a half-century of growth, you're still going there for the pancakes. Not that you could forget that, since even the huge omelet or egg-combo orders (like the 8oz ribeye steak & eggs option) also come with buttermilk cakes. Embrace the Volunteer State's flavor and ask for the Tennessee Country Ham order -- you'll be happily facing a whopping slice of salt-cured Southern ham, three pancakes, and two eggs. We won't tell anyone if you round it out with a side order of cheese grits. You are in Nashville, after all.
WHAT YOU'RE GETTING: The Reggie Deluxe
Portland is a town obsessed with breakfast, so much so that we could have filled this whole list with Stumptown spots and barely cracked the surface. But among the high-end bakeries and cute date (or post-one-night-stand) spots that draw lines around the Rose City, Pine State stands tall, with a breakfast monolith that doesn't so much bust hangovers as go back in time and murder said hangover's ancestors. With the Reggie Deluxe, Portland's best biscuits house a gigantic hunk of fried chicken topped with bacon, smothered in sausage gravy, and crowned with an over-easy egg, the yolk of which combines with the gravy to create a dipping sauce that more than justifies getting an extra biscuit or 12 for dipping.
WHAT YOU'RE GETTING: #1 Burrito
There is a reason there is a big sign next to Pipes that proclaims "NO PIPES PARKING HERE". The place is always packed, even when I rolled in on a Wednesday at 11am two weeks ago to find the entire patio swamped by college-aged surfers, old surfers, and those people who just live in North County and kind of look like surfers by proxy. And the food they serve is perfect to satiate someone who just (INSERT VERY AUTHENTIC SURFER LINGO RIGHT HERE): our move is to get the #1 Burrito, a giant behemoth (just look at the damn picture) filled with fluffy eggs, sausage, avocado, cheese, and pica sauce (ask for extra pica on the side), or, if it's later in the day... just kidding. We get that burrito no matter what time of day it is.
WHAT YOU'RE GETTING: Fried chicken biscuit with pimento cheese & runny egg
Before opening Rise, the Durham restaurateur fulfilled one of our personal dreams: he tackled a seven-city, eight-day biscuit-and-donut research tour to sample some of America's best (he hit up some of our favs, like Gourdough's in Austin and Pine State Biscuits in Portland). And it absolutely paid off. While my Alabama grandmother, a staunch believer in family recipes and tradition, would question the authenticity of a not yet-two-year-old spot serving some of the country's best biscuits, she'd be swayed with the first bite of one of the salty, flaky treats. Specials change daily, but stick to the menu for your first time and wedge a brined and breaded fried chicken fillet between the biscuit, plus a scoop of spicy pimento cheese and a runny egg. Oh, and grab a seat on a bench outside because biscuits always taste better in Carolina sunshine. That's just science.
WHAT YOU'RE GETTING: Breakfast Nachos
The breakfast nachos are the kind of food that can drag you out of bed and have you walking zombie-style down the sidewalk before you're aware of what's happening, even if you are morning-after New Year's Eve-level hungover and know full-well you'll have to brave Kenny Shopsin & staff's well-noted ire. Currently housed in Essex Market, there're only a few tables and one of the house rules means your party cannot be more than four, so plan accordingly. (Also, there're no substitutions and everyone has to order something different. NO SOUP FOR YOU!) But it'll all be okay when you see the absurdly fluffy eggs that crown chips so thick you'll wish your favorite Mexican joint would adopt them. They're loaded with cheese, grab an extra punch from fresh jalapeños that cut the cream, and also have tangy black beans in the mix. The whole thing bakes in its skillet into a hot, bubbling, gooey mess. You'll think about getting one of the 900 other options, especially when you're waiting in line, but don't. You want these, and you'll want to brave all of Kenny's legendary "f*ck you"'s to get them.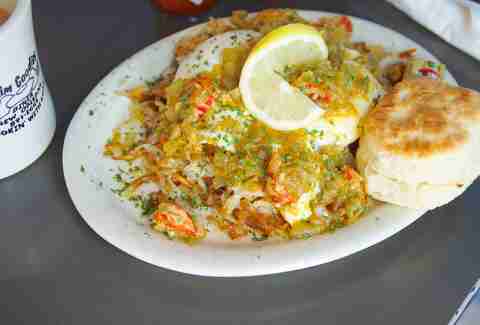 WHAT YOU'RE GETTING: Creole Slammer
This is your Slim's game plan: grab a friend who can get there early and write your name on the clipboard -- it'll be sitting on the stool out front. Get another friend that knows how to mix a spicy, strong batch of Bloodys and is ready to bring the plastic cups so y'all can sip while you wait out the long line on Magazine Street. Because, despite claiming a two-room space, there will be a line. And then you'll need to be the helpful guide who directs everyone towards the Slammer section of the menu. But claim the Creole Slammer for yourself. No matter how out-of-sorts NOLA has left you, this plateful of hash browns, over-easy and gloriously runny eggs, and subtly spicy crawfish étouffée will put you back on track.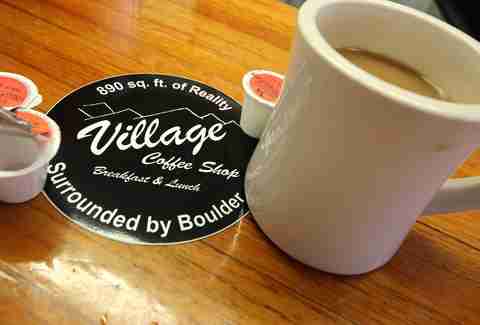 WHAT YOU'RE GETTING: Battered French toast
When they ask if it's your first time at Boulder's 43-year-old greasy spoon (or actually, considering the size of the portions, greasy silverware drawer), you have a choice: lie, and live with that for the rest of your life, or say "yes", and live with that for the next three minutes. The entire staff will start waving their arms and shouting things like "Hey everybody! Hey! We got a virgin over here!!!", and after you look at your buddy Shane and he's like "Dude, I totally had sex last week finally", you'll realize they're talking about you -- the rook, the Village Virgin. On the bright side, it's nothing compared to the shame of getting the battered French toast AND the forearm-sized egg burrito.
WHAT YOU'RE GETTING: The creamed chipped beef
Tacked onto the side of Cleveland's massive West Side Market -- a monolithic marketplace full of farm stands, butchers, and bakers -- this chill, blue-collar joint's simple aesthetic belies some seriously great, seriously cheap comfort food, the ingredients for which come from next door. The simple fried egg sandwich is taken up a notch with spicy bacon and a soft, fresh roll, while the normally caution-giving creamed chipped beef is a standout, with shaved sirloin doused in gravy and served over toast. The cafe isn't just a breakfast joint. It's Cleveland on a plate.
Kevin Alexander is a national food/drink executive editor and just made a New Year's Resolution to eat a bacon waffle every morning. Follow his inability to make resolutions on the proper dates @KAlexander03.
Liz Childers is a national food/drink editorial assistant and has been eating a bacon waffle with AT LEAST three pieces of spicy fried chicken on the side every morning since she was 3. Follow her always healthy choices at @lizchilders1.