The 7 Best Slow-Cooker Mac and Cheese Recipes
Making homemade mac and cheese doesn't get much lazier than this! With the help of a slow cooker, you technically don't even need to stir anything, much less whisk up a roux. These seven recipes are simple, but keep things interesting with tasty additions, such as crisp bacon, creamy corn, and broccoli.
You don't need to be a toddler to demand cheese with your veggies. It is your damn right as an adult. Get it here.
Key ingredients:
Broccoli
Extra-sharp cheddar cheese
Gorgonzola cheese
Milk
No blocks of cheese? No problem. Just toss in a can of creamy cheddar soup. Recipe here.
Key ingredients:
Condensed cheddar soup
Sour cream
Provolone cheese
Fontina cheese
Have you seriously been making mac with only one cheese all these years? Click here for enlightenment.
Key ingredients:
Milk
Cream cheese
Sharp cheddar cheese
Havarti cheese
Gruyere cheese
You know the rule. Bacon makes everything better. Always. Recipe here.
Key ingredients:
Bacon
Milk
American cheese
Gouda cheese
Not to be outdone by the four-cheese recipe above, this one calls for half-a-dozen cheeses. That's more cheeses than I can count on the one hand I am currently using to stuff my face with cheeses. Get the recipe.
Key ingredients:
Sharp cheddar cheese
Jack cheese
Mozzarella cheese
Parmesan cheese
Romano cheese
Fontina cheese
This casserole recipe makes enough to feed hoards of folks a main meal, but is also perfect as a side dish. Try the recipe here.
Key ingredients:
Canned corn kernels
Creamed corn
Velveeta
Butter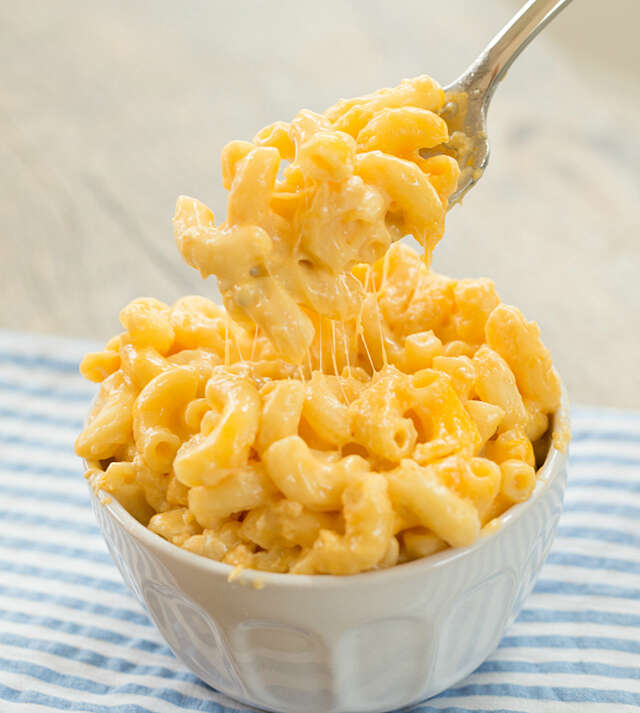 Processed cheese is contentious, but nothing else melts down quite as silky smooth. Get the recipe here.
Key ingredients:
Velveeta
Half & half
Butter

Sign up here for our daily Thrillist email, and get your fix of the best in food/drink/fun.
Perry Santanachote is Thrillist's recipes editor. There's a lot of cheese stuck in the crevices of her slow cooker, and that's OK. Follow her at @perrysant.