The most interesting sausage in the world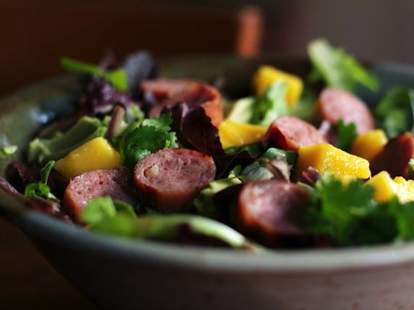 There's no doubt that sausage has been swept up in the high/low movement that's elevated comfort foods from hamburgers to mac & cheese. Do a search of American newspapers and wire services for the year 1983 (you do those searches all the time, right?), and "charcuterie" comes up 24 times; in 2013, those same periodicals felt compelled to mention finely prepared meat products 2199 times.
What was once a landscape filled with greasy spoons is now dotted with restaurants like Cochon Butcher in New Orleans, DBGB in New York, and Austin's delightfully weird Banger's. And whereas before your options were breakfast links or state fair sticks, now you can feast on chipolata with pommes mousseline and cipollini aigre-doux, or South Texas antelope and venison merguez.
That's not to say that the landscape was entirely barren of upper echelon cased meats before the current era of culinary enlightenment -- there have always been German, Polish and Czech restaurants, specialty butchers, and Chicago tailgaters. There were also gourmets infatuated with sausage and hell bent on evolving the art of the grind. Out on the West Coast, one company was born from that infatuation, and a little bit of fate.
Aidells
In many ways, Bruce Aidells was an unlikely choice to earn titles like "sausage king" and the somewhat more democratic "sausage master", both of which are popular and apt descriptions of the man who founded Bay Area-based Aidells Sausage Company in 1983. Aidells, who once told the trade magazine The National Provisioner "If I were to define a sausage master, I would say it is about making sausage the way it was made fifty or more years ago," didn't start out as an apprentice or chef. Rather, he began his professional career as an endocrinologist with a PhD from UC Santa Cruz.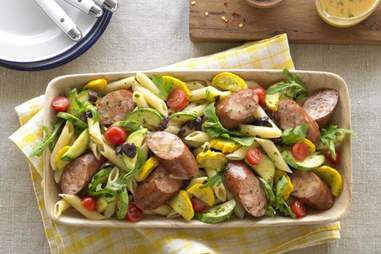 Aidells
Since college, though, Aidells had treated cooking as more than a hobby, burning first through a roommate's James Beard cookbook, then through the entire Foods of the World series, which, in the comprehensive spirit of all Time-Life collections, stretched to 27 volumes. His sausage-making started in earnest while on a National Institute of Health fellowship in London. Aidells, who's described British bangers as tasting of "sawdust, salt and grease", found himself going through "sausage deprivation." To cure his condition, he purchased an electric grinder and, in his presumably dreary flat (aren't all flats "dreary"?), stuffed his own stuff, getting hooked on the process almost immediately.
Back in the States, Aidells career came to a crossroads when the lab he was working at lost its funding. Fortuitously, right around this time the owner of Berkeley's now-legendary Poulet -- herself a graduate student -- offered him a job as opening chef despite his having no professional kitchen experience. "I put in 13 years of my life getting an education; it was hard to step back from that and do something different," says Aidells. "On the other hand, did I really want to relocate to Kansas to continue cancer research?"
Aidells
Aidells gamble on his "pipe dream" of being a chef paid off, but it'd be a few years before he launched his eponymous company in Kensington. The impetus: andouille. "Back in the early '80s, everybody wanted to do Louisiana food -- it was the era of blackened redfish," Aidells explains. "I started making it and selling it to other chefs. It was a huge market; tapping it was just a matter of knocking on doors."
By 1986 Aidells' contacts had placed his product in New York City specialty stores like Zabar's, Macy's, and Fairway -- one notable Big Apple food critic even lauded his Cajun chaurice with the most complimentary adjective a sausage could ever hope for: "lusty". A deal with famed Michigan-based deli Zingerman's further solidified his reputation as a gourmet grinderman.
Aidells
Sometime during this selective expansion the universe conspired to push Aidells towards the poultry focus the company maintains to this day. A pheasant farmer he knew had been finding it impossible to sell the legs and thighs of his birds; Aidells took them off his hands and began stuffing pheasant-apple links, a traditional style in France. At around the same time that the farmer went out of business, a breakfast spot rang up Aidells and asked if wouldn't mind supplying them with chicken-apple sausage. That classic formulation, which remains Aidells' signature product, spawned a legion of chicken-based creations like Habanero & Green Chili, Spinach & Feta, Pineapple & Bacon, and over a dozen others.
Aidells
Until the '90s, Aidells' main points of distribution continued to be those specialty stores, with additional business coming in through mail order (yes, that was a thing that existed). The dam broke when regional Costcos started carrying his goods. The stores' emphasis on sampling aligned perfectly with Aidells' preferred marketing method ("When you're a chef and you make something that's tasty, you want people to taste it"), and soon Costcos around the country picked up his product.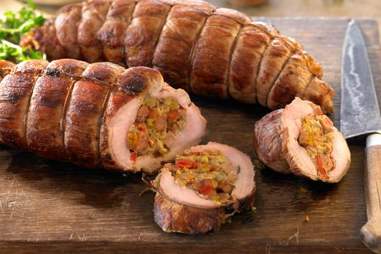 Aidells
In 2002, Aidells gracefully exited the company in order to pursue writing full-time; he's authored around a dozen books now, the latest being a 645-page tome devoted entirely to meat. (He also designed a home in Healdsburg affectionately known as "The House That Sausage Built", though he admits his wife, Nancy Oakes, celebrated chef-owner of San Francisco's Boulevard restaurant, doesn't necessarily share the love for the nickname.)
The company that still bears Aidells' name has moved in the same direction; their website offers offers page after page of recipes showcasing the likes of Sausage and Sweet Potato Shepherd's Pie, Pork Loin Stuffed with Spring Greens and Andouille Sausage, and the excellently named Taco Bar. They've also introduced innovative takes on breakfast varieties, "minis", salame, hot dogs, lunch meat, and lots and lots of meatballs, which they spike with everything from carmelized onions to spicy mango & jalapeno.
So when you're considering where your next sausage is coming from, skip the greasy pan-fried stuff and head out for something along the lines of the Tur-doggin', found in its natural environment on North Clybourn Street in Chicago, or Denver's "Doglorean", which apparently will hit your taste buds at 88mph. There's also nothing holding you back from staying in and cooking up the most interesting dinner in the world on your own grill -- especially since, unlike Bruce Aidells, you don't have to grind your own.