The bacon weave Choco Taco is quite possibly the greatest food hybrid of all time
Tacos have been done. Bacon tacos have been done. Hell, even tacos with a bacon-weave shell have been done. Similarly, chocolate has been done every which way. Chocolate-covered bacon, too, has been done. Even chocolate-covered bacon covered in goddamn gold has been done. But what hadn't ever been done in the history of the world, until now? The one thing that could combine tacos, bacon, and chocolate in a divine bastardization of the only sensible order from your local neighborhood ice cream truck: a bacon-weave Choco Taco.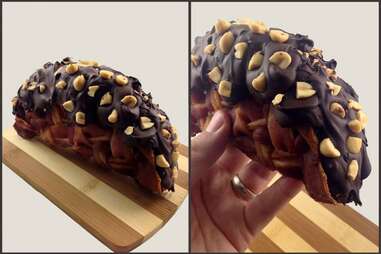 The super-geniuses over at DudeFoods.com have hand-crafted this beautiful abomination of a hybrid dessert, and it actually seems pretty doable at home. All you do is weave a bacon square, cook it, cut it into a circle, and hang that circle folded over a couple of kabob sticks to give it the taco shell shape. Then fill it with vanilla ice cream and fudge swirls, top it with melted milk chocolate and chopped peanuts, and freeze it until the chocolate topping hardens. Next up for the Dude Foods um, dudes? Chocolate-covered bacon-weave ice cream cones. Yeah, stay tuned.