The greatest joy of the holiday season is seeing close friends and family. But the worst part of the holiday season is when said friends and family open their mouths and ask you why you aren't a doctor/lawyer/philanthropist/married/finalist on America's Got Talent like cousin Jerry is. 
The solution? Make appetizers so delicious your guests have no choice but to have their mouths full and quiet from the second they walk in the door. Keeping things copacetic is what the holidays are all about, guys.
Recommended Video
This Shop Exclusively Makes PB&J Sandwiches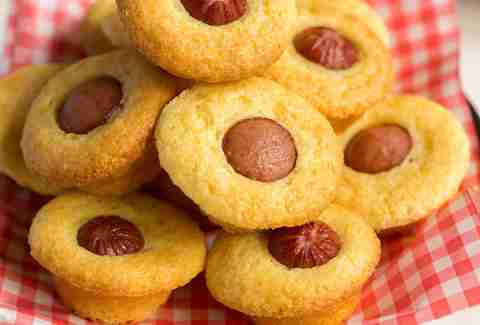 These bite-sized corn muffins are the perfect way to say "merry Christmas" to all the filthy animals in your life. They are what the French would call compétent, unlike Kevin. Get the recipe here.
Key ingredients:
Jiffy corn muffin mix
Buttermilk
Beef franks
Egg
A blast of guac and chips in every bite! Recipe here.
Key ingredients:
Cold guac
Bag of tortilla chips
Eggs
Kosher salt
The treasured Frank Costanza devised Festivus -- the festival for the rest of us -- out of scorn for the commercialization and religious implications of the holiday season. But we are sure he'd feel fine associating his holiday with these gravy bombs, which would look downright perfect served next to a stark, aluminum pole. Bring on the feats of strength. Here's the recipe.
Key ingredients:
Mashed potatoes
Gravy
Cream cheese
Parmesan cheese
Named after the sorely underrated Christmas carol classic, this is such a deliciously self-contained snack, you'll almost be able to ignore Cousin Sal's egregious double-dipping... almost. Recipe here.
Key ingredients:
Pillsbury Grands! biscuits
Parmesan cheese
Pizza sauce
Italian seasoning
There's been rumblings around the country in the past 10 years or so over the perceived removal of religion from the holiday season. These bacon cannoli with ricotta cream holes will not aid, nor detract, from this debate. But they sure are delicious! Here's the recipe.
Key ingredients:
Bacon
Chocolate chips
Ricotta cheese
Powdered sugar
If you and your holiday guests don't really dig these Buffalo chicken meatballs, I'll personally shoot my eye out. Recipe!
Key ingredients
Hot sauce
Ground chicken
Blue cheese dip
Bread crumbs
Say l'chaim to these burgers -- a perfect Jewish-leaning app when cut in half or served slider-sized. The sour cream sauce makes them decidedly un-kosher, though. Recipe here.
Key ingredients:
Yukon Gold potatoes
Eggs
Beef brisket
Yellow onions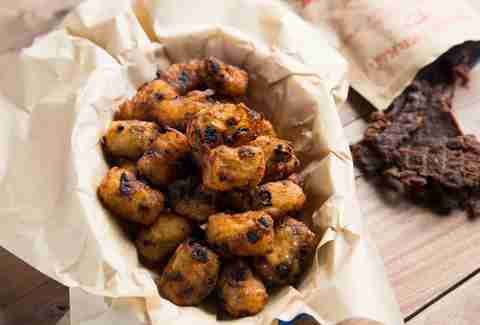 They're named after BBT because he was Bad Santa, as well as the potato-lovin' dude in Sling Blade, and also because I just feel like he would smell like jerky. Anyway, these are damn tasty, any time of year. Get that recipe. 
Key ingredients:
Russet potatoes
Hamburger jerky
Canola oil
Kosher salt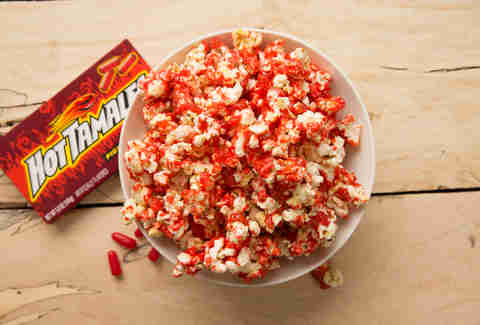 In many ways the Heat Miser was kind of a dick. That being said, I'd probably put up with him if he came packing this Tamale-tossed popcorn, even if it meant Christmas was cancelled. Recipe here.
Key ingredients:
Popcorn
Hot Tamales
Sugar
Corn syrup
I feel like Mrs. Claus' first name would be Deborah. Here's the recipe!
Key ingredients: 
Condensed tomato soup
Kraft Singles American cheese
Milk
Loaves of bread

Sign up here for our daily Thrillist email, and get your fix of the best in food/drink/fun.
Wil Fulton is a staff writer for Thrillist. Follow him: @wilfulton.