Every Appetizer at Chili's, Ranked by My Parents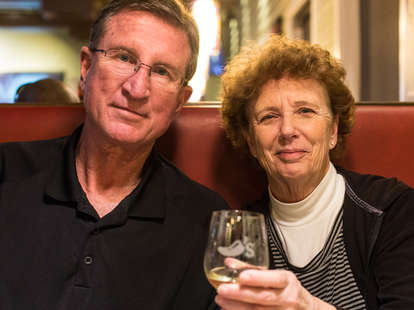 Dan Gentile/Thrillist
Dan Gentile/Thrillist
My parents always politely accept my invitations to try trendy new restaurants, but no matter how much farm-to-table broccolini I push on them, they'd much rather be digging into Chili's Triple Dipper plate. That love of Southwestern-style dining makes my mom and dad perfectly qualified to judge the chain's extensive appetizer menu.
So we visited the same branch that I frequented as a kid and ordered every app on the menu.* My parents' adorable conversations, and ultimate ranking, are recounted below.
*We excluded the nachos because we already had guac and two kinds of queso, and because my mom took serious issue with the quality of the tortilla chips, and my dad had already eaten too many boneless wings.
16. Cheddar bites
Mom: There's too much breading and not enough flavor from the cheese. You just taste the fried breading.
Dad: They'd be better off having mozzarella sticks on the menu. If you go to Applebee's, you'll get mozzarella sticks.
M: Maybe if they had a marinara sauce or something. It's kind of rubbery. And they're greasy. These are the worst.

15. Texas cheese fries
M: I would've thought that they'd be crispier.
D: Mom's a big fry person. To me, fries are fries. I'll write that down.
M: I've had much better cheese fries. These are soggy, they just piled things on.
D: Mom ruins fries with so much ketchup. She just smothers them. I like to dip, just get a little bit of flavor on there. I had fries this morning at Whataburger, can you believe that at 9:30am in the morning, the fries were cold.
M: Dad got his blood taken this morning, because I harassed him. I think he has diabetes.
D: Your mother is very mean to me.
M: Then he goes to Whataburger! You could've gone to Rudy's and gotten breakfast tacos.
D: I could've, but I already put Whataburger on my mind. So here was the choice: Whataburger or Double Whataburger. Guess which one I went with?
M: Double.
D: Double.

14. White spinach queso
M: I don't like the cilantro in it and the cheese is congealed.
D: It's not nearly as good as the skillet one.
13. Smoked wings
M: I'm not a big fan of smoky flavor. Like that barbecue place we went for dad's birthday. The meat was flavorful and tender, but I kept tasting smoke three hours after.
D: They just taste like barbecue. I like the boneless much better.
M: They taste like that fake smoke that comes out of the bottle, that's probably what it is.

12. Buffalo wings
D: It's salty, but you could put a whole thing of salt on there and I'd say it's fine. And it's more spicy than I expected, but I like spicy.
M: I don't like biting into it when I don't know if there's a bone there. I don't know where to bite.

11. Chipotle flatbread
D: I like the chipotle because it's spicy, but it's not cooked as well as the California one. I've never understood the whole difference between pizza and flatbread. I'd rather have a pizza. Would you rather have a flatbread or pizza?
M: I'd rather have pizza, but not everywhere has it on the menu. Flatbread is kind of like a compromise.
10. Onion rings
D: There's not necessarily a lot of flavor to them.
M: You still taste the onion, but it's more batter.
D: Good onion rings are from Sonic. These are just OK.

9. Margherita flatbread
D: It's like a plain cheese pizza. A frozen one! I guess that's what flatbread is supposed to taste like.
M: I like the crust, it's thin and crispy. The other two were a little overcooked. It's got basil flavor, but it really depends on the bite you get.
8. California flatbread
D: I don't know what those California people put on it. They might put tofu on there!
M: I've ordered this as a meal before, but didn't care for it tonight.
D: Really? I don't remember.

7. Fried pickles
M: The pickles are good! There's just a little crispiness, and then you get the pickle flavor.
D: I wouldn't have thought of you as a pickle person.
M: I can't believe it, but I really like them. I would just never think to order them. But I like salty things, potato chips are my downfall.
D: I think we'd been married about seven years, and you told me that pickles are just cucumbers that are pickled, and I didn't know that. Don't put that in the article.
[Ed Note: I definitely put that in the article.]
D: OK, well here's another one then. Your sister actually taught me how to open a bag of potato chips, when she was in sixth grade. She grabbed the bag of chips, held it in the middle, and pulled both ways. I would always try to rip it from the side or something.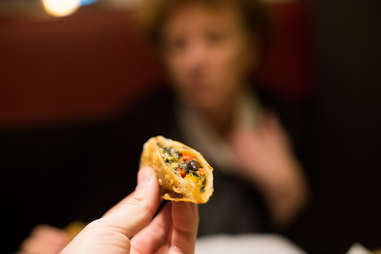 6. Southwestern eggrolls
D: These are one of my favorites. At Applebee's they call them "towers." I'd get these, the boneless wings, and the sliders, and that'll fill me up. And also a big salad.
M: I just don't like those flavors, I'm not a big Southwestern-y fan.

5. Boneless wings
D: Of all the wings, I'd go with the boneless. I like to just put it on my fork and not worry about the bone.
M: It's like a chicken nugget, but it's got spice on it. All I can taste is the spice. The bone ones had more chicken flavor to me, but these are just easier to eat.
4. Sliders
D: I love onions, and there's a lot of onions on here. This is like White Castle. I was a White Castle nut. We need Harold and Kumar to bring a White Castle to Austin.
M: Are they even still open?
D: Oh come on, of course they are.
M: The slider was just alright. I get the burger here a lot, but the bread-to-meat ratio was off. That isn't true of the burger.
D: "Where's the beef?" That became one of the most famous commercials of the time, that woman was so funny. Were you even born yet? You have to credit the woman's name who said that. I think they did one more commercial and I think one of them died.
[Ed Note: Her name was Clara Peller. She died three years after the first commercial ran.]
M: Honey, don't print "where's the beef."

3. Skillet queso
M: Your sister used to order this to-go on the way home from soccer practice in college.
D: This reminds me of the chili dip you used to make.
M: It's pretty good, but it's not as good as mine.
D: It has a really good amount of spice. I like spicy. I don't care if I can't sleep at night!
2. Chicken crispers
D: I like the chicken dippers.
M: They're called chicken crispers.
D: Oh, well, those are good. It's a nice chunk of chicken, it's like I'm biting into a breast.
M: I like them, but an appetizer for me is something light and tasty, so it's not like you're filling up before you eat your dinner. This is just sort of like fried chicken.
D: When we come back, you're going to have to remind me to order these. But I can't choose between these and the wings. I'm a man for all seasons.
(Dips the chicken crisper into the tableside guacamole)
D: And a man for all sauces.
1. Tableside guacamole
M: It's pretty good, even though it's got cilantro in it. I'm surprised that I can't really taste the cilantro, it usually tastes like soap to me. The fresh lime adds some sweetness. I'm having trouble with the chips though.
D: I love cilantro. I could eat bowls of it. I could dump it on anything.
M: I'll be taking the guacamole home!
D: I like this! It's got all this stuff mixed in.
M: And of things that you want to eat for appetizers, it's pretty healthy. But you have to say that their chips are flimsy. You've gotta call them out.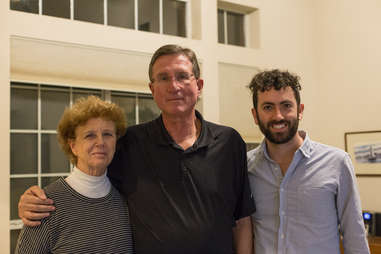 Sign up here for our daily Thrillist email, and get your fix of the best in food/drink/fun.

Dan Gentile is a staff writer at Thrillist. He loves his parents very much and he is happy to call out the poor quality of Chili's tortilla chips. Follow him to tableside guac and chicken crispers at @Dannosphere.