Mornings during the holidays are great for spending time with your family around the fire, and listening as dad slowly ratchets up the awkward tension over the money Uncle Jeff owes him. Which is why it's also a perfect time to move into the kitchen -- away from Uncle Jeff's bleak financial reality -- to make these 13 beautiful brunch recipes from Perry Santanachote, Thrillist's recipes editor.
Recommended Video
The Crunchwrap Is Now Breakfast-ified
Never choose between waffles and a BEC ever again. And yes, you can crack an egg directly into your waffle iron. Here's how.
Key ingredients:
Bacon
Waffle mix
Sausage
Eggs
Cheddar cheese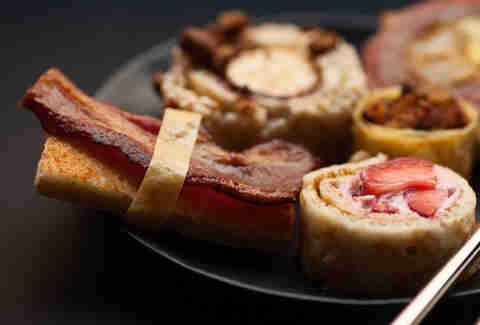 Corned beef hash roll, bacon nigiri, banana Nutella roll, and strawberry cream -- the whole team's here, and rolled up into a variety of bite-sized pieces. Recipe here. 
Key ingredients:
Corned beef hash
Bacon
Egg crepe
Nutella
Banana
Start with a nonstick pan, end with perfection. Recipe here.
Key ingredients:
Eggs, duh
Milk
Unsalted butter
This looks and tastes way more impressive than it actually is. Get the recipe!
Key ingredients:
Challah bread
Eggs
Whole milk
Sugar
Vanilla extract
No campfire required. Find the recipe here.
Key ingredients:
Wheat flour
Brown sugar
Milk chocolate
Mini marshmallows
Wheat germ
Cook over high heat for a golden crust, and stuff it with fillings of your choice. Recipe here. 
Key ingredients:
Eggs
Unsalted butter
Olive oil
Salt
Fillings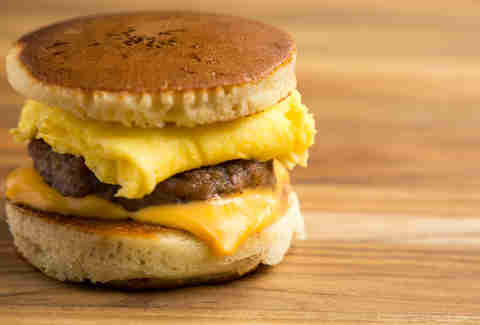 All the pancake-wrapped sandwich, none of the shame of actually having to go through the drive-thru. Get this recipe.
Key ingredients: 
Bisquick
Milk
Eggs
Pork sausage
American cheese
This is absolutely perfectly proportioned. Try it for yourself. 
Key ingredients: 
Tomato juice
Horseradish
Tabasco
Celery salt
Worcestershire
TONY BIANCOSINO/Thrillist
Impress your mom with this extra-fluffy blueberry buttermilk, streusel-topped pancake recipe. 
Key ingredients:
Old-fashioned oats
Flour
Sugar
Buttermilk
Blueberries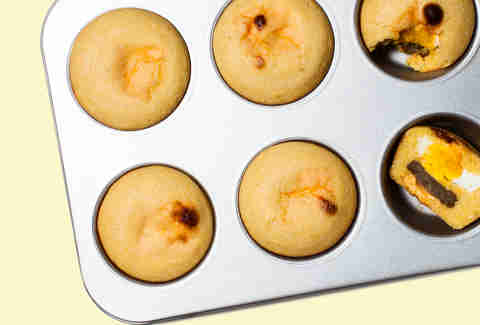 The trifecta... plus muffins! Recipe here.
Key ingredients:
Eggs
Pork sausage
Cornmeal
American cheese
Milk
This recipe renders all other French toast recipes irrelevant. Except the other French toast recipe on this list. That one's chill. Find it here. 
Key ingredients:
Nutella
Cream cheese
Challah bread
Whole milk
Eggs
Use pancakes for noodles, and layer maple-bacon sauce, sausage gravy, and scrambled eggs. Recipe here. 
Key ingredients:
Eggs
Sausage
Pancakes
Maple syrup
Bacon
The most efficient way to eat bagels. Recipe here!
Key ingredients:
Barley malt syrup
Active yeast
Cream cheese
Flour
Water
Sign up here for our daily Thrillist email, and get your fix of the best in food/drink/fun.
Dan Gentile is a staff writer at Thrillist. He always wondered why Texans are the only ones who eat breakfast tacos. Follow him to migas at @Dannosphere.