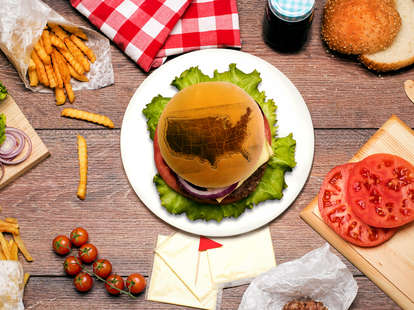 Shutterstock / Jennifer Bui
Shutterstock / Jennifer Bui
After we tried to figure out the best pizza in every state, it was inevitable that burgers would be next. After all, we spend much of our year consuming them for our 33 best/personal satisfaction. So, over the course of the last three months, we've set about researching, eating, and fighting about everything from pork belly pastrami-covered burgers in Pennsylvania, to griddled patties in Indiana, to quite possibly the best damn bar burger in Minnesota.
Note: this was not just a list compiled from other lists which were compiled from other lists until you've reached the end of the Internet. If we didn't eat it personally, one of our other National Food/Drink editors or City editors or contributing writers did. We tried to show our work whenever possible, and give credit to others in the running. But at the end of the day, we think we've got a case for a burger you're going to love in every single state in the Union. And if you disagree, let us know in the comments. We'll happily come eat more burgers.

Alabama
Chez Fonfon (address and info)
Birmingham
The burger: Hamburger Fonfon
Alabama all-star chef Frank Stitt ditches any fancy pretenses in favor of a simple, half-pound burger that's consistently our favorite to come out of Dixie. A buttery bun nestles the holy trinity of burger toppings -- red onion, lettuce, and tomato -- into oozing Comte, a cheese whose nutty sweetness is the perfect choice to stand up to and balance out a patty that hefty.

Alaska
Tommy's Burger Stop (address and info)
Anchorage
The burger: Burger Stop cheeseburger
It's small. There are maybe two tables. During the busy eating hours you will wait in line. But that line is there for a reason. The weekly specials are famous and eclectically named -- ranging from the recent Big Poppa burger (essentially, as they put it, "a deconstructed jalapeño popper"), to the likely most famous of all Battered Husband (Swiss, Cajun-battered fried jalapeños, garlic jalapeño aioli). But stunts aside, Tommy's regular cheeseburger could likely compete for best in a lot of other, bigger states as well.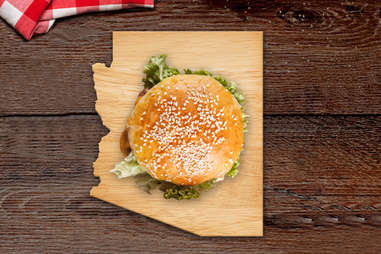 Arizona
St. Francis (address and info)
Phoenix
The burger: Chile burger
Though we're also big fans of Monkey Burger in Tucson and The Stand, our pick had to go to the uptown Phoenix eatery's chile burger. Yes, yes, New Mexico (and even Colorado) like to lay more claim to the ubiquity of green chile-topped burgers, but this one, with pickled fresno chile, sweet-and-sour onions, chipotle aioli, and Jack cheese creates a beautiful symphony of hot meat and cheese with cold crunchy veggies. Worth visiting, even from New Mexico.

Arkansas
Pig Trail Bypass Country Cafe (address and info)
Crosses
The burger: The Hooshburger
Let's start with a little geography lesson: the Ozark National Forest sits in the Northwestern corner of Arkansas, basically blocking University of Arkansas students in Fayetteville from the most direct route Southeast to Little Rock. There's a winding backroad that cuts straight through that wilderness running North to South, known as the Pig Trail Bypass. Confused? It's okay. You probably only have a relative idea of what we're talking about if you're a motorcycle enthusiast or are well versed in the downfall of former UA coach/motorcycle enthusiast Bobby Petrino's wreck.

California
4505 Burgers & BBQ (address and info)
San Francisco
The burger: The Best Damn Grass Fed Cheeseburger
How do you select the best burger in a land mass the same size as Japan or Sweden? With five major cities and countless towns waving their best in your face? This choice alone kept me up for nights. There are some serious contenders here, everyone from the beyond famous burger at LA's Father's Office, to the classic at Rocky's in SD, to the underrated Sunset Burger in Leggett, and the Squeeze Burger in Sacramento. Oh, and I haven't even mentioned the Larchmont Burger, or Trick Dog. BUT ANYWAY, after much soul searching, I went with 4505. It's been on my best burgers in the country list twice, and everything seems handmade to complement everything else, from the sesame-scallion bun, to that dry-aged beef, Gruyere, red onion, and special sauce.

Colorado
Crave (address and info)
Castle Rock
The burger: Love Stinks
Crave now boasts three locations (Castle Rock's the original), but here's what you really need to know: they recently swept the Denver Burger Battle (people's choice and judge's choice) with their Love Stinks, a garlic-bomb topped with with roasted garlic cream cheese, fried onion strings, roasted red pepper, candied bacon, and red pepper aioli. Oh, and more roasted garlic. It's one thing to conceive some crazy burgers (and they do). It's another to make them truly work (and they do).

Connecticut
K. LaMay's (address and info)
Meriden
The burger: Steamed cheeseburger
As someone from New England who went to college in Connecticut, I had to ask myself a lot of questions: how do you not choose Louis' Lunch in the state that essentially invented the cheeseburger? Or the legendary Ted's, if you're going to pick in Meriden? Or hell, the cheeseburger at Shady Glen in Manchester? Or go with your favorite burger from college, at the Wood-n-Tap in Hartford? Well, first doesn't always equal best, and in this case, Kevin LaMay (who essentially apprenticed at Ted's as a teenager) has figured out the perfect ratios with his slightly bigger steamed cheeseburgers on fresh Kaiser rolls with molten hot cheddar. It also gets the vote of Meriden native/noted cheeseburger connoisseur Devin McGoldrick, so you know it's high praise.

Delaware
Redfire Grill (address and info)
Hockessin
The burger: REDfire Burger
For two years in a row, the Delaware Burger Battle recognized the REDfire Burger as one of the top in the state, probably because the Hockessin steakhouse is serious about their ingredients -- a local butcher grinds their proprietary blend of brisket, ribeye, and ground chuck daily. That patty is grilled and topped with aged cheddar, maple-pepper bacon, and a house-made, "souped up" 1000 Island dressing with a mild kick from Thai chilies.

Florida
M.E.A.T. Eatery and Tap Room (address and info)
Islamorada
The burger: Inside-Out Juicy Lucy Burger
You might expect this burger to be, uh, inside out, but it's a regular Juicy Lucy, with spicy, gooey pimento cheese inside the patty. However, geniusly, bacon gets all cozy with the pimento and -- the real kicker here -- American cheese is added on top, along with the tomato and lettuce. It's classic burger meets classic Juicy Lucy and it's a marriage we're so happy to be a part of.
Georgia
Holeman & Finch (address and info)
Atlanta
The burger: The Burger
2014 was the year of the restaurant burger: they littered secret menus, drew diners for lunch-only specials, and forced diners to dinner before 6pm to grab one in nightly limited-runs. But H&F was the trendsetter, with its gold standard of a simple burger: double cheeseburger with American, red onions, pickles, ketchup, mustard, and a house-made bun only available after 10pm (limited to 24!) and at brunch. And, thankfully, the burger finally graduated to the real menu at the end of last year, so we can have it any damn time we please. That is, if you get a reservation (also now available!) or can handle the wait-time.

Hawaii
Kua 'Aina (address and info)
Oahu
The burger: The avocado burger
One of our picks for the 33 best burgers in the country, this one wasn't really close. Though then again, neither is Hawaii. If you see Obama there (and you definitely will, he reportedly loves it), tell him to get the avocado burger with grilled onions. Then hilariously quote the movie Blue Crush.

Idaho
Boise Fry Co. (address and info)
Boise
The burger: Original bison burger
It sounds slightly cliché to pick a place best known for its fries to represent the Land of Potatoes, but just because Boise Fry Co. is named for beef's favorite side doesn't mean the burgers are an afterthought. In fact, the fry joint makes an immaculate burger, made of fresh-ground meat that's hand-patted and grilled up right before your eyes. And while the beef is a thing of beauty, we'd recommend springing for the Original bison burger, which occupies the perfect zone between thick and thin, and comes hit with garlic aioli and red onion gastrique. Big Jud's might be the most famous Boise burger spot (and a damn fine one), but for a perfect patty without all the fuss, BFC is your BFF.

Illinois
Au Cheval (address and info)
Chicago
The burger: Single cheeseburger with an egg
This was not difficult. Au Cheval has the kind of burger than makes you question every other burger you've had previously in your life. Also, Aziz Ansari really likes it.

Indiana
Workingman's Friend (address and info)
Indianapolis
The burger: Cheeseburger
If you know how much I like smashed, griddled burgers from legendary, classic places (see the White Hut; anything I ever write about burgers), then Workingman's Friend was an easy pick for me. Apologies to the mini-chain of Scotty's Brewhouse, and Bub's in Carmel, but the Stamatkin's legendary spot (opened in 1918) does the perfectly cooked diner burger with American and a mound of griddled onions. Most people opt for the double cheeseburger, but I prefer to order two and take them down one at a time.

Iowa
Short's Burger & Shine (address and info)
Iowa City
The burger: 1006 Melrose
The Rusty Duck and Coon Bowl have won awards for their burgers. Django in Des Moines goes French with theirs, and it's damn good. Christy Creme and Hamburg Inn have nostalgia and tradition on their side. But the best burger we've had in Iowa was the 1006 Melrose at Short's Burger & Shine. The black Angus beef from local Iowa farmer Ed Smith speaks for itself, and though they've got all sorts of fancified options, we always order the simple cheeseburger and sub out the cheddar for American on our yearly pilgrimage to Iowa. Then we go to the Vine.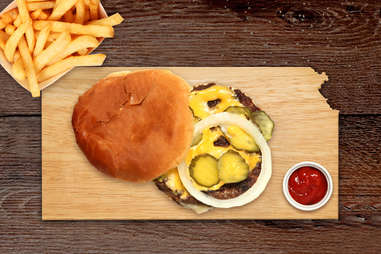 Kansas
The Cozy Inn (address and info)
Salina
The burger: Sliders
We like Harry's in Manhattan, and we love The Burger Stand at the Casbah in Lawrence, but we had to go with the legend. Once you just accept the fact that you're going to smell like griddled onions for the rest of the day, and start to own it, you can truly embrace these delicious sliders. Just don't ask for fries.

Kentucky
Dovie's Cafe (address and info)
Tompkinsville
The burger: Cheeseburger, unsquozed
The slightly faded, RC Cola-emblazoned plastic sign hanging on the facade is Dovie's first calling card that it's all old-school; the second is that its burgers are deep-fried. The biggest decision you'll face here is whether you want your burger squozed or unsquozed -- that is, whether you want the soybean frying oil pressed out before your burger hits wax paper that'll serve as your plate. Did we mention it's old-school?

Louisiana
The Company Burger (address and info)
New Orleans
The burger: The Single
I love this burger so much that, when I still lived in New Orleans, I looked at apartments based on their proximity to Company Burger, and, every time I've gone back to visit, it's the first place I ask friends to meet me. It's that good: a perfectly balanced and flavored, tender patty with American, red onions, and bread & butter pickles. How many mayos you want from the mayonnaise bar is TOTALLY up to you. But you should probably definitely get both onion rings and fries to try them all.

Maine
Harmon's Lunch (address and info)
Falmouth
The burger: Cheeseburger, loaded
In the Pine Tree State, it came down to a question of old versus new. I like the cheeseburger seared on the flat top at Nosh in Portland a whole lot. But my heart and nostalgia of summers spent traveling up through Maine with my grandparents just to eat those delicious loaded burgers at Harmon's made it the pick for the state. Though they now serve fries and shakes, they still abstain from nonsense like lettuce and tomato, and you should always get two cheeseburgers, loaded with mustard, red relish, and fried onions. Plus, how can you not love a place with a sign that reads "This is not Burger King. You don't get it your way. You take it my way, or you don't get the damn thing"?

Maryland
Hamilton Tavern (address and info)
Baltimore
The burger: The Crosstown
The Baltimore spot lives up to the tavern name: dark, cozy, neighborhood vibe, solid beers, and the exact perfect burger that we like to eat in a place that basically demands you settle in for a long night of drinking. The Crosstown's patty has local beef covered with hot horseradish-cheddar, onion, and shredded iceberg to cool things off. There's also sticky-spicy bacon as an optional add-on, and you should always, always add that on.

Massachusetts
White Hut (address and info)
West Springfield
The burger: Cheeseburger with grilled onions
First of all, I love me the burgers at JM Curley, The Gallows, Eastern Standard, Craigie on Main, and several others in my hometown. I have written about almost all of them before, and said very nice things. But the White Hut is not just my favorite burger place of all time, it might just be my FAVORITE SINGLE PLACE IN THE WORLD. Two cheeseburgers with fried onions at the counter, at the original in West Springfield. I've been eating that meal since before I had teeth. And so, I'm sorry to all the others, but it was always going to be the Hut here.

Michigan
Krazy Jim's Blimpy Burger (address and info)
Ann Arbor
The burger: Triple with lots of things
Michigan does not lack for quality burgers, but "Blimpy's," as it's commonly abbreviated, is an icon, serving stacks of hand-ground patties since 1953. Tragedy nearly struck when University of Michigan acquired its building for graduate housing, but a fundraising campaign kept it alive and well in a new location, along with its 2,147,483,648 ordering combinations. Get a triple (at least), know that onion rings are a must, and mind the ordering etiquette.
Minnesota
Parlour (address and info)
Minneapolis
The burger: Burger
Well, of course there's Matt's Bar and the Jucy Lucy. And it's hard to pass up the melty, cheesy goodness of a place famous for innovating something so delicious. And we're big fans of Victory 44's modestly monikered "Perfect Burger." But then we had the burger at Parlour bar below Borough. Three types of meat (ground sirloin, ribeye, brisket) and American cheese. Plus a perfectly crispy bun. And some pickles on the side. That's it. It will change your feelings about condiments forever.

Mississippi
Neon Pig Cafe (address and info)
Tupelo
The burger: Smash Burger
Tupelo's Neon Pig is part-butcher shop, part-seafood store, part-market, and part-cafe. Fresh fish tacos from the Gulf? Yep. Pies from local orchards? Uh-huh. But don't lose focus: you're here for the Smash Burger. The patty's made with Benton's bacon (obviously), aged filet, ribeye, strip steak, and sirloin, which is good enough that we'd just eat it with a fork and knife on its own. But its goes on a dense ciabatta bun ready to soak up melted cheddar, a mix of dripping hoisin and comeback sauces, pickled onion, pickles, and, of course, more Benton's. It's smoky and savory and rich and you should probably cleanse your palate afterwards with one of those pies.

Missouri
Westport Flea Market Bar and Grill (address and info)
Kansas City
The burger: Patty melt
The burger at Five Bistro in St. Louis was hard to beat. But Westport Flea Market, which is really less a flea market (check out the wacky cages in the front!) and more of a bar, just managed to take the top spot with their McGonigle's Market beef burger. I like the patty melt here because it takes 5.5oz of that McGonigle beef and throws it on toasted rye with Swiss and grilled onions. But if you want a challenge, the Super Flea is five 10oz burgers topped with bacon, cheese, and 2lbs of fries. Eat it in 30 minutes and you'll get a T-shirt, your picture on the wall, AND ALSO MAYBE DIE. Which is maybe why, as I said, we're fans of the patty melt.

Montana
Naps Grill (address and info)
Hamilton
The burger: Bacon cheeseburger
Picking the best burger in a state known for its beef it a pretty tough task, especially considering you can get a good burger at pretty much any roadside stand -- all while looking at your meal's cousins grazing across the street. But the Bitterroot Valley's Naps ranks up with the nation's best, offering a customizable burger that starts with a 12oz patty of locally farmed beef that would be good enough on its own, but gets even better when stacked with bacon, grilled onions, and a pile of tender mushrooms. Naps proves that even a place in a town of 4,500 people can go up against anything in a big city.

Nebraska
Dinker's Bar (address and info)
Omaha
The burger: Cheeseburger, add sautéed onions
We wanted to pick Stella's in Bellevue, mainly so I could just write "STELLLAAAAAAA" and be done. But Dinker's in Omaha is the one. Though they're famous for their Haystack Burger with American, honey-smoked ham, and a fried egg, we're partial to the normal cheeseburger with sautéed onions on their delicious grilled kaiser bun. Oh, and get the onion rings. Always get the onion rings.

Nevada
Bachi Burger (address and info)
Las Vegas
The burger: Kiki's Burger
This pick was a little outside my normal comfort zone of simplistic, classic burgers, as Bachi makes burgers inspired by "the varied Asian influences of the Hawaiian islands." And if you know what I like, you may find it strange that I'm then suggesting getting a burger with sautéed mushrooms, caramelized bacon, sweet onion marmalade, Gruyere, and garlic-chili aioli. But if you try the burgers here, you'll get it. And understand why the talk of Bachi's legend is growing louder every day.

New Hampshire
Gilley's PM Lunch (address and info)
Portsmouth
The burger: Cheeseburger
Essentially the White Hut equivalent, but in Portsmouth. Built in 1940 by the Worcester Lunch Car Co., it used to get towed out to the North Church to sell burgers and dogs to the workers late at night. And though it's now permanent, Steve Kennedy's spot makes the best diner-style burger in New Hampshire, with thin 3oz chuck patties on toasted thin buns that don't get in the way of that beefy, cheesy flavor. Get the double burger, and a normal cheeseburger on the side, as an appetizer. Ralph "Gilley" Gilbert would've wanted it that way.

New Jersey
White Manna (address and info)
Hackensack
The burger: Cheeseburgers, at least four
The Hackensack White Manna -- not Jersey City's White Mana -- is a traditional burger counter and their $1.25 griddled sliders are precisely what you'd expect: cooks use a spatula to smash sliced onions into the patties as they cook, then flip the burgers and add cheese. A potato roll and pickle finishes the process. No surprises, which is exactly what we want.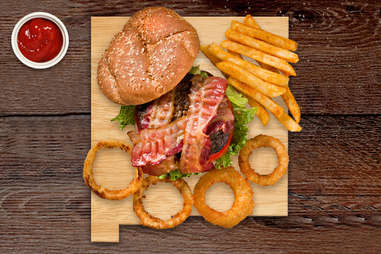 New Mexico
Santa Fe Bite (address and info)
Santa Fe
The burger: Green chile cheeseburger
With apologies to the delicious burgers at Manny's Buckhorn Tavern in San Antonio, we had to go with Santa Fe Bite's green chile cheeseburger. From the same people who used to run Bobcat Bite, the chuck and sirloin beef mix complements the smoky heat of the chiles, and makes you wish more people from other states would start putting green chiles on EVERYTHING.

New York
Brindle Room (address and info)
New York
The burger: The Steakhouse Burger
Don't confuse Brindle Room's burger with the massively thick, often flavorless patties that usually have that steakhouse label. This one is relatively thin and has deckle -- that tasty edge of fat on the ribeye -- ground into the patty. And while the patty cooks in the cast-iron skillet, that fat melts, infusing the whole damn thing with buttery rich flavor. Add American, then add caramelized onions, and then ask for extra napkins because, well, did you read how that fat infuses the patty?

North Carolina
Johnson's Drive In (address and info)
Siler City
The burger: Velveeta burger, all the way
You may be familiar with Kevin's and my love affair with American cheese-covered burgers. You may have even yelled at us about it. Yes, we know it's, uh, a cheese product. But the way it melts onto a burger is unbeatable... except by Velveeta, that weird orange block that you probably only use for cheese dip since its big appeal is that it stays velvety smooth when melted, unlike regular cheese.
But thankfully, Calvin Johnson is more of a visionary than all of us queso fans. A trip to Mr. Johnson's Siler City spot requires planning -- and not just because its not the kind of city you just happen to be visiting -- but because the diner is only open for four hours a day, five days a week, and lines for his Velveeta-topped patties start long before the 10am open time. Once you taste the way the cheese fuses through the patty into a gooey mess that mingles with the chili and slaw and mustard (because you have to order it "all the way" after you've made this trip), we promise you'll be completely swayed to our cheese preferences.

North Dakota
Sickies Garage (address and info)
Fargo
The burger: Sickies Burger
Indecisive people must hate this place, but burger lovers have 50 burgers to choose from (and 50 beers to pair them with) at this motorcycle-themed bar that recently opened a second location. While there are plenty of over-the-top options like the Twin Cam -- a burger stuffed between two grilled cheeses and topped with bacon, the namesake Sickies Burger takes the crown with a glorious combo of pulled pork, BBQ sauce, bacon, and a fried egg atop a patty with a 75/25 blend.

Ohio
Terry's Turf Club (address and info)
Cincinnati
The burger: The Burger
Terry's is such an institution at this point that it's hardly surprising it made this list (and many others). The old-school joint's lit with enough neon that it can be seen from space, and the huge lines point to a place that has become legend. But kitsch is worthless if the burger doesn't hold up. Luckily, TTC's massive, juicy burgers live up to their reputation. They're great with the normal fixin's, but can be customized to the point of ridiculousness with the addition of everything from crab cakes to fancy cheese (Stilton represent!) and 13 sauces. The burgundy wine with wild mushrooms and truffles is the most popular for a damn good reason.
Oklahoma
Tucker's Onion Burgers (address and info)
Oklahoma City
The burger: Double onion burger with cheese
If you're talking about burgers in Oklahoma, you have to talk of their famous onion burgers. And though the legendary places like Sid's Diner and both Johnnie's and Robert's Grill reside in El Reno, we think the best onion burger in the state comes from Tucker's. If you like the spice, you can throw in grilled jalapeños. Otherwise just eating the mix of cooked onions mashed into the beef alongside that melty cheese will make you an onion burger convert. You will inevitably blog about it.

Oregon
Helvetia Tavern (address and info)
Hillsboro
The burger: Jumbo Burger
As one of the nation's best food cities, Portland has its fair share of great burgers (shout out to Gruner, Slow Bar, Foster Burger, and Little Bird!). But amid all the flourishes, fancy cheeses, and one-upmanship, a perfect, basic, no-frills, next-level burger is hard to find. Located about a half-hour West of the city in the Willamette Valley near Aloha, Helvetia Tavern is like an oasis for folks who crave a big, old-school burger. The Jumbo plops two fresh-ground patties between toasted sesame buns, which are loaded with special sauce and held together by a plastic knife jammed into the middle. No weird stinky cheese. No truffles. No nonsense. Maybe bacon. It's a burger in its purest form, and it's goddamn perfect.

Pennsylvania
Meat and Potatoes (address and info)
Pittsburgh
The burger: Pub burger
The burger at Supper made our 33 two years ago, and, last year, we had the VW burger from Village Whiskey. So Philadelphia made a hard push to be the source of the top spot. And we also love the mix on the burger at Bar Marco during brunch (plus we just kind of love Bar Marco). And the one at Burgatory Bar. And Backyard Ale House in Scranton. So this was damn challenging, but we ended up going with the delicious Meat and Potatoes Pub burger. Normally, we stick to the standards, but the addition of pork belly pastrami, horseradish cheddar, fried egg, and that special sauce changed us. We are different now. And you will be too, if you eat it.

Rhode Island
Mission (address and info)
Newport
The burger: Cheeseburger (with American and caramelized onions)
It might be the sauce. The house-made "Mission Sauce," which is a concoction of ketchup, aioli, cornichons, capers, fines herbes, and brandy. Or maybe the addition of the caramelized onions on that house-ground thick, juicy burger. Or the combination with the melty American cheese. Or maybe all the dinosaur figurines. Either way, Mission ensured the battle for best burger in Rhode Island wasn't very close.

South Carolina
HUSK (address and info)
Charleston
The burger: Husk cheeseburger
The cheeseburger at Husk has Benton's bacon ground into its two patties, griddled onions shaved on top, and is covered with American cheese. Oh and bread & butter pickles and a special sauce, of course. Because this is Sean Brock and Sean Brock has made his chef name perfecting classics, so you don't really need to know anything else.

South Dakota
Lewie's Burgers & Brews (address and info)
Lead
The burger: Bacon cheeseburger
If you closed your eyes and thought of a South Dakota restaurant/bar, you'd see Lewie's. Located just outside the small town of Lead (pronounced like "leed," not the Zeppelin), the parking lot will be full of bikes or snowmobiles, depending on the time of year. The interior has a chandelier made of antlers and serves Mason jars of beer and has a huge patio overlooking the Black Hills forests. Most importantly, they make one of the best damned burgers in cattle country, hand-patted into oblong 1/2lb patties served slightly pink on open-faced buns starting at a scant $5.50. There aren't a lot of frills here. Just a damn fine burger. It's always a good omen when you walk into a burger joint and see it populated with ranchers, after all.

Tennessee
Dyer's Burgers (address and info)
Memphis
The burger: Dyer's Single with Cheese
Any old-school diner spot can throw a patty on the griddle and let it sizzle into thin-crisp deliciousness. Or you can be Dyer's and deep-fry your patties in grease that's over a century old. Yep, they smash the patties paper-thin, then dump them into a cast-iron skillet filled with the same beef tallow that was used back in 1912 when the spot first opened. After a few minutes, cheese is added and the patties go back into the fryer, because REMEMBER! it's important to also fry your cheese.
Texas
The Grape (address and info)
Dallas
The burger: Classic cheeseburger
The Lone Star State is deep with burgers of all stripes: your icons (Lankford Grocery in Houston, Chris Madrid's in San Antonio), your elevated fast-food types (P. Terry's in Austin), your toppings-crazed modernists (Rodeo Goat in Fort Worth). The elevated flawlessness of the much-celebrated burger at The Grape takes it though: Vermont cheddar, Nathan's half-sour pickles, house-made pepper bacon, all perched atop a perfect mound of impossibly juicy beef and nestled into a pain au lait bun. It's only available two days a week. Be there on one of those days. (Hint: they are Sunday and Monday!)

Utah
High West Distillery & Saloon (address and info)
Park City
The burger: High West Burger
High West is certainly one of the only burger spots that you can ski right up to the entrance -- oh, and there's also a distillery attached, because Park City is clearly trying to become heaven on Earth. And that's before you get to the burger, which is a bison/beef patty topped with Gruyere/blue cheese and whiskey-braised onions. And if you know what's good for you, ask your server for a whiskey pairing suggestion with that monster of a burger.

Vermont
Prohibition Pig (address and info)
Waterbury
The burger: House Burger
Vermont really came down to three contenders for the crown: Worthy Burger in South Royalton (get the fries cooked in beef tallow!), that loose, glorious mess of a burger at Wilma and Jerry Maynard's Snack Bar in Moretown, and Prohibition Pig. But Prohibition's Southern-style House Burger with pimento cheese, fried green tomato, and applewood smoked bacon -- which, at the time, was probably the underdog in the mix -- is just too damn delicious to overlook.

Virginia
Burger Bar (address and info)
Bristol
The burger: I Can't Help It
When Hank Williams sang "I Can't Help It if I'm Still in Love With You," we're almost positive he was singing to this 8oz, American-topped, griddled bacon cheeseburger. After all, the singer is thought to have died in the back seat of his pink Cadillac after stopping at the Bristol burger joint. Heartache from driving away was most likely the cause of death.

Washington
John Howie Steak (address and info)
Bellevue
The burger: Juicy Lucy
John Howie's a familiar face in the Seattle area due to his handful of restaurants and TV ads, but it's not just the high-end steak that makes this joint incredible. The Juicy Lucy -- available only during Mon-Fri lunch -- is like a Minnesotan's wet dream -- it starts with a massive patty comprised of 60% prime chuck and 40% Kurobuta bacon, which is stuffed with New York cheddar and Jack. That's crammed into a brioche bun and topped with fried onions, which make biting into the sucker right away extremely tempting. We'd advise letting it cool, but if anything's worth third-degree burns on the roof of your mouth, it's this.

Washington, DC
Good Stuff Eatery (address and info)
Washington, DC
The burger: Prez Obama Burger
It takes a lot for us to forgo a simple burger -- and Good Stuff has mastered those, too -- but Spike Mendelsohn's tribute to the commander-in-chief wins us over every time, thanks in part to the classic slightly sweet, squishy-soft plain bun that sandwiches applewood bacon, onion marmalade, Roquefort, and a horseradish mayo pouring over the patty.

West Virginia
Avenue Eats (address and info)
Wheeling
The burger: Diner burger
We like the General at Secret Sandwich Society in Fayetteville even if they don't offer our beloved American cheese, we also like the burgers at Fat Patty's in Huntington (and the name). But our selection for the Mountain State comes from Wheeling's Avenue Eats. They've got 11 grass-fed burgers to choose from, but it'll surprise no one that we like the one towards the bottom of the menu that says "diner." The sharp cheddar, pickle, and diner sauce on that kaiser roll don't hurt either.

Wisconsin
Solly's Grille (address and info)
Milwaukee
The burger: Original Solly Burger
This is Wisconsin. It feels wrong to select anyone other than the godfather of the butter burger.

Wyoming
MacPhail's Burgers (address and info)
Jackson
The burger: Classic Cheese
Great burgers are few and far between in Wyoming... literally. That's because everything is few and far between in Wyoming. But in cattle country, each town you encounter will, in fact, have a great burger. Since 1945, MacPhail's of Jackson has reigned supreme with its 1/2lb burgers made of 100% local Angus, stacked on a house-made bun. The Classic Cheese is a thing of simple beauty, topped with a slab of aged white cheddar and the standard trimmings. You also have the option of upgrading to ranch-raised buffalo, but really, they don't call it cattle country for nothing.
Kevin Alexander is Thrillist's Food & Drink executive editor and wants to live inside the White Hut, but understands the logistical issues. Follow him to griddled glory: @KAlexander03.
Liz Childers is Thrillist's Food & Drink associate editor. She wants to put a Company Burger in the Thrillist employee lounge and is currently collecting signatures for the petition. Contact her about signing: @lizchilders1.
Reporting was also contributed by: Andy Kryza, Matt Lynch, and Lee Breslouer.