From a basic pressed patty at a roadside diner on the old Route 66 to a 10-ouncer with a bone marrow-butter garnish in a sleek, chic converted warehouse, the Show-Me State offers a range of choices in the search for the perfect burger. And they're just about evenly divided: half are from Missouree, and half are from Missourah. But all are among the state's best burgers.
St. Louis
What you're getting: Dad's green chile cheeseburger
Here's the back story: Owner Steve Gontram used to run Harvest, one of the best higher-end restaurants in town. His dad, Bob, founded the original Five Star in Taos, NM. After a brief sabbatical after closing Harvest, Steve opened a place of the same name modeled after his dad's. It's only logical, then, that the best of a selection of eight-ounce burgers from a single natural provider -- Creekstone Farms -- is best when topped with Hatch chiles, pepper jack cheese and a green chile mayo.

St. Louis
What you're getting: Double cheeseburger
Come around 11am or after 2pm if you don't want to wait, and even that isn't a guarantee. About 20 stools line counters on either side of the hasn't-changed-in-forever griddle-top kitchen, where your order will be pressed on until the edges hit a perfect crispness. Old-school fries and onion rings make for the perfect sides, and that big barrel behind the grill is filled with root beer based on the original IBC recipe. It's that kind of place.
St. Louis
What you're getting: Pretty much any combination you can imagine
Dave & Tony's makes building your own burger an art form. Start with a choice of meats (steak, chicken, turkey -- ugh -- veggie); choose the doneness (down to medium-rare); pick a bun style (we like the pretzel bun); select from among 10 cheeses; order up to four standard or premium topings ranging from tortillas and hard-boiled eggs to baked beans and avocados; and then choose a sauce or dressing (Fitz's BBQ sauce is based on a local root beer). Then take a load off and wait for the burger… you've worked pretty hard making these tough choices.

St. Louis
What you're getting: Bill's Burger Meister burger
Chef Bill Cardwell almost singlehandedly changed the St. Louis dining scene almost 30 years ago by introducing what was then called New American cuisine to the area at his original Cardwell's restaurant. And he remains one of the most formidable chefs in town. So it's no surprise that he serves one of the best burgers in town at his current places, upscale Cardwell's on the Plaza and the more casual BC's Kitchen. A thick patty is topped with both blue and Cheddar cheeses, then applewood-smoked bacon, then a spiced tomato relish, and then lettuce and tomato, just to keep it grounded in reality.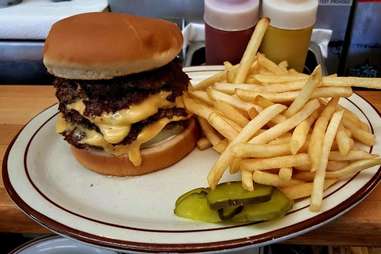 Crystal City
What you're getting: The Quadzilla
Around since 1948, Gordon's is indeed at an intersection with a stoplight, a throwback that looks like it was "modernized" sometime in the 1970s with a faux French Provincial exterior. It's another in the "smashed" style, with patties pressed onto the griddle to produce a well-seared burger with crispy edges. And since nothing succeeds like excess, pile four of them suckers on a bun interspersed with melted America cheese, then top it with lettuce, pickles and condiments, and have at it.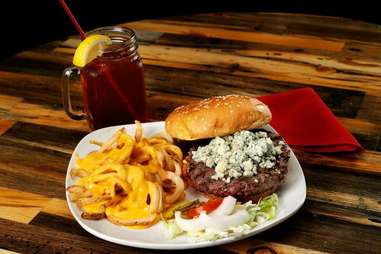 Kansas City
What you're getting: The Flea Market burger
Yes, there's actually a flea market out front. But it merely adds to the quirky charm of the restaurant, where drinks are the only thing you can order from the servers -- you have to order your own burger at the counter. You'll be rewarded, at least in the case of The Flea Market Burger, with a 10-ounce patty with lovely sear marks on it. Then wander over to the condiment bar for do-it-yourself customization. Beef is single-sourced from Kansas City's McGonigle's Market. Cash only, by the way. Just like at the flea.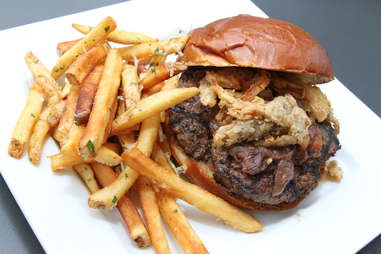 Kansas City
What you're getting: The Jacobson burger
OK, this is hardly a burger "joint." The decidedly upscale restaurant resides in an old warehouse formerly owned by the restaurant's namesake. So what do you get for the extra bucks ($14.95) necessary for this burger? Well, ten ounces of locally raised beef with bone marrow butter and short-rib marmalade (essentially a sweet-tart relish with beef in it). And some onion straws, just to keep it partially in this universe.

Kansas City
What you're getting: The Blanc burger
The bun isn't the most important element in a good burger, but the one here -- fluffy brioche-style bread with a dome heavily crusted with sesame seeds -- certainly adds to the allure of an already great burger in the classic style. As does aged white cheddar, which goes over and above the standard choices of cheese for a cheeseburger, with the pickles and ketchup also coming from the place's own kitchen. If you're up for some adventure, check out that day's kitchen experiment, "The Daily Grind" -- a testing ground for things like a burger stuffed with artichoke dip. Sometimes one of these makes the permanent menu; other times they're never seen or heard from again.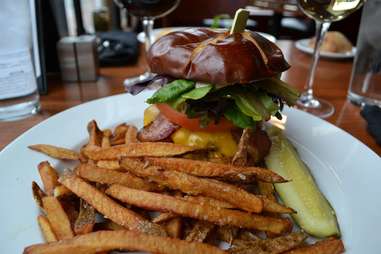 Columbia
What you're getting: The 8th Street burger
You probably wouldn't expect that a place that boasts about its "award-winning wine list" would sell a lot of burgers, but you also might not expect to find many burgers that also include braised short ribs and house-cured bacon. The greens aren't just ordinary lettuce and were probably picked within the past 24 hours, and the quality of the hand-cut French fries matches the rest of the meal.

Columbia
What you're getting: A couple (at least) of cheeseburgers
Perfect for a college town, Booches (yes, it's also a billiards place) is dive-y and cheap, with burgers that would probably be called sliders if the place didn't predate the founding of White Castle. Maybe they're a bit bigger than that, but you'd better order at least two. They're served on little squares of wax paper, with toppings as you'd like, although raw onion, mustard, and ketchup are probably best. No fries, only chips (try the red hot riplets). No credit cards, only cash (although even the most dirt-poor college kid should be able to pay for at least one burger).
Springfield
What you're getting: Bair's fried egg, bacon & cheese
Now, you might think that a place (or actually three of them of the same name) that offers 50 hamburgers probably gets to that number with only slight variations among some of them. Well, you think wrong. Not that all of them are universally appealing -- the Robairto, for example has cream cheese, sliced strawberries, bacon, and bananas in a brown sugar glaze. Others have everything from avocado and Swiss cheese to a beef brisket topping to Cheetos. Give them credit for experimentation -- and realize that the basic burgers are fantastic. With a solid cornerstone, the sky is the limit.

Springfield
What you're getting: Cowboy burger
Buffalo Bill was a man of large appetites, and the 8oz cowboy burger here -- a fairly straightforward thick patty tipped with cheddar cheese, bacon, and sautéed mushrooms, plus any of the standard veggies -- would likely satisfy most diners, cowboy or otherwise. But if your appetite leans more toward the legendary side – which, given the namesake, it probably should -- the same burger is offered in a 1lc version.
Branson
What you're getting: Danna's cheeseburger
Hey, it's Branson, always more than a little bit country, always a little bit over the top. In this case, your first glimpse of the place is a sign with a pig in a chef's hat putting its arm around a cow, signifying both sides Bar-B-Que & Burger name. And with Danna's cheeseburger, you get a little bit of both. In addition to the standard trimmings, this burger is topped with a generous dollop of pulled pork with a mild barbecue sauce. There are three locations, two in Branson and one in nearby Kirbyville. But you should definitely opt for Branson.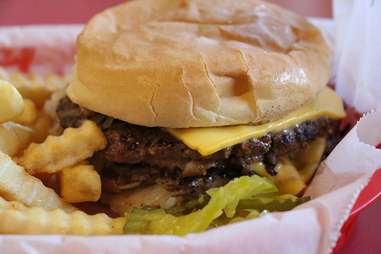 Sikeston
What you're getting: Kirby cheeseburger
From the well-worn faux-wood tabletops to the prominent display of both Coke and Pepsi logos all over the place (how do they get away with that in 2015?), Kirby's has the atmosphere of a burger joint that's been around for an eternity. And it has, if 100 years counts. It's another diner/dive that takes the smashed-on-the-griddle approach, resulting in a flat patty with grilled edges. The toppings are diner standards, although the grilled onions take it to another level. Best burger levels, in fact.
Sign up here for our daily Thrillist email, and get your fix of the best in food/drink/fun.
Joe Bonwich has spent an eternity, or at least more than 30 years, writing about food and restaurants. He was nominated for the James Beard Award for restaurant criticism in 2002, but he didn't win, so he doesn't mention it very often, at least not during months that don't contain an "r."