The 15 Best Burgers in Ohio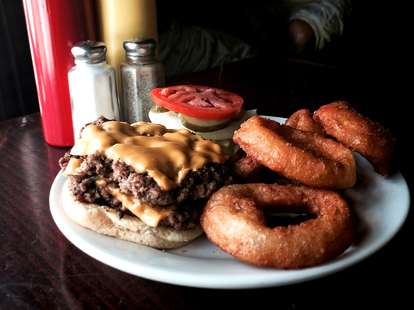 You can't spell "burger" without "Ohio."
Hmm, now that we look closely, it appears you can. But the fact remains: Ohioans worship the hamburger in its many and varied forms, from biscuit-thin sliders to two-fisted beef bombs with all the trimmings. Locals order them up by the sack on the side of the road or alongside a cold brew in a warm and weathered tavern. Most of these praiseworthy patties come from classic spots, while others hail from commendable upstarts. Regardless of where they live, these burgers all have one thing in common: they elicit pure joy.
Cincinnati
What you're getting: The Double Zip
If you think Zip's is old, you should see its butcher. This Mt. Lookout legend has been around since the 1920s, but its meat supplier, the august Avril-Bleh & Sons, has a good 30 years on it! Tradition means something in the burger biz, and these beauties start every day as fresh-ground beef blobs before getting smooshed on the griddle. We normally shy away from double burgers, but the Double Zip has just the right amount of heft, as the patties fall somewhere between diner and pub size. Along with onion, lettuce, mayo, and tomato, it's all delivered on a honey-scented roll from another Cincinnati icon, Klosterman bakery.
Cleveland
What you're getting: The Ruby Burger
The Payne Café is a "lunchtime kinda place," caution those in the know, which is to say the block gets a little dicey after dark. That's perfectly fine with the fans of this dive bar, many of whom work in the immediate area and hightail it back to the 'burbs at 5pm anyhow. Everybody here orders the Ruby Burger, which Ruby, the owner/bartender/chef, cooks in plain view behind the bar. She smooshes a blob of beef flat on the griddle until it flares out to almost comically outsized proportions. It's dusted with a secret spice blend, topped with cheese, bacon, ham, and lettuce, and served, if you can believe it, on good china.

Cleveland
What you're getting: The half-pound burger
It's pretty much a given that the best burger bars will be located on alleys, likely sporting a hanging blade sign swaying in the breeze. Johnny's Little Bar is precisely the sort of dive one ducks into during a rainstorm and stumbles out of, hours later, a little dryer, a lot fuller, and loads more content thanks to a well-made burger and a few cold beers. With all of 10 densely packed tables, Johnny's is indeed little, but the burgers are monumental -- charred and beefy, dripping with cheese, and shoehorned into a toasted kaiser roll. You may as well add bacon to the burger, onion rings to the plate, and a cold Great Lakes brew to the whole blessed affair.
Elyria
What you're getting: The Super Oh Boy
With a name like Oh Boy it has to be good, right? Well, no. But the fact that this small-town diner has outlasted literally hundreds of challengers is proof enough that something special is going on. Given that the joint is 60-odd years old, it's no surprise that the burgers resemble the classic double from Big Boy, a brand that was sweeping the landscape around that time. We fancy the Super Oh Boy, a pair of thin griddled patties on a toasted tri-split bun with a slice of cheese and a fistful of shredded lettuce. But what sets the burger apart is that Oh Boy sauce, a mayo-based "special sauce" that mingles with the ancient griddle grease to form a truly special sauce.

Akron
What you're getting: The Galley Boy
Before the Akron, OH premier of Trainwreck, LeBron James dragged Amy Schumer, Bill Hader, and Judd Apatow to his favorite restaurant, a neighborhood drive-in called Swensons that dates back to the 1930s. James might not be the best actor on the red carpet, but he's got great taste in burgers. The main draw here is the Galley Boy, a compact stack of two thin diner-style patties, melted cheese, and not one but two special sauces, served up in a soft bun and stashed in an adorable little wax-paper pouch. At Swensons, food is still rushed to you by eager teens, who affix the tray to your car window. Remember: headlights on for service!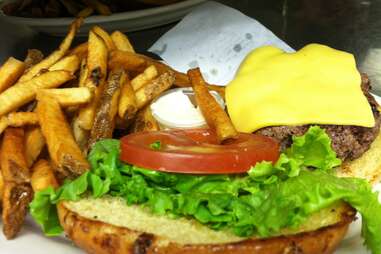 Dayton
What you're getting: Bacon mushroom onion burger
Go to Tank's, they say, and you won't regret it. If it's during the first few hours of the day, they mean for breakfast and Bloodies. If that suggestion lands between noon and 2am, they mean for burgers and beer. The beefy Tankburger is a full half-pounder, but we tend to stick to the more modest but no less memorable regular hamburger, which is no slouch at 1/3lb of fresh-ground chuck, grilled to perfection and delivered on a soft onion roll. Now top that pub wonder with bacon, mushrooms, and onion, and things get interesting -- and very likely untidy. We normally don't recommend sides -- burgers are a square meal in and of themselves -- but Tank's chili-cheese fries, here called Couch Potatoes, are a permissible exception.

Lima
What you're getting: Cheeseburger
​There aren't a ton of reasons these days to visit Lima, Ohio, a Rust Belt town that was the subject of the depressing documentary Lost in Middle America. But burgers are reason enough, especially when they're dripping with history like they are at Kewpee, a storied Midwest brand that reached 200 locations. Only a handful remain, but true "hamburg" pilgrims head straight for the Art Deco gem on N Elizabeth Street, a mirage-like relic from the late '20s. The fresh-not-frozen beef is smooshed on a griddle until it's thin, crisp, and crusty. Bigger than a slider, smaller than a modern pub burger, these are the kind of juicy, salty beef-bombs that you buy by the pair.
Wooster
What you're getting: The Traditional Cheeseburger
Steakhouses almost always have amazing burgers. For starters, the chefs have access to quality beef. Second, the kitchens boast expensive broilers capable of charring a side of beef in no time flat. And lastly, the cooks know that medium-rare means red and bloody... not pink, dry, and crumbly. That's certainly the case at City Square Steakhouse in wee Wooster. Why Wooster? It's the county seat of Wayne County, the breadbasket of the entire state when it comes to agricultural bounty. At the Square, folks on a budget skip the pricey porterhouses in favor of the thick, juicy steakhouse burgers, made from noble Ohio steer cut and ground in a nearby butcher shop.

Norwood
What you're getting: Cheeseburger
Cincinnatians routinely make the hour-and-a-half roundtrip out to Norwood-based Quatman's, a beloved dive that recently enjoyed a major upgrade. That they're making that long drive for a humble hamburger when there are plenty of delicious burgers closer to home is all the motivation one needs to hop in a car and follow suit. These are thick and juicy pub burgers sold at greasy-spoon prices. Really, they should cost twice as much. Options are few -- the meaty half-pounders come topped with lettuce, tomato, onion, and a slice of cheese. No bacon, no fancy-pants roasted red pepper sauce, no superfluous add-ons. It all fits nicely into a pillow-soft bun, which makes for almost mess-free eating.
Columbus
What you're getting: The Flatiron Burger
Around since the early '90s, the Flatiron has weathered a lot: management changes, chef changes, wholesale menu changes, and an ever-shifting culinary landscape in a town that thrives on, well, change. Throughout it all, diners could always count on warm hospitality, top-notch service, and some of the city's tastiest burgers. There's an elegant edge to a Flatiron Burger, from the gourmet patty and buttery, toasted, bakery-fresh bun to a proprietary sauce boasting a hint of, what's that... ancho? These are big, drippy, satisfying burgers, pulled from the flames at just the right moment.

Columbus
What you're getting: The Rad Shroom Burger
Don't listen to the folks who steer you toward the Thurmanator Burger, which is more of a feat of strength than a meal. That beast is a mountain of ground beef -- a pound and a half, to be exact -- not to mention another half-pound of bacon, ham, cheese, mushrooms, and... are those banana peppers? No, if you do score a seat at this legendary German Village pub, don't squander it on a dare. Instead, order something sensible like the Rad Shroom Burger, an oozing banquet of beef, mushrooms, and horseradish cheese that you'll still struggle to finish before fatigue sets in.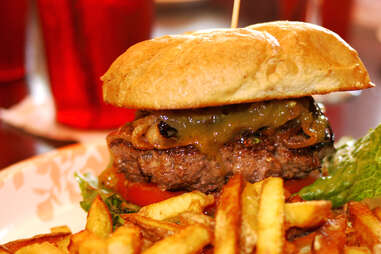 Cincinnati
What you're getting: The burger... with anything you can dream of
Terry's Turf Club is a can't-miss destination in Cincinnati -- as in, you cannot miss the spot thanks to a blinding collage of neon signs both indoors and out. Seriously, it's like an argon factory in there. Bring shades and pop a squat at this lively, lived-in roadhouse on the near-East side of town: the burgers are worth a wee migraine. The fresh beef patties are huge, as is their flavor, goosed by a house blend of seasonings that may or may not contain cocoa. But that's just the start of the fun. Diners have a choice of cheeses like triple-cream Brie or Greek halloumi, sauces like mango curry and peanut garlic, and toppings like burgundy-soaked mushrooms and truffles. Yeah, things get a little messy at Terry's, which still serves its burgers on paper plates to people willing to wait.

Dayton
What you're getting: A sack of sliders
Poor Rick Volz. For 20 years, the guy sold burgers out of a trailer with lousy heat and no latrines. He only recently upgraded to a real building with proper HVAC and bathrooms. That customers have been supporting him and Voltzy's throughout it all is saying something, and that something is this: his sliders are more addictive than chocolate-covered coffee. Made from fresh-ground chuck, smothered with grilled onions, and sold by the sack, these gems could have sparked a castle-themed chain of their own. For little more than $12 a person can walk out of Voltzy's with 10 burgers, an ice-cold draft Frostop root beer from nearby Springfield, and a healthy dose of good-natured ribbing from owner Rick Volz, who may still be poor, but at least he's comfortable.

Youngstown
What you're getting: The BLT Burger
When it comes to hamburgers, taverns don't often disappoint: it's their stock in trade. The Lake Tavern just outside of Youngstown is pretty much home away from home for countless regulars who make habitual sorties here for the incredible burgers. The kitchen grinds the beef fresh on site, which gives these mouth-watering patties incredible depth and flavor. There are 25 different burger combinations on the menu, all of which can be bumped up from a 6-ouncer to a 10-ouncer for just two bucks. Given the quality of the beef, the freshness of the toppings, and the convivial atmosphere of the tavern, you can't go wrong with any of them.

What you're getting: The Classic American
Toledo
Toledo's Burger Bar 419 has a few strikes against it: it's new, it's trendy, and then there's the name, a generic descriptor paired with the town area code. Yawn. But these guys are no mere carpetbaggers with a disingenuous affection for their city; they are local through and through. And then there are the hamburgers, which have fueled a mini-empire now three-stores strong. Sure, you can get your half-pound patty of fresh-ground, local, grass-fed beef topped with everything from horseradish cheddar spread and pickles to grilled lamb, hummus, and yogurt sauce. But with burgers this fresh, and this beefy, we prefer to go old-school, here called simply the Classic American.
Sign up here for our daily Thrillist email, and get your fix of the best in food/drink/fun.
New York Times best-selling author Douglas Trattner writes about food, drink, and travel for publications that include Food Network Magazine, Miami Herald, Tasting Table, and Wine & Spirits. He lives in Cleveland Heights with his wife, two dogs, six chickens, and 50,000 honeybees, give or take.