Presumably, you are an adult. You paid your taxes (hopefully). And although Kraft mac is delicious, it's due time you stop relying on it, and usher your mac & cheese into adulthood with real cheese.
So with that in mind, here are two masters of cheese -- Mike Ciardi, executive chef of the world-famous Murray's Cheese Bar, and Steve Jones from Portland's Cheese Bar -- to help guide us all down that melted-cheese river to eternal dairy enlightenment. Basically, they're going to tell us the best cheeses for a kick-ass homemade mac & cheese. Some cheeses are better suited to carry the whole dish -- we call them the bases -- and others are just meant as flavor enhancers, as their fat contents don't allow them to melt well.
Recommended Video
This Himalayan Salt Block is the Perfect Hack for Aspiring Cooks
The bases
You need these cheeses to set a melty, delicious precedent for your mac. These can be used alone, or as a necessary base for a combination of cheeses.

Cheddar
"Great first option, it's a classic. You can't really go wrong and you get the freedom to play around with different levels of sharpness -- and it makes an excellent base to be paired with other funkier cheeses. This is the standard." -- Ciardi

Raclette
"Great meltability factor -- it's a grown-up cheese. This cheese is easy to work with, and will really get that 'grown-up mac & cheese' feel down." -- Jones

Monterey Jack
"Also an excellent alternative to cheddar as a base -- it's a great semi-firm cheese. I would recommend adding your own peppers, instead of opting for something like a pepper Jack, though. It's not that much more difficult, and makes it way, way better." -- Ciardi

Gruyere
"This is also an interesting base, or single-cheese mac & cheese -- it has a great nutty profile, melts well, and is available to most people. It has a deep level of funk. I like that." -- Ciardi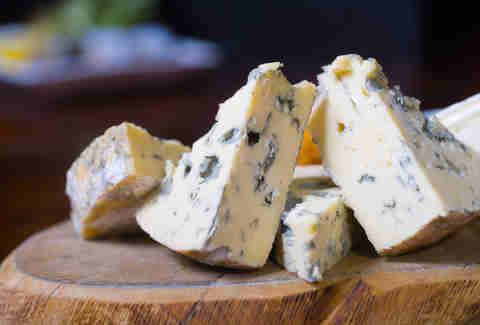 The flavor enhancers
These cheeses may not work on their lonesome, but added to one or multiple base cheeses... and mmm boy, you have yourself a one-way, non-refundable ticket to multiple cheesegasm city.

Blue cheese
"I would never put blue cheese in mac on its own -- it would be hard to handle (it just wouldn't melt right), and the taste would just be overpowering. However, when added to stronger bases, it makes a great complement. On its own, it might just confound the taste buds. But it makes a great sidekick." -- Ciardi

Provolone
"Provolone kind of has that biley, baby-puke taste to it. It might be a little unruly and overpowering on its own. When you're eating mac & cheese -- you are eating a ton of cheese. And, in my opinion, it's just too much provolone. But it can make for a great complement to a separate base." -- Jones

Feta
"It wouldn't melt that well, and probably wouldn't be palatable on its own. It would be a little too funky -- it needs a cheese to help knock it down a few notches." -- Ciardi

Parmesan
"This won't melt correctly on its own -- but, if you shave it, and add it into the sauce you already have, it can be a really nice, sharp touch." -- Ciardi
The best combinations
Like guinea pigs and tickets to see Olivia Newton-John live, cheese is better in pairs. We've covered the bases, and the cheeses that can take your recipes up one or possibly even several notches, now here are the killer combinations recommended by our cheese maestros.

Sharp cheddar, raclette, Parmesan
"Here, you have the sharpness of the cheddar, the meltability of the raclette, and the baseline note of funk from the Parmesan. It's nutty, and funky, and cheesy -- it plays around with your palate a lot. In a good way." -- Jones

Cheddar, Gruyere, goat cheese
"It's rich, nutty, and can even be a little fruity, These three cheeses balance each other out very well, they work well together, and they complement each other. With the cheddar and Gruyere, it's not too unruly either, melt-wise. This is my go-to combo." -- Ciardi

Sign up here for our daily Thrillist email, and get your fix of the best in food/drink/fun.
Wil Fulton is a staff writer for Thrillist. He prefers pairs of almost everything. Follow him: @wilfulton.