Brotherly Lovers claim that the further you get away from Philly, the worse the cheesesteak... but, then again, many of them haven't been too far away from Philly. So hope exists! And since there are, in fact, many delicious, worthwhile outsiders dotted across the land, we assembled this collection of completely legit cheesesteaks that are Phillies in name alone...
Recommended Video
This Amazing Frito Pie Is the Ultimate Texas Comfort Food
Chicago, IL
Despite the rolls actually being from Amoroso's bakery (the bun-masters that are to cheesesteaks what Vienna Beef is to Chicago dogs), purists will decry Monti's deviation from Whiz in favor of homemade sauce variations like aged cheddar, Swiss/horseradish, and jalapeno/Scotch bonnet. Pipe down, purists!
Seattle, WA
Just because you're going classic doesn't mean you've gotta sacrifice quality, so this Seattle cart-turned-restaurant brings the Whiz, but glops it on top of 14-day-aged beef, creating the kind of fairy tale romance between meat and processed cheese-product most sandwiches tell their kids about at bedtime.
 
Atlanta, GA
If there's one thing ATLiens know, it's how to spell the Outkast song "SpottieOttieDopaliscious" without pausing. But luckily, they also know tons of other things, including how to turn simple ingredients into masterpieces like this glorious assemblage of top round, American, and caramelized onions, which's only $5 on Mondays.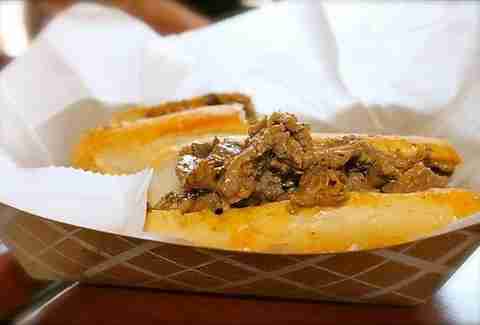 New Orleans, LA
A Philly is only as good as the roll that holds it -- otherwise, it's basically steak soup with grease broth. That's why these dudes fly their Italian rolls straight from Philly, then use traditional Whiz slathered on the bun as the last line of defense against seepage.
 
Flint, MI
Despite Boyz II Men's claim, Motown's Phillys don't hold a flame to this Flint Town mini-chain, which goes old-school with shaved ribeye and white American, plus the option to add peppers and an addictive red sauce that turns it into perhaps the greatest thing to come out of the city since Bob Eubanks.
New York, NY
Chip steak. Don't be scared: it's nothing like Dale steak. Unless Dale steak is also made by NY meat king Pat LaFrieda, and produces a sandwich so delicious, you want it to last the rest of the afternoon. Throw some of the homemade fries in there for good measure.
 
Princeton, NJ
People in Philly'll tell you that cheesesteak + bacon = blasphemy, but they're also indirectly responsible for Wild Wild West, so you should feel pretty good about the bacon cheesesteak at this Princeton joint. Or the regular cheesesteak, or the Buffalo cheesesteak, or the pizza cheesesteak... hell, maybe book a hotel, this'll take a minute.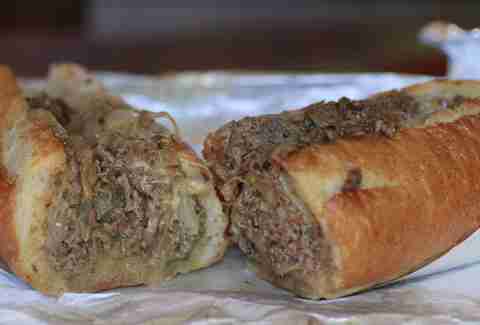 Portland, OR
Giving the typical Portland organic foodie sandwich pretension a greasy slap in the face, SUAE's Philly-born owner knows his steaks, which's why his Broadstreet Bomber's served on a custom roll packing a half pound of shaved meat, onions, peppers, Provolone, and an inability to shut up about how good it is.
 
Austin, TX
Like many a Philly expat, this truck owner's obsessed w/ both authenticity and Rocky, so these suckers range from real-deal like the Balboa (Whiz, meat, bread, onions, done), to experiments like the pizza-steak Marciano, but sadly none called the Paulie served by a robot butler.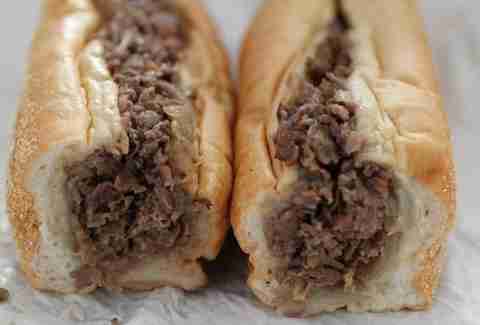 New York, NY
Taking the whole concept of the cheesesteak as street food to a literal level, this roaming restaurant claims to be NYC's first authentic Philly truck, rocking traditional sammies on Amoroso rolls all across town, which means that if you're craving one, you need to find their location on the Twitters.
 
San Francisco, CA
California cuisine is known for its small portions and dainty presentation. So thank god this dude heeded the call of the West, bringing with him Amoroso rolls and the city's most authentic cheesesteak, dripping with grease and so much Whiz, the patrons actually outnumber Khalifa's crew.