In the increasingly ridiculous realm of food nativism, no "you can't get a good (food name) outside of (city)" statement is bandied about with as much weirdly misplaced anger as "You can't get a good cheesesteak outside of Philadelphia." That's really saying something, what with the attitudes towards bagels outside New York and deep dish not-Chicago. Yeah, there are some terrible cheesesteaks out there, but there are terrible cheesesteaks in Philly, too. And as in Philly, there are some surprisingly great cheesesteaks scattered throughout the country, some of which can hold their own next to Philadelphia's finest. After all, sliced ribeye, processed cheese, and good Italian rolls aren't exclusive to Pennsylvania. 
The 12 restaurants on this list don't just make passable steaks for Philadelphians who fled the city. They make damn good steaks, period. Just don't tell anybody from Philadelphia. We don't want to get pelted with batteries because of sandwiches. 
Los Angeles, California
Walking into Boo's is like entering some weird wormhole, one that transports you from LA's ultra-hip Silver lake neighborhood to a deliciously divey little steak stand in South Philly, one where far too many people occupy the space behind the counter, cutting shipped-in Amoroso rolls to create vessels for an explosion of ribeye flavor and way, way too much Whiz (don't worry, they also do American and provolone… and that's it, because everything else is bullshit). They also do a mean pizza steak at Boo's -- which also has locations in Koreatown and Inglewood -- plus a line of massive hoagies and butterscotch cupcakes. It's basically a direct rejoinder to the concept of California cuisine, serving up dripping cheesesteaks in a land where bread, cheese, fat, and deliciousness are often shunned. 
Dallas, Texas
There are things on the "secret" menu at this Dallas spot that would send Bradley Cooper into a series of (probably extremely handsome) seizures. A surf and turf version with shrimp in the mix? Tex-Mex cheesesteaks with queso mixed into the white American, or poblano peppers subbing in for the traditional green? This place would get railroaded out of Philadelphia quicker than Santa Claus at an Eagles game. Luckily, though, it's a secret menu, so the Philadelphians among us can enjoy a perfectly great, old-school house cheesesteak and be kept in the dark while the rest of us realize that -- gasp! -- queso is very good on a pile of grilled meat and onions, and thin-sliced ribeye and nachos are a perfect pair. 
Denver, Colorado
Though a cheesesteak is often considered a quick, grab-and-go option, the mighty sandwich also manages to lull you into a sense of lethargy, and luckily Denver Ted's has established itself as a place to kick back for a minute to digest over board games or TV and a great Denver beer.  American cheese is the standard glue here, with a menu divided between classics -- plain, cheesy, hoagie-style, and pizza — and specialty steaks for folks who don't mind somebody calling a Buffalo chicken sandwich or something with jalapeños on it a cheesesteak. You know, people who aren't from Philadelphia. 
Minneapolis, Minnesota
Devil's Advocate is a fantastic, upscale beer and wine bar that, as beer-forward bars are wont to do, likes to make upscale takes on comfort food using a farm-to-fork mentality. So why the hell would we recommend getting a cheesesteak from a place that serves confit chicken sandwiches, banh mi, and handmade pasta? Well, it turns out if all you're doing to fancify a cheesesteak is upgrading to Kobe but keeping the Whiz and Amoroso roll, it's fantastic. Especially when you upgrade the beer too. 
Tucson, Arizona
Tucson already has its own perfectly great, highly ubiquitous street food courtesy of the Sonoran dog, but sometimes a bacon-wrapped hot dog topped like a burrito isn't enough to sate a craving for an East Coast comfort classic. Founded by a Philadelphia transplant who traded cold winters for living deserts, Frankie's employs a butcher to hand-slice the Angus steak thin daily, which sizzles on the grill before being stuffed in an Amoroso roll straight from Philly. This is stuff is about as legit as it gets, served wit or without, with no new spins in sight. Just great steaks, plus cutlets, hoagies, and an explosive rabe-packing roast pork that might make you reconsider the cheesesteak… or at least consider getting as second sandwich as a side. 
Portland, Oregon
For a city that seems like the polar opposite of Philly, Portland has a weird wealth of cheesesteaks, from numerous trucks to the meat piles of Steakadelphia, the massive Broad Street Bomber atf Shut Up & Eat, and the occasional probably-too-fancy-to-qualify versions at legends Stacked and Lardo. But Grant's, well, Grant's is special, largely due to the fact that they have no desire whatsoever to make some artisan version of a food that's already perfect. Instead, the two locations -- one in a hip downtown district, the other deep in the outskirts of the city -- ship bread and peppers in from Philly and make with the meat. There's no bullshit here. No list of farmers and suppliers to peruse. Just real-deal steaks done right. And messy. 
New Orleans, Louisiana
Look, New Orleans is one of the best sandwich cities in the world based on the strength of its po' boys and muffuletta, but sometimes you need a cheesesteak. Especially if you're from Philly, like the co-founder of this ode to the cheesesteak. Plus, have you ever heard a person from Philly try to pronounce muffuletta? It's gotta get embarrassing. Anyway, these cats know one universal truth: A cheesesteak is only as good as the roll that holds it -- otherwise, it's basically steak soup with grease broth. That's why Liberty flies its Italian rolls straight from Philly, then uses traditional Whiz slathered on the bun as the last line of defense against seepage. The do go off the traditional script with a Cajun steak, though don't worry. It's just spiced up. No étouffée involved. Though it'd be equally funny to hear that said in a Pennsylvania accent. 
Chicago, Illinois
Despite the rolls actually being from Amoroso's bakery (the bun-masters that are to cheesesteaks what Vienna Beef is to Chicago dogs), purists will decry Monti's deviation from Whiz in favor of homemade sauce variations like aged cheddar, Swiss/horseradish, and jalapeno/Scotch bonnet. But Monti's isn't all flash: There's still perfectly great "authentic" take without all those pesky "natural ingredients," which you can get as one big-ass sandwich or part of a three-mini sampler, provided you want to be the first recorded Philly-style cheesesteak purist in history to actually try a different variation before declaring it an abomination. Also of note, they make a fantastic roast pork sandwich, too, making it a double threat of Brotherly Love in a city addicted to the cheesesteak's foreign cousin, the Italian Beef. 
New York City
Taking the whole concept of the cheesesteak as street food to a literal level, this roaming restaurant claims to be NYC's first authentic Philly truck, rocking traditional sammies on Amoroso rolls all across town, which means that if you're craving one, you need to find their location on the Twitters. It's the kind of jawn that's become the stuff of legends, and if you don't know what that means, well, somebody in line can probably explain it to you as you wait for a hot bite of bliss in the freezing-ass cold. 
Las Vegas, Nevada
Pop's (Pride of Philly Steaks, if you're not into the whole brevity thing) is one of those rare Vegas mainstays that earned its following based solely on the strength of its delicious sandwiches, not its flourishes… though as far as flourishes are concerned, a mural of Ben Franklin holding a big-ass sandwich is a pretty good one. Purists won't find a ton to hate on here: the furthest from the script they get is a chili cheesesteak. Though if you're feeling a little crazy— and you're in Vegas, and it's probably late, so you probably are -- these things are super customizable, with bacon, ranch, BBQ, and other flourishes available, plus a grinder called a Fish Philly that likely exists only to cause Vegas-bound Philadelphians to ponder whether they went full Hunter Thompson and hallucinated the damn thing. Luckily, the fantastic old-fashioned cheesesteak is here to bring them back to Earth. 
Fayetteville, Arkansas
A while back, when we decreed TJ's the best sandwich shop in the whole of Arkansas, we gushed about the chefly touch that seemed to go into everything from a pan-seared turkey in the Gobbler to the crispy prosciutto hit with fig jam. We were so full, in fact, that we neglected to mention that this humbly great sandwich temple also makes a fantastic take on the cheesesteak. Don't let that whole "chefly" thing fool you. Like the restaurant itself, this thing is old-school, a pile of shaved steak, onions, and mushrooms basically glued together with cheese on a toasted hoagie roll. Like everything here, it's at once super simple and deeply layered.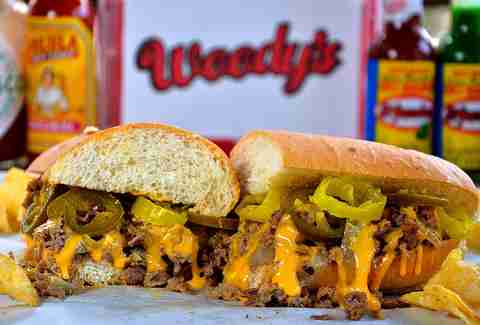 Atlanta, Georgia
Woody's isn't just a divey little shop with a nice deck outside Atlanta's Piedmont park, it's a veritable institution, one whose legacy goes back to 1975, when it first started slinging true-to-form cheesesteaks loaded with all the requisite fixins, gluing them together with provolone or that storied neon-orange sauce, and serving them as god intended: with ice-cold beer. It's one of the best sandwiches in all of Atlanta, served 7 days a week. Not that you should eat them every day. But also maybe you should. 
Sign up here for our daily Thrillist email and subscribe here for our YouTube channel to get your fix of the best in food/drink/fun.