Presented By

10 of the Best Drag Brunches for When You're Craving Queens and Comfort Food
It's mimosas with a side of stilettos at these fun brunch spots
Presented By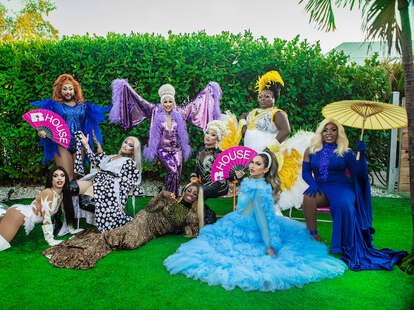 Courtesy of R House Wynwood
Courtesy of R House Wynwood
Maybe it's partly thanks to the wild popularity of RuPaul's Drag Race, which premiered six years before gay marriage became legal in the US, but nowadays drag queens and brunch go together like bacon and eggs — or bottomless mimosas and feather boas. Across the country, even in red states and more conservative cities, drag brunch has become as commonplace a weekend tradition as church. From queer-friendly meccas like Miami to a neighborhood pub in Washington, you're never far from a saucy brunch option. Here are some of the best of the brunch bunch.
R House in Miami, Florida
After a long night of club-hopping on South Beach, drag yourself to drag brunch at one of Miami's most popular weekend haunts. R House, a gay-owned Latin restaurant located in Wynwood, offers a wildly popular and wildly theatrical drag brunch at the merciful hour of 2:30 pm, which will give you time to sleep in and recharge (they also offer an earlier 11:30 am slot for those who went to bed at a reasonable hour). The boozy brunch is locally revered for its rambunctious performances, impressively physical dance moves, bottomless mimosas and mojitos, and a family-style feast of hangover cures — chimichurri cheeseburger sliders, cayenne-spiced fried chicken, Cubano croissants, and French toast with guava syrup and coconut flakes (all for $50 per person). They offer vegan options, too.
Barbés

in Hoboken, New Jersey
With its menu of lamb meatball tagines, Moroccan shakshuka, and moules frites, drag brunch at Barbés feels more like a Mediterranean vacation than your typical weekend shindig. The French-Moroccan restaurant in Hoboken sports a cozy, romantic bistro vibe throughout the week, but it's an extra cool setting for a their monthly bellini-fueled Sunday Funday. It's not too often you find drag brunch at a place whose menu categories include "oeufs" and "boissons," so this is a rare gem worth seeking out. Hot tip: Barbés takes reservations for brunch, and they're highly recommended, especially for the 11:30 am slot when drag brunch starts.
Broussard's in New Orleans, Louisiana
Like many mansion-sized institutions in the French Quarter, Broussard's is a longstanding icon of Creole fine dining. It's vaunted for its gussied-up takes on New Orleans fixtures, like duck and alligator sausage gumbo, foie gras dirty rice, and crawfish gnocchi. It's not the likeliest setting for a raucous "Evil Queens" brunch hosted by drag queens who are clad in outfits inspired by Disney villains or Christmas characters. The white tablecloth restaurant goes casual on a monthly basis for themed drag brunches like these (usually held on the fourth Friday of every month), starring local queens. This being Broussard's, themed brunch offerings include dishes like veal grillades, so it isn't too casual.
Anchor Pub in Everett, Washington
About 30 miles north of Seattle, in the oceanside town of Everett, lies a humble and unassuming pub clamoring with stiletto-clad drag queens. The Anchor Pub, housed in a century-old building that was previously a saloon and Anchor Beer Parlor in the 1930s, is a "come one and all" type of community watering hole with a vibe that feels like real-life Cheers … if Frasier Crane dabbled in drag. The pub features drag brunches on the first Sunday of each month, from 11 am to 1 pm with hosts and performers who conduct a cheery variety show of games and performances as customers chow down on smoked salmon bagels and pancake platters.
Milk Market Food Hall in Denver, Colorado
What started as a monthly pre-pandemic event has ballooned into a weekly Drag Bingo Brunch in the outdoor Dairy Block Alley, a historic block and building that counts Milk Market food hall as its anchor tenant. Through the pandemic, Milk Market continued their popular bingo games via Zoom, by including bingo boards in takeout orders for brunch along with QR codes to join in online. Now back to in-person action every Sunday at noon, the outdoor event is bigger and better than ever. Each week, the host is joined by a different drag queen or king to co-host the free-to-play bingo, which includes prizes from different Dairy Block tenants, and bottomless mimosas are requisite. It's gotten so popular, in fact, that Milk Market started a monthly Drag Bingo Brunch at Night spin-off.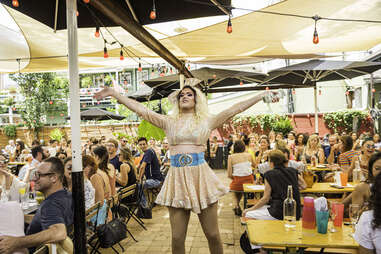 Boheme in Houston, Texas
A keystone in Houston's Montrose gayborhood, Bar Boheme offers a popular Sunday drag brunch that's as eclectic and colorful as its globe-trotting menus. This is the kind of place where you can pair Argentinian beef empanadas and "Bangkok-style" fries slathered in yellow curry mayo and smoked pork shoulder with carafes of frosé and mimosas — all while savoring entertainment on the sprawling dog-friendly patio. Out here, queens kick up their heels, twirl in pink dresses, dance with diners, and bop to pop hits. The accompanying brunch buffet is a bargain at $25 per person, with various coffee and cocktail options, plus fish bowls and a la carte snacks.
Bell in Hand in Boston, Massachusetts
A lot has changed at Boston's Bell in Hand, a centuries-old establishment that bills itself as the oldest continuously operating tavern in America. It was built in 1795, but long gone are the days of wigged forefathers, replaced by mile-high drag queen wigs at its monthly Brunch of Queens events. The timeworn tavern is famed for its tried-and-true Bostonian staples, like New England clam chowder and baked haddock, but it's become equally famed for its drag brunches, served buffet-style and casual while hosts bring the antics, a DJ spins tunes, and the bar pours drinks. Paul Revere would have loved it here.
Irene's in Austin, Texas
Every Saturday at noon, the sunny back patio at Irene's becomes a lively oasis of sparkling rosé, neon wigs, and Lizzo lip-syncs. The host is joined by various guest co-hosts, who lend a friendly, talk show-style vibe to the two-hour spectacle and trade off doing genre-spanning performances of everything from Kacey Musgraves to Whitney Houston anthems. Drag brunch is mostly PG-13, aside from a few curse words peppered in, and comes with a free bottle of sparkling rosé. Menu options include biscuit sandwiches, chilaquiles, and cast-iron skillets filled with cheesy grits and baked eggs.
Godfrey's in Richmond, Virginia
Jeff Willis was a drag pioneer long before Drag Race catapulted the gender-bending art form into the mainstream. He founded Godfrey's in Richmond in 1997, providing a safe and fun space for Virginia's LGBTQIA+ community — a place to let loose, dance, and eat crab Florentine omelets while basking in the clubby music. Although Willis has since sold the business, likeminded owners maintain Godfrey's longstanding commitment to inclusivity and free-flowing cocktails. The drag brunch menu boasts one of the lengthiest cocktail lists in the country, running the gamut from piña colada variations and Bloody Mary spins to flirtinis (Champagne, vodka, pineapple juice, OJ). They also pour coffee cocktails so you can get two buzzes at once.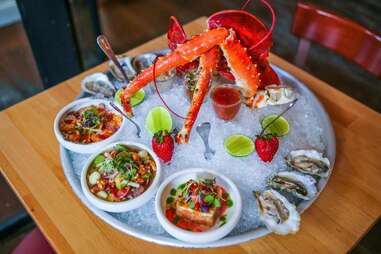 La Pulperia in New York City
While you're tucking into guacamole or chowing down on dulce de leche French toast at New York City's La Pulperia, don't be surprised if a drag queen suddenly starts belting out Madonna tunes. This is Hell's Kitchen, after all. Sunday brunch means empanadas, sangria, and eyeshadow for days. The queen in residence has an expertise in upbeat pop covers (your Christinas and Britneys are well represented), interspersed with pithy comedy and audience interaction. The restaurant has unlimited beverage deals, like $35 for mimosas or $60 for any cocktail, which should provide liquid courage, should you get pulled into the show.
Orbitz believes everyone should be able to travel freely, no matter who you are, who you love, or where you're going. Discover LGBTQIA-welcoming hotels, plan queer-friendly trips, and get inspired to vacation. You'll feel welcomed whenever you book with Orbitz. Travel As You Are™.
Matt Kirouac
is a travel writer with a passion for national parks, Disney, and food. He's the co-founder and co-host of Hello Ranger, a national parks community blog, podcast, and app. Follow him on IG @matt_kirouac.