Ever since Dave Thomas introduced the concept of the fast-food value menu back in the day, chains have scrambled to give customers at least a few ultra-cheap options. But now that we're in a fast-food arms race to see who can pack as much stuff into a $5 box -- chicken sandwiches count as sides now, and it's madness -- the focus has shifted from the humble $1 value menu. Fear not: Some chains are still offering at least a few things for a buck or under. Here's how to get the most bang for your buck at the nation's biggest fast-food chains. 
Recommended Video
This Pizza Dip Lets You Throw a New Kind of Pizza Party
Burger King
Cheeseburger
Sure, it's the home of the Whopper, but you know what? The Whopper's just a slightly bigger version of this, but with tomatoes and lettuce. And no cheese. You're paying more -- like, $3 more -- for something that's actually somehow made worse than this cheesy, flame-broiled, simple pleasure. It's not called Whopper King for a reason.
Del Taco
Value Taco
We handily crowned Del Taco's value menu the best in the country a while back, and for good reason: There are 17 items for under $1, ranging from a solid tostada to breakfast tacos, mini quesadillas, and a honking' bean, cheese, and rice burrito. But at the end of the day, our hearts still belong to the old-school crunchy taco, the kind of cheese-and lettuce-covered wonder that all but screams Taco Tuesday with every bite. Like Jack in the Box, it's Midwest mom food. Unlike that weird version, it's exactly what you want a fast-food taco to be.
Jack in the Box
Two tacos
Jack in the Box knows its audience, and oftentimes that audience is people who really want to eat a bunch of greasy, fried stuff at 4:20am. And thus, the star of its $1 menu is a pair of tacos that seem like they were thrown together by a Midwestern mom who forgot that she had kids: the shells are see-through, the lettuce is haphazardly chopped and slightly wilted from the heat, the meat is confusing, and there's a slice of American cheese on there. Unlike that Midwestern mom, Jack doesn't get mad at you for rolling up to its window and asking for them after midnight.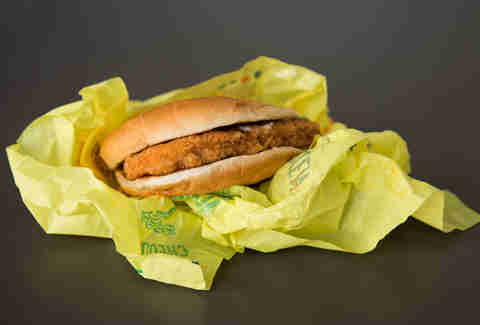 McDonald's
McChicken
The McChicken is a thing of simple beauty. It's basically a giant, salty, peppery chicken nugget tossed on a burger bun, covered in mayonnaise and lettuce, then smashed into a holding tray until somebody finally orders it. And if that somebody is you, there's a strong chance you have spend time wondering why McNuggets don't come with a side of mayonnaise for dipping. Over the years, McDonald's has tried to up its chicken game. It didn't need to. It's $1 sandwich is the high bar for lowbrow perfection.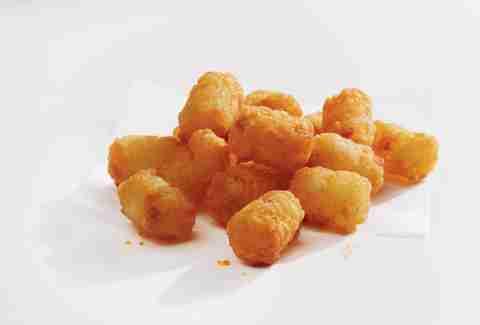 Sonic
Mini Tots
If the TV is to be believed (it is!!), then it's customary when visiting Sonic to sit in the car for a long period before ordering, debating the merits of fast food and the world with your milquetoast middle-age comedian friends. But that debate should always include a little cup of tots, which you can get for under a buck and consume while contemplating getting MORE tots to go with your shake, burger, and extra tots. We like these tots, is what we're saying.
Taco Bell
Shredded Chicken Mini Quesadilla
True, it doesn't look especially appetizing. Unless you're a crow, maybe? But despite its appearance, our in house Taco Bell expert declared this soupy, cheesy mess of slightly spicy shredded chicken the third-best bite on T-Bell's entire menu. And considering he's eaten everything on it, we're obliged to take his word for it.
Wendy's
Buffalo Chicken Ranch
Wendy's has long been strong on the $1 menu game -- hell, they invented the concept -- but it recently refocused its efforts to the fast-food arms race, a magical place where chicken nuggets are sides. The non-box value still runs strong, but with classics like the Jr. Bacon Cheeseburger getting bumped into the rich-man's realm of just-under-$2, the $1 offerings were suffering… until the Buffalo Each Crispy Chicken hit. This is the classic big-chicken-nugget-on-a-bun construction, but this one's loaded up with Monterrey Jack and a Buffalo ranch sauce that would be blasphemous in actual Buffalo, but here proves that the Midwestern condiment of choice might be hot sauce's best friend. That and a Frosty… a small one's only a buck.
White Castle
Cheese Slider
At about $.30 a bite (or $3 a bite, if you're me), the Whitey's cheeseburger isn't exactly the most economical of fast-food snacks, especially when you remember that somebody went and poked five holes in it. But between the pickle, cheese, grilled onions, and springy steamed bun, there's at least, like, $4 worth of flavor in one. Even better, they're so cheap you can buy them by the case.
Sign up here for our daily Thrillist email and subscribe here for our YouTube channel to get your fix of the best in food/drink/fun.