Now that Food Network has moved its programming over to Hulu, what food shows are left on Netflix? The answer to that question is a lengthy one, if you were to name all of them. Luckily, we've done just that. From the latest heady docuseries to food-obsessed fiction, here's everything food-related you need to watch on Netflix right now. We recommend a steady diet of the shows on this curated list, which changes frequently as Netflix's programming, so check back when you're hungry for something new.
Recommended Video
Big Boi From OutKast Introduces Cliff to Atlanta's Food Scene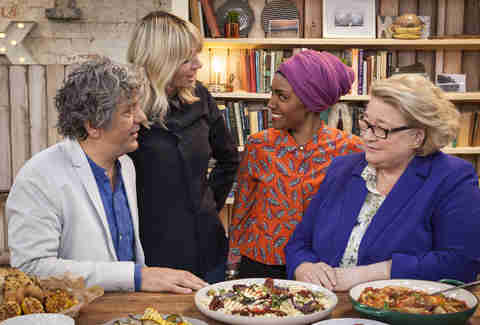 The Big Family Cooking Showdown
If you're out of Great British Baking Show episodes to watch, this is the perfect show to fill the gentle British cooking competition show-sized hole in your life. You'll recognize Nadiya Hussain, the eminently loveable sixth season winner of GBBO, as one in the pair of Mel and Sue-type hosts who encourage the sets of British families competing to show off their home cooking synergy to Michelin-rated Italian chef Giorgio Locatelli and famous British cooking instructor Rosemary Shrager.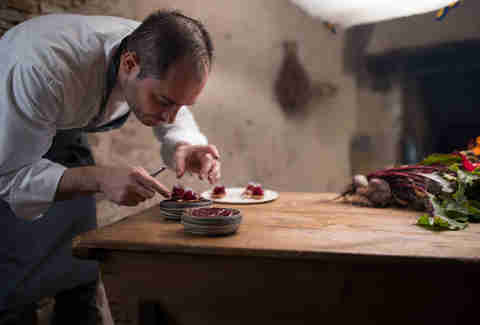 Chef's Table & Chef's Table: France
Over the years, the histrionic formula for the Chef's Table series has become such a caricature of itself that it earned its very own Documentary Now! parody. That's not to say the series isn't worth your time -- it's the standard bearer for profiling fine dining chefs and their often Michelin-starred restaurants on camera, treating the dishes that glide across the table (or sometimes that are the table) as if it were a famous piece of art. Chef's Table is the pinnacle of food porn pretension and snobbery, but who among us is above indulging in a beautifully shot, interesting and well-told story every now and then?
Cooked
Michael Pollan is easily the most famous food thinker today. This four-part docuseries based on his book of the same name centers each episode around nature's elements and how they affect the way we cook around the world without ever diving too far down a science-y rabbit hole that it becomes inaccessible. Directed by Alex Gibney, who also made the Enron documentary, the Scientology documentary, and Netflix's new series Dirty Money, Cooked asks us to reexamine our connection to the things we put inside our body, like so much of Pollan's work does.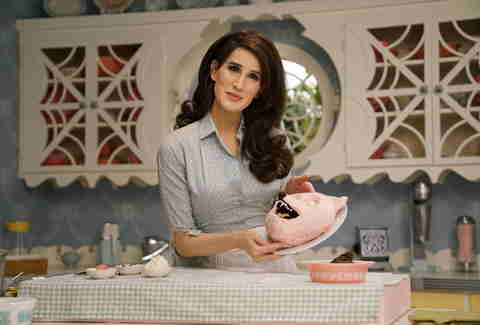 The Curious Creations of Christine McConnell
After awhile cooking shows can tend to feel a little too familiar -- there're the food competitions, demonstrations, and travel journeys -- and they're typically about the meals that make our mouths water the most. Fortunately, we live in the time of  artist/actress/Instagram sensation/contemporary goth icon Christine McConnell who has a taste for the unusual. In this Netflix original, McConnell invites viewers into her house of horrors where she crafts spooky sweets and creations with the help of her otherworldly muppet-like friends. The show is very odd in the best ways possible, the delicacies will haunt you with their insanely intricate aesthetics, and McConnell is a very spellbinding host.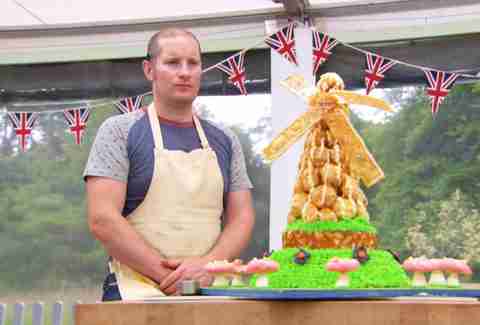 The Great British Baking Show
Of the culinary competition shows out there, GBBS (known as The Great British Bake Off across the pond) is the least cutthroat, most low-key one you will ever have the pleasure of watching. But for a title with such low drama, the real-world infatuation with GBBS spawned online vitriol when it was announced that hosts Mel and Sue and judge Mary Berry would be exiting the show when it moved to Channel 4. An early trailer for the new iteration -- hosted by comedians Sandi Toksvig and Noel Fielding (The Mighty Boosh), with new judge Prue Leith -- freaked out viewers with its anthropomorphic bakery, but the new season itself, after a slightly rocky start, is just as delightful as you'll remember. The notoriously hard-to-impress Paul Hollywood is still around to put contestants through the ringer of three bakes that, aside from the secret technical challenge, they have plenty of time to prepare for. The bakers develop such camaraderie over the season that when one of their pals leaves, everyone else cries for that person. Imagine that!
Kantaro: The Sweet Tooth Salaryman
A computer programmer ditches his well-paying job to get into the publishing sales biz, specifically to buy himself more time during his work week so he can stop off at Toyko's best dessert shops in between meetings to fuel his true passion: food blogging. Anyone can relate to the show's celebration of life's small indulgences in the face of a shitty job. Based on the manga Saboriman Ametani Kantarou, the series brought to life is goofy as hell depicting Kantaro's over-the-top inner monologues and cut scenes where his brain on dessert is allowed to wander.
The Mind of a Chef
Made by Anthony Bourdain's production house, Zero Point Zero, and narrated by the late Bourdain himself, Mind of a Chef is an insightful portrait of the worlds of different top-class chefs, including David Chang, Gabrielle Hamilton, and Ed Lee. Splicing together footage of chefs recreating their pioneering recipes for the camera (and usually a friend) and discovering food culture around the globe, it delivers a personal experience, as you actually get a nuanced look inside the mind of iconoclastic chefs (ha ha!), and what makes them tick.
Nailed It!
Sure, culinary series that feature chef extraordinaires can be exciting to watch for those of us who aren't quite as talented in the kitchen, but throwing totally unqualified bakers into a dessert-decorating competition is extremely entertaining. That's what the comedic baking competition series Nailed It! does, taking individuals who are very mediocre cooks and asking them to recreate beautiful sweets to win prize money (or some kitchen equipment). Leave your cupcake molds at home because these aren't just any sweets -- they're top-of-the-line novelties. Hosted by comedian Nicole Byer and pastry chef Jacques Torres, there's the right amount of hilarity and serious appreciation for the craft, so even as the helpless contestants struggle to bake gourmet creations, the saccharine attitude is infectious.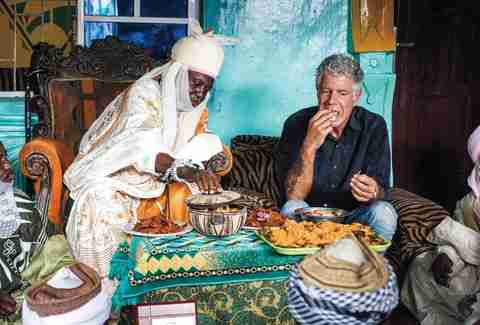 Parts Unknown
Anchored by the late, great food-entertainment polymath Anthony Bourdain -- who, it should be noted, was a fine chef at New York City's Les Halles before his breakout 2000 volume, Kitchen Confidential, set him on a path to bona fide stardom -- Parts remains true to the showman's sleight-of-hand that probably got its predecessor No Reservations greenlit in the first place. This is a show about food in the same way that The Shining is a movie about hotel management, which is to say: nominally, if at all. Sure, Bourdain eats, but you can find better food porn in most of the shows that dot this list. Parts Unknown's truer focus is telling stories about the ways communities build, nurture, and examine themselves. While Bourdain may no longer be with us, this series with its 10 excellent seasons are part of his lasting legacy and a testament to cultures surrounding food.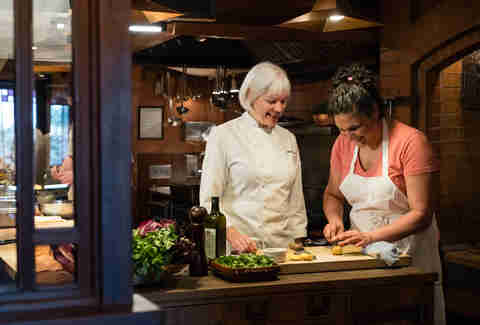 Salt Fat Acid Heat
There are a few essential elements that make cooking both an incredible and universal experience, and according to author/chef Samin Nosrat, those four basics are salt, fat, acid, and heat. Nosrat built on those elements in her James Beard Award-winning cookbook, Salt, Fat, Acid, Heat, and now in the Netflix series, she travels the globe to explore how these principles fuel good food. The show comes from the creators of Cooked, and Nosrat is extremely charismatic, making her travels into the homes of families in Japan, Italy, Yucatán, and even Berkeley especially enlightening. While each episode focuses on one of the four keys to cooking, its simplicity allows it to alter the cooking show genre by breaking things down to the elementary level, infusing that with demonstrations, human conversation, and a whole lot of charm.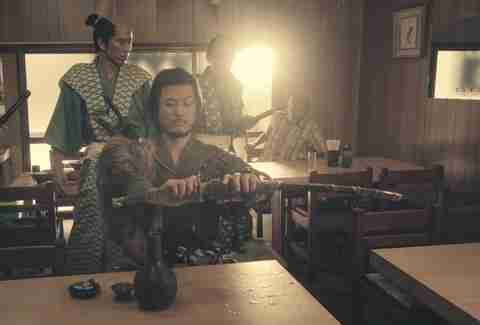 Samurai Gourmet
Samurai Gourmet is a show about eating, but in no way that you might expect. Hazy around the edges, the fictional series follows the culinary adventures of the newly retired businessman Takashi Kasumi, who often falls into daydreams motivated by the premise: What Would A Great Samurai Do? Often, that boils down to drinking a beer in the middle of the day or saying yes to another serving of rice. There's tranquil food porn aplenty in this mostly solitary journey inside the head of our guy Takashi.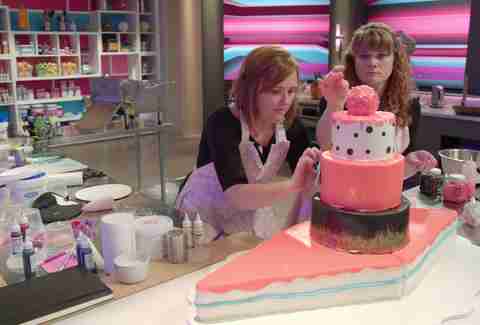 Sugar Rush
Fans of beautiful sweet eats and competition cooking shows get their fix in this Netflix original. In Sugar Rush, pastry chefs are ruled by the pressures of time as teams compete in constructing a series of confections in just a matter of hours; finish in less than the allotted time, and you'll have rollover minutes for other rounds. The teams are judged by professional bakers Adriano Zumbo and Candace Nelson of Sprinkles fame, so if you have a taste for insane cupcakes and beautifully fondant-ified cakes that appear as if they couldn't possibly be cakes, this is the reality show for you.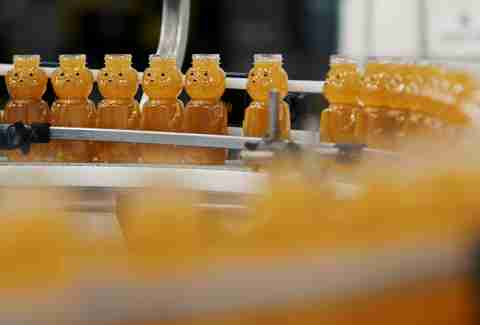 Rotten
Rotten is Netflix's latest alarmist series about the evils of food production, though it eschews the common pitfalls of this documentary genre by telling the stories of the people whose livelihoods are linked to Big Milk or Big Garlic (yes, it's a thing). Each hour-long episode faces its topic head-on, unafraid to show the nasty realities behind large-scale chicken or cod processing, sending a pressing reminder that there are usually larger forces at play than what we're led to believe.
Ugly Delicious
In the absence of Lucky Peach, the spirit and vision of the shuttered food magazine lives on in the Netflix-produced Ugly Delicious, where David Chang and Peter Meehan, the magazine's editor in chief, offer their take on a food-travel show. Each single-topic episode -- pizza, home cooking, fried rice -- divvies up exploratory duties between Chang and Meehan, whether that means running around locales from Tokyo to Coney Island with famous pals or making a fool of themselves trying their hand at a cooking skill that takes a lifetime to master, to find the heart and soul of a dish, "authenticity" be damned. Ugly Delicious is imperfect, but in a space where there are enough Bourdain knock-offs to go around, it's a fresh perspective lifted straight from the pages of a dead magazine that's come back to life.
Sign up here for our daily Thrillist email and subscribe here for our YouTube channel to get your fix of the best in food/drink/fun.