The Best Food Documentaries on Netflix Right Now
Netflix has an expansive collection of chef-driven stories and deep-dives into the food world.
'A Tale of Two Kitchens'

| Netflix
'A Tale of Two Kitchens'

| Netflix
If you're done with all of the good food TV shows currently streaming on Netflix, don't despair: the service always carries a nice selection of documentary films on the subject, whether that means a tumultuous chef-driven story, a tale of obsession, or all of the ways our food is slowly killing us. Here's a handy guide of what's worth your time.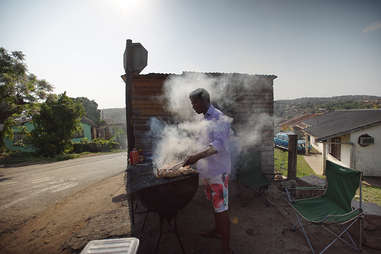 Barbecue (2017)
Fire pits in every corner around the world unite in this James Beard Award-winning documentary about none other than the art of barbecue. Traveling through 12 countries, director Matthew Salleh examines the multitude of cultural traditions of grilling and smoking meats, from Texas barbecue to South African braai, hitting every important locale in between. Through vignettes, Barbecue dotes over the technical mastery required to turn a hunk of meat into the perfect food.
Jeremiah Tower: The Last Magnificent (2016)
Jeremiah Tower could be considered one of the mainstream greats if not for his impulsivity and penchant for controversy and self-destruction. Among the people of the minted food world, most of whom are interviewed for this documentary, Tower's name lives on as one of the first American celebrity chefs and an important culinary luminary of the past half century. The chef's namesake film explores his reinvention following a two-decade departure from the public eye through the context of his freewheeling life.
Sour Grapes (2016)
The stuffy world of rare wine auctions was turned on its head when it came out that Rudy Kurniawan, a 20-something collector, had been mixing less expensive wines to recreate the flavor profiles of coveted wines from specific, high-valued years and regions, swindling buyers out of millions of dollars. His sophisticated operation led him to become the first-ever person to be convicted for wine fraud. In a familiar true-crime reconstruction, Sour Grapes leads viewers through the story of how Kurniawan pulled off such a scam and the disgrace that befell the wine world in the fallout of his conviction.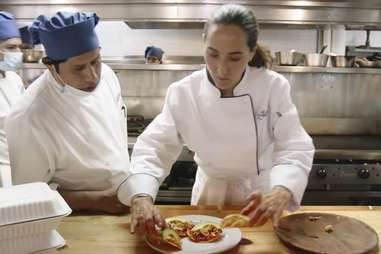 A Tale of Two Kitchens (2019)
Although this short film from documentarian Trisha Ziff is only a half hour, it's one of the most refreshing takes on what a contemporary food doc can be. Less about the food itself and more about the people who make and serve it, A Tale of Two Kitchens profiles Gabriela Cámara's restaurants: Cala in San Francisco and Contramar in Mexico City. While the short does serve some mouth-watering shots of Mexican cuisine, the whole meal here is seeing Cámara's leading example of creating a familial experience in her restaurants, employing formerly incarcerated persons, immigrants, and others -- or the kind of supported, devoted work environment makes the restaurant industry that much more unique.
Theater of Life (2016)
Italian chef Mossimo Bottura runs a World's Best kitchen at Osteria Francescana, but Theater of Life captures some of his loftier ambitions: ending food waste. Through the lens of Refettorio Ambrosiano, the soup kitchen Bottura opened in Milan, we see the vast scope of food waste throughout the world, and learn how scraps can be used well past the point where most of us would typically throw them away to make world-class dishes.
Need help finding something to watch? Sign up here for our weekly Streamail newsletter to get streaming recommendations delivered straight to your inbox.