All photos by Rocky Luten
The Best Food in One of America's Greatest Culinary Cities -- All Served at This Party
On December 3rd, 2015, a dozen of New York's most accomplished restaurateurs came together for a night of epically edible proportions. Fest of the Best is our annual ode to these restaurateurs, each of which represent a food category under which they claim top prize, from best dessert (a trio of unbelievable tasty cupcakes) to best lobster roll (what up, Luke's!) to best Italian (champagne + truffle = a cream sauce for the ages). We went, we ate, we pestered attendees mid-bite about what they were eating, and now we've compiled the best highlights:


We could tell you that there were three locally-made ice cream flavors at the frozen station. We could also run down the meaty magic of maple-bacon burgers, 12-hour-smoked pork shoulder, and perfectly cooked filet. Or we could just show you the insanely tasty photos:

Ample Hills Creamery
Ooey Gooey Butter Cake, Chocolate Milk & Cookies, and pretzel-/potato chip-infused Munchies Ice Cream.

Mesa Coyoacan
Tacos de Carnitas with braised pork, onions, and cilantro.
 
Café Clover
Meiller Farm Beef Striploin with Brussels sprouts and olive oil potato puree, aka next-level mashed taters.
Saxon + Parole
The S+P Burger with dry-aged Angus beef, maple bacon, and Havarti from those cheese-arific Pennsylvania Dutch.

Ess-A-Bagel
Hand-formed doughy goodness schmeared with classic NY accompaniments like whitefish salad.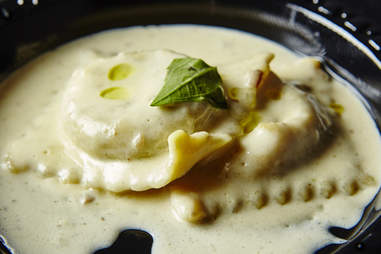 Trattoria Il Mulino
Porcini Ravioli in champagne truffle cream sauce.
Parker & Quinn
Citrus-cured salmon with burrata, pumpernickel, and farm egg.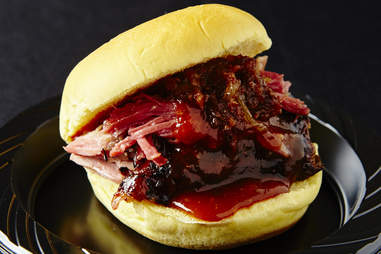 Dinosaur Bar-B-Que
Pork Sliders with Memphis-Style butt, BBQ sauce, and house-made pickles.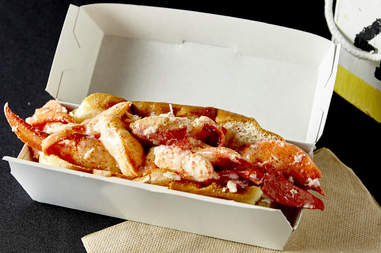 Luke's Lobster
Maine-Style Lobster Rolls in a New England split-top bun, with mayo, lemon butter, and secret spices (shhh).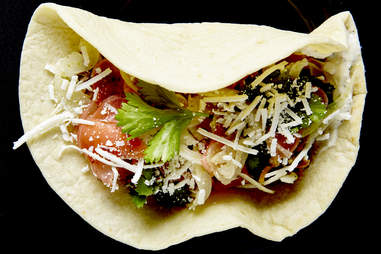 MP Taverna
Pulled roasted lamb, yogurt, pickled fennel, and more all bundled up Mexican-style.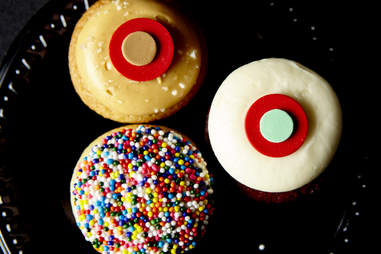 Sprinkles
Mini Red Velvet, Salty Caramel, and Birthday cupcakes -- because at Fest, it's everyone's birthday.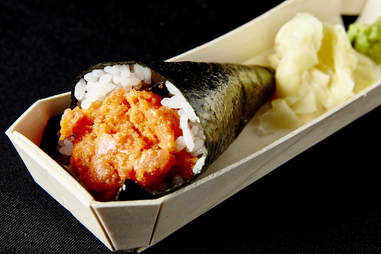 Blue Ribbon Sushi
A ridiculous assortment of rolls including Yellowtail & Yuzu and Spicy Crab.

Delaware and Hudson
Kicked-up Mac & Cheese featuring tomato confit and a potato chip crust.

With the best food, must come the best drink. And we brought a bunch of our most refreshing friends from Jack Daniel's, Sixpoint, and Liberated Wines.
The Perfect Pair
As if sipping on classic Jack drinks wasn't already a great pairing to the eats, these foodstuff vessels actually sat perfectly right on top of the cups. 
Classic American Cocktails
Sure, Jack & Cokes and Jack & Ginger were on the menu (how could they not be), but the Tennessee classic also came prepped with a tasty take on lemonade: Jack, Triple Sec, sour mix, lemon, and lime.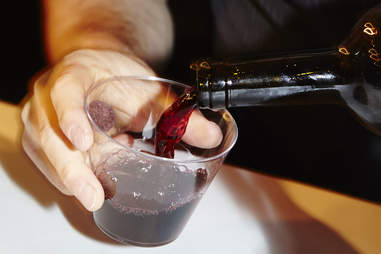 Free-Flowing Vino
For those more into whites and reds, we called in Liberated Wines for some Pinot Noir, Sauvignon Blanc, and Cabernet.

With so many of our great city's best chefs under one roof, we thought it'd be cool to grab their dishes and bring them around to the other best chefs to try them out. Think about it: the cupcake lady scarfing sushi, the lobster guy munching on brunch. It's all mismatched, team-building gold. Here are the best combos:
Luke's Lobster eating Parker & Quinn
"It's not fair to just call this brunch. There's so much going on here."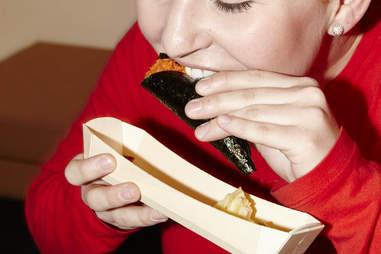 Sprinkles eating Blue Ribbon Sushi
"Yessss! Sushi!"
MP Taverna eating Delaware and Hudson
"This Mac & Cheese is like comfort on a plate."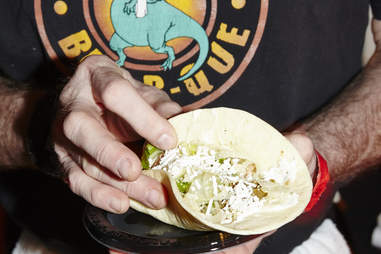 Dinosaur Bar-B-Que eating MP Taverna
"Greek lamb taco? It's spicy and complex."
Delaware and Hudson eating Ample Hills Creamery
"Ummm did you just ask us if we'd like chocolate milk and cookies ice cream? Duh."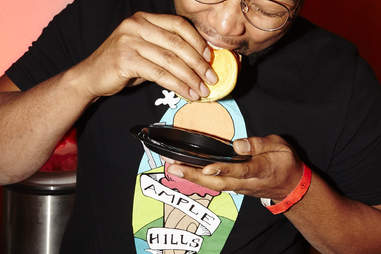 Ample Hills Creamery eating Dinosaur Bar-B-Que
"Man, if you need anyone to eat more of this pulled pork, you come tell me first."

And before we wrapped up the night, we found an amusing little game: running around, sneaking up on patrons right as their mid-bite only to ask them their best, most descriptive word for that dish. Here are the best adjectives mumbled through full mouths: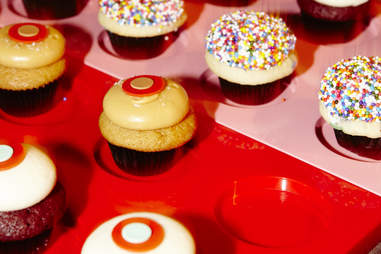 On Sprinkles' Cupcakes:
"Silky [maniacal laugh]."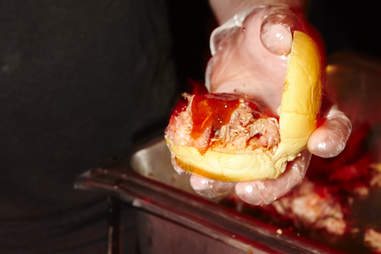 On Dinosaur's Pulled Pork:
"Fatty. But like a good fatty. This is amazing."
On Saxon + Parole's Burger:
"Beef heaven where the weather is raining maple."
On MP Taverna's Greek Tacos:
"Hella rad."
On Luke's Lobster Rolls:
"It's buttery and refreshing at the same time."