America's Best Fried Chicken Sandwiches
Like The Weeknd, the fried chicken sandwich is currently having a moment, and also like The Weeknd, hot chicken makes it hard to feel your face. The logic of that joke is most certainly off, but what does it matter when we have the best fried chicken sandwiches in the country to talk about? Below we chose our favorite Korean, hot, Southern fried, and just plain delicious sandwiches from Seattle to NYC.
Rule the Roost
Nashville, TN
Nashville basically popularized hot chicken -- with the help of spots like Hattie B's -- so if you want to call the bird on your menu "Nashville hot chicken," you have to bring it. And Acme does just that. The chicken is hot-but-won't-burn-your-mouth-off, and is blanketed by two slices of buttered, grilled white bread, and topped with green peppercorn aioli, American cheese, and pickles. It's no surprise that Acme is also one of our favorite hot chicken spots in Music City, one of America's best new restaurants in 2014, and the only restaurant in town where you can also order killer sushi, craft cocktails, and falafel.
Korean fried chicken sandwich
Atlanta, GA
Newbie Fred's is a "burger and sandwich counter" inside ATL's Krog Street Market that just opened its metaphorical doors (counters can't have doors, silly!) last November. The joint gives Springer Mountain Farms chicken a super-crunchy traditional Korean fry before topping it with an aioli and spicy mayo, spicy marinated cucumber, and fresh kimchi. Then it slaps all those ingredients on house-made pain de mie. And even with all that spice, Fred's claims the sandwich is only a six out of 10 on the heat scale. Pair it with some of Atlanta's best fries, and you've got one solid meal.
Crispy fried chicken sandwich
San Francisco, CA
Sadly not the first in a chain of The Wire-themed restaurants David Simon is opening up across America (I will be first in line at McNulty's), Marlowe is simply one of the best restaurants in SF. And at lunch and brunch, you can order a delicious chicken sandwich with dark meat that's been breaded with buttermilk biscuit mix, garnished with arugula and baby head lettuce that's dressed in a Caesar vinaigrette, and topped with crispy bacon. Not often does a sandwich combine elements of a Caesar salad, biscuits, and fried chicken. Can you see why it's served at brunch, too?
Fried chicken sandwich
New York, NY
When a new Star Wars flick comes out, sci-fi nerds have to show up. David Chang is the restaurant world's George Lucas, and people have been packing inside Fuku since it opened in June 2015 (there's already a satellite location called Fuku+). The sandwich is the centerpiece of the tiny sliver of a restaurant we think is one of NYC's best -- chicken thighs are brined and marinated in a habanero puree that's later coated in buttermilk and spices, and then fried crispy. Atop a Martin's potato roll it goes before it's garnished with pickles and house-made butter. Toss in wedge fries with Old Bay and a Ssäm Sauce michelada, and you have a food nerd's wet dream.
Hot breast
New York, NY
Beyond the charms of this crowded, loud dive with strong tropical drinks and the glow of something like Gleaming the Cube on repeat behind the bar, there are some damn tasty dishes, and chief among them is the hot breast. This crispy, crusty, juicy chicken breast sandwich pays zero attention to the borders the bun tries to impose on it and delivers a significantly spicy flavor punch cooled and contrasted perfectly by the coleslaw and pickles topping it.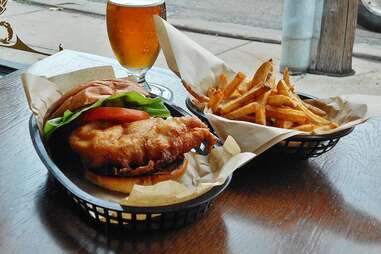 Fried chicken sandwich
Minneapolis, MN
There are few things more American than combining two beloved foodstuffs to create something brand new. Basically, this fried chicken sandwich is an edible version of that Miley Cyrus/Notorious B.I.G. "Party and Bullshit in the USA" mash-up. See, the chicken breast is battered in waffle batter made from scratch using flour, cornmeal, and wort from the brewing process. It's topped with Bibb lettuce, mayo, and tomato, and then ideally paired with a honey wheat American ale. That honey wheat beer is used in the batter too. That's some American ingenuity.
Chicken sandwich
Charleston, SC
We've featured Korean-style and Southern-style fried chicken sandwiches, but Leon's refuses to be put in one of those two delicious chicken-shaped boxes. Its chicken is breaded in a flour/seafood seasoning blend, and then topped with Duke's mayo, house-made bread & butter pickles, and an Asian-style slaw tossed in -- wait for it -- nuoc cham. That's Vietnamese fish sauce, folks. Add in the flavors from the brioche bun, and you get a sweet, spicy, juicy, and crunchy fried chicken sandwich. And unique! It's pretty unique, too.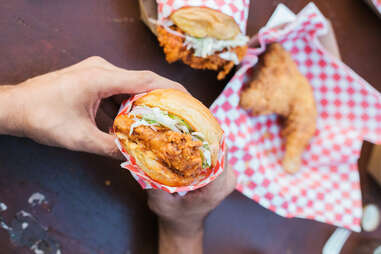 Hot chicken sandwich
Los Angeles, CA
Howlin' Ray's Nashville-style hot chicken has only been driving around LA for a few months, but the crew spent four to five months eating their way through Music City's finest hot chicken joints and testing their own recipe to get it just right. And while their food truck is currently on hiatus, they're still popping up around the city, spreading good cheer in the form of hot fried chicken. The sandwich is a thing of beauty: a butter bun (from the same folks who make In-N-Out's), a Southern spread (chili powder, dark brown sugar, Crystal hot sauce), oil/vinegar slaw, County Fair pickles, and a breast with a signature oil-based hot chicken sauce. For chili heads, the hottest version of the sammie has a sauce with ghost, Carolina Reaper, and Trinidad scorpion peppers. Even typing that makes my eyes water.
The original fried chicken sandwich
Chicago, IL
There's always room in our stomachs (and hearts) for a modern take on Southern comfort food. The bird here is butchered in-house and the flavor profiles are familiar but a little off-center. To wit: the sandwich is made up of a couple fried buttermilk chicken strips (as that creates space for the sweet/spicy candied jalapeño mayo sauce "to hide in"), a crunchy slaw with cabbage, pickled red onions, and a toasted soft white bun from a local baker. And despite the heat from the jalapeño, it's cooled down by the slaw, resulting in a not-overwhelming heat from the sandwich that even people who are averse to spice can enjoy.
Crunchy chicken sandwich
Houston, TX
For all you fried chicken sandwich purists, this is not the sandwich for you. Mostly because the chicken's not even fried. So how the hell did it get a spot in this round-up? Let us explain: Local Foods is an insanely popular sandwich shop (and one of the best in the USA) that's all about feeding you sandwiches that won't give you a heart attack on your 40th birthday. The chicken sammie is no exception, and it's so good you won't even care that it isn't fried, as it's got the same delicious crunch of any other fried chicken sandwich mentioned here. The thinly sliced, oven-roasted chicken breast is breaded in a sunflower seed/pecan nut crumble, topped with smashed potato chips, lettuce, tomato, pickles, provolone, a buttermilk ranch dressing, and then is heaped onto a toasted pretzel bun.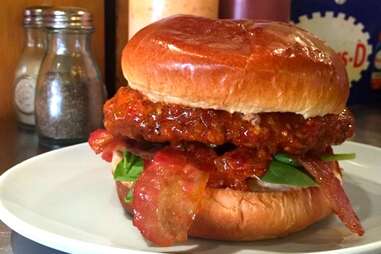 The Foodie's Choice Crisp
Chicago, IL
How do you make it in America? Don't start a clothing company called Crisp, but do open a Chicago-based Korean comfort food joint and give it an "American twist." The Korean-American co-owners of Crisp have a stated goal to make the Korean food they love so much go mainstream, and if their chicken's popularity is any indication (their wings are also the best in Chicago), their goal should be reached soon. The sandwich takes a hand-trimmed, never-frozen breast, brines and hand-batters it, and then covers it in one of the signature sauces (BBQ, Buffalo, mild, suicide), along with spinach, bacon, American cheese, and Allison's spicy Korean atomic sauce. The stuff's so good they've caught people trying to steal it off the tables.
Sign up here for our daily Thrillist email, and get your fix of the best in food/drink/fun.
Lee Breslouer is a senior writer for Thrillist, and could go for some fried chicken right about now. Follow him to breaded tweets: @LeeBreslouer.