They say there's no such thing as bad pizza, but that hasn't stopped the frozen-food industry from waging a decades-long experiment to disprove that old adage. Still, advances in rising-crust science have forced purveyors to step up their game. We're living in the golden age of frozen pizza, and some are even better than the chains.
To find the best, I risked hypothermia in the frozen-food aisle and adult-onset diabetes to taste-test the most common frozen pies on shelves. The criteria: I picked all the major brands available in their classic, most basic forms, and rated them based on cheese, sauce, texture, crust, and overall tastiness. If pepperoni was an option, I went with that. (I'm only human.) Barring that, plain cheese. No French bread, bagels, pockets, or specialties. Just good ol' pizza. This quest is ongoing, will be regularly updated, and will continue until I've eaten them all, or my doctor steps in. Here's how they stacked up so far. 
Recommended Video
This 10-Pound Stuffed Pizza Is a Crust-Lover's Dream
34. Whole Foods 365
When it came out of the oven, this looked like the picture-perfect frozen pizza. In fact, it strongly resembled the ones the Teenage Mutant Ninja Turtles freebased in the old cartoons: all gooey cheese dripping over the sides to create an alluring crustlessness amid a glimmering sea of pepperoni. So when it tasted so bizarre on the first bite, I immediately thought I had forgotten to remove the plastic. For real. Everything about this tasted weirdly off, from the strangely viscous cheese to the chemically tainted sauce. It looks like an upscale version of the $1.50 Totino's Party Pizza. It tastes like one of those that got left out in the sun. You can do better than this, Whole Foods! Hell, turtles who live in a sewer can too.
33. Atkins Stone Fired Pepperoni Pizza
Atkins has a surprisingly long life for what was originally considered to be a fad diet. But honestly, if I ate this as my pizza substitute while dieting, I'd be pissed. The cheese is chalky and the dough, which looks pre-cooked since it already has char marks on it, has the consistency of hot mochi or, worse, gritty, hot taffy. The sauce is runny and sweet. The pepperoni is… there. And I get that Atkins' whole thing is low-carb, high-fat, yet if I'm going to eat something slightly bigger than a CD that contains 50% of my daily recommended saturated fat, I might opt for a bacon grease smoothie. But hey, it turned me off pizza for the rest of the day, so at least it's doing its part in promoting weight loss!
32. Simple Truth Organic Pepperoni
There's just something amiss with this Kroger-brand organic pizza. Drastically amiss. The crust is almost unrelentingly firm, avoiding both chewiness or a satisfying crunch to make it crackery, landing in some dense netherworld that reminds me of semi-dried Elmer's Glue. The sauce has an odd tang that makes it taste like I had just brushed my teeth before eating it, which I most assuredly did not. The pepperoni is pretty good, and curls up in the way a good slice should, but it's off-puttingly deep red, like a blood sausage made with scabs. If there's a takeaway from this off-brand, organic offering, it's that maybe I just really like nitrates?
31. Lean Cuisine Four Cheese
I'd rather sacrifice my health on almost any other of these pizzas than stoop to this Lean Cuisine frisbee. Unless it was the 365 or Simple Truth, in which case call me Jenny Fu**ing Craig. Yet I ate the whole thing, the only one that explicitly advises not to use a regular over and even includes a microwave crisping surface. Why? It's not the sauce, which is acrid and bizarre. It's not the cheese, which barely registers. I think it's because the crust has the consistency of bao, and it's making me ponder whether to quit this gig and start a food truck that makes steamed bun pizzas. 
30. Kroger 3 Minute Microwave Pizza
Don't follow the titular microwave directions here. Put it in the oven and you'll get something pretty close to the Totino's, but a little more cardboard thanks to the absence of the crispy little air pockets that take that option from "frozen pizza" to "party pizza." Also, this thing tastes weirdly funky in a way that makes me suspect that there's a product out there that does for fake cured meat what liquid smoke does for mediocre BBQ: there's no way these little pepperoni cubes were aged to get their pungent, slightly fishy taste. Unless this pizza got left out on the loading dock for too long, which is also distinctly possible. 
29. Sam's Choice Thin Crust Pepperoni
The good news is this one is absolutely loaded with toppings, including a massive amount of cheese and two kinds of pepperoni: discs and thick-cut julienned strips. The bad news is, this is Walmart's value brand, and the cheese and pepperoni come from the same line. This is the greasiest of the bunch by a country mile. The cheese is the consistency of watery Play-Doh. And the crust seems like somebody ate one of those pre-fabricated $1 slices at 4am in New York and decided to replicate it by memory, complete with that "this has been sitting under a lamp for three days" texture. 
28. Tombstone Original
Frozen gets a bum rap, with people automatically assuming it's gonna have a cardboard crust, mealy cheese, tons of grease, and a sauce that tastes a step up from spicy ketchup. That's because of pizza like this. This gets bonus points because it has two kinds of pepperoni (thin discs and thick chunks). The bad news? Both are kind of gross, like somebody tried to make pepperoni in a lab, then got bored and just settled once they beat Pupperoni.
27. Tony's
When I was a kid, our school cafeteria would advertise Tuesday as "Tony's pizza day." As such, it reminded me of childhood… like, the most disappointing parts of childhood, firmly wedged between going to church and finding out the Easter Bunny was actually a Communist. It was really glossy, under-seasoned, and super-bland outside of an acidic punch in the palate. Eating it made me worried that I was going to poop my pants while doing somersaults in Mr. Sacarski's gym class… AGAIN.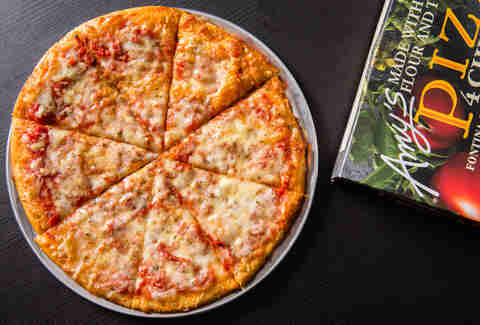 26. Amy's Cheese Pizza
Amy's is the go-to brand for folks who want to feel as though they're eating something healthy, yet are still eating pizza. That means no pepperoni (monsters), but that might not be a bad thing if said processed meat would under-deliver as much as the pie itself. There's an overpowering acidity and saltiness on this thing that really kills the mood. The crust is satisfyingly bouncy and the cheese has a nice little stretch, but it suffers from a weird balance between good and fake. And that sauce. Ick. It's like when you start to make your own marinara, realize you did something wrong, but eat it anyway.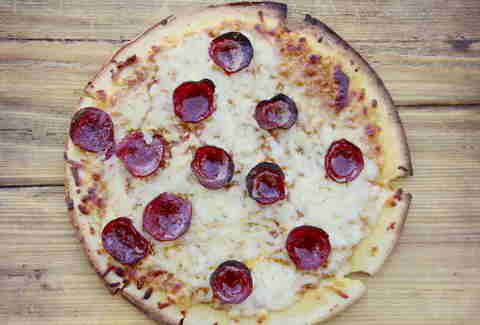 25. O Organics
The uncured beef pepperoni on this organic cousin to the Safeway/Von's Signature Select brand has a good curl and char going on, which is surprising given its thickness. Alas, it's the only flavor that comes through on this bland pie, which has a confusing texture somewhere between spongy and crunchy. The pepperoni can only do so much.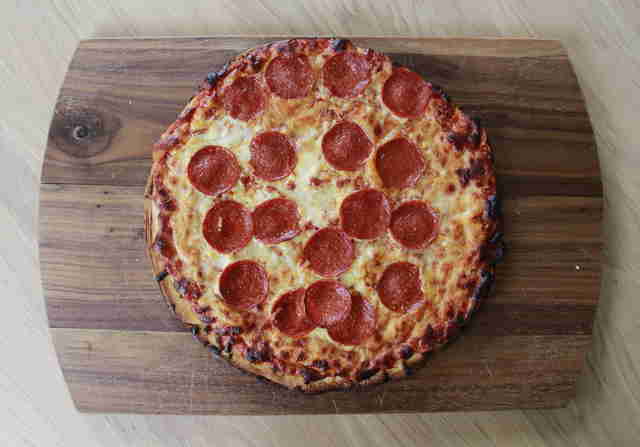 24. Market Pantry Pepperoni Pizza
Target's budget brand pizza is worlds away from its far-superior Archer Farms cousin (see below), but as a cheap meal it's... fine. The sauce has an abundance of pepper, giving it a little spice to balance out the sweetness, and doesn't have that weird acrid tang that hurts so many frozen pies. The cheese is salty. The pepperoni has some sort of funky waxy quality. The crust has a slight chew on top of its cracker crunch. It's the most inoffensive, milquetoast pie of the thin-crust offerings. Every time I took a bite, all I could think was "yup, that's some frozen pizza all right." That is both a compliment and a dig. There's nothing special to push it to the top of the list, but there's also nothing so terrible that it's at the bottom. Basically, it's the William Baldwin of the Target pizza family. But hey, at least it's not the Stephen!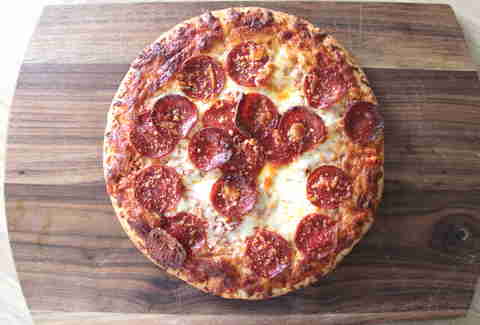 23. O, That's Good! Classic Crust
Look under your seats!! IT'S A DIGIORNO KNOCKOFF!!!!!  Well, kind of. 
Most of the components are sound in this pizza from Oprah's line. The sauce is pleasantly tangy and acidic. The pepperoni is mellow and the cheese is salty and smooth. But this thing is very heavy and dense. And then it creeps in, slowly, as you gnaw through the chewy crust. That slightly burnt, sneakily pungent taste. And when you're finally done chewing, it lingers on the back of the palate for about five minutes, like a case of instant morning mouth. 
It's cauliflower. When I began this journey, I made it a point not to work with cauliflower crust, since it's a completely different kind of pizza. But since it's only ⅓ of the crust and it's Oprah, I've made an exception. But I wondered who exactly this is for. Maybe it's there for folks who are trying to cut carbs by exactly ⅓ while still eating pizza. Or maybe it's for people who somehow think they're ⅓ Celiac. I definitely believe it's also there as a means to trick the vegetable-averse into eating cauliflower. But here's the thing: Remember when Oprah tore into James Frey for the making up all that stuff in A Million Little Pieces? Tricking somebody into eating cauliflower isn't enough to make me exclaim "O That's Some Bullshit!," but it's still trickery. I guess duping people wouldn't be such a bad thing if this tasted better. Please don't murder me, Oprah.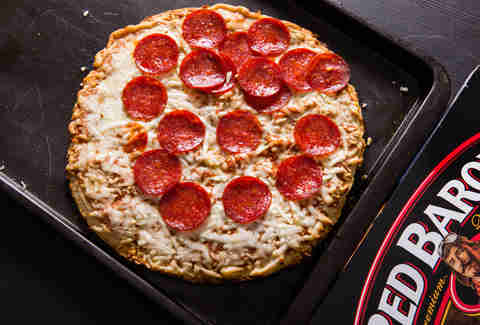 22. Red Baron
It tastes like cafeteria pizza, but not the leathery self-serve kind that's been sitting there all day just sweating. Like, fresh-out-of-the-oven cafeteria pizza. The crackery bottom crust is balanced by a surprisingly bouncy topside. The sauce is a little acrid, sure, but the cheese smooths that out nicely, changing it from soapy and strange into something a little blander and more familiar. Basically, if you got your appendix out, then got wheeled down to the hospital mess hall to find this on offer, you'd be pretty stoked.
21. Totino's Party Pizza
There's a time and a place for this weird, flaky pizza with watery sauce and odd little holes in the bottom. It's called 3am, alone, after you got your heart broken at a bar. And at that time, it's perfect. Other times… not so much. BUT hear me out: If you do find yourself in said situation (or very hungry at 4:22), try rolling it up like a burrito. Sure, you'll squirt sauce out of those little holes, but if you're gonna eat your feelings, knuckle up and do it right.
20. Celeste Pizza for One
"Ever since 1969, Mama Celeste has resided in grocery freezers, her 'Pizza for One' boxes bringing comfort and solace to hungry people with $1, a microwave, and a dream. Not much has changed for Celeste over the years -- the box with her face on it still looks like an unloved '70s album cover, and she's still often overlooked in favor of younger, flashier pizzas. Sometimes she likes to think about her heyday, when she was a minor TV star, having been mentioned on The Fresh Prince of Bel-Air and Welcome Back, Kotter and immortalized on The Simpsons. But most of the time she sits, unnoticed, in a Target freezer in Anytown, USA, and remembers the olden times, when an immigrant from Italy busted the doors open for frozen pizzas, only to watch the industry leave her behind. 'Pizza for One,' she thinks from the corner of the box, with a heavy sigh as yet another potential eater passes her up for the frozen White Castles that are on sale on the next shelf. Today, it looks like 'pizza for none.'"
These are the things I thought as I waited for my Celeste to bake. When the pizza came out of the oven, I had another thought: "This tastes almost exactly like Totino's."
19. Dr. Oetker Virtuoso Pepperoni
Right off the bat, this one has a lot going against it. Packaging-wise, it's haphazardly wrapped in plastic, as if somebody wrapped an uncooked pizza in a big-ass garbage bag, resulting in a half-naked pie (I raked as many toppings to the correct side as possible). But even the half that's aggressively covered in cheese, sauce, and pepperoni is void of flavor. The pepperoni is salty, but that's kind of it. The cheese is low-sodium, which means it has relatively little flavor. The sauce is slightly sweet, but otherwise flavorless. And that sucks, because, texturally speaking, this is the closest any of these pizzas has come to the Greek style. It's a good-looking pizza, but one that you forget as you're still chewing it. Sorry doc. 
18. Jack's Original Thin Crust
They say that the pizza you ate as a kid ends up becoming your ideal pizza, perhaps because nostalgia is like MSG produced by your lizard brain. I fondly remember eating Jack's as a kid -- looking forward to it, even -- whenever my dad would bring it home from the grocery store.
So I got excited when I found this lurking at a big-box store. And my consensus is that, as a kid, I was kind of an idiot (my parents, teachers, and caseworkers will vouch for this). The sauce is soupy, almost liquid. The cheese and pep are good, but the crust is like a saltine given moisture by the tomato-soup sauce. Each bite is making me wonder whether my super hot girlfriend from seventh grade was actually attractive. (Note: My mother confirmed that I actually didn't have a girlfriend in seventh grade... the nature of my reality is now in question. Thanks, Jack.)
17. Trader Giotto's 4 Formaggi
Trader Joe's offers up about 900 different takes on pizza, from flatbread to deep dish to minis. This one is the most basic (no pepperoni, though). It's actually got a nice foldability to it, plus an excellent cheese coverage. But damned if this isn't one of the doughiest, most glue-like pizzas out there. The cheese, too, is a sticky mess that sticks to the roof of your mouth in sheets (let it cool!). Not a bad offering by any means, but this is a pizza that stays with you for all the wrong reasons. It's basically soft, savory taffy.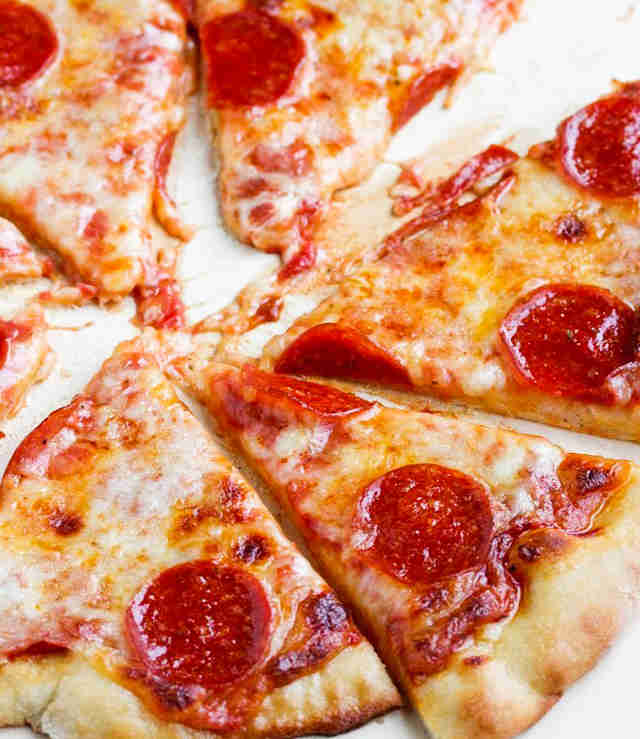 16. Wild Mike's Ultimate Pepperoni
This former mom-and-pop operation out of Oregon has made a big splash nationally thanks to its gigantic pizzas, colorful branding, all-natural ingredients, and commitment to bettering K-12 school cafeterias. So Mike's got a great heart, and a pretty good pizza to boot. The sauce is tangy and has a nice kick, but it's kind of soupy, which causes the cheese to slip around like a frat boy on an ice rink. But it's the pepperoni that drops Mike down in this rank: it's bland and weirdly fishy, representing one of the weirdest-tasting toppings of this rank.
But Mike has some tricks up his sleeve. The thicker crust strikes a nails the balance between crunchy exterior and bready interior, with a little yeasty flavor that evokes old-school French bread pizza and seasons the whole thing with nostalgia. But the real ace here is the fact that Wild Mike thought to include two little packets -- one of Italian spice blend, one of crushed peppers -- into the mix, a simple courtesy that goes a long way to make up for that soupy sauce. That definitely gains Mike status as a trailblazer. Just, you know, maybe skip the pepperoni.
15. Kirkland Signature Thin Crust
The pizza at the Costco food court is magical, and its tastiness is all the more remarkable when you become hypnotized watching a robot make it. I'm assuming the Kirkland signature brand, too, is made by a robot, but this one, divorced from the glorious fluorescent limelight of Costco stores, isn't functioning on all cylinders. There's nothing inherently bad here. In fact, among the more cardboard crusted pizzas, it's fine. But it's also just... meh. The slightly sweet sauce and kiss of sugar in the crust is welcome, but it's all but buried in a mountain of cheap pepperoni on top, which completely masks the cheese. The generosity of processed meat is appreciated as well as expected: Of course Costco puts enough pepperoni on its frozen pizzas to cover 15 of its competitors' pies. But it's also the greasiest of the lot. You'll need about 15 paper towels to get through the greasy lake on top. Luckily, you're at Costco, so you can buy paper towels in bulk. And also get some way better pizza in the food court.
14. Mama Cozzi's Rising Crust
In another era, Mama Cozzi's Rising Crust would be a game changer, with its springy crust, salty cheese, and slightly sweet sauce working extremely well together for a solid out-of-oven experience. But in a world where rising crust pizzas are now the norm, in-house Aldi pizza just kind of fails to stand out. It's a little bland. A little forgettable. So much so that the flavor all but fades away from your mouth the minute you're done chewing. And, strangely for a discount grocer like Aldi, it's a little more expensive than Freschetta and DiGiorno (at least at most locations). All is not lost, though: Mama Cozzi makes a solid take & bake pizza, plus Stouffer's caliber French bread variations. Mama will be fine. But you can do better.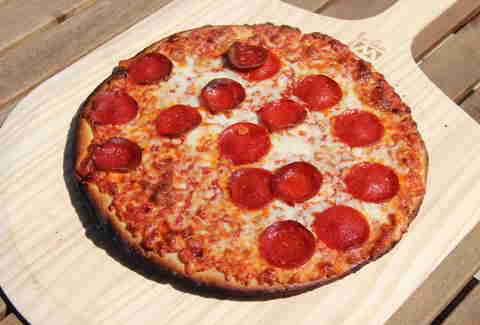 13. 7-Eleven Thin Crust Pepperoni
7-Eleven has a deep bench of hot-bar drunchies at the ready, and the $1 pizza slices are a definite star. They'll even fire up a full pizza for you if you ask, and it's a reasonable assumption that said pizza was previously frozen, unless cashiers are suddenly being trained as pizzaiolos. Which makes the presence of a frozen version that hovers right around the same price point as a freshly cooked one kind of puzzling. It's not dissimilar to what you'd get at the hot bar: It exists at a weird vortex between self-rising crust and the cardboard variety you immediately think of when you imagine "frozen pizza," with a nice chew and a little crunch and a pleasant sourness on the back of the palate. The sauce is mild and tangy, with more a tomato soup quality than a hearty sauce vibe. The cheese tastes like it was made in a salt mine, which… whatever. The only difference is it's slightly less good than the ho-hum stuff sitting next to those withered hot dogs.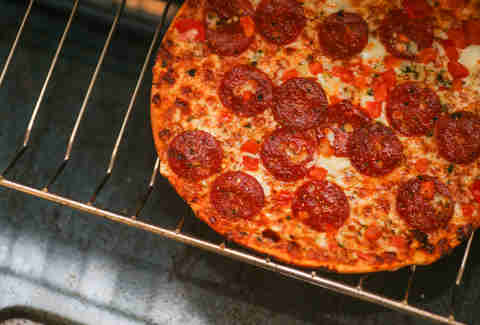 12. California Pizza Kitchen Crispy Thin Crust
This pie from the famed mall-adjacent pizza chain gets some props for getting a tad fancier: The pepperoni has a pronounced smokiness, there are little diced-up tomatoes, and the cheese -- blocks of mozz and smoked Gouda -- is flecked with basil haphazardly, as if some stoned teenager at the mall personally shook the herb on top. The crust, too, stands out with its crackery texture and slight saltiness. But those flourishes are also a bit of a downer because they give the illusion that you ordered a much better pizza before the overall meh of it reminds you that it was frozen. If you did order this at a restaurant, you'd be bummed. Unless you ordered it at California Pizza Kitchen, in which case you're probably on a high school date in Middle America. Good job getting closer to second base, my friend!
Side note: CPK recently started selling take-and-bake versions of its restaurant pies. If you have a CPK near you, that's a much tastier use of your oven. 
11. Newman's Own Uncured Pepperoni
Here's a pizza you can feel good about: Newman's Own donates all of its profits to charity. But it also might make you feel a little woozy after you house the whole thing. The cheese here is pretty on point, and the sauce has a hint of spice that goes great with the thicker-than-normal uncured pepperoni. This is a damn fine frozen pizza until you consider the crust, which can't make it past the cardboard phase. Still, the whole package more than makes up for a little blandness on the back end. Kind of like The Color of Money.
10. Screamin' Sicilian Holy Pepperoni
With its goofy/fun packaging complete with a cut-out mustache, Screamin' Sicilian has made a splash among the new wave of pizzas vying for space in your freezer, and damned if it isn't a strong contender in the increasingly crowded field. The crust is actually foldable and doesn't have that weird cardboard texture: in fact, it closely resembles Freschetta's Brick Oven Pizza, which would easily rise to the top of the pile were we discussing different intra-brand offerings (rules is rules). The cheese in particular is dynamite, with a stretchiness that approaches pizzeria caliber. The thick-cut pepperoni is applied generously.
The only thing keeping this from true greatness is the sauce, which is just too tangy, making good on that promise/threat to "assault your taste buds" on the box. That's a matter of personal taste, though it'd be a lot easier to ignore if said sauce wasn't applied so abundantly. Still, this is a solid pizza, and its relatively low ranking just shows how far we've come since the days when Mama Celeste reigned supreme.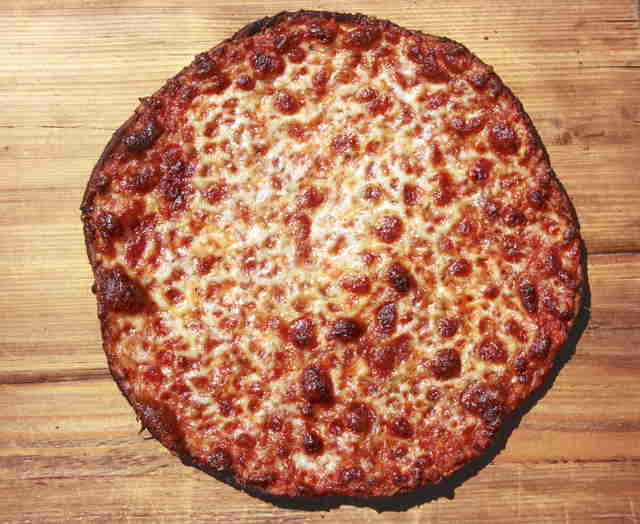 9. Open Nature Four Cheese
The best off the cardboard-thick pizzas gets huge points for its on-point cheese blend, which includes a shot of sharp white Cheddar to go along with the usual suspects. It is, in fact, the best cheese blend of any pizza on this list, period, and that makes sense: Open Nature's made by Lucerne, a dairy company. The sauce here is slightly sweet and doesn't have that acidic tang that brings so many similar pizzas down, and the crust is pliable and salty. Of note: This is the first pizza I burned in this journey. I still finished it, then went and got another just to see if it was a fluke. It wasn't. Even when this is ruined, it's a winner.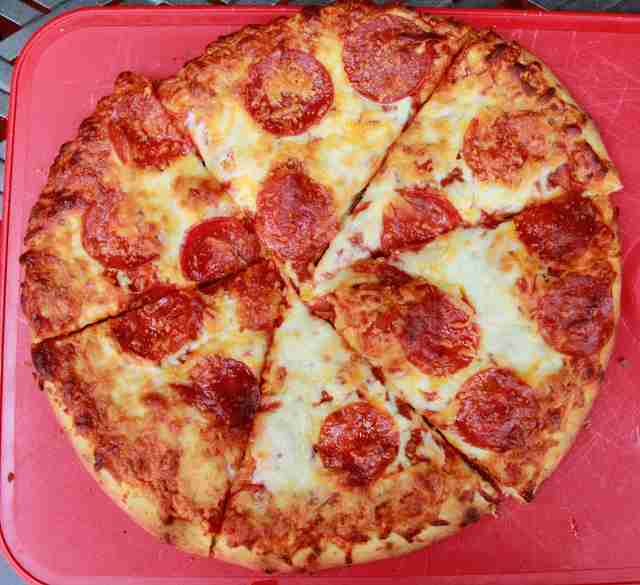 8. Archer Farms Pepperoni & Three Cheese Frozen Wood-Fired Crust Pizza
For those of you who don't know -- likely because you're not a soccer parent -- Archer Farms is Target's in-store brand. Folks like my sister, whose kids are great at soccer, are all about the Archer. Despite ringing endorsements, when I took the pizza out of the box I got a little worried: This looks like your garden-variety rising-crust pizza, but, as the very-long name indicates, the base is cooked. The little char marks immediately raised a flag, and a suspicion that this would be another hunk of cheesy cardboard. 
Friends, and soccer parents, I was wrong. 
Turns out, pre-cooking the cook gives it a much airier consistency, and while that sacrifices the bouncy texture some might expect, it makes up for it by tasting an awful lot like a disc-shaped French bread pizza. The cheese is salty and generous, and has the texture of soft halloumi. The sauce -- an Achilles heel of so many of these pies, which rely on an overload of pepper to mask the acidity -- is simple, sweet, and tangy. The pepperoni is used sparingly and doesn't have that weird carrion taste that ruins weaker entries. This is, shockingly, a damn solid entry. And it pairs perfectly with Target wine, another thing we'd all do well to listen to people who drive minivans about.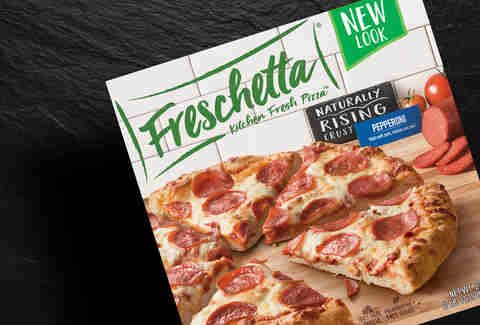 7. Freschetta
If you time it right, the crust is springy and altogether delightful. It can't match that pizzeria bounce you get from thicker-crust offerings, but it's close, and the stringy cheese goes a long way in heightening the experience. It's a bit generic, but in a great way. But the sauce is the real detriment here. It's got a kick to it that overpowers everything, which would be fine if this thing wasn't swimming in it. It just straight-up drowns everything out. It's a shame that it derails such a solid pie -- and make no mistake, this is a solid pie. The good news? Freschetta makes a great brick-oven square pie, but that only makes the OG's collapse at the finish line that much more tragic.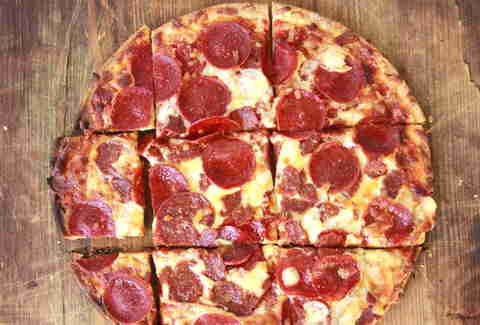 6. Outsiders Milwaukee-Style Pepperoni
Outsiders is a recent addition to the frozen pizza market, and their debuts are pretty brassy: There's a pretty solid take on Detroit-style that doesn't quite live up to the name, but is still a solidly serviceable take on thick crust. But the Milwaukee style is a little more suspect, largely because there's no such thing as Milwaukee-style pizza, despite the packaging's claim that it exists, and the presence of a variation loaded with spicy sausage, caramelized onions, and cheese curds. 
No, what this is is tavern-style pie, but holy, shit! They kind of pull it off, semantics be damned. This is the only thin offering that actually nails the whole "cracker-thin" thing crust, but it's the sauce -- sweet, salty, not at all acrid -- mixed with the saline, smoky cheese that puts it above. In addition, the pepperoni, which is presented in discs and coarse-chopped hunks that get a little char, is the most flavorful and least greasy of the lot. There's no such thing as Milwaukee-style pizza. But if this is what it tastes like in frozen form, maybe there should be.
5. Signature Select Rising Crust
I am frankly aghast -- nay, flabbergasted -- that this store-brand DiGiorno knockoff placed this high, and even beat out Freschetta, which was my predicted winner here. But here we are. Why?
First, the crust, which tastes almost exactly like a HOT-N-READY from Little Caesars. That isn't exactly the epitome of takeout, but hits a certain nostalgia spot. It's flecked with Parmesan (nice touch) that gives it an almost Crazy Breadish vibe, and the crust almost completely avoids that cardboard texture. It's bouncy, crunchy, pillowy. Bravo, off-brand pizza (available at stores like Safeway, Vons, and Albertsons!).
But there's a downside: It's topped with what appears to be pizza soup, a combination of mozz and a runny, relatively tame sauce that feels more like an afterthought until you consider that there's so much of it. And the pepperoni -- here piled on in discs and thick strips -- is clearly brand X. Five paper towels later, it was still a slippery mess of grease, and combined with the sauce and cheese, it completely changed the middle into a mess of doughy goop. The closer you get to the crust, the better it gets. But that's a lot of wasted real estate in the center.
4. DiGiorno
Look, this isn't a "real" pizza. The crust is exceedingly firm on the bottom and doughy on top. But this pizza feels like it's really, really trying to be a real pizza, and it's largely succeeding. I'd rather eat this than Domino's or Papa Murphy's any day.
The cheese? Salty and elastic. The sauce? Slightly sweet but with a nice little red pepper spice to make it the best of the bunch. Even more important, unlike many frozen pizzas, it doesn't appear to be applied by a hyperactive 2-year-old given free reign on a stock pot and a big-ass ladle. No, you would never believe that this was delivery. But you also probably wouldn't care, because this is one of the most balanced and nuanced of all the options in your freezer. You see it at the top of lists like these all the time for a damn good reason. 
3. Pizza Romana Pepperoni
For the first time in this ranking, a pizza came out of my oven that wouldn't look out of place in an actual cardboard pizza box, with cheese sizzling and a big ol' bubble in the dough. And on first bite, the consistency of the crust is absolutely remarkable: It's springy and doughy and you can fold it in half without it breaking into cracker chunks. 
Pizza Romana is actually imported from Italy and available in fancy and mom & pop groceries, and its heritage shows. The cheese actually stretches! The pepperoni's a team player rather than a flavor hog! The sauce is… well, honestly, the sauce is kind of forgettable. Still, there's a great deal to love here. If this was from a pizza restaurant, it'd probably be the top five in most average towns, unless that town was Florence, in which case it would probably be, like, 700th, which is still pretty good. The only thing holding it back is a weird aftertaste that distracts from the quality, like somebody thought it would be funny to make every third bite taste like a Totino's Party Pizza. It's a light distraction, but we're at the top of this list. The very fact that this is the 27th pizza I've eaten for this and it's ranking this high speaks volumes.
2. Table5 Uncured Pepperoni
Table5 tastes like what would happen when somebody attempted to make a Chicago-style deep dish, then gave up, reduced the number of toppings, and called it good. Great, even. Because there are just so many things working in this thing's favor that it basically challenges the notion of what a frozen pizza is. It starts with a signature cornmeal crust, which pulls double duty as a buttery, decadent holding vessel and also serves as a reward at the end of a slice. No joke, if I got this crust at a pizzeria I'd be pretty stoked: It's doing its own thing, circumventing the need to go the rising-crust route and instead offering up a base that wouldn't be out of place at some fancy-pants artisan pizza joint. It's a crust with identity.
The generously applied pepperoni has a nice little zip and the cheese has the kind of elasticity that immediately elevates it to the upper tier. The only gripe I have is the sauce. It's actually very good -- tangy, slightly sweet, nicely balanced with herbs. But there's barely any on it until you get toward the crust. In fact, I briefly thought something was amiss and there was no sauce at all. Then I got to the third bite and realized it was there on the back end. That's a neat trick: Each bite of this pizza gets better, all the way until that superlative crust. Then you get to start it all over again. Which I did. Until the entire pie was devoured within 15 minutes. To quote the poet Homer Simpson, let's give it up for Table5! 
1. Home Run Inn
Generally speaking, it's best to ignore internet comments. I'm sorry. I'm sure you're all lovely people, but sometimes you're just insane. But following the original publication of this article, the sheer volume of people touting the virtues of this Chicago-area favorite made it all but necessary to taste, and luckily Home Run Inn can now be found nationwide, if you know where to look. (I found it at Whole Foods.) Turns out, you were right, commenters! About this pizza. Not about the world being flat.
This isn't the pizza you imagine when you crave a quick fix, unless you grew up with it in Chicago and went to a very specific pizzeria (called Home Run Inn, in case you didn't realize it). A deep-dish or Chicago thin-crust this ain't: It's more a hybrid, taking the butteriness of a deep-dish, then flattening it out. The crust is dense, rich, and buttery rather than fluffy, and tastes a lot like a mix between a cracker and a savory pie crust. But when it mingles with the slightly sweet and tangy sauce, the blanket of immaculately salty and stretchy mozz, and the mildly spicy uncured pepperoni, some sort of magical alchemy occurs. No, this isn't what you were imagining when you decided to get a pizza at the grocery store. It's better. The best frozen pizza on the market, in fact. Time to start questioning this spherical world "science."
Sign up here for our daily Thrillist email, get Eatmail for more food coverage, and subscribe here for our YouTube channel to get your fix of the best in food/drink/fun.