Beloved for its unequaled deliciousness-to-work ratio, lack of delivery fee, and having enough sodium to flush your system of all nutrients (try the pizza cleanse here), frozen pizza is surely one of food preservation's greatest gifts. But aside from price, nostalgia, feelings about Paul Newman, and price, how does one decide on the best option?
By filling a grocery cart with a buffet of pepperoni pizzas, ignoring the stares of disbelief from the rest of the people in the freezer aisle, and heading home for a taste test.
Our list of contenders: Red Baron, DiGiorno, Whole Foods' 365, Freschetta, Tony's, Totino's, California Pizza Kitchen, Newman's Own, Trader Joe's, Annie's, Tombstone, and Home Run Inn. Each pizza was rigorously rated from 1-to-10 on cheese, crust, sauce, pepperoni, and overall flavors. We then averaged the scores for final verdict as to whether it's worth burning the top of your mouth on.
12th Place: Whole Foods 365, $4.99
Crust: 4 - This crust screams "crunch!" when you bite into it. It has unparalleled snap, a lingering crackle, but very little pop. It's talking loud, but isn't saying anything.
Cheese: 3 - Out of the oven, this looked like a champ, but the cheese was quick to curdle and tasted far from delicious.
Sauce: 2 - It's really more red-colored oil than sauce. There's a ton of basil flecks, but they're not really contributing any flavor.
Pepperoni: 2 - Tastes like deli ham painted red.
Overall Flavors: 1 - Yeah.
Final Score: 2.2 - HOW DID THIS SNEAK INTO WHOLE FOODS?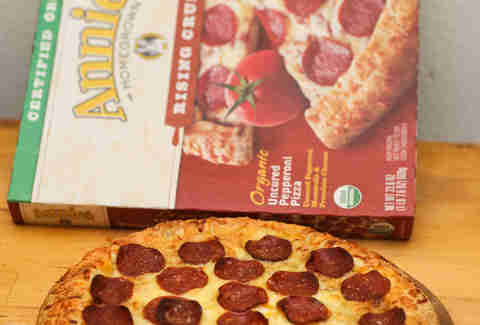 11th Place: Annie's Homegrown Rising Crust, $9.99
Crust: 6 - It's mostly bread. Your teeth feel like they're jumping into a foam pit with a little bit of kid spit on top. That said, the bread seems real -- there's a snap, it's fluffy, and you can taste the 8g of whole grain.
Cheese: 1 - Tanginess is its greatest asset, and that is no asset at all for a pizza. It's organic, so it's pretty much missing everything that defines a frozen pizza's cheese.
Sauce: 2 - It was difficult to assess because the sauce was soaked up by the black hole of a crust.
Pepperoni: 3 - A flash in the pan. They were too small, and that's the last thing you want out of a sausage. Innuendo!
Overall Flavors: 2 - It should make you feel good because it has a woman's name, but there was nothing heartwarming about it. This is a good pizza to eat if you're about to go vegan and don't want to miss the taste of pizza.
Final Score: 2.4 - PRETTY MUCH A SAVORY OTIS SPUNKMEYER.
10th Place: Trader Joe's Deep Dish, $4.49
Crust: 2 - Wastes valuable stomach space. It's four parts crust, one part pizza.
Cheese: 2 - The cheese didn't melt all the way, despite a rock-hard crust. The bits of Parmesan were stringy and salty, but not actually very cheesy.
Sauce: 2 - Texture is lumpy and granular, which overpowers the sweeter flavors.
Pepperoni: 3 - There's a ton of pepperoni on here, especially for a smaller surface area, but it seems to go against Trader Joe's general philosophy of quality over quantity.
Overall Flavors: 3 - An obstacle course of a pizza. You've gotta jump over the crust, cling to the pepperonis like life rafts, and hope not to drown in the chunky sauce.
Final Score: 2.4 - JOE, WE LOVE MOST THINGS ABOUT YOU, BUT THIS IS TRADER NO'S.
9th Place: Tony's, $1.98
Crust: 3 - You have to work really hard to bite into it, and the rubbery reveal is not worth the effort.
Cheese: 4 - It's thick and stretchy, but totally neutral flavor-wise. It's also suspiciously shiny, and could probably be passed off as soy cheese.
Sauce: 3 - Tony's a busy guy; he doesn't have time to throw herbs in there! For some reason he made time to add plenty of citric acid, however.
Pepperoni: 3 - Not seasoned enough, which gives it a quickly fading flavor. If Tony were a runner, he would be a spinter, but a not very good one.
Overall Flavors: 4 - Unmemorable.
Final Score: 3.4 - THE FOUNDER OF THE COMPANY WAS NAMED DICK, MEANING NOTHING ABOUT THIS IS REAL.
8th Place: California Pizza Kitchen Thin Crust, $5.27
Crust: 3 - The bottom has little holes in it like a Saltine cracker, but is lacking the salt. It just tastes like flour and spite.
Cheese: 2 - If this was a city in California, it'd be Fresno. Or Modesto. It's just one of those places you pass through.
Sauce: 2 - Generous with the green specks, but a pizza sauce is more than just special effects. There's almost no sauce on here -- just a thin glaze. Similar in taste and appearance as pale red nail polish.
Pepperoni: 8 - You can really taste that the meat has been smoked. California knows how to party.
Overall Flavors: 3 - Looked very promising, but this pales in comparison to the restaurant version of the product.
Final Score - 3.6 - EVEN THOUGH IT'S IN MALLS, CPK IS ACTUALLY TOTALLY BOMB. GO THERE INSTEAD.
7th Place: Totino's Party Pizza, $1.35
Crust: 4 - It's getting the job done. All the other ingredients seem to collapse right into the crust, giving a full-pie caramelization effect that you generally only see around the edges of other pizzas.
Cheese: 4 - You can get a lot of mileage out of salt.
Sauce: 6 - Oregano for days. Whereas other pizzas have the pitfall of too little or unflavorful sauce, Totino's sauce is really putting in work.
Pepperoni: 3 - Might as well be flavored tofu. But at least it's well-flavored tofu.
Overall Flavors: 4 - Tastes like cafeteria food before schools started caring about cafeteria food.
Final Score: 4.2 - WELCOME TO FIRST GRADE.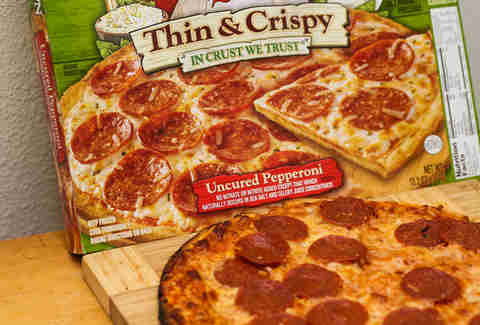 6th Place: Newman's Own Thin & Crispy, $5.30
Crust: 6 - "In crust we trust!" Paul's come through on his promise with a crust that tastes like cardboard in the best possible way.
Cheese: 6 - It's full of flavor, with twists (Mozzarella cheese!), turns (more Mozzarella!), and a surprise ending (Parmesan cheese!) aftertaste.
Sauce: 2 - If this were a Paul Newman movie, it would be the shortest one. There's almost no sauce. You can hold it upside down and it's like gravity doesn't exist.
Pepperoni: 6 - This is one of the most substantial pepperonis out there, which is both a generous gift and a very chewy curse, much like The Blueprint 2.
Overall Flavors: 6 - There was a commemorative issue of Time when this guy died. His spirit lives on in every bite.
Final score: 5.2 -- THIS PIZZA IS NOBODY'S FOOL.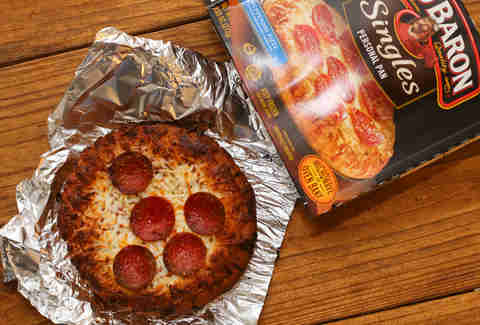 5th Place: Red Baron Singles, $2.98
Crust: 7 - It's like a firm mattress. Very soft, but with great support and physical integrity despite the pillowy interior. Bonus points for crunchy caramelization on the slightly-scorched edges.
Cheese: 4 - The cheese is not where this pie shines. You certainly don't think "dairy" when biting into it. Not even if you're eating it while reading the dictionary entry for dairy.
Sauce: 4 - If the pepperoni wasn't there to back it up, the sauce would not stand up. It's like a ketchupy afterthought.
Pepperoni: 8 - Black pepper and what looks like basil gives it a long tail of a complex flavor. The savory meat tastes like it wasn't the cheapest they could find.
Overall Taste: 5 - This is a crust-forward pie. It's like a band with a killer rhythm section but a boring singer. For a casually dressed carb load, it succeeds.
Final Score: 5.6 - MORE LIKE THE "CRUST BARON".
4th Place: Tombstone, $3.48
Crust: 7 - A fantastic texture combines with a classic, slightly burnt flavor. Would receive higher marks, but it buckles under the weight of the toppings.
Cheese: 7 - Whoa, that is gooey. It takes a couple chews to break it down. Very kid-friendly. Strong canola oil notes.
Sauce: 6 - Double-whoa, that's a lot of sauce! It's also a bit sour, but they put chunks of meat in to show they care.
Pepperoni: 7 - The flavor's phoned in, but very confidently. It's like, "Hi, I'm pepperoni!" You believe it against your better judgment.
Overall Flavors: 7 - This is a maximalist pizza. It's not holding back in any regard. Every element is fighting for your attention and earning it.
Final Score: 6.8 - WHAT I'D LIKE ON MY TOMBSTONE IS A LITTLE LESS SAUCE.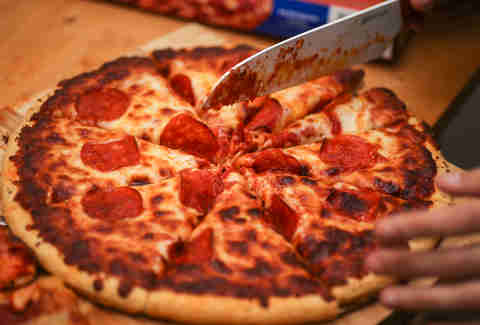 3rd Place: Home Run Inn, $9.99
Crust: 8 - This puts the pie in pizza pie. It's buttery, flaky, and tastes like it should be supporting a wedge of pumpkin filling. It actually seems like someone baked it. Hints of apple.
Cheese: 7 - Unlike much of the bunch, this melts evenly. It's sweet like candy, and gooey without being too stringy.
Sauce: 3 - The sauce is more of a foul ball. Not seasoned at all.
Pepperoni: 8 - Like someone who used to have a disease but doesn't anymore, this meat is truly cured. It tastes like prosciutto, adding to the overall sweet-over-savory theme.
Overall Flavors: 7 - Home Run Inn is a lesser-known brand out of Chicago, and you can tell it's made by someone who has pride in their pizza. If your palate leans towards saccharine, you might want to go all the way with this one. Innuendo!
Final Score: 6.8 - TRULY IN A LEAGUE OF ITS OWN.
2nd Place: Freschetta Thin & Crispy Crust, $4.87
Crust: 7 - Crispy, but not hard or crackly. Almost like the consistency of matzoh, which is funny, because you don't often see pepperoni on it. You forget that you're eating bread, but in a good way.
Cheese: 7 - It's rare that you can taste dairy in a frozen pizza, but this cheese honestly tastes like it came out of a cow. The thinness leads to a wealth of hardened pockets that really make the flavor pop.
Sauce: 7 - With thin crust, it's easy for the sauce to serve as lubrication, but Freschetta managed to squeeze some taste into a millimeter of marinara. It's sugary and sweet, but still finishes with a wave of basil.
Pepperoni: 8 - A three-dimensional flavor. Pork, spice, and then more pork. Tastes very real, and not at all like science.
Overall Flavors: 8 - It's the total package. Even though it lacks a mascot or marketing budget, this is an all-around gourmet pie at a reasonable price.
Final Score: 7.4 - THERE'S ZERO SHAME IN EATING THIS.
1st Place: DiGiorno Rising Crust, $5.27
Crust: 7 - Slightly bitter and with a sprinkly corn meal mouthfeel, but extremely fluffy. Crispy but still substantial, and despite an overwhelming blast of chemical flavors, it's still really good.
Cheese: 8 - Goes all the way to the end of the slice. It tastes of actual milk and is viscerally stringy.
Sauce: 8 - It jumps right off the pizza. It's like a puppy that's happy to see you and you bend down to pet it and suddenly there's slobber all over your face.
Pepperoni: 8 - Aromatic, long-tailed flavors of MSG-loaded pork as well as clear notes of beef and chicken. Only drawbacks are the lack of black pepper and the crispiness that never actualized.
Overall Flavors: 9 - This could be confused for Domino's. It's that good-ish. They've really nailed the gestalt of flavors.
Final Score: 8 - DICK VITALE IS A VERY SMART MAN WHEN IT COMES TO PIZZA.
Conclusion
Frozen pizzas are truly as much of an art as science. They have the power to encompass the entirety of the human experience in one bite -- from love at first sight to mouth-burning self-hatred. And as with any art, personal preference always comes into play. But putting aside your palate, there's one thing that everyone can agree on -- there's one of these in your freezer right now, and there won't be tomorrow.

Dan Gentile is a staff writer on Thrillist's National Food/Drink team who has taste-tested everything from the Big Mac to the Big King. He also enjoys hating mustard. Follow him to pots of gold/Twitter at @Dannosphere.
Other Stuff You'll Like In Taste-Test