They say there's no such thing as bad pizza, but that hasn't stopped the frozen-food industry from waging a decades-long experiment to disprove that old adage. Still, advances in rising-crust science have forced purveyors to step up their game. We live in the golden age of frozen pizza. Some are better than the chains. Some are best utilized for a subarctic Ultimate Frisbee league.
To find the best, I risked hypothermia in the frozen-food aisle and adult-onset diabetes to taste-test the most common frozen pies on shelves. The criteria was simple: I picked all the major brands available in their classic, most basic forms, and rated them based on cheese, sauce, texture, crust, and overall tastiness. If there was pepperoni, I went with that (I'm only human). Barring that, plain cheese. No French bread, bagels, pockets, or specialties. Just good ol' pizza. Here's how they stacked up.
12. Whole Foods 365
When it came out of the oven, this looked like the picture-perfect frozen pizza. In fact, it strongly resembled the ones the Ninja Turtles freebased in the old cartoons: all gooey cheese dripping over the sides to create an alluring crustlessness amid a glimmering sea of pepperoni. So when it tasted so bizarre on the first bite, I immediately thought I had forgotten to remove the plastic. For real. Everything about this tasted weirdly off, from the strangely viscous cheese to the chemically tainted sauce. It looks like an upscale version of the $1.50 Totino's Party Pizza. It tastes like one of those that got left out in the sun. You can do better than this, Whole Foods! Hell, turtles who live in a sewer can too.
11. Tombstone Original
Frozen gets a bum rap, with people automatically assuming it's gonna have a cardboard crust, mealy cheese, tons of grease, and a sauce that tastes a step up from spicy ketchup. That's because of pizza like this. This gets bonus points because it has two kinds of pepperoni (thin discs and thick chunks). The bad news? Both are kind of gross, like somebody tried to make pepperoni in a lab, then got bored and just settled once they beat Pupperoni.
10. Tony's
When I was a kid, our school cafeteria would advertise Tuesday as "Tony's pizza day." As such, it reminded me of childhood… like, the most disappointing parts of childhood, firmly wedged between going to church and finding out the Easter Bunny was actually a Communist. It was really glossy, under-seasoned, and super-bland outside of an acidic punch in the palate. Eating it made me worried that I was going to poop my pants while doing somersaults in Mr. Sacarski's gym class… AGAIN.
9. Amy's Cheese Pizza
Amy's is the go-to brand for folks who want to feel as though they're eating something healthy, yet are still eating pizza. That means no pepperoni (monsters), but that might not be a bad thing if said processed meat would under-deliver as much as the pie itself. There's an overpowering acidity and saltiness on this thing that really kills the mood. The crust is satisfyingly bouncy and the cheese has a nice little stretch, but it suffers from a weird balance between good and fake. And that sauce. Ick. It's like when you start to make your own marinara, realize you did something wrong, but eat it anyway.
8. Red Baron
It tastes like cafeteria pizza, but not the leathery self-serve one that's been sitting there all day just sweating. Like, fresh-out-of-the-oven cafeteria pizza. The crackery bottom crust is balanced by a surprisingly bouncy topside. The sauce is a little acrid, sure, but the cheese smooths that out nicely, changing it from soapy and strange into something a little blander and more familiar. Basically, if you got your appendix out, then got wheeled down to the hospital mess hall to find this on offer, you'd be pretty stoked.
7. Totino's Party Pizza
There's a time and a place for this weird, flaky pizza with watery sauce and odd little holes in the bottom. It's called 3am, alone, after you got your heart broken at a bar. And at that time, it's perfect. Other times… not so much. BUT hear me out: If you do find yourself in said situation (or very hungry at 4:22), try rolling it up like a burrito. Sure, you'll squirt sauce out of those little holes, but if you're gonna eat your feelings, knuckle up and do it right.
6. Trader Giotto's 4 Formaggi
Trader Joe's offers up about 900 different takes on pizza, from flatbread to deep dish to minis. This one is the most basic (no pepperoni, though). It's actually got a nice foldability to it, plus an excellent cheese coverage. But damned if this isn't one of the doughiest, most glue-like pizzas out there. The cheese, too, is a sticky mess that sticks to the roof of your mouth in sheets (let it cool!). Not a bad offering by any means, but this is a pizza that stays with you for all the wrong reasons. It's basically soft, savory taffy.
5. California Pizza Kitchen Crispy Thin Crust
This pie from the famed mall-adjacent pizza chain gets some props for getting a tad fancier: The pepperoni has a pronounced smokiness, there are little diced-up tomatoes, and the cheese -- blocks of mozz and smoked Gouda -- is flecked with basil haphazardly, as if some stoned teenager at the mall personally shook the herb on top. The crust, too, stands out with its crackery texture and slight saltiness. But those flourishes are also a bit of a downer because they give the illusion that you ordered a much better pizza before the overall meh of it reminds you that it was frozen. If you did order this at a restaurant, you'd be bummed. Unless you ordered it at California Pizza Kitchen, in which case you're probably on a high school date in Middle America. In which case, good job getting closer to second base.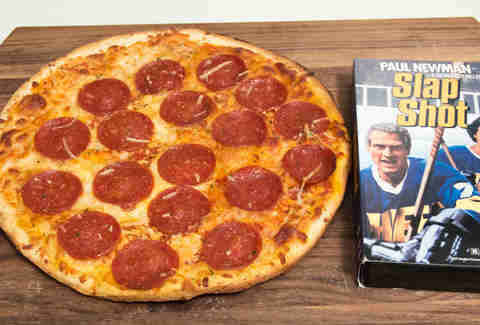 4. Newman's Own Uncured Pepperoni
Here's a pizza you can feel good about: Newman's Own donates all of its profits to charity. But it also might make you feel a little woozy after you house the whole thing. The cheese here is pretty on point, and the sauce has a hint of spice that goes great with the thicker-than-normal uncured pepperoni. This is a damn fine frozen pizza until you consider the crust, which can't make it past the cardboard phase. Still, the whole package more than makes up for a little blandness on the back end. Kind of like The Color of Money.
3. Freschetta
The crust here is the closest any frozen pizza has currently gotten to tasting fresh. If you time it right, it's springy and altogether delightful. It can't match that pizzeria bounce you get from thicker-crust offerings, but it's close, and the stringy cheese goes a long way in the experience. It's a bit generic, but in a great way. But the sauce is the real detriment here. It's got a kick to it that overpowers everything, which would be fine if this thing wasn't swimming in it. It just straight-up drowns everything out. It's a shame that it derails such a solid pie -- and make no mistake, this is a solid pie -- alas. The good news? Freschetta makes a great brick-oven square pie, but that only makes the OG's collapse at the finish line that much more tragic.
2. Signature Select Rising Crust
I am frankly aghast -- AGHAST -- that this store-brand DiGiorno knockoff placed this high, and even beat out Freschetta, which was my predicted winner here. But here we are. Why?
First, the crust, which tastes almost exactly like a HOT-N-READY from Little Caesars. That isn't exactly the epitome of takeout, but hits a certain nostalgia spot. It's flecked with Parmesan (nice touch) that gives it an almost Crazy Breadish vibe, and the crust almost completely avoids that cardboard texture. It's, hands down, the best crust of the bunch. Bouncy, crunchy, pillowy. Bravo, off-brand pizza (available at stores like Safeway, Vons, and Albertsons!).
So why isn't it No. 1? It's because it's topped with what appears to be pizza soup, a combination of mozz and a runny, relatively tame sauce that feels more like an afterthought until you consider that there's so much of it. And the pepperoni -- here piled on in discs and thick strips -- is clearly brand X. Five paper towels later, it was still a slippery mess of grease, and combined with the sauce and cheese, it completely changed the middle into a mess of doughy goop. Still, the last few bites are enough to give it a solid, surprise finish that could have been the best. But, you know… pizza soup.
1. DiGiorno
Look, this isn't a "real" pizza. The crust is exceedingly firm on the bottom and doughy on top. But this pizza, more than any others, feels like it's really, really trying to be a real pizza, and it's largely succeeding. I'd rather eat this than Domino's or Papa Murphy's any day.
The cheese? Salty and elastic. The sauce? Slightly sweet but with a nice little red pepper spice to make it the best of the bunch. Even more important, unlike the other top contenders, it doesn't appear to be applied by a hyperactive 2-year-old given free reign on a stock pot and a big-ass ladle. No, you would never believe that this was delivery. But you also probably wouldn't care, because this is the most balanced and nuanced of all the options in your freezer. An obvious choice? Sure. But it's obvious for a reason.
Sign up here for our daily Thrillist email, and get your fix of the best in food/drink/fun.