Photo by Cole Saladino for Thrillist
Photo by Cole Saladino for Thrillist
They say there's no such thing as bad pizza, but that hasn't stopped the frozen-food industry from waging a decades-long experiment to disprove that old adage. Gritty cheese, freezer burned pepperoni, and flat crusts have all played their role in frozen pies before. Still, advances in rising-crust science have forced purveyors to step up their game.
We're now living in the golden age of frozen pizza, and some are even better than what you'd buy fresh at a restaurant chain.
To find the best frozen pizza, I taste-tested the classic and most basic offerings from major, widely available brands, and rated each based on cheese, sauce, texture, crust, and overall tastiness. If pepperoni was an option, I went with that (I'm only human, after all). Barring that, I mostly stuck to plain cheese—no French bread, bagels, pockets, or specialties. Here are 12 pies I'll stand by.
California Pizza Kitchen Crispy Thin Crust
What's good: This thin crust pizza from the famed mall-adjacent pizza chain gets some props for getting a tad fancier: The pepperoni has a pronounced smokiness, there are tiny diced tomatoes, and the cheese—blocks of mozzarella and smoked Gouda—is haphazardly flecked with basil. The crust, too, stands out with its cracker-like texture and slight saltiness.
Room for improvement: Those flourishes are also a bit of a downer because they give the illusion that you ordered a much better pizza before the overall meh of it reminds you that it was frozen. If you did order this at a restaurant, you'd be bummed.
Side note: In 2021, California Pizza Kitchen (CPK) started selling take-and-bake versions of its restaurant pies. If you have a CPK near you, that's a much tastier use of your oven. Incidentally, they freeze very well. The margherita and white cheese versions are good options to try.
Table 87 Coal Oven Margherita
What's good: After a 2015 Shark Tank investment, Brooklyn's Table 87 Coal Oven Pizza was able to make its New York slices available nationwide, standing out from the pack with a gigantic frozen margherita slice. The flavor profile on the huge triangle is solid: fantastically gooey cheese with a punch of salt, fresh sprigs of basil, and a pizzeria-caliber sauce that strikes the balance between acidic and sweet.
Room for improvement: The only thing holding back this otherwise great option is the crust. Somewhere in the production process, it lost its spring, coming out of the oven dense and brittle. What's more, the cracker-like consistency frequently results in a shattered slice. Still, it's better than a good number of the fake Famous Ray's knockoffs you'd stumble across late at night in NYC, and an impressive feat of frozen pizza innovation. But, for a better crust experience, resist the slice and opt for the full, single-serving round version.
American Flatbread Uncured Pepperoni & Uncured Bacon
What's good: One of the few frozen pizzas you could legitimately mistake for a restaurant pie—though don't confuse it for the iconic Vermont pizzeria of the same name—American Flatbread manages a high degree of pliability in its springy, slightly tangy crust, which is easily foldable in contrast to its cardboard brethren.
Things get interesting in the toppings department, too: not content with pepperoni slices, this basic pie comes with chunks along with bacon, which is minced into the consistency of pork floss. Does it taste like bacon? Not really. Am I still going to devour this pie? Absolutely.
Room for improvement: I do wish the bacon tasted more like bacon, and I'd imagine that bigger chunks would do the trick and keep them from being overpowered by the pepperoni's spices. And, while the dough is delightfully tangy, it's also got a glutinous layer that distracts from the crispy exterior. But those are minor concerns. Now, pass that bacon floss.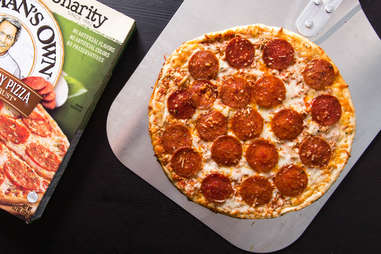 Newman's Own Uncured Pepperoni
What's good: Here's a frozen pizza you can feel good about: Newman's Own donates all of its profits to charity. As if that weren't reason enough to prowl the freezer aisle, the cheese here is pretty on point, and the sauce has a hint of spice that goes great with the thicker-than-normal uncured pepperoni.
Room for improvement: This is a damn fine frozen pizza until you consider the crust, which can't make it past the cardboard phase. Still, the whole package more than makes up for a little blandness on the back end.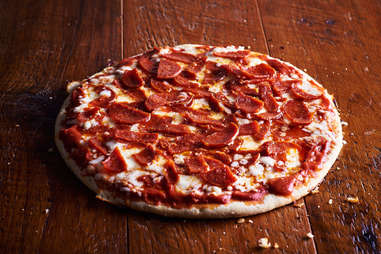 Screamin' Sicilian Holy Pepperoni
What's good: With its goofy and fun packaging complete with a cut-out mustache, Screamin' Sicilian has made a splash among the pizzas vying for space in your freezer. The crust is actually foldable and doesn't have that stale, cardboard texture. The cheese in particular is dynamite, with a stretchiness that approaches pizzeria caliber. The thick-cut pepperoni is applied generously.
Room for improvement: The only thing keeping this from true greatness is the sauce, which is just too tangy, making good on that promise (or threat?) to "assault your taste buds" on the box. That's a matter of personal taste, though it'd be a lot easier to ignore if said sauce wasn't applied so abundantly. Still, this is a solid pizza.
Freschetta
What's good: If you time it right, the crust is springy and altogether delightful. It can't match that pizzeria bounce you get from thicker-crust offerings, but it's close, and the stringy cheese goes a long way in heightening the experience. The pepperoni may not inspire awe, but it provides some meaty saltiness. It's a bit generic, but in a great way.
Room for improvement: The sauce is the real detriment here. It's got a kick to it that overpowers everything, which would be fine if this thing wasn't swimming in it. It just straight-up drowns everything out. It's a shame that it derails such a solid pie—and make no mistake, this is a solid pie.
The good news? Freschetta makes a great brick-oven square pie, but that only makes the OG's collapse at the finish line that much more tragic.
Outsiders Milwaukee-Style Pepperoni
What's good: According to the packaging of this frozen pizza, Milwaukee-style pizza is a regional variation loaded with spicy sausage, caramelized onions, and cheese curds. To me, what it most resembles is a
Semantics aside, Outsiders kind of pulls it off. This is the rare thin crust pizza that actually nails the cracker-like crust, but it's the sauce—sweet, salty, not at all acrid—mixed with the saline, smoky cheese that really gives it a lift. In addition, the pepperoni, which is presented in discs and coarse-chopped hunks that get a little char, is the most flavorful and least greasy of the lot.
If there is such a thing as Milwaukee-style pizza, this is a pretty solid argument for serving it in frozen form.
Room for improvement: It's hard to find faults with this pie. Is this the best frozen pizza in the world? If you dislike cheese curds, maybe not. But it's a strong contender among the pizzas on this list.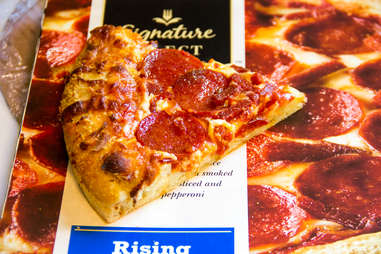 Signature Select Rising Crust
What's good: This frozen pizza crust tastes almost exactly like a HOT-N-READY from Little Caesars, and, while that might not be the epitome of takeout for some people, for me, it hits a certain nostalgia spot. The crust is also flecked with Parmesan (nice touch) that gives it an almost Crazy Breadish vibe, and it almost completely avoids that cardboard texture. It's bouncy, crunchy, and pillowy.
Room for improvement: Unfortunately, it's topped with what appears to be pizza soup: a combination of mozzarella and a runny sauce that could feel like an afterthought if there weren't so much of it. The pepperoni—piled on in discs and thick strips—has distinctly off-brand flavor.
The texture is the real issue, though. Five paper towels later, my pizza was still a slippery mess of grease, and, combined with the sauce and cheese, it completely changed the middle into a mess of doughy goop. You know when the entirety of the toppings slide off that it's a bad sign. The closer you get to the crust, the better it gets. But that's a lot of wasted real estate in the center, which is often the best part of pizza.
DiGiorno
What's good: The cheese? Salty and elastic. The sauce? Slightly sweet with a pleasant red pepper kick— and, unlike some others I tasted, evenly applied. No, you would never believe that this was delivery. But you also probably wouldn't care, because this is one of the most balanced and nuanced of all the options in your freezer. You see it at the top of lists like these all the time for good reason.
Room for improvement: Some people might say this isn't a "real" pizza. The crust is exceedingly firm on the bottom and doughy on top. But this pizza feels like it's really, really trying to be a real pizza, and, by and large, it succeeds.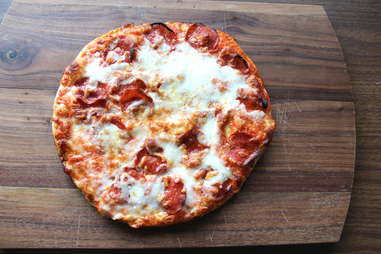 Pizza Romana Pepperoni
What's good: This is one of the only frozen pizzas I tested that came out of my oven that wouldn't look out of place in an actual cardboard pizza box, with cheese sizzling and a big ol' bubble in the dough. And on first bite, the consistency of the crust is absolutely remarkable: It's springy and doughy and you can fold it in half without it breaking into cracker chunks.
Pizza Romana is imported from Italy and its heritage shows. The cheese actually stretches! The pepperoni is a team player rather than a flavor hog! The sauce is… well, okay, the sauce is kind of forgettable. Still, there's a great deal to love here. If this was from a pizza restaurant, it'd probably be in the top 10 in most average towns (unless that town was Naples, Italy).
Room for improvement: The only thing holding it back is a peculiar aftertaste that distracts from the quality, like somebody thought it would be funny to make every third bite taste like a Totino's Party Pizza. It's a very slight distraction, though. And, as mentioned earlier, the sauce isn't the most remarkable, but it's fine.
Table5 Uncured Pepperoni
What's good: Table5 tastes like what would happen when somebody attempted to make a Chicago-style deep dish, then gave up, reduced the number of toppings, and called it good. Great, even. There are so many things working in this thing's favor that it challenges the notion of what a frozen pizza is and can be. It starts with a signature cornmeal crust, which pulls double duty as a buttery, decadent holding vessel and reward at the end of your slice.
No joke, if I got this crust at a pizzeria I'd be pretty stoked: It's doing its own thing, circumventing the need to go the rising-crust route and instead offering up a base that wouldn't be out of place at some fancy-pants artisan pizza joint. It's a crust with identity. It's a crust that knows who it is and isn't trying to be anything else but itself. Also, the generously applied pepperoni has nice zip and the cheese has an impressive elasticity.
Room for improvement: The only gripe I have is the sauce. It's actually very good—tangy, slightly sweet, nicely balanced with herbs. But there's barely any on it until you get toward the crust. In fact, I briefly thought something was amiss and there was no sauce at all. Then I got to the third bite and realized it was there on the back end.
It made for a neat trick: Each bite of this pizza gets better, all the way until that superlative crust. Then you get to start it all over again. Which I did. Until the entire pie was devoured within 15 minutes.
Home Run Inn
What's good: From Chicago's Home Run Inn pizza chain comes this unusual but excellent frozen pizza.
A deep-dish or Chicago thin-crust this ain't: It's more a hybrid, taking the butteriness of a deep-dish, then flattening it out. The crust is dense, rich, and buttery rather than fluffy, and tastes a lot like a mix between a cracker and a savory pie crust. But when it mingles with the slightly sweet and tangy sauce, the blanket of immaculately salty and stretchy mozzarella, and the mildly spicy uncured pepperoni, some sort of magical alchemy occurs.
No, this isn't what you were imagining when you decided to get a pizza at the grocery store. It's better.
In fact, this is the best frozen pizza on the market.
Room for improvement: There are no critiques here.
Andy Kryza is a contributor for Thrillist who could really go for something that's not pizza right now. Like maybe a Bagel Bite. Follow him to heartburn medication @apkryza.