The Best Gluten-Free Option at Every Major Fast-Food Chain
Gluten intolerance can be a real bitch. Half your friends think you're lying about your convulsing tummy, and getting past the drive-thru without asking 15 necessary questions is a near impossibility. We can't do anything about your questionable taste in friends, but we can at least save you some time on your next trip to McDonald's.
Below, we humbly present the best gluten-free option at 20 major fast-food chains. We didn't include any fries, because the risk of cross-contamination is so high, but if you'd like to order them with any of these items, just ask a manager about their cooking methods first. You probably already knew to do that, though. Let's dive in: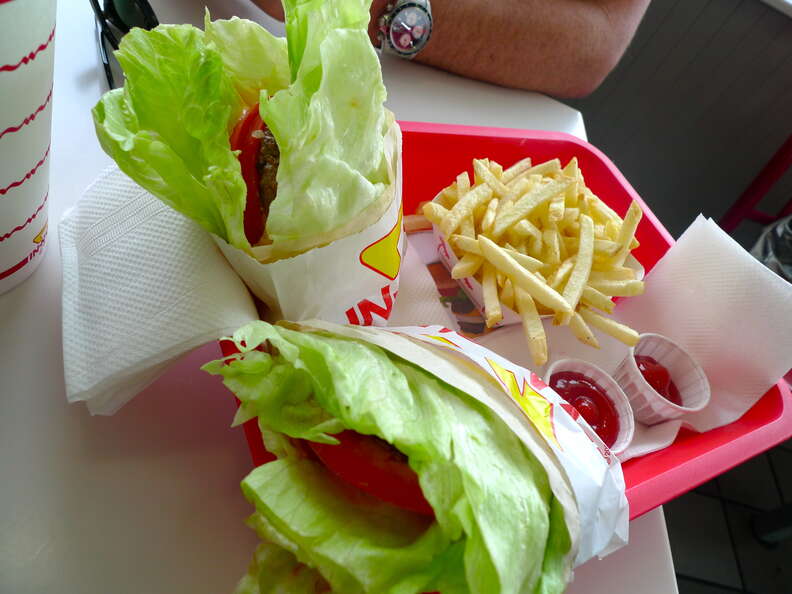 In-N-Out: Double Double, protein style
Does gluten make your stomach meaner than Mike Tyson after someone breaks into his menagerie of pigeons? Order off In-N-Out's secret menu -- just ask for your burger "protein style," which is code for lettuce wrapped.

Burger King: bunless Whopper
Order that Whopper patty -- it's totally safe sans bun. Plus, you can wash it down with a chocolate, vanilla, or strawberry milkshake... or breakfast syrup, if you're so inclined.
Chick-fil-A: grilled chicken nuggets
Be careful with your words here, because Chick-fil-A's regulation nugs are just as gluten-laden as you'd expect. But the grilled ones are fair game, and, according to some sources, tastier.

McDonald's: premium bacon ranch salad
In order to get a gluten-free Big Mac, you not only have to skip the bun, you also have to skip the special sauce (it contains wheat!). This is straight-up sacrilege, so avoid it all together by burying your face in a salad bowl of ranch and bacon bits.
Culver's: George's Chili Supreme
When much of your reputation is built on breaded and fried cheese curds, you're not exactly a staple in the GF community. Yet surprisingly, Culver's has several options. At another chain, the Cranberry Bacon Bleu Salad or Baja Chicken Enchilada Soup might be the recommendation here, but instead it;s George's Chili Supreme. because George was nice enough to put a "secret blend of peppery spices" in his slow cooker, and no gluten.

KFC: House or Caesar Salad
Sorry, people with Celiac, but you're basically beggars at the Colonel's house. The gluten filter on the KFC site yields this sad mess of soft drink options, along with two salads that do not include dressing or croutons. To add insult to injury, they're side salads. We suppose you could pass on the Caesar and load up on corn, coleslaw, and green beans, but that'll just remind you of the other sides you're missing. (Potato wedges, we hardly knew thee.)

A&W: orange float
The bunless burger or hot dog is the move here, but did you really come to an old-timey soda fountain to order a bare beef patty? Nah, you came for a float, of course! The root beer one comes with a "may contain allergens" warning, so get the creamsicle counterpart instead.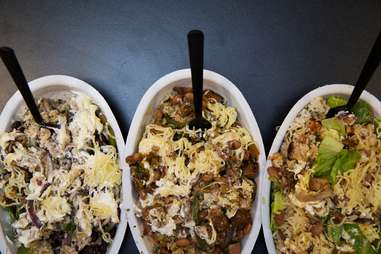 Chipotle: burrito bowl
Chipotle is a friend to everyone, even those who get sick at the mere sight of muffins. Only the flour tortillas are off-limits here, so a salad or tacos in corn shells are completely safe. The burrito bowl, though, has the most potential. Go ahead and get it with extra guacamole. You deserve it for avoiding another flare-up.

Sonic: bunless bacon cheeseburger
As with so many other places, Sonic can't do much for the gluten-free crowd unless you ask for that bun to be removed. Once you've done that, you've got beef, bacon, and cheese at your disposal -- plus whichever slush your heart desires.
Popeyes: red beans and rice
By nature, fried chicken restaurants are lands of limited opportunity. Sides are basically the only gluten-free things at Popeyes, but miraculously, its best one made the cut: Red beans and rice. For variety, Cajun Rice is waiting in the wings.

Whataburger: apple and cranberry chicken salad
Until someone engineers a satisfying gluten-free Texas toast, the apple and cranberry chicken salad is your best bet at Whataburger. Though just to be clear: it's a salad with grilled chicken, apples, and cranberries. Not the mayo-based Waldorf that goes bad at picnics.
Subway: spicy Italian salad
Subway has salad versions of a bunch of their classic subs, but what makes this one special is the pepperoni guarantee. We're still not sure what the Meatball Marinara Salad ensures, but we're guessing regret.

Wendy's: chili
Culver's isn't the only one with chili moves! Although Wendy's has five salads for gluten-intolerant customers, the chili is the real attention seeker. Pair it with a baked potato (although those run a risk of cross-contamination) or a Frosty.

Five Guys: cheeseburger (bunless)
Considering how tiny the Five Guys menu is, a bunless burger was kind of inevitable. It's this or the free peanut barrel. Choice is yours.
Dairy Queen: Reese's Blizzard
We could tell you to order GrillBurger without the bun, but this is Dairy Queen, after all, which means you're probably curious about the ice cream. Soft-serve is clear for consumption, just be mindful of your Blizzard toppings: oreo crumbles will always end in misery, but Reese's are on the good foods list.

Carl's Jr./Hardee's: Famous Star with cheese in lettuce wrap
Actual icebergs forever tear Leonardo DiCaprio from his one true love. Iceberg lettuce helps people with gluten allergies enjoy a burger at Carl's Jr. Point: iceberg lettuce.

Arby's: chopped farmhouse salad with turkey
Ordering a salad at Arby's is basically an act of civil disobedience, but we're not here to judge. Just eat it with conviction and no one will question you. Out loud, anyway.
Taco Bell: cantina power bowl
There's a ton of gluten in Taco Bell's menu of Crunchwraps, Biscuit Tacos, and Chalupas, so the bowl is the way to go. Customize as you see fit.

White Castle: bunless sliders
Think of it this way: without those pesky buns to slow you down, you can eat so many more sliders than Harold or Kumar.

Jack in the Box: Southwest chicken salad
There's no easy way to modify Jack's Stacked Grilled Cheese Burger, so sadly, those with Celiac will never know the wonder of Munchie Meals. But this salad does have pepper jack cheese and black beans, at least. Just beware the crunchy toppings.
Sign up here for our daily Thrillist email, and get your fix of the best in food/drink/fun.
Kristin Hunt is a staff writer for Thrillist. She does not have a gluten intolerance, but always orders a Reese's Blizzard at DQ anyways. Follow her to ice cream at @kristin_hunt.