What's the best microwave popcorn money can buy?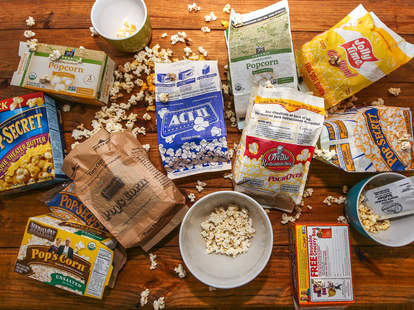 There's no way to bring the movie theater experience home quite like microwave popcorn, especially when it's caked in real Movie Theater Butter™! So, to help you win the living room hunger games (without the help of a sweet bow), we decided to taste-test six of the biggest brands to show which is the real blockbuster and which are kinda (milk) duds. Also, don't forget to check our other taste-tests to see which frozen pizza and mac & cheese best complement these snacks.

Chadwick Wood
At the grocery store, a friendly, no-questions-asked cashier commented that I must really like popcorn. But will I still like it after dissecting each of these cinematic brands for their qualities of butteriness, fluffiness, packaging, and overall flavors? Read on for the gripping conclusion.
Dan Gentile
6. 365 Everyday Value Organic Microwave Popcorn Butter Flavor
Price: 3 for $2.69
Packaging:3 - Whole Foods kills it on the color scheme and side-flap popcorn graphics, but the cooking instruction diagrams imply that you're microwaving a diaper.
Butteriness: 2 - You could just cook up some some plain popcorn, and it would be more buttery than this. It's barely there, mostly just hiding behind the salt.
Fluffiness: 3 - This is the heartiest corn in the bunch and actually has the texture of stove-popped corn. It's like the meal version of popcorn, but, sadly, it isn't the type of meal that melts in your mouth.
Overall flavors: 2 - There's just not much going on here. It's like eating dense air.
Final score: 2.5 - I CAN BELIEVE IT'S NOT BUTTER!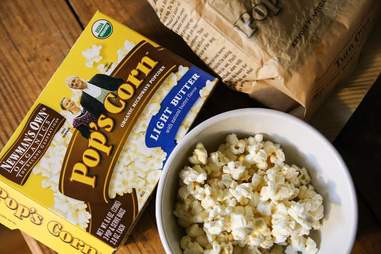 Dan Gentile
5. Newman's Own Pop's Corn Light Butter
Price: 3 for $3.39
Packaging: 4 - "Pa" and Nell grace the cover of this box in clothes that imply they picked the corn themselves. There's an insane anecdote from Nell Newman on the back recounting the noir-ish tale of her father's locked popcorn closet.There's also a handy chart on the bag explaining popping time based on microwave wattage, which is labeled nowhere on my microwave. Thanks a lot, Pa!
Butteriness: 2 - It's sort of unfair to compare Newman's Light Butter to the other extreme butter blasts on this list, but grocery stores just don't carry his heavy-hitting stuff on the assumption that Pop's Corn is for an older, more health-conscious crowd. It is. Old people should really eat more butter.
Fluffiness: 3 - There's a decent fluff factor, but it's largely due to the dryness that comes from not being power-hosed with artificial flavors.
Overall flavors: 2 - You're eating popcorn alright, but the most fun part of the experience shouldn't be reading the box. It's somewhat embarrassing that this was made by a movie legend who ate so many eggs.
Final score: 2.75 - NEWMANNNNN!
Dan Gentile
4. Act II Butter Lovers
Price: 3 for $1.58
Packaging: 2 - Looks like it's from the part of the '80s that was not the good part. I mean, the New Kids didn't even show up until the decade's third act.
Butteriness: 5 - You can see pretty clearly which pieces you want. These are dusted very unevenly. They taste like the cheddar cheese popcorn from those tin tubs of three-colored corn that your Mom gets as Christmas presents because she's a teacher.
Fluffiness: 3 - They deflate when they hit your teeth, but not like a balloon. It's like an air mattress that you have to sit on to make the air go out.
Overall flavors: 5 - Although the taste's far from actual butter, it's hard to be too disappointed with the sheer amount of flavor involved.
Final score: 3.75 - DEFINITELY NOT FIRST OR THIRD ACT MATERIAL.

3. Orville Redenbacher's Gourmet Popping Corn Movie Theater Butter
Price: 2 for $2.18
Packaging: 6 - The step-by-step instruction diagrams are a delightful cross between airline safety pamphlets and Tintin.
Butteriness: 7 - This is the only bag that had a separate pour-over butter component. The first taste of the butter is really intense, but it fades very quickly. The flavor profile is shaped like a sine wave: it starts really high, then wanes at just the right pace to give you enough time to reach for another bite.
Fluffiness: 8 - Serious crunch! It disintegrates in a magic way when hitting saliva, a technique pioneered by Cheetos in order to trick your brain into thinking it isn't actually consuming calories.
Overall flavors:7 - This is a pretty solid choice. The wetness gives it an entirely different mouth/finger feel than any other popcorn, and it can't help but give the impression that the food scientist who worked on this won an employee of the month award.
Final score: 7 - ORVILLE REDENBACHER IS A WEIRD NAME BUT IT IS ONE YOU CAN TRUST.
Dan Gentile
2. Jolly Time Blast O Butter Ultimate Theater Style
Price: 3 for $1.69
Packaging: 10 - So that's what Chuck E. Cheese looks like these days (when he's not a dead-eyed monster)! There's a whole lot going on with this packaging: a coupon for 100 tokens at C E. C's (brand synergy!), a mission statement from the fifth generation of JT owners (who are brothers!), and a bold declaration that 5c. of this stuff equals one serving of whole grains. Plus, the bag has a limited warranty from Good Housekeeping that ensures replacement or refund if defective!
Butteriness: 8 - The term "blast" is totally accurate, and the butter is remarkably evenly distributed. And apparently Jolly Time is like the extended cut of The Return of the King: The flavor is the longest lasting of any popcorn we tried.
Fluffiness: 7 - Perhaps because of the even butter distribution, there isn't as much crunch, but the texture is light and airy, meaning it gets stuck in your teeth much less than other brands.
Overall flavors: 8 - They're not lying about the whole jolly thing: pretty much everything about this product screams happiness.
Final score: 8.25 - THIS WILL MAKE YOU JOLLY.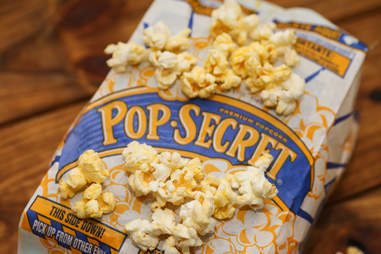 Dan Gentile
1. Pop Secret Movie Theater Butter
Price: 6 for $3.88
Packaging: 8 - Minimal but classic. The color scheme recalls the glory days of Blockbuster video (pour out a cup of butter for your homie).
Butteriness: 9 - This is an entirely different butter experience. It tastes like butter! And we're not talking movie theater butter*: it's like the actual churned dairy product. You don't at all feel like you're eating a science experiment.
Fluffiness: 8 - The texture is soft, the kernels are perfectly obliterated, and the real butter lubrication ties the whole package together like a Clint Howard cameo.
Overall flavors: 9 - This isn't as flashy as Jolly Time or as wet as Orville, but Pop Secret delivers a nearly flawless snacking experience that doesn't taste overly-processed or underflavored.
Total score: 8.5 - THE SECRET IS IT ACTUALLY TASTES LIKE POPCORN.

*I worked in a movie theater in high school, and the butter was actually straight vegetable oil.
Chadwick Wood
Conclusion
In today's busy world of Netflixing half of Zoolander on a laptop, the little pleasures of the cinematic experience are often forgotten. A handful of popcorn immediately reminds you that you're watching an actual movie.
If you're into special effects, go with Orville. For those that who're looking for pure action, get Blasted with Jolly Time. But for a well-rounded complement to nearly any film, the best choice is to stock your pantry with a Secret weapon. Then watch Top Secret!, which stars Val Kilmer before he ate too much butter.
Dan Gentile is a staff writer on Thrillist's national food/drink team who has taste-tested everything from the Big Mac to the Big King. He also enjoys hating mustard. Follow him to pots of gold/Twitter at @Dannosphere.