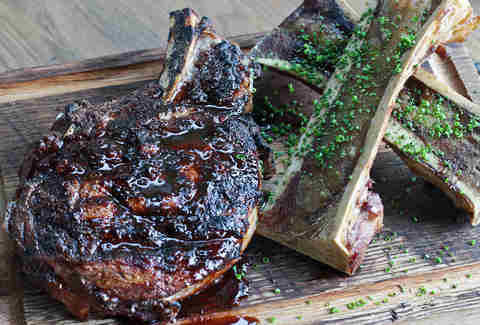 King + Duke, Atlanta, GA
What you're getting: Coal roasted onion soup; "The King" with charred corn on the side
Ford Fry is dominating Atlanta right now. After already making everyone freak out for seafood-heavy The Optimist, his latest spot -- a literary-inspired ode to open fire (check out the 24ft hearth in the middle) -- serves up simple, comforting, fire-kissed cuisine and spot-on cocktails. Though many laud "the Duke" burger, you're going to want to bring a friend and share the other namesake, exec chef Joe Schaefer's masterpiece: a 1kg bone-in rib eye served alongside roasted marrow bones. Get it with some of that charred spicy corn with bacon and a soft poached egg on the side, and you'll realize these liars warn't no kings nor dukes at all, but just low-down humbugs and frauds bad-ass chefs.