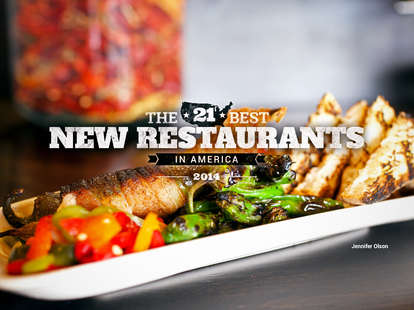 The 21 best new restaurants in America
There is nothing quite like that new restaurant smell, and, in 2014, olfactory systems across the country were going crazy breathing in the smells emanating from secret burgers in Boston and borsch with short ribs in Portland, and, like, eleventy things topped with an egg everywhere else. And though this year's list skewed fancier than in years past (do people not remember that the stock market is CYCLICAL?!?!), Liz and I -- with the help of a collection of our top editors all over the country -- think we've cobbled together the 21 best places to have opened in the past 12 months. You may disagree, and that's okay -- because this is America, or maybe a Southern part of Canada -- so please voice those disagreements and let us know what we missed in the comments. But until then, sit back, relax, and enjoy the list. And maybe throw an egg on top of whatever you're currently eating:
With total respect to Husk Nashville (and have I told you enough this year that I could eat AT LEAST seven of Chef Brock's American cheese, bacon-beef blend burgers in one sitting), what Tom Morales has done at Acme Feed & Seed is the most exciting thing in Music City. Not only is the building a multi-level testament to Nashville -- think 100-year-old printing tiles covering the walls of the historic former seed store and a third-floor event space with views of downtown -- but the food is damn delicious. On the first floor, grab beers and street food-style dishes, like Beer Belly Tacos or Mexican street corn, grilled with cotija, lime aioli, and chilis, from Chef Matt Farley (The Southern), or head upstairs for cocktails and an entirely different menu of Southern eats or post up at the sushi bar prepped by Sam "The Sushi Nazi" Katakura, who landed here after his own beloved spot closed in the spring. And the fact that this is all drawing locals back to Broadway -- let's just call that strip the Times Square of Nashville -- to eat AND listen to music makes it even more impressive.
Cambridge, MA Alden & Harlow Before you head to the Brattle Theater to go watch and be freaked out by The Babadook, you're going to want to consider Michael Scelfo's Alden & Harlow. With a name that pays homage to the 1800s architectural firm that created the building, you might think that the food would be throwback comfort classics, BUT, ALAS, YOU WOULD BE WRONG, SIR. Plates are small, but the flavors are large and innovative, with moves like an Anson Mills polenta with goat butter, smoked mushrooms & pickled sour cherries, braised rabbit stew with buttermilk dumplings & a pancetta brood, and a Secret Burger, which is packed with Creekstone grind meat and "your faith". And at this point, Chef Scelfo certainly has ours.
This bi-level Venetian spot was hyped to open over a year ago... but their seafood-centric Italian that takes a few dancing cues from Japanese cuisine was well worth the 2014 wait. Chef Chris Jaeckle (Ai Fiori, Morimoto) and restaurateur Chris Cannon put pasta in the limelight, with standouts like the bucatini with uni & spicy breadcrumbs and spaghetti with crab. And while it's certainly no old-school New York Italian joint, the deep booths upstairs will still absolutely be the kind of cozy spot you want to spend the entire night indulging in, and their cocktail menu is totally deserving of a full night's focus.

When you see where the restaurant is, past the Walt Disney museum, inside one of the many picturesque old-school brick buildings that make up SF's Presidio, you can't quite understand how it all comes together. "Do people actually work and live in here," Liz uttered in confused amazement when she visited the Presidio for the first time. Well, the answer is yes, and more and more are passing its old military walls every day thanks to Traci Des Jardins' Commissary, which is perpetually packed for lunch with people working around it, and dinner with everyone else. For good reason too: the Cali-Spanish cuisine is light and flavorful, even when it sounds like it won't be, as evidenced by the delicious calabaza croquettes with charred orange aioli and the brilliant roasted chicken. And don't sleep on their simple, but delicious cocktails, like the Excelencia (gin, lime, verbena tonic) and the Highland Cooler (Scotch, ginger, lemon).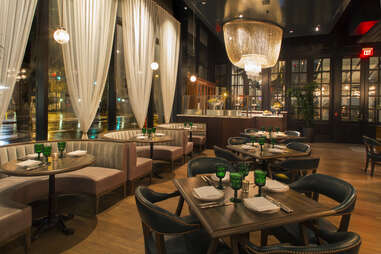 Though the name kind of sounds like hippie parents proudly telling you what they named their kids, it actually refers to the Downtown LA street names where the restaurant sits both now (Flower) and back in the 1920s (Faith). And the food -- from Chef Michael Hung -- is willing to touch on the old and new as well -- with classic favorites touched up with the new age, like their Deviled Jidori Eggs with Korean chili and kimchee. If you've got the time, you should get the ribeye grilled over mesquite and served up with a vermouth and oyster jus that you may just end up drinking on the side, if you aren't already captivated by cocktails from Michael Lay like the Stormy Phosphate with Lost Spirits Navy Style Rum, lime gum, acid phosphate, and house-brewed ginger beer.
Bobby Flay could've hung back and let his Burger Palaces proliferate or continued to take on eager Throwdown challengers. But instead he's back with a full-blown restaurant that's far stronger than Bar Americain, his only spot that was left in the City, and it's filling the bellies of diners who have been clamoring for a return to the days when Bolo and Mesa Grill were acclaimed destinations. Gato is Spanish-Mediterranean in name, but with standouts like roasted octopus with a tart, tangy tangerine vinaigrette & rich bacon and charred whole carrots dressed in creamy, cooling mint and smoky blasts of harissa, it's also undeniably New York. Finally -- finally! -- Flay's returned to his NYC roots, and the load of fiery peppers, salty anchovies, and bright citrus he brought with him made this worth the wait.

Opened this summer in a quiet corner of Milwaukee's happening Bay View neighborhood, Goodkind has all the warmth and friendliness of your neighborhood bar and grill -- but also lots of stuff that place doesn't have. Like an almost impossibly flavorful spicy dungeness crab bucatini with San Marzanos and ghost pepperoni. Or a rotisserie section turning out rich, juicy pork belly porchetta and fennel pollen dry-brined chicken. Or an entire "Fryer" section. Fine, that's no surprise, especially in Wisconsin, but in this case it means Champagne-battered mushrooms with honey vinaigrette and piquillos, not cheese curds. Though, if they decided to DO cheese curds, you can bet they'd be incredible -- like your drink options, which span everything from a pear jasmine gin & tonic on tap to house barrel-aged cocchi Americano to a deep-cut, well-thought-out beer list that'll please the most ardent beer nerds without intimidating.

While "heyday" might be the phrase your Granddad uses when laying out his old hockey glory stories in painstaking detail, it's ALSO what you'll be experiencing while feasting on rabbit terrine at this Twin Cities' restaurant that manages to combine rock 'n' roll (Replacements quotations scrawl across the walls, reminding people younger than your Pops where the name came from) with American Nouveau food and a whiskey-heavy seasonal cocktail rotation. Before you touch the brown booze, though, appreciate how beautifully the gin, rosemary & honey Queen B pairs with the chicken liver tart.
Things in San Diego are aggressively casual. People show up to job interviews in flip flops. And then get the job. Which means the fine dining can be a little less stuffy than in most cities, a vibe that couldn't be more perfect for new Del Mar homeowner Richard Blais's first SD venture, one of the finest in the city really sick of Ron Burgundy jokes. The space is all wood beams, exposed ducts, and plenty of air, and the very for-real, often molecularized menu hits interestingly constructed pastas (linguini and clams with uni butter!), vegetable-fronted small plates that we actually wanted seconds of, the seafood you knew was coming, and the bone marrow bread pudding you maybe didn't. And then, of course, the Yodel. We're not trying to trick you. Just get the damn Yodel.

Russian food's a bit of a mystery -- and an underrated one at that -- but at Portland's Kachka, it's a mystery very much worth investigating. And they make it easy: just plop down at a rustic table amid propaganda posters and bric-a-brac and throw down $25 for the Ruskie Zakuski experience, where you'll be served a gigantic array of hot and cold snacks ranging from blini covered in caviar to crispy tongue, borsch with short ribs, and cured fatback. Or go with a gigantic pile of meaty pelmeni dumplings, or go anti-Communist and horde an entrée like pork belly Machanka or stuffed cabbage for yourself. Just don't forget the vodka: eating at Kachka is like eating at a Russian Grandma's house, and to skip the national drink is a sin. Luckily, they have 50+ options, which you can get in shots or flights. Get the flight. You're gonna be here for a while.

It pays to be friends with Texas ranchers, and Chef Tesar seems to be friends with all of them, as he sources his meats from local spots like Heartbrand Beef and 44 Farms for this decidedly modern take on a classic steakhouse. Steaks are separated into categories like "New School" (I'm partial to the Culotte there), "Old School" (ridiculous rack of lamb with a mustard garlic & herb crust), or "Exotic" (yes, you can get spicy blood sausage with Santa Barbara uni), and the burger menu has a damn bacon jam Sloppy Joe and a burger called the Ozersky, because it's served in the classic manner the longtime food writer celebrates. I guess I'll just have to wait for them to put the Alexander on next year.
Though I'm usually naturally biased against hotel restaurants with the chef's name in the title, once you try the Peruvian food at La Mar by Gaston Acurio, you'll be okay with him naming it whatever he wants. Their cebiches -- all made to order right there -- are ridiculously fresh and delicious (try the Clasico with fluke, cilantro, ahi limo pepper, choclo, and classic leche de tigre); but they've also got Peruvian influenced nigiri, these crazy delicious whipped Peruvian potatoes called causas, AND THAT'S JUST ON THE FIRST PART OF THE MENU. Once you've cleansed your palate with all that fresh fish, make room for the empanadas and then get the Paiche Chorillana. It's an Amazon fish with a tamarind chorrillana sauce, plus mashed yuca with smoked bacon that'll make you consider asking Gaston Acurio if you can put his name on your stuff too.

It started as a dinner party that David Barzelay used to put on for friends, and then it became an underground pop-up, and then it became a cult sensation, and now it is a real restaurant. But they still treat it like a dinner party. When you go in for one of the two seatings a night, you immediately go upstairs to the lounge area, which looks like a rich bachelor, who likes to hunt things, decided to open his loft for the night. Once you have some punch, and a bunch of small bites (when I was there they had some sort of whipped scrambled egg with hot sauce and bacon oil, and I tried to sneak four of them), you and the rest of your crew come back down to two communal tables, and have a series of small plates. Chefs come out and explain each course, and encourage you to ask questions. They've also got a mixed drink pairing, blending cocktails and wine and beer, and if you're lucky, at some point, former AQ pastry chef Maya Erickson will bring you out frozen s'mores. It's pretty much the most grand night out you can find.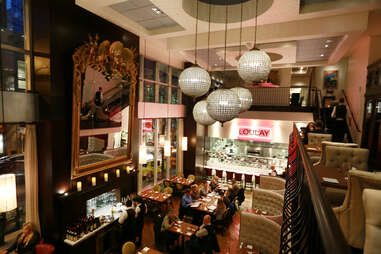 Thierry Rautureau's extravagant new 4,000sqft flagship restaurant (located in the Sheraton building downtown) seats around 100 and serves dishes that remind him of his upbringing in -- you got it! -- Loulay, France: think duck, venison, quiche, and more. Prime real estate in Loulay includes the seat for one at the end of the second floor that overlooks the bustling kitchen and the "queen seats" in the mezzanine which overlook the entire space.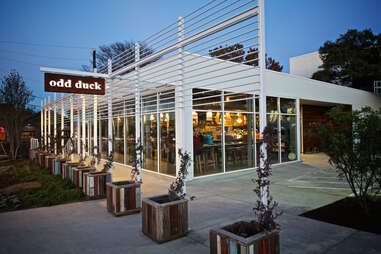 Bryce Gilmore, also behind Barley Swine, traded in his food truck for an equally metal and modern, but very much less-mobile building on Lamar Blvd this year. And since the restaurant-on-wheels version was already one of our favorite spots to eat in town, the brick-and-mortar with a backyard and booze -- including barrel-aged 'tails -- is, well, a place we could eat at all day and into the night. And with small plates, like the daily taco and lamb kebab, to sample, we feel totally justified in doing just that. For continued research, of course.

Husband-and-wife team Johnny Clark and Beverly Kim (the latter of Top Chef fame) have been steadily drawing patrons to an out-of-the-way corner of Chicago's Avondale neighborhood with a menu that seamlessly blends vibrant Korean flavors and an American comfort-food sensibility. Settle into the communal table flanked by a row of vintage speakers and start with the baked potato bing bread, studded with bacon and scallions and served with sour cream butter. It's available as a half-order. You will not be getting the half-order, because you aren't a dumb person. Then move onto yuzu- and honey-kissed short ribs, pork belly-topped mung bean pancakes, and sizzling hot (as in, watch your hands) bowls of bibimbap that will feel simultaneously familiar to any lover of the Korean staple and like their own revelatory experience altogether, which feels like a good metaphor for the restaurant as a whole.

Finally DC has a spot that takes things way back to the days when policy was decided over steak-laden, boozy lunches, but with more sexiness and less sinister undertones than Francis Underwood's 'cue. The Partisan offers 25 wines on tap, PLUS booze on tap. Yep, bourbon on tap. Because that's probably the only thing that can stand up to a menu that's broken down by type of meat with eerily cute icons sketched onto each page (we're pretty into the beef page that's boasting both jerky and a burger that lets two patties, chorizo, onions braised in smoky bacon, American cheese, and tomato aioli dance together... plus the way more world policy-worthy bone-in ribeye with marrow butter for two to four of your best friends). Oh, and there's an entirely separate menu for the charcuterie.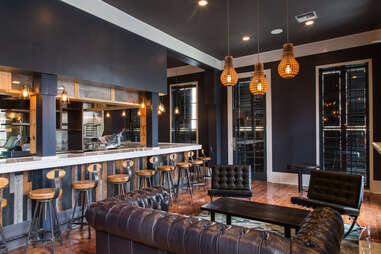 Diners got their first taste of Chef Phillip Lopez's personal brand of whimsical fare in 2011 when they ordered the smoked scallops at Root and found themselves with a cigar box filled with, well, smoke and scallops. Lopez and GM Max Ortiz parlayed that spirit into Square Root this year, giving New Orleans its first chef's table restaurant, where a handful of diners fill the Lower Garden District spot to adventure through a parade of 12-15 courses over three hours. And since this is New Orleans after all, the cocktails are just as crazy-inventive as the plates produced in Lopez's food laboratory.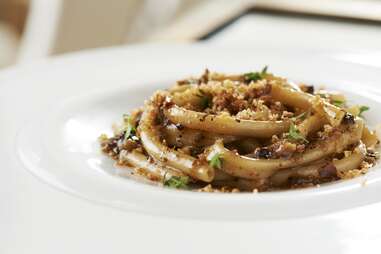 When they think of Cleveland, the first thing people often mention is the fine-dining scene. Wait... no, that's not right at all. But it might start to be, now that Chef Jonathan Sawyer has opened Trentina, a small (35-seat) restaurant offering up Northern Italian (you know, like Trentino?) fare. You want to do the Menu Bianco, his 12-course tasting menu, which lately has offered up magical moves like a pasta alla chitarra with an Ohio farm egg, "beasts and birds roasted with embers" in a sugo di Loro Ossa, and, you know, 10 OTHER THINGS. But if you don't have room, just dance with the Pasta Degustazione, their pasta tasting menu, and know you'll get six beautiful pastas so good, they can't even be overshadowed by Johnny Manziel's ego.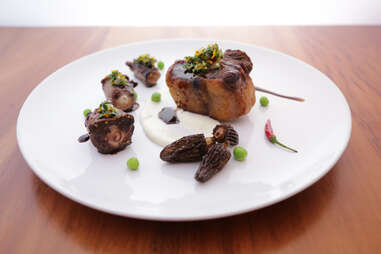 If someone had asked me a year ago where to get the best Mediterranean dishes in the country, well, I wouldn't have directed them to a landlocked desert state. But Chef Gio Osso has created and, without a doubt, mastered his own brand of Southwestern-inflected Mediterranean at 25-seater Virtu, which rolled out towards the end of last year, just barely too shy to make our 2013 list. The menu changes daily, but Osso manages to have deliciously fiery, peppery bites popping up constantly in his simple dishes, like the house-made burrata with chile oil, fire-roasted peppers & prosciutto, or pan-seared branzino, served with fried leeks and peperonata prepped with Calabrian chiles.
There are no mysteries at Work & Class. You pick a meat, you pick a side, and you should probably also pick a beer, because it's Denver. Simple right? But when you're making a choice between red chile-braised pork and coriander-roasted colorado lamb or chipotle-tomato mac & cheese and Brussels sprout, apple, and bacon hash, things get pretty damn stressful. Oh, and there are apps like the Peppers Five Ways, a fiery mixture of fresno chile poppers and bacon-wrapped jalapeños, and pepper jam with toasts, and, well, two others, but you'll get distracted again by the fact that you can add extra poppers or bacon-wrapped numbers. Which you should because you're a smart person. The on-the-surface-simplicity extends to booze with a mix-and-match style set-up where you choose a liquor and choose a house mix, but just try and stay level-headed when opting for the spicy basil sour versus the spiced cran-apple cider and when picking which of the 10 tequilas you should add in. The answer here is obvious, though: treat it just like that choose-your-own-adventure book where you totally went with every option and go back again, and again, and again.
Kevin Alexander is Thrillist's executive Food/Drink editor and wants to eat Peppers SIX WAYS. Follow him at @KAlexander03 and he'll send you old Pelican Brief VHS cassettes from his Mother's basement for free, assuming you pay the shipping.
Liz Childers is Thrillist's associate Food/Drink editor, and wants to eat Peppers SEVEN WAYS. Follow her at @lizchilders1, and she'll never send you anything on VHS, because her parents gave away her childhood collection of Disney VHS's and it still makes her sad. Please don't ask her about it.