What's the Best Supermarket Salsa?
A panel of experts taste test the best store bought salsas. Here's our conclusion.
Cole Saladino/Thrillist
Cole Saladino/Thrillist
You should make your own salsa. We all know this. You should roast the chilies and tomatillos yourself, and you should blend it all fresh -- hell, you should be grinding everything by hand with the molcajete you bought in Michoacán. While we're at it, you should be growing all of the ingredients in your own damn garden for ultimate flavor, maybe even move to Mexico for optimal conditions. But to be honest? You're doing none of that. No, you're going to buy the best jarred salsa you can find and call that good enough.
Hey, I'm with you. I may have grown up on my Guadalajara-born father's salsa fresca, I may have a jar of my own homemade salsa macha in the fridge, but I appreciate -- no -- I depend on bottled salsa for my everyday needs. But like, good salsa.
So we assembled a panel of Mexican food experts: cookbook authors Pati Jinich and Bricia Lopez, cheese maestro Carlos Yescas, and Masienda founder Jorge Gaviria. We asked for their recommendations; there were some surprises. Then we conducted our own taste test with 25 Thrillist staffers, including executive editor of food Nicole Taylor and yours truly. For the most part we skipped a lot of the usual mainstream brands, and just for fun we included a couple of smaller, craft brands you've just got to try.
Herewith, we give you our new salsa list, created for people like us: eaters who know the majesty of a well-crafted salsa. This is for those of us who have tasted revelatory host sauces on the beaches of Todos Santos, or at the food stands of Mexico City, or that cool taqueria around the corner. Go on and try something new. And if there's a brand you absolutely love that we overlooked, please tell us about it.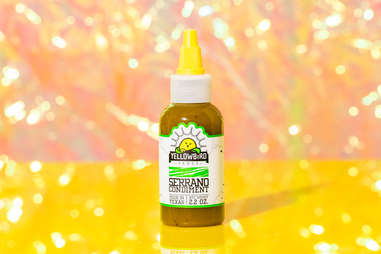 Is this hot sauce really a salsa? Open to debate. Mexican cheese expert Carlos Yescas likes the Jalapeño, and says it's closer to a Sriracha than a Tapatío (you know, that hot sauce in a bottle with the man in a sombrero), which really puts its place in this list on shaky ground. But if you're curious about how its sweet spiciness pairs with a fresh and salty cheese, go on and try it in a quesadilla with Oaxacan cheese. Also good, according to Yescas, is Yellowbird's Serrano with fatty cheeses. If you're really looking for some unforgiving heat, Yellowbird also makes a ghost pepper hot sauce that's pleasurably spicy.
Thrillist loves: Yellowbird's Blue Agave won the taste test. Our tasters also liked the Serrano but found it very tart; one person called it "the WarHeads of salsa."
Gotta be honest here, none of our Mexican food experts recommended this. I threw it into the taste test last-minute as a control.
Thrillist loves: This salsa won second place in our taste test. It earned a "wowwowowo" and a "me likey."
This is another non-recommended salsa I threw into the taste test as a control. La Esquina is a New York City Mexican food mini empire, with a taqueria near Thrillist offices and a handful of retail products. It felt only fitting to give it a try, too.
Thrillist loves: This salsa won third place in our taste test. Tasters liked the balanced flavors and smokiness.
Jorge Gaviria, founder and CEO of Masienda, a ground-breaking heirloom masa and masa supplies company (he's one reason why we're enjoying a tortilla renaissance in the US), is a fan of small-batch salsa line Sabor de Salsita. His favorite variety is their salsa chile morita, made with smoked jalapeños.
Frontera creator Rick Bayless may be problematic (he's been accused of cultural appropriation), but that doesn't seem to get in the way of appreciation for his salsas, especially the tomatillo, which two of our experts recommended. Gaviria loves it because Frontera was the first brand to make a salsa with fire-roasted ingredients for the masses without compromising the quality. Mexican cheese expert Yescas notes that the consistency is perfect for chilaquiles with queso fresco. Pick this one up if you want a particularly smoky, charred flavor out of your salsa verde. It has medium heat, so everyone can appreciate it.
Why would Yescas recommend both Frontera's and Salpica's salsa verde? What's the difference? Salpica's is made with hatch chiles, and the tomatillos are charred, "This salsa gives any dish that flavor that you get from making something in the grill and I love it," Yescas tells us. Enjoy it with torta de papa, or torta de ejote, he suggests, or lavish on taquitos fritos de frijol or papas with Cotija cheese for DIY flautas ahogadas.
Cookbook author and host of the James Beard award-winning show Pati's Mexican KitchenPati Jinich picked this salsa for its versatility and because it "captures the tastes of the street food stands in Mexico." Sold! She says you can use it as the base of a dish -- cook chicken and potatoes in it like a simmer sauce. Or, you can drizzle it over taquitos, quesadillas, and more. FYI, it is very tomato-forward, pretty mild.
This is another hot sauce that may challenge your definition of salsa. But props to the source: Bricia Lopez, author of Oaxaca: Home Cooking from the Heart of Mexico recommended it. "Be warned," she says, "this is HOT. But it is my favorite to use on breakfast tacos and burritos. It's a must-have in my fridge."
Thrillist burned: You had us at "beware." This sauce does not play around. It's tangy and packs heat, but wow does it liven up our tastebuds.
This is a small-batch salsa macha made with dried guajillo chiles and cloves in olive oil. It's both earthy and delicate, the woodland sprite of salsas. "I could eat this all day long," Lopez tells us. "I love it as a dip, or to pair with any seafood dish."
Thrillist Senior Food Editor loves: That's me. I'll eat this right out of a jar with a spoon and I am here to say, y'all need to get on the salsa macha train because it's the best.
Sign up here for our daily Thrillist email, get Eatmail for more food coverage, and subscribe here for our YouTube channel to get your fix of the best in food/drink/fun.
Adriana Velez is a former food editor at Thrillist.