Salsa was once the United States' most popular condiment (just ask George Costanza). And while condiment definitions may have changed, and our country's allegiance may have moved on to mayonnaise, salsa remains a part of life for every American looking to spice things up. But which one is the best? We put together a crack team of salsa taste-testers to find out.
We decided to only opt for Medium salsas rather than Mild or Hot, because Medium has the largest market share of any variety, and strikes a good balance between taste and spice. Go too Mild, and things get dull. Go too Hot, and everyone gets a numb mouth. Thus, we went Medium. Here's how the salsas stacked up:
10. Muir Glen Organic (tie)
THE DEAL: Our first last-place finisher had a taste that was a bit too much like Italian tomato sauce (two tasters independently compared the taste and consistency to SpaghettiOs, which are not exactly paragons of authenticity themselves), and not enough like a Mexican salsa. And for something that's supposed to be of Medium-level spiciness, it just didn't pack enough kick.
THE VERDICT: MOLTO NO-BENE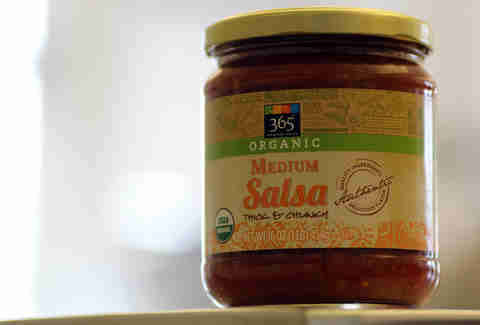 10. 365 Organic (tie)
THE DEAL: The Whole Foods house brand was wholly panned by our salsa critics, who agreed that it focused too much on spice (which there wasn't even a lot of) at the expense of flavor -- it was described as "bitter" and "sour", with more bell peppers than spicy peppers.
THE VERDICT: 24/7 MEDIOCRE
8. Chi-Chi's (tie)
THE DEAL: Tasters noted Chi-Chi's had hints of a V8 vegetable medley rather than a salsa. Despite the fact that it appeared chunky, the peppers melted into a soup-like consistency upon the first bite, rendering the chunks nothing more than a false promise of texture.
THE VERDICT: BAD CONSISTENCI-CI
8. Frontera (tie)
THE DEAL: Despite looking hot (it's a deep red color), Rick Bayless's in-house brand of roasted pepper salsa taught our tasters that beauty is only skin-deep when it didn't deliver on the supposed spiciness. They noted slight tastes of smokiness and carrot, and were pretty turned off by how liquid it was. Salsa should have chunks, dammit!
THE VERDICT: CHI-TOWN LETDOWN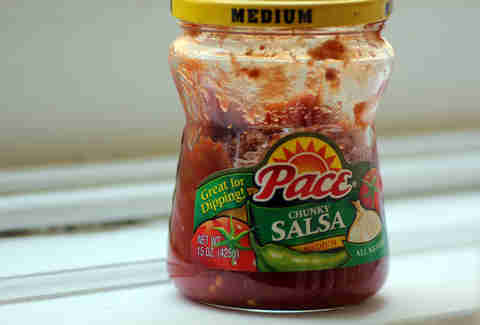 7. Pace
THE DEAL: We move into solidly middle-of-the-road territory with Pace, which doesn't dazzle in the flavor department (despite not being made in New York City). Its taste was described as somewhat sour and sweet, but not overwhelmingly so in either department, leaving one critic to dub it merely "inoffensive". This is the Jay Leno of salsas.
THE VERDICT: PACE, NOT ACE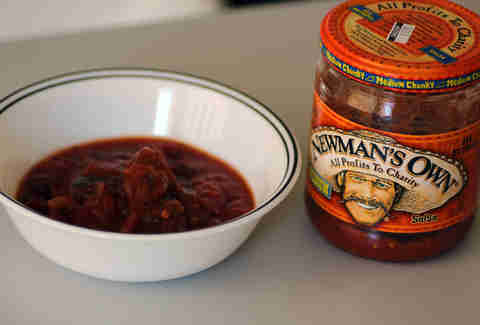 6. Newman's Own
THE DEAL: Paul Newman knew a great deal about a lot of things (hell, he tried his hand at basically everything) -- but salsa was not, apparently, his strong suit. His Medium-level salsa was more complex, more herbaceous, and smokier than Pace, but didn't distinguish itself too much from its more nuanced competitors. On the upside, buying this makes you charitable.
THE VERDICT: TASTE THE STING OF DEFEAT
5. La Preferida
THE DEAL: Another salsa outta Chicago, La Preferida is a solid salsa choice for those looking for some no-frills chip-dipping. With a fresh tomato taste and a nice, spicy kick that hits you at the end of each bite, it's the standard-bearer of salsa stick-to-it-iveness. As our tasters said, "it tastes like salsa," and "it's just whelming." And while there's nothing wrong with that, there's not much right either.
THE VERDICT: LA CONTENDA?!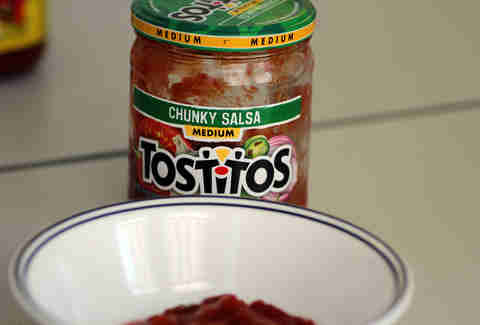 3. Tostitos (tie)
THE DEAL: The stalwart of the snack aisle gets its due appreciation here, edging out the other brands with its "good acidity", peppery heat, and thick consistency.
THE VERDICT: TOST OF THE TOWN
3. Amy's Kitchen (tie)
THE DEAL: With a slightly more natural, fresher taste than the rest of the salsas, Amy's Kitchen (more famous, perhaps, for its organic mac & cheese) wasn't necessarily loved by all of our tasters, but what it lacked in overpowering flavor, it made up for with a commitment to better ingredients. A must if you're into actual vegetables.
THE VERDICT: MIGHT ACTUALLY HAVE COME FROM A KITCHEN
2. Green Mountain Gringo
THE DEAL: Chunky and perfectly sweet, Green Mountain Gringo is the Heavyweights of salsas. For a sauce of Medium-level spiciness, it hits the marks in terms of kick and flavor -- there are hints of pepper and tomato throughout, and it's neither too bitter nor too saccharine (again, just like Heavyweights). What we're trying to say is: get this salsa, and watch Heavyweights.
THE VERDICT: THIS GRINGO SPEAKS THE LINGO
1. Desert Pepper Trading Company
THE DEAL: It's pretty impressive for a relatively small salsa company to go up against the big dogs and win, and that's exactly what El Paso, TX dark horse Desert Pepper Trading Company did with their roasted tomato and corn Medium salsa. Tasters were big fans of the addition of corn into the mix, which, despite its sweetness, contributed to a more complex, spicier, and smokier flavor profile than the other salsas. If you're going to go for one Medium salsa with your chips, make it this one.
THE VERDICT: DESERT YOUR OTHER SALSA ALLEGIANCES
Adam Lapetina is a food/drink staff writer at Thrillist, and is usually more of a hot salsa kind of guy. Read his musings on Twitter at @adamlapetina.