We rank Domino's 9 best not-pizza items
Listen. If we could, we would eat pizza all the time. But it turns out that's really hard, and kinda gross. That's why we've decided to take a deep dive into America's most popular pizza chains and power through the not-pizza offerings to give you some alternatives, most of which just kind of taste like pizza anyway, thank God. First up, our author's hometown hero, Insane Clown Posse Domino's.
9. Cinna Stix with icing
Price (all prices vary by location): $3
These things are basically pizza's equivalent of an elephant ear, which means they're pizza dough that leaves out sauce and cheese and subs in enough sugar to send Willy Wonka into a coma, then laughs maniacally at said coma by also including a dipping sauce made of icing. They're delicious, but for some reason our dentist texted us as we were eating them. It was weird.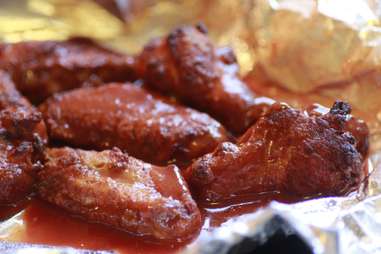 8. BBQ Wings
Price: $6.99 (8 wings)
These puppies come in flavors like Sweet Mango Habanero or naked, but we opted for good ol' hot sauce, and they came swimming in the tasty stuff. Because they're a little rubbery, they're a bit like the frozen kind you can get at the grocery store. But that didn't stop us from eating them all, then drinking the sauce. For journalism, or whatever.
7. Italian Sausage Marinara Pasta
Price: $6.99 ($7.99 in a bread bowl)
There's more cheese on this bad boy than in an entire Julia Roberts box set, and it's definitely a dense and filling choice. Basically, it tastes like pasta covered in pizza toppings. Which isn't a bad idea...
6. Italian Sub
Price: $5.99
There are eight sandwiches on the menu, but we're about as likely to order a Philly cheesesteak at a pizza place as we are to order a pizza at Geno's in Philly, so we went with the Italian, and it was unexpectedly delicious. It's like a bouillon cube of pizza, with the cheese, salami, ham, and bread all delivering a pretty solid taste explosion. The only thing missing is sauce. And we don't mean Cheez Whiz. Because that would be gross.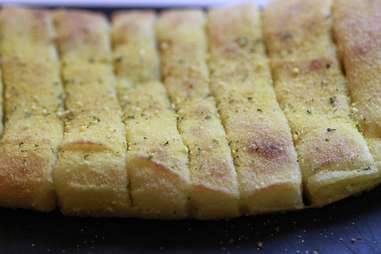 5. Breadsticks
Price: $3.99 (8 pieces)
The pizza parlor classic here remains what it always is, which is a football-shaped loaf of oily, salty, garlicky, cheese-dusted bread perfect for dipping. Which is to say, your order is not complete without it. But there's something missing... we'll get to that in a bit.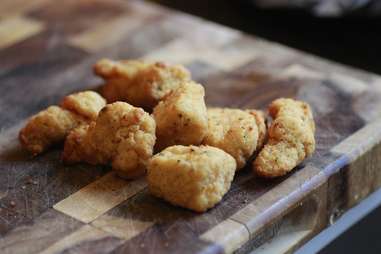 4. Boneless Chicken
Price: $6.99 (8 pieces)
Where the wings had a rubbery quality, these glorified nuggets are totally meaty, and the breading is perfect for soaking up that exact same delicious hot sauce. The difference is, these bad boys are made for dipping, and they're bite-sized delicious, even when they're the breadier ones, which get a crazy good crunch.
3. Parmesan Bread Bites
Price: $2.99 (16 pieces)
Like the burnt ends of brisket, these poppable little bites deliver the best parts about eating breadsticks... but the oil has no chance to seep into the center. The result is a crunchy, cheesy snack you accidentally eat like chips. Before you realize it, you've got 16 in your stomach and don't need pizza anymore (but then eat a whole pizza).
2. Stuffed Cheesy Bread
Price: $5.99 (8 pieces)
So back to those bread sticks. Have you ever eaten bread sticks and thought, "These are good, but I kind of wish they were like a calzone?" Of course you have, because you're a forward-thinking genius. Here is your wish fulfillment, a wish that comes with a side of marinara or ranch and the option of throwing bacon and jalapeños into the mix.
1. Chocolate Lava Crunch Cakes
Price: $3.99 (2 cakes)
They look like Tony Montana's hockey pucks, but what they taste like are chocolate brownies filled with melted fudge. Say hello to your best little friend. Then hide the other one so nobody else eats it. This world is yours.
Andy Kryza is Thrillist's national eat/drink senior editor, and has proudly lived vegetable-free since 2001. Follow his adventures/slow decline via Twitter at @apkryza.