When a friend told me about Graze, a new company that mails you healthy snacks every few weeks, I was skeptical. Mostly because I feel that a snack is not good unless it's shaped like a shark, and those snacks usually aren't healthy. But when they offered me a free delivery of four snacks to my mailbox, I had nothing to lose. Except precious shark-eating time. First, I went on their site and rated the snacks based on how much I thought I'd like them. A mere two weeks later, a box (valued at $6) tailored to my tastes showed up at my door. Here's what was in it: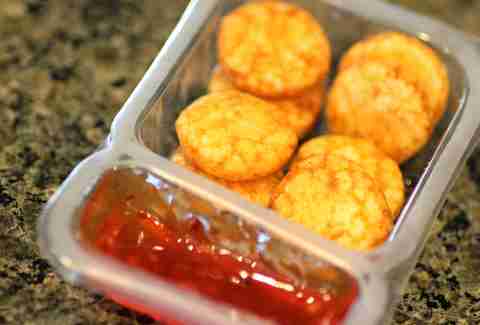 Snack: My Thai (baked soy bites with a sweet chili dipping sauce)
Tasting Notes: This was delicious. The chili sauce had a nice kick, and the soy bites were crunchy and flavorful. I kept popping them into my mouth, and no, I was not able to stop.
Is This Worth $1.50? Do birds fly and also have flu viruses?
Snack: Apple and Cinnamon Flapjack (rustic rolled oat flapjack with apple and cinnamon)
Tasting Notes: Based on how it looked, I figured it to be a Nature Valley-type granola bar that would crumble and not be all that good. I was wrong. This was the best granola bar I've had in my life, and I've had a lot of granola bars. It was somehow moist, like they just made it! Amazing.
Is This Worth $1.50? I would pay someone $25,000 a year to feed me one of these every day for the rest of my life.
Snack: Seedsational (roasted pumpkin and sunflower seeds with soy sauce)
Tasting Notes: This was labeled a "Nutritionist's Pick" on the front, and -- sure enough -- was also my least favorite. Not that it was bad, but it was a little bland. The soy flavors don't kick in until the end. I'm more of a "sweet" person than a "salty" person, so you might like this more than I did.
Is This Worth $1.50? Not for me. I'd say it's worth 49 cents.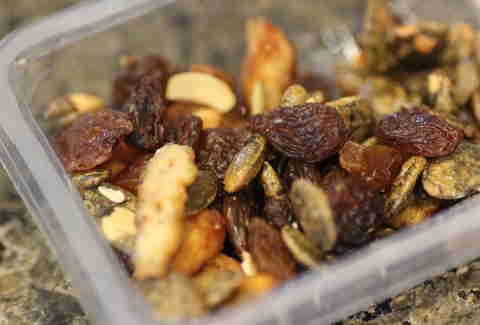 Snack: Poached Pear with Vanilla (dried pears, vanilla pumpkin seeds, and lemon raisins)
Tasting Notes: Another huge winner. Still unsure how they made dry fruit taste so moist, but they pull it off. Vanilla and lemon flavors abound, and in the best possible way. Loved the huge chunks of pear.
Is This Worth $1.50? This should be in the Snacks Hall of Fame. Quick, someone build a Snacks Hall of Fame.

Conclusion: Get yourself a Graze subscription (right now there's a waiting list, but it moves quickly). I initially signed up to get these once a month, but they're so good, I upped it to twice a month. And see below for how I can hook you up with a free box to try.