The Best Places to Eat & Drink in Canada's Majestic Ski Villages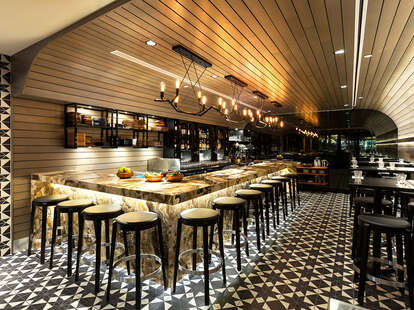 Bar Oso

| Bar Oso
Bar Oso

| Bar Oso
When you're not soaring down snow-covered slopes, well...you'll need to fuel up so you can fly down them again tomorrow. In addition to world-class skiing, Canada's ski villages have some of the best dining and drinking in North America. And since you'll need more than a protein bar to take on the epic Canadian mountain ranges, we've compiled a list of everywhere you'll want to dine, snack, and relax when you're visiting resorts like SkiBig3 (Banff Sunshine, Lake Louise, Mt. Norquay) and Whistler. (Pretty sure the options below are good enough to convince even your non-skiing aunt to come on the trip.)
Bar Oso
An homage to the Whistler wildlife that surrounds it, oso means bear in Spanish. And dining at Bar Oso... means you're in for great and authentic Spanish meal. (Chef Jorge Muñoz Santos brings culinary experience from his home city of Madrid, so you know you're getting the real deal.) Open for lunch and dinner, stop in for tapas (like pintxos and croquettes), house-made charcuterie (like duck liver parfait and rabbit rillette), and larger shared plates (lamb meatballs, chorizo sausage, and more). They don't neglect the drinks, either; the cocktails here are designed to complement the Spanish cuisine. There's even an entire gin and tonics (yes, plural) menu for the gin lovers out there.
Bearfoot Bistro
This isn't your ordinary dining experience; Bearfoot Bistro (located in The Listel Hotel Whistler) is a true fine-dining restaurant. Reserve a table for your group and select from a pre-fixe three or five-course menu -- which changes seasonally. However, it's not just about the food here. Bundle up and head into the Ketel One Ice Room, aka the coldest vodka tasting room in the entire world (-25 degrees Fahrenheit) and the only permanent sub-zero vodka room in all of Canada. Choose wisely, since there are over 50 vodkas from across the globe for you to sample. Then if you prefer something bubbly, Bearfoot Bistro is also known for epic champagne sabering, wherein the top of the bottle is taken off swiftly with a knife -- a tradition that dates back to the 1700s. It's said that after the French Revolution, Napoleon Bonaparte and his army would celebrate their battle victories with champagne. (It's Napoleon who once said, "Champagne! In victory one deserves it; in defeat one needs it." We say: who needs an excuse to have a little champagne?)
Mount Currie Coffee
When the mountains are as picturesque as they are, it's totally acceptable to want to get up and out in the morning instead of lounging around. Mount Currie Coffee gets that, and serves up quick, delicious sandwiches and drinks so you can fuel up before you get out on the slopes. Located right on Whistler's Main Street, stop in for a hearty breakfast burrito (chorizo, ham, or veggie), gluten-free granola parfait, or any of the fresh baked goods. For your caffeine fix, your go-to is definitely on the menu; there's everything from espressos to macchiatos to lattés to smoothies. This independently owned and operated coffee shop says they're "coffee geeks and mountain lovers" who "are obsessed with making the best coffee you can get." (Sounds like our kind of people.) And since they serve lunch too (like paninis and wraps), we have a feeling you won't stop in just once while you're in Whistler.
Dubh Linn Gate Irish Pub
Sometimes you just need to visit a classic Irish pub, and in Whistler, that's Dubh Linn Gate. Located in the Pan Pacific Whistler Mountainside for 19 years and counting, this local landmark has everything you'd want and need: pub fare, live music, and a big ol' drink menu. In addition to their own Dubh Linn Lager, there are over 20 draught beers on tap (including four Irish, like Guinness and Kilkenny), over 20 whiskies to choose from, AND over 20 different single malt scotches. Talk about options. But hey, if you're still not satisfied, there's also wine and coffee on tap to fulfill every palate. Stop in for a drink and some cottage pie (ground beef, veggies, and gravy, topped with creamy mashed potatoes) when there's live music (weekend evenings and Tuesdays) to see why this place is a nightlife favorite.
Fifi's Bistro
In the heart of Whistler's Upper Village is Fifi's Bistro, a newly opened café and poppin' brunch spot that has become a huge hit in the past month. Visitors rave about the hospitality, ambiance, and the plentiful menu (half of which is vegetarian at all times). The owners say they "strive to make as many things as we can in house," ensuring not only that you get fresh ingredients, but that you know what's going in your food. Options include the cauliflower steak sandwich (tandoori spiced roasted cauliflower with kale and apple slaw on a toasted ciabatta roll) and wholesome grain salad (sprouted mung beans, farro, quinoa, cherry tomato, and orange slices with house vinaigrette) and so much more.
High Rollers
It doesn't get much simpler -- or much better -- than High Rollers in Banff. Pins, pints, pizza. "These are all good things. So we put 'em together in a big ole beer hall." If you're looking to chill out (or, perhaps more accurately, thaw out) with a good meal and a good brew, this is the place. Grab a slice of these huge, New York-style slices like The Mac N' Cheese (mac n' cheese, bacon, and bread crumbs) or The Canadian (maple sausage, bacon, onion, peppers, mushrooms, cheese curds, and maple syrup drizzle). Then wash them down with one of the 48 craft beers High Rollers has on tap (including local lagers from Banff Ave Brewing and Grizzly Paw Brewing). Still not satisfied? Order some apps to snack on while you bowl. There's classic poutine and baked nachos among others, but don't let your hands get too messy. You've got strikes to throw.
Park Distillery
Before there were buildings with hostesses, chefs, and conventional ovens and stoves, campfires were the original restaurants. Park Distillery aims to embody that feeling through its rustic menu, complete with spit-roasted rotisserie chicken, wood-fired prime rib, and tons more. Though you're not camping, items like "dirty fries" -- topped with baked beans, "odd bits," and cheese curds -- are meant to make you feel as though you are. Grab a table by the fireplace and get yourself an order of Banff Ave Fondue (Swiss-style gruyère served with sourdough, assorted pickles, and pears) and some Canadian whisky to sample. How about the Alberta Springs 10 Year and the Forty Creek Barrel Select?
Grapes Wine Bar
Located in the Fairmont Banff Springs Hotel, Grapes Wine Bar is open daily until 9pm so you can get your sip and your meat and cheese on. And trust us, you won't find charcuterie like this just anywhere. The extensive menu boasts items like elk and venison salami, smoked buffalo, various cheeses, and pickled... basically everything (asparagus, mushrooms, beets, and more). Pair your awesome platter with a pinot noir, a chardonnay, or whatever you might be craving. And although there are wines from across the globe on Grapes' list, you should probably taste something local, like the Summerhill merlot from Ontario. Because, heck, when in Canada...
Sleeping Buffalo
You might not think to stop into the Sleeping Buffalo Lounge, located in the lobby of Banff's Buffalo Mountain Lodge, unless you're staying there -- but you might want to think again. The dining room (complete with knotty pine beamed ceilings and a fireplace) serves up refined comfort food with fresh ingredients. Try the daily soup with the vegetable quiche (roasted butternut squash, spinach, shallots, mushrooms, and jack cheese) or the sterling salmon (maple orange glaze, lentil & double smoked bacon ragout, and sesame baby bok choy). You might find yourself eating here so often, you'll want to book yourself a room.
Kuma Yama
It's not all poutine and maple syrup (though there'd be nothing wrong with that) in the Great White North. Visitors love Kuma Yama in Lake Louise's Lodge of Ten Peaks not only for its sushi, but for the sweet mountain views. Fresh tuna and salmon sashimi are classic cold options, but the ramen is sure to warm you right up when the mountains freeze you out. Try the shika ramen, with a shoyu base, venison tenderloin, green onion, bamboo shoots, and bean sprouts. Not sure whether to add an egg, pork, or kimchi? Well then just add all three. And if you have any dietary restrictions, Kuma Yama's menu is great for accommodating gluten-free, vegan, and vegetarian diets.
Alpine Social
Located in the Fairmont Chateau Lake Louise (which vaguely resembles Wes Anderson's Grand Budapest Hotel if you put it on a seriously stunning/crystal clear lake), Alpine Social is where you go for hearty, no-frills comfort food. And did we mention it's surrounded by mountain peaks and is 5,200 feet above sea level? Okay, cool. Because it is. Try the beets with goat cheese and maple dressing, the confit duck leg with sesame, honey, and marmalade glaze, or a more classic grilled beef strip loin. Then wash your meal down with a classic cocktail (like the Alpine Negroni) or a brew, wine, or champagne from this inclusive list. No one's going hungry or thirsty here.

Lake Louise Station Restaurant
For a little history served with your meal, head to Lake Louise Station Restaurant (built in 1910). Formerly the Canadian Pacific Railway depot, The Station is the oldest building in Lake Louise and has been completely restored to keep the log walls and leaded windows intact. Fear not, though; the architecture is the only thing that isn't fresh. Crisp herbs (grown on site) complement every dish from the roasted vegetable lasagna (garden vegetables, spinach, and ricotta cheese, topped with parmesan and mozzarella with a tomato basil sauce) to the Alberta lamb shank (slow braised lamb shank with a garlic rosemary jus). You might be tempted to stay cozy and tucked away all day, but we hear the slopes calling your name.
Now you just have to decide -- and with all of the options in Canada's ski villages, it's no easy decision -- what's for lunch?