Paid Content For
Frito Lay
The Biggest Up-and-Comers in BBQ Today (One's in LA?)
Paid Content For
Frito Lay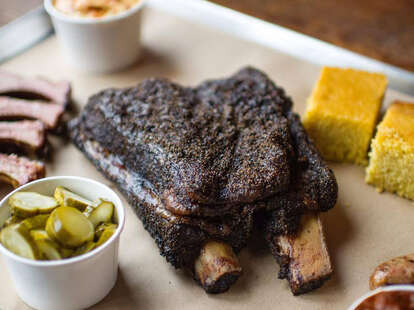 Barbecue is steeped in tradition, but for every seasoned pitmaster with decades of salt and pepper rub under their fingernails, there's a new kid on the block standing on the (pork) shoulders of giants. These are nine of the most up-and-coming pitmasters, ranging from upstarts bringing perfectly moist brisket to barbecue deserts, to an heir to the competition circuit throne.
New York
When Hometown opened in Red Hook in 2013, it turned the booming New York barbecue scene on its head. While that might seem like decades ago judging on foodie time, the world of barbecue has much longer memories. Pitmaster Billy Durney apprenticed at Taylor, TX's Louie Mueller Barbecue, founded in 1949, and although he's been crowned by most every publication as the next wave of pitmaster, the old guys he idolizes still consider him a young gun. In addition to blowing the Brooklyn competition out of the water with his decadent beef ribs, what really sets him apart from his peers is his ability to incorporate local flavors into dishes like his Jamaican jerk ribs.

Fort Worth
Starting with a two-night-a-week trailer operation at a Fort Worth beer garden, pitmaster Travis Heim quickly became the victim of his own success, drawing a rave review from Texas Monthly barbecue editor Daniel Vaughn, with the caveat that the line moved at "glacial speed." A successful Kickstarter campaign added another smoker to the mix, and now there's a brick-and-mortar in the works, allowing even more patrons to enjoy his stand-out bacon burnt ends.
Charleston, Austin
Bringing a slice of Texas to South Carolina, John Lewis knows his way around a smoker. He learned from the best, fanning the fires for Texas legends Aaron Franklin and John Mueller before opening his own Austin brisket trailer La Barbecue. Lines quickly grew, and notoriety spread to the point that the Austin American Statesman actually crowned his brisket superior to his former mentor at Franklin Barbecue. Despite repping Central Texas, the pitmaster actually prefers cooking pork, making his move to Charleston a natural fit. His restaurant opens at some point this spring, but in the meantime be on the lookout for him cooking at local events.

Seattle
For years the only thing smoked you'd want to eat out of Seattle was salmon, but BBQ naysayers were silenced in September 2014 with the arrival of Jack Timmons. The native Texan imported the state's simple salt-pepper rub, no-sauce philosophy, as well as a reverence for the basic butcher paper serving style that's found in so many iconic joints. But thankfully he's willing to throw tradition out the window with appetizers, because who doesn't love a slice of Billionaire's Beef Bacon? (Answer: Mark Zuckerberg, who is vegetarian.)
Hungry for barbecue but also seeking crunch? Lay's has just added even more smoky/saucy/tangy flavor to their classic Barbecue Chips -- because while "more cowbell" might be debatable, the wisdom of "more barbecue" is indisputable.
Austin
The Denmark family has been making sausages in East Austin for over 50 years, but it wasn't until recently that they started dishing out some of the best non-cased meats in a notoriously fiercely competitive barbecue city. Under the watchful eye of another sausage master, Keenan Goldis, they've developed a pitch perfect fatty brisket, Georgia red bark chicken, and mojo-marinated pork shoulder drenched in Carolina vinegar that would stand-out in any of their respective regions. The meat is worth the trip alone, but where many Texas joints consider sides an afterthought, Smokey Denmark takes them dead-seriously, as evidenced by their hot bacon-laced German potato salad.

Durham
Helmed by a dream team of a lawyer-turned-pitmaster, heritage hog farmer, and veteran chef, Picnic brought Carolina pig-picking tradition to the outskirts of Durham in early 2016 and has been garnering rave reviews for 24-hour-oak-smoked hogs so tender there's no trimming knife necessary. The old school hands-on technique is on display via an open kitchen and hog is certainly the main event, but a full menu featuring smoked buttermilk fried chicken and even a veggie sandwich (Zuck!) sets Picnic apart from your average pig-pickers.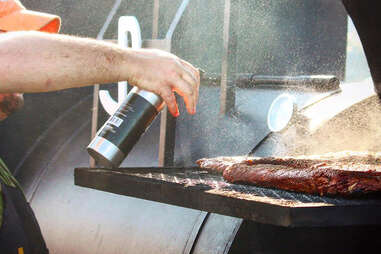 Houston
Currently making the transition from trailer to brick-and-mortar, Grant Pinkerton first made the trip down the smoky barbecue rabbit hole at University of Texas tailgates. He next took Houston by storm with a series of permit-less pop-ups that endeared him to a city that until recently was always overshadowed by its Austin neighbors. Once his 42 foot-long smoker is operational, expect him to… rocket to the top of the Houston pitmaster ranks.

Braselton, and… everywhere
Myron Mixon has a reputation as the winningest man in barbecue, and also the saltiest. His Jack's Old South competition team is renowned for prowess and attitude, but watch the throne: his son Michael's star is ascending. Armed with his family's eponymous brand of smokers, Michael is obsessed with carrying his family's Georgia legacy into the next generation on the competition circuit, but also bringing competition-style meat to the masses via his Smoke on the Track series of cook-outs at Nascar races. Expect lines around the corner if he ever trades in his barbecue nomad mentality and opens a restaurant.
Culver City
Great barbecue has never been Los Angeles' thing, but pitmaster Adam Cole at Culver City's Maple Block Meat Co. is flipping the Hollywood smoke script. Raised in Texas, North Carolina, and Georgia, Cole takes a cross-regional approach that celebrates sliced brisket as much as chopped pork shoulder, along with a few California touches like a baby kale salad. The dedication to an authentic, Central Texas meat market atmosphere has drawn a legion of fans in LA, including plenty of skeptical Lone Star ex-pats.