Everyone and their mom loves going to Cheesecake Factory. But not just you and your mom -- also Drake! Mindy Kaling! Steph Curry! Their moms, probably! When the Factory was crowned America's favorite fast-casual restaurant, I wrote a story about how all of America wants to have babies with the chain, but I'd never been there myself. It looked incredible -- there's an enormous menu to choose from, huge portions, and everyone gets their own individual cheesecake to eat the minute they sit down… I think. Like I said, I'd never been there.
So I had to go and see for myself what all the fuss was about. Was Cheesecake going to live up to my super-high expectations? Kind of! But also the opposite of kind of.
The atmosphere
As I'd never set foot in this industrial wonderland of cake and cheese, I took support in the form of my girlfriend. Mostly because I knew I could expense her meal. Thanks for the free date, Thrillist!
We walked in and I felt like I'd stepped into Vegas circa 1985. Palm trees, mirrors, and marble abounded. I can kind of see how all of this '80s-era glitz and glamour might feel chic to someone. The lighting was dim. I had a theory.
"It's dark in here to hide the shame on your face while you're eating a 5,000-calorie meal," I said to my dining partner. She laughed, but she called me a cynic a few times that night. But I'm not! I had an open mind when I walked in. I wanted to love this place. Besides, I love cheesecake! And Cracker Barrel! And Oreo! And Sonic! I'm not a food elitist, dammit.
Before we got to the hostess stand, we passed a huge bakery with neon signage behind it. Seemingly hundreds of appetizing cheesecakes lined the cooler. There were also Beanie Babies for sale. I did not time-travel back to 1998 and write this story. I am writing about it in 2016, when a $2.47 billion company is selling a toy that was popular 20 years ago. But guess what? If they're on the shelf, people are still buying them. Shows how much I know.
Right off the bat this place confused the hell out of me. We were escorted to our table.
The seating arrangement
This location in Denver is massive, and yet we were seated next to two men loudly speaking in another language I didn't recognize. It was 6pm on a Tuesday, and super loud. All sound here echoed like we were in a cave where they serve expensive cheesecake.
We were cramped, but there were huge booths all over the place. That's gotta be part of why NBA players and huge groups love it here -- plenty of room to stretch out. I guess my 5'6" ass didn't look like he needed much space, so they stuck me at a marble table the size of a tray table on Spirit.
My lady sat across from me, but behind her head was a huge mirror. "They lower the lights to hide your shame, and then they make you look at yourself eating?" I wondered.
"That's why I didn't want to sit there," my girlfriend said. On a related note: never date someone more clever than you.
The menu
The menu here was 20 pages. Twenty. Pages. And, like a particularly boring Stephen King story, it came in two parts... there was a supplemental "Skinny" menu too. A doctor-journalist who wrote about the chain in The New Yorker counted over 300 items on the menu. I would have checked his math, but I wasn't smart enough to go to med school, nor can I count that high. Bottom line: that's a lot of options. The menu is perfect for families with divergent tastes -- there's something for everyone.
My girlfriend couldn't figure out what she wanted to eat. Not being able to make a decision is stress-inducing, and that's the opposite of what eating out should be. Is it any wonder why many of the popular restaurants in American cities do one thing and do it well? Nowadays, burger places do burgers, burrito spots do burritos, and so on. I once read a whole book about how having a lot of options sucks -- it's called The Paradox of Choice. It's also the subject of a TED Talk, if you don't want to spend weeks reading a book to understand a fairly simple concept.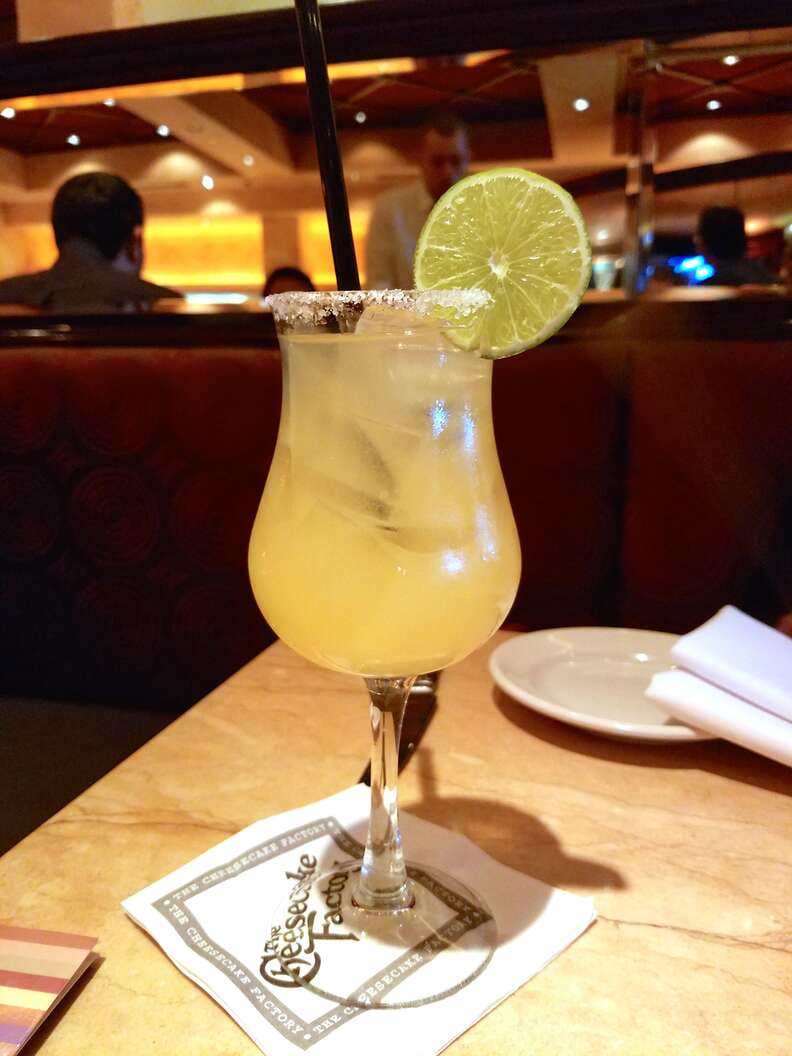 The drinks
Our server was nice enough to give us a happy hour drink even though we got seated at 6:01pm. I ordered a decently priced $5.50 margarita.
It tasted like 100% syrup. I mentioned this to the server, who said, "Maybe that's why it's on happy hour, [because] it's not good." He took it back, and I ordered a mojito instead.
Strangely, there aren't 300 cocktails on the menu. But there is a citrus vodka + raspberry liqueur lemonade. And a raspberry vodka punch. And a passion fruit margarita. Clearly, this cocktail menu was created by a frazzled woman in her 40s taking a night off from the kids, but who missed them so much that she only drank cocktails that tasted like her kids' favorite refreshments, but with booze in them.
The appetizers
The Cheesecake Factory's famed brown bread was dropped off, and I wanted to ask them for a loaf so I could throw avocado on it the next morning (because I'm still basic). I wanted to eat it for dessert after this meal. I wanted to steal the recipe, buy a breadmaker, and then eat this every day.
It was monumentally delicious, and was soft in a way that makes it seem fresh even if it was made in a Bread Factory. That's why my girlfriend took two out of the three slices in the basket, not that I was counting. When I pointed this out to her, she gave one of the slices back to me. Too late. Damage done.
Score one for Cheesecake Factory! It felt like a sign of good things to come, and I was psyched to eat more.
Our friendly waiter was back quickly to take our order, and before he could recommend any appetizers, I asked for the fried mac & cheese balls, having seen photos of them on Instagram previously. They looked fantastic.
Then I ate them. They tasted fine. But the taste wasn't the problem.
"I don't know how you eat more than 2.5 bites of this," I said. "It's so rich." My dining partner agreed.
I love cheese -- hell, I write about it -- but to eat all this and then eat a Parmesan herb-crusted chicken and then eat a slice of cheesecake? Even a French cheesemonger would say, "Eh, maybe it's a little much" and then blow cigarette smoke in your face. But if you're a 13-year-old who survives on Hot Cheetos, Mountain Dew, and mac & cheese? This dish is perfection, and you can probably finish it by yourself.
We left 95% of it untouched on the table, and watched as the cheese congealed.
The waiter dropped off a mojito. "It tastes like the best mojito you've ever had at the airport," I said after taking a sip. By the third sip, it was almost unbearable in its sweetness.
There just isn't a damn thing subtle about this place, is there?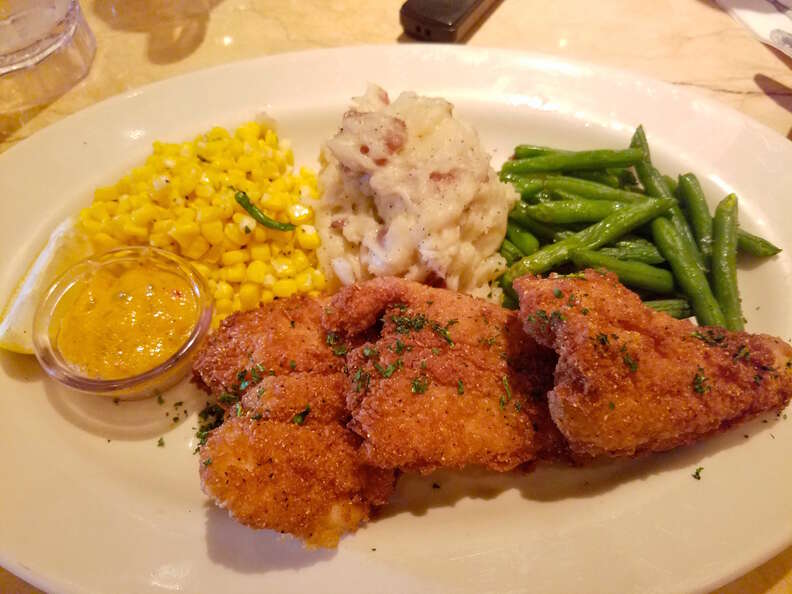 The main course
So far, the environment, the drinks, and the appetizers (excluding the brown bread) weren't working for me. But dinner was about to change everything.
Oh, Parmesan herb-crusted chicken, how I adored thee. It came out piping hot, and every bite of chicken was better than the last. The mashed potatoes melt in your mouth, and the green beans were crispy and delicious. And there was so much of it, I only ate 35%, leaving plenty for lunch the next day. My girlfriend's catfish was equally good -- making this one of the few national chains I'd trust with not screwing up a seafood dish.
And if the two main courses we ordered were so good, I could see myself going back and trying other entrees: Thai-glazed salmon, Louisiana chicken pasta, and even a rib-eye steak. Cheesecake says it makes it all fresh, and I believe it. All 300 different items. Fresh.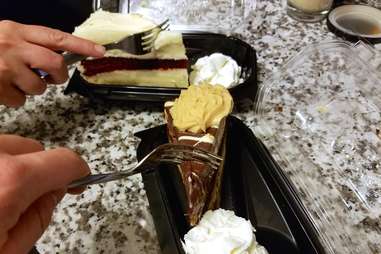 The cheesecake (to-go)
There was no way I had room by the end of the meal to eat cheesecake at the table, which kind of sucks because there are more than 30, ranging from salted caramel to s'mores, dulce de leche, and chocolate cake cheesecake -- which is kind of like the Inception plot in cheesecake form. Yet I had already consumed far more calories than I could handle, and the kids running around my table weren't showing any signs of stopping. I couldn't go to this place without getting a slice of its namesake dish: Factory! Wait, no. Cheesecake!
The Reese's Peanut Butter Chocolate Cake and Ultimate Red Velvet were both just as good on my girlfriend's counter as they would have been at the restaurant. Not New York good, mind you -- unless they taste different at one of the New York locations -- but still pretty good.
Is that dessert good enough that the whole restaurant should be named after it? No. But "The Parmesan Herb-Crusted Chicken Factory" just doesn't have the same ring.
The cost and final thoughts
The total cost for the meal came to $72. When I saw it, my eyes bulged out like I was in Roger Rabbit. Was this meal worth $86 with tip for two people? No. I'm fine with spending around $100 on a dinner for a special occasion or when we're on vacation. But since I don't make Drake-level money, it seems steep.
I understand why you and your mom love this place -- it's a treat to eat way too much food with your extended family in a vibrant, Vegas-like atmosphere, and sleepwalk back to your car in a sugar coma. That whole shebang just isn't my thing. Does that make me un-American? Maybe.
I might get a Parmesan herb-crusted chicken and a slice of cheesecake to go at some point, though. Maybe I'll bump into Drake...
Sign up here for our daily Thrillist email, and get your fix of the best in food/drink/fun.