Austin's food scene has exploded in the past decade, but for all our culinary advances, no precious small plate appetizer satisfies quite like a steaming bowl of queso.
Tex-Mex, the most delicious rhyme in all of gastronomy, forms a pillar of eating out in Austin. Barbecue fans may protest, but even the most adamant brisket lovers will admit that smoked meat is a rare treat, whereas breakfast tacos are a daily ritual.
Born in the Rio Grande Valley and ubiquitous by the '70s when cookbook writer Diana Kennedy famously denigrated it as "so-called Mexican food," Tex-Mex isn't a trend, it's a lifestyle. Tacos comprise roughly one third of the average Austinite's diet (an unscientific, but personally accurate estimate), so naturally you can get fantastic Mexican food everywhere, but cheese enchiladas aren't the only thing on the menu.
More traditional forms of Mexican food abound, from taco stands that would fit right in on a Mexico City street corner to simmering moles that smell like a Oaxacan grandmother's kitchen. Such a wealth of flavor requires a roadmap, so we've compiled a primer on the city's abundance of puffy tacos, fajitas, and margaritas, along with some tips on restaurants that are more Mex than Tex. Read on, and pass the salsa.
Respect the Tex-Mex trifecta
No Austinite needs a definition of Tex-Mex, but for a quick refresher one need look no further than the No. 1 Dinner plate at Matt's El Rancho: a crispy beef taco, beef enchilada, pork tamale, chile con queso, Spanish rice, refried beans, and an iced tea, which should obviously be subbed out for a frozen margarita. It covers the unofficial Tex-Mex trifecta (crispy taco, enchilada, queso) along with with a bonus tamale (be on the lookout for these for sale everywhere in the Christmas season).
Beyond those classics, you're also looking at fajitas, chile rellenos, queso, breakfast tacos, puffy tacos, flautas, Mexican martinis, frozen margaritas, and more breakfast tacos. Expect flour tortillas as the default, some of the best come from El Milagro on East 7th, but kudos to any restaurant that makes their own. Salsas vary, the typical red sauce is everywhere, but creamy green jalapeno salsa is equally popular and many places also offer a hot habanero. Oh also, cheese. Lots and lots of gooey yellow cheese.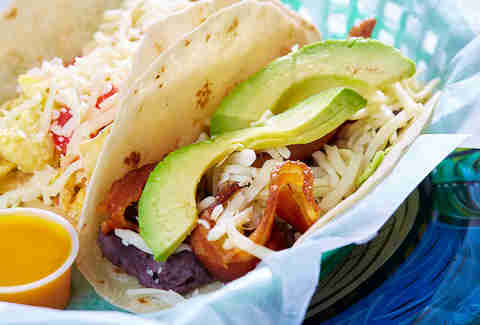 Avoid pre-made breakfast tacos
Breakfast tacos, also known as the best part of waking up, may be Austin's most beloved food. Eggs and fluffy flour tortillas comprise the base, from there the possibilities are endless.
Typically you want to order two. A migas taco, which mixes chilis, onion, tomato, and crispy fried tortilla chips into the eggs, serves as a good barometer of quality. For a more Mex flavor, go with chorizo. The most popular Tex variety is probably some combination of bacon, egg, potato, and cheese (add avocado if you're feeling fancy).
Breakfast tacos may be the most ubiquitous food in Austin, with nearly every gas station and coffee shop serving some version. Not all are created equal, though, and the easiest red flag to spot is if they're pre-made sitting under a heat lamp. Also, if they don't have chorizo, you're probably in the wrong place. Here are some of the places that do it right:
TacoDeli
TacoDeli stocks tons of coffee shops, but you've gotta visit one of their six locations for the best breakfast taco in Austin that doesn't feature eggs: the Otto, with refried beans, double bacon, avocado, and Jack cheese.
Taco Joint
The beloved university institution with a second location on Riverside specializes in buttery fresh flour tortillas topped with perhaps the most generous pile of shredded yellow cheese in town.
Mi Madre's
Manor Road staple Mi Madre's has been serving the biggest tacos on the street since 1990. Don't miss the #2, featuring chorizo, egg, potato, and cheese.
Valentina's
Mexican fusion barbecue joint Valentina's deserves praise for a breakfast taco that will keep you full all day: the Real Deal Holyfield with fried egg, bacon, refried beans, bacon, and brisket.
Juan in a Million
Juan Meza's handshake is almost as famous as his tacos. The gregarious patriarch also gave his name to the Don Juan, a massive pile of potato, egg, bacon, and cheese. Pro-tip: Order extra tortillas.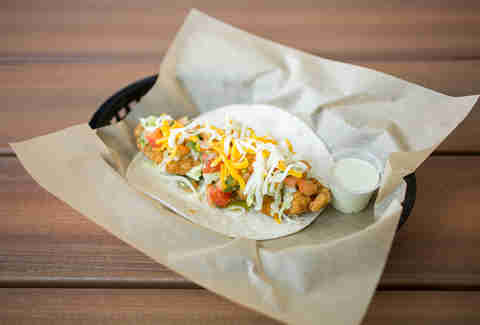 You can eat a side of queso with just about anything
By now, queso is a nationwide phenomenon, but no one loves a molten bowl of hot cheese quite like Texans. With its pervasiveness everywhere from Mexican restaurants to diners and sports bars, it wouldn't be hard to subsist on liquid dairy alone in Austin. It's a hard product to mess up, but you may think twice if it's the only Mexican food on the menu. And if you're making it at home, you can't go wrong sticking to the classic recipe of a block of Velveeta and can of Rotel tomatoes. Here's where to try it:
Torchy's
The fast casual taco titans at Torchy's built an empire on craveable flavor combinations and their queso may be on the thinner side, but the simple cilantro-heavy app makes an excellent dip for any of their tacos, especially the Trailer Park (order the taco trashy for a scoop of queso on top).
Matt's El Rancho
The most famous queso in town is named after a former Texas Land Commissioner. The Bob Armstrong dip changed the game by adding a scoop of taco meat to a mix of guac and cheese, and it may just change your life
Kerbey Lane Cafe
Another Austin classic, Kerbey Lane's queso has been satisfying fans of the late night diner 24/7 for nearly 40 years. It's nothing fancy, just cheese, guac, and pico, but what more could you want?
A full parking lot is a good sign, but don't pass up a hole-in-the-wall
Tex-Mex's immunity to fancification makes it one of the few trend-proof types of restaurants, all the more reason to celebrate some of the classic restaurants that helped define the cuisine. Like with any restaurant, a full parking lot is an easy barometer that the spot is worth checking out, but given the hole-in-the-wall nature of many of the best places, it can be difficult to pinpoint any true red flags. That said, even a bad plate of enchiladas is… a pretty good plate of enchiladas, so you'll be in luck almost anywhere you try.
Amaya's Taco Village
Amaya's has everything you want from a Tex-Mex joint. History (est. 1976!), a gigantic dining room, bar seating for solo enchilada excursions, and naturally a menu packed with crispy tacos, chalupas, fajitas, and frozen margs.
La Mexicana Bakery
Pastries may be the only Mexican food that isn't improved by drowning in queso, but La Mexicana doesn't just trade in sugary breads. The menu veers more traditional Mexican, but you can still score plenty of Tex-Mexities like nachos, Mexican pizzas, and massive burritos.
Habanero's
Tex-Mex doesn't need to be cheap, but should always be affordable. In addition to being one of the most delicious and lively restaurants in Austin (go early to beat the lunch rush), Habanero's also offers some of the best deals (where else will you find fajitas for under $7!?). Those cheap prices come with a catch though: the restaurant is cash only.
Chuy's
Doctors would recommend far more than 30 minutes after a trip to Chuy's salsa bar to dive into neighboring Barton Springs, but since 1982, it's been perhaps the best place to gorge after an icy cold swim.
Embrace a little experimentation
It could be argued that without an enchilada on the menu, it ain't Tex-Mex, but those craving a quick dose of Mexican food don't always have time to be waited on -- or for a fork and knife. The fast-casual format also allows experimentation beyond your typical mix of meats, a welcome evolution to the cuisine's fusion roots.
Tyson's Tacos
This Airport Boulevard spot may have the most expansive menu in town. Anything goes here, they're not afraid to stuff a taco with burnt ends or crispy duck. The three taco plate is one of the city's best values at $11.99 (and could be split between two people).
Tamale House East
Old-school Austinites mourn the loss of the Airport Boulevard location, but this newer Eastside spot fills that void. Boasting one of the best patios in town and a serious bar program, it's now more than just a destination for cheap breakfast tacos. Although every order should include a crispy taco, we highly recommend non-Tex plates like the grilled fish or cochinita pibil.
El Chilito
Those who live anywhere near the Cherrywood neighborhood have likely visited El Chilito an embarrassing amount of times. It's perfect for a Sunday brunch, quick lunch, or happy hour margarita. And one of the best things on the menu is the Tex-Mex staple: the puffy taco, a San Antonio-born creation where the tortilla takes a quick bath in a deep fryer and balloons up, then gets stuffed with ground beef, lettuce, and tomato.
Tex-Mex can be upscale, too
Fancy Tex-Mex is a contradiction of terms, but there are a few places that can impress your date -- and still feel uniquely Austin. So don't nix it just because you need to wear a shirt with a collar. Here are the standouts:  
El Alma
Inspired more by Mexico City than a Texas city, El Alma's two story Barton Springs Road location still serves a mean bowl of queso (with the addition of arbol salsa, rajas, and mushrooms) and no trip is complete without an order of their duck relleno.
La Condesa
Trailblazer of the Second Street District, La Condesa's renown for one of the best happy hours in town, an excellent place to take a date, or a perfect business lunch (if someone else is paying). The guacamole sampler is a must order, as well as the infamous tobacco-infused El Cubico margarita.
Grizzelda's
Not many Tex-Mex menus feature dry-aged fajitas. Grizzelda's respects certain Tex-Mex institutions, but breaks the mold with fusion items like Brussels sprouts and street corn salad.
Do explore some true Mexican specialities
Whereas Tex-Mex may be defined by a helping pile of melted yellow cheese, Interior Mexican food is harder to summarize. That's because it's typically true Mexican dishes, rather than a Texas-Mexico combination. For example, Oaxacan food has made the biggest splash worldwide, which has become synonymous with thick, creamy mole sauces. Coastal cuisine also plays a prominent role, from raw appetizers like ceviche to grilled or fried fishes. The last decade has seen this subsection of Mexican food grow exponentially, but Austin's been devouring moles for longer than most can remember (with a bowl of queso on the side, of course).
Fonda San Miguel
Few Mexican restaurants hold a place in Austinites hearts' quite like Fonda San Miguel. One of the city's first examples of chef-driven Mexican food, it bridges the gap between fancy and welcoming, with a special occasion brunch that's also all-you-can-eat, as well as a selection of fish dishes and moles you won't find anywhere else.
Polvo's
Tex-Mex fans will find much to love at Polvo's (chorizo-packed queso, breakfast tacos, pitchers of frozen margs), but you'll also find pescado al mojo de ajo, chicharron platters, and enchiladas in guajullo sauce.
El Naranjo
Imported directly from Oaxaca City, it's undisputed that you'll find the best mole in town at El Naranjo, including negro, amarillo, and coloradito varieties. It may also be the only place within city limits to score an authentic tyayuda -- basically a gigantic Mexican pizza that's sold on the streets of Oaxaca instead of tacos.
Look for taco trucks serving more than just carne asada
Before Austin's boom of chef-helmed trailers, most trucks served humble tacos. Typically you'll find more emphasis on Mex than Tex, but they're a crucial part of a balanced taco diet in Austin. Streets like Airport Boulevard, Riverside Drive, or Oltorf seem to have taco trailers on every corner (literally). Look for big crowds to find the best ones, although there could always be a barbacoa-slinging gem in the rough. There's typically a standard menu of meats like carnitas, carne guisado, al pastor, and fajita, but you'll know you're at a more traditional spot if you see odder cuts like lengua (tongue), tripa (intestines), or nopales (cactus). Wherever you find yourself, you definitely want cilantro and onions, and be sure to ask for green salsa.
El Primo
South Austin favorite El Primo may win the award for tiniest trailer with the most flavor. The barbacoa, al pastor, and carne asada are strong choices, either on corn tortillas or one of the best tortas in town.
Veracruz All Natural
Veracruz's fresh tastes developed such a following that they've now expanded to five locations. The migas may be the star of the show, but the tilapia fish taco may be the sleeper hit of the menu.
Rosita's Al Pastor
It's hard to find a bad taco on Riverside -- from Taco More to El Taquito -- but for trailers you'll want to stop at Rosita's Al Pastor for their signature trompo pork, available at all hours of the night.
Go beyond the classic frozen marg
Nothing pairs better with a plate of hearty enchiladas than an ice cold margarita. Although frozen may be the classic move, don't limit yourself to the brain freeze varieties, as there are plenty of flavors of the tequila rainbow worth trying. It's hard to make a mistake when ordering one of these, but it always helps to ask the servers their favorite version (why go with a boring house marg when you could have an avocado-tequila slushie?!).
Maudie's
This may be the only place you'll find a "Skinny Tex-Mex" menu, but aside from calorie cutting, the drinks are one of the best reasons to visit. From pineapple jalapeño to blueberry mint, there's a wide world of margs to explore.
Vivo
The modern North Austin Tex-Mex outpost boasts one of the best tequila selections in town, plus a wide selection of signature margarita variations like the Pepino (with cucumber puree), Tamarindo, and Hibiscus.
Trudy's
Mexican martinis have fueled many unforgettable nights, and Trudy's holds the crown for best in town (or at least, they're proudest of them). For the uninitiated, it's really not that far off from a margarita -- just served in a shaker, with a couple of olives. Take note, it's a strong drink -- there's a strict limit of two per customer.
Curra's
There's no question, this Oltorf Mexican institution owes much of its reputation to one drink: their signature creamy avocado margarita, basically guacamole and tequila in a glass -- which feels like the ultimate fusion celebration.