It's been a wild year for Fat Kid Fridays, from inception to some sort of weird puberty to the full-grown man-article you've come to know and love. We've made sure you were kept in the know about the craziest foods this side of reality. So in order to send 2013 off the only way we know how, here are the best, fattiest, most glorious foodstuff highlights from the year. Mangia, sons.
Recommended Video
Timothy DeLaGhetto & David So Consume Copious Amounts of Spam at Honolulu's Annual Waikiki Spam Jam
13. Ramen Burger
Buzz Bar, Chicago
Approximate Calorie Count: 1410
Buns're being made out of all kinds of things nowadays, but none have captured the public's eye quite like ramen burgers. This one's unique in that the ramen buns are BUTTERED before they're griddled, and the Kobe beef burger within's topped with a fried egg, gooey sharp cheddar cheese, sun-dried tomatoes, arugula (for your health), and Sriracha. Kinda reminds you of college, huh?
12. 100% Bacon Burger
Slater's 50/50, San Diego
Approximate Calorie Count: 1810
Here we have a 100% ground bacon patty topped with bacon cheddar cheese, four pieces of extra-thick bacon, a fried egg (the only ingredient without bacon!), and Bacon Island dressing, all gently laid down inside of a bacon pretzel bun (baked with bacon fat instead of butter), then impaled with a steak knife. Bacon.
11. Giant Donut
Bob's Donut and Pastry Shop, San Francisco
Approximate Calorie Count: 1846
This piece of fried dough is about a foot in diameter and is probably bigger than your head. Unless you're John Madden.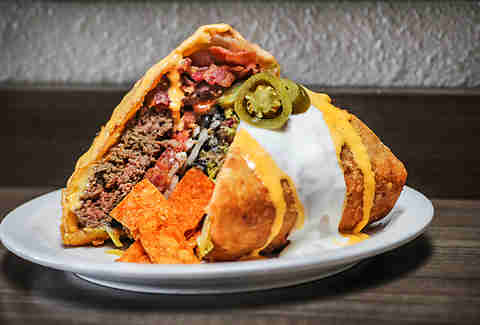 10. The Supreme Nacho Burger
Slater's 50/50, San Diego
Approximate Calorie Count: 1852
It starts with a beef patty flavored with taco spices, gets laid on a bed of shredded cheddar atop a flour tortilla before being loaded up with tomato, onion, salsa, black beans, guacamole, a pile of bacon, and house-made seasoned tortilla chips. That's all wrapped up, washed in egg, deep-fried (!), and hit with nacho cheese, sour cream, and pickled jalapeños. It's delicious, beautiful, and it will kill you.
9. Pizza-Sized Chicken Parm
Quality Italian, New York
Approximate Calorie Count: 1962
It may be the size of a pizza. It may have more Parmesan and tomato sauce than any pizza you've ever had. But this fella is not, in fact, a pizza; it's just the largest chicken Parm you've ever seen -- a 14in behemoth meant for two. But they've never seen anyone finish it alone. Up for a challenge?!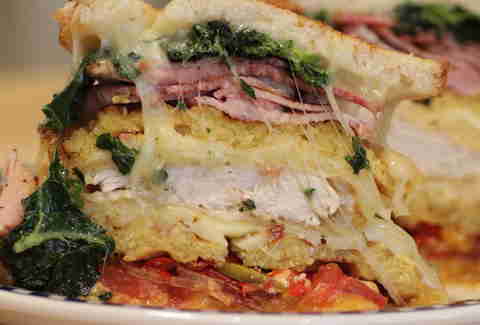 8. The Beast of Midtown East
The Pullman Kitchen, New York
Approximate Calorie Count: 1988
This behemoth bills itself as a "grilled cheese", but it's so much more. Two slices of rye are topped with muenster and cheddar, two waffles are topped with pepper jack, and they're all collectively layered with slices of thick-cut bacon & kale, Brooklyn Cured ham, tomatoes, spicy pickled peppers, and a piece of fried chicken.
7. The Big One
Twins Sliders, Los Angeles
Approximate Calorie Count: 2355 (2205 sans Twinkie)
10 add-ins. Eight scoops of vanilla. When something has this many calories, it ceases to be food, and instead becomes a challenge to the universe. This one's got Oreo crumbs, brownie bites, Cap'n Crunch, crushed graham crackers, crushed M&M's, mini marshmallows, Cinnamon Toast Crunch, Butterfingers, peanut butter cups, and chocolate chip cookie dough, all blended together with ice cream & milk and topped with a Twinkie.
6. Dobosch Torte
Butter Midtown, New York
Approximate Calorie Count: 2573
This hefty treat contains more chocolate than you can shake a stick at. Seriously, don't shake that stick because this is a restaurant and there's decorum to maintain. It's covered in chocolate ganache and cream, but the piece de resistance here is a topping of molten caramel sauce that cascades down every side.
5. The Pilgrim Pie
Denver Deep Dish, Denver
Approximate Calorie Count: 2655
This Puritan-offending pizza's made of a cornmeal crust topped with mozzarella and smoked turkey, which're then buried beneath house-made corn soufflé, sausage stuffing, and cranberry-corn relish before being dusted with Parmesan and baked to perfection.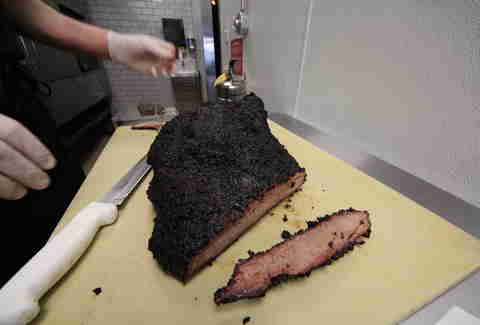 4. The Platter
Bludso's Bar & Que, Los Angeles
Approximate Calorie Count: 3255
In this mysteriously named meant-for-two BBQ dish, you get a heap o' ribs. And a mess o' brisket. And a pile o' pork. And a shload of sausage. And then you also get collard greens and mac & cheese and coleslaw and probably heartburn.
3. The Intimidator Challenge
Ricky Bobby Sports Saloon & Restaurant, Fort Worth
Approximate Calorie Count: 3844
It's a half-pound patty, two slices of pepper jack, a half pound of BBQ-drenched pulled pork, two chicken tenders, three strips of bacon, a smoked sausage, an onion ring, and a chicken wing on top, plus a whole pound of chili cheese fries that lay next to it. Oh, and there's a bun hiding somewhere that matches the one on top. If you eat the whole thing (plus a mandatory salad) in 10mins, you get your picture on the wall and a free Ricky Bobby hat!
2. The Big Fat Fatty Sandwich
Fat Sal's, Los Angeles
Approximate Calorie Count: 14,281
Appropriately named, this guy's got 27in of French bread slathered with butter. Five cheeseburgers. An entire package of bacon. Five fried eggs. 1.5lb of steak. 6oz of cheddar. 1.5lb of pastrami. 6oz of mozzarella. 10 chicken fingers. Mozzarella sticks. Onion rings. A bowl of homemade chili. Several ladles of marinara. Jalapeño poppers. A basket of French fries. Garlic aioli. Your entire stomach.
1. The Grilled Cheese Cake
The American Grilled Cheese Kitchen, San Francisco
Approximate Calorie Count: 18,901
When Marie Antoinette famously said, "Let them eat cake," she probably meant this awesomely gargantuan grilled cheese cake from SF, because there'd definitely be enough to feed the entire country through its Revolution. This incredible tower of dairy power has roughly 30 grilled cheese sandwiches (havarti, cheddar, and jack on sourdough) that're being held together with Cheez Whiz. And they're totally willing to add jalapeños or bacon into the mix too. Get it for your next Bastille Day party!
Adam Lapetina is a food/drink staff writer at Thrillist, and wholeheartedly believes that the best things in life are fried. Read his musings on Twitter at @adamlapetina.