The Definitive Ranking Of Hot Dog Toppings
Anna Horowitz/Thrillist
Anna Horowitz/Thrillist
Don't forget: July 18th is National Hot Dog Day! Be sure to check out our story for all the best deals on dogs this year.
With summer on the horizon, we're breaking out the hot dogs for the grill. But a hot dog isn't complete without the toppings. A hot dog is a blank canvas for your wildest condiment combos, and because of that we conferred with hot dog topping guru Brian Shebairo of NYC's Crif Dogs to rank all the possibilities. Feel free to debate at your next barbecue.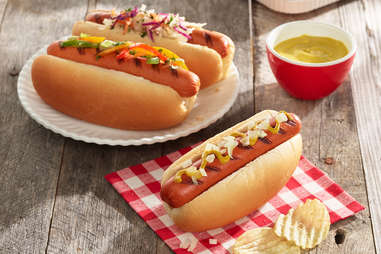 Whether you're team ketchup or team mustard, one thing is for sure: your summer barbecue isn't complete without an Oscar Mayer Hot Dog. They're on a mission to put a better hot dog in every hand, so their dogs are free from artificial preservatives, added nitrates and nitrites*, and by-products.
*except those naturally occurring in celery juice