Steakhouses are great (particularly if someone else is paying) because you get to indulge yourself in a borderline dangerous amount of prime beef in the classiest of surroundings. But that's only part of the story. The unsung heroes that make any steakhouse visit complete are the starters and the sides. We aren't going to sing about them, but we are going to do something even better: rank them!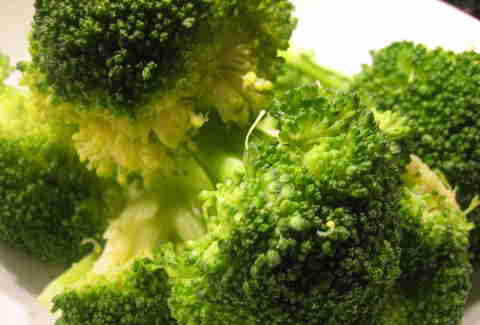 13. Steamed Broccoli
Throw asparagus in here, too, along with basically any other vegetable that doesn't have some form of calorie enhancement to unhealthy it up. You're about to indulge in thousands of calories worth of cow flesh. You are past the point of damage control. Unless you're the kind of person who goes to a steakhouse and gets like, whitefish or something, which is... no. Just no, okay?
12. Caprese Salad
Phew, that felt good. Okay, none of the rest of these deserve the scorn of plain-ish veggies. Everything else is at least a pretty good time, starting with this number that combines the freshness of tomatoes and basil with the richness of fresh mozzarella, the tang of balsamic, and the overwhelming feeling someone at the table is eating something better.
11. Vegetables with Hollandaise
Look, you still aren't fooling anyone, Mr. Veggie, but the yolk-based fat sauce is an admirable effort. You did all you could really. It's commendable. But we're still going to have to ask you to leave.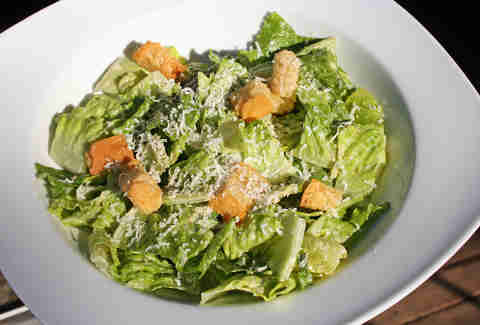 10. Caesar Salad
It's a classic way to start off, and if there are enough croutons/ dressing/ cheese/ anchovies involved, it's almost enough to compensate for its innate salad-ness. You could even ask for some grilled chicken and have it as an entree, if you're at an Applebee's or something. But you're not, are you? STAY FOCUSED!
9. Tuna Tartare or whatever
This used to be a steakhouse's way of broadcasting, "Hey, look at us! We're keeping up with the latest food trends! We also enjoy Zach Braff movies, because they're hip and current, like our dining options!" but now it's pretty much a guarantee there'll be some kind of ahi/ soy/ wasabi whathaveyou somewhere on the menu. It's all perfectly well and good, but it hasn't done anything to supplant the true classics.
8. Onion Rings
You might think that given the ever-so-subtle bias towards unhealthfulness in this list these would perform better, but really, as great as deep fryers are, this isn't really their best venue (all that said, onion rings still beat salad).
7. Sauteed Mushrooms
These are always a sneaky good pick. They're usually an afterthought, then at the very end someone will throw in a, "Oh hey, could we get some sauteed mushrooms for the table, too?". And everyone's always glad they did. If the establishment in question does a sauteed mushroom/ onion hybrid, make that move every time (it's okay because there is lots of butter involved).
6. Wedge Salad
Correction, onion rings beat salad unless it's one of these bad boys. When a "salad" is really just a delivery mechanism for as much bacon and blue cheese as possible, does it continue to be a salad? Bet you didn't think this was going to get so deeply philosophical, did you?
5. Mac & Cheese:
This is another one that has gained increasing traction in recent years, comfort food being almost as hot as those Zach Braff movies. But it's hard to complain, because who isn't happy to have mac & cheese at the table? And steakhouses generally up the ante with some lobster or bacon or truffles, or all of the above, if they're the greatest place ever.
4. Oysters Rockefeller
We'll deal with their raw brethren momentarily, but these puppies lose points for spinach, gain points for retaining salty deliciousness despite said spinach, and gain even more points for a name that makes you feel like you're a titan of industry.
3. Crab Cakes
I have nothing negative to say about you crabcake, nor the indulgent remoulade with which you are typically paired. You've done nothing wrong. Okay fine, sometimes you can be a little dry! I'M SORRY BUT YOU PUSHED ME INTO THAT!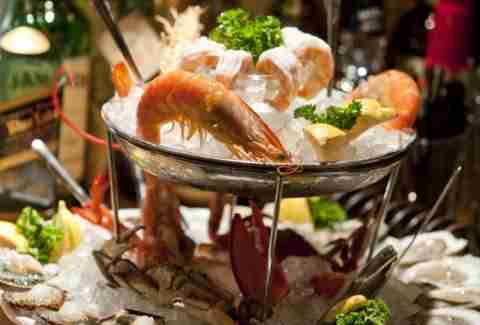 2. Shellfish Tower
These things are glorious and will only set you back a couple of children, but even if you aren't ponying up for the multi-tiered, full-on raw/ chilled seafood festival, even ordering one of its single components (lobster/ crab/ shrimp cocktail, raw oysters, etc.) is still worthy of this ranking.
1. Potatoes
Sure, they don't have all the elegance and clout of the raw seafood, but some things just work, and meat and potatoes is one of them, which is why your average steakhouse serves them up somewhere between five and five-thousand different ways. In fact, here's a ranking WITHIN the ranking of popular steakhouse potato styles:

6. French Fries
5. Mashed
4. Scalloped
3. Hash Browns
2. Baked
1. Twice Baked

Long story short: start with shellfish, side with potato and you're in good shape. Something in those potato rankings make you furious?! Air those grievances in the comments, friend.