The 11 oldest menu items in America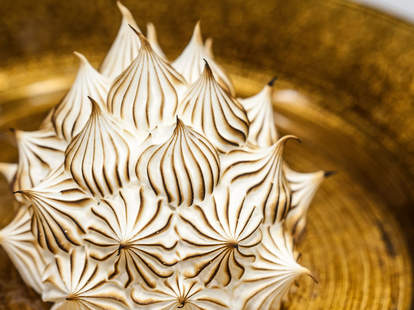 Fusion, molecular gastronomy, and slow food have got nothing on "longevity". Some of these dishes are older than the Civil War; all of them have outlived their creators. Get ready to take a hearty bite out of living history.
Courtesy of Delmonico's
Baked Alaska (top of page), Lobster Newburg, Chicken A la Keene, and Eggs Benedict
Delmonico's
56 Beaver St New York, NY
The New York City steakhouse claims it was the first fine dining restaurant in the entire country. They might not be wrong. Opening doors in 1837, they've had the above four menu items in their stable since 1862. Slight changes in preparation and cooking equipment (the city wouldn't have freakin' electricity for another 20 years) have made these dishes a little less reliant on cream and butter, but no less drool-worthy.
Tacos (but not just any tacos)
Mitla Café
602 N Mt Vernon, San Bernardino, CA
Every desperate, starving soul in 3am America owes Mitla a debt. Since 1937, Mitla's has served the same fried-on-order shells stuffed with spicy ground meat and a flurry of shredded cheese. In 1950, one Glen Bell decided to copy the recipe, pre-fry the shells, and eventually open Taco freakin' Bell.
Courtesy of The Walnut Room
Chicken Pot Pie
Walnut Room at Macy's (formerly Marshall Field's)
111 N State St, Chicago, IL
While it's been tweaked over the past century (pie vs pastry vs pie again), this mound of flavor's essence has been on The Walnut Room's menu since it opened in 1905. The pie actually inspired the Room: a millinery clerk by the name of Mrs. Hering began bringing them for clients famished from hardcore shopping in 1890, inspiring the first in-department store restaurant in America.
Courtesy of Antoine's
Oysters Rockefeller
Antoine's
713 Saint Louis St, New Orleans, LA
In the late 19th century, Americans wanted an alternative to French escargot (because America), thus Oysters Rockefeller were born right here at Antoine's. The first plate of the delicious crustaceans baked on the half shell with a mix of butter and herbs (the exact recipe remains a secret) rolled out of the kitchen in 1899, and they've been slinging them ever since. Fun fact: The dish is named after John D. Rockefeller… and he never tried them.
Courtesy of Loius Lunch
Hamburger
Louis' Lunch
261-263 Crown St, New Haven, CT
Speaking of inventions, ever have a burger? Thank Louis' Lunch. Founded in 1895, they lay claim to creating everyone's favorite meatwich in 1900, when a hurried customer asked Louis Lassen to make something he could eat on the run. To this day, they still use the same ancient vertical broilers above, and have stuck with a satisfyingly simple toast/cheese/tomato/slice of onion build-out.
The Bittner Special
Taggarts Ice Cream
1401 Fulton Rd, Canton, OH
Established in 1926, Taggarts' most famous creation didn't come until 1931, when a local grocery store driver challenged them to make him the thickest milkshake possible. Named after that weirdly aggressive driver, the dense mix of ice cream, chocolate sauce, and roasted pecans is still stymieing straws 83 years later.
Courtesy of Nuways
Chili Cheese Dog
Nu-Way Weiners
430 Cotton Ave, Macon, GA
After passing through the Big Apple in the early 20th century, Nu-Way founder James Mallis decided to bring the hot dog craze down south. Since 1916, the restaurant he founded has served customers the same recipe for chili- and hot- varietals of everyone's favorite meat tubes.
Sauerbraten, Red Cabbage, Sauerkraut, German Potato Salad, All The Sausage
Jacob Wirth
31-37 Stuart St, Boston, MA
Wirth says that the above sides and pretty much every sausage are exactly the same since 1868. Pictured is their original menu and, yes, most of the stuff here in cents would be the equivalent dollars today. Stop in on Tuesday to nab a Frankfurt sausage for just a quarter -- only 10 cents more than the original 19th century price, and much more fun than doing laundry.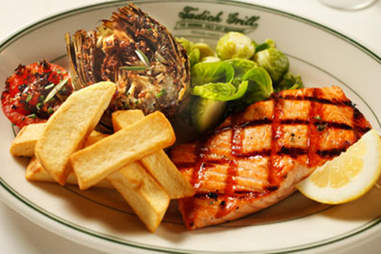 Courtesy of Tadich
Mesquite Grilled Fish
Tadich Grill
240 California St, San Francisco, CA
One of the oldest restaurants in the state, Tadich has existed in one location or another since before the War Between The States. And while their mesquite grilled fish has taken brief hiatuses and changed species (right now it's red snapper) it's been a nearly constant presence on the menu since 1849.
Chimichanga
El Charro Café
311 N Court Ave, Tucson AZ
It's always a safe bet that the inventor of a food holds dibs on the oldest example. In 1922, Charro opened its doors and closed American arteries with the first deep fried chicken, beef, or pork burrito. And that's not all that's stayed the same. Charro's Carne Seca -- stripped lean beef specially dried in the Arizona sun -- has remained its same tasty self for nearly 90 years.
Matt Kocourek/Courtesy of Jaspers
Shrimp Livornese
Jasper's
1201 W 103 St, Kansas, MO
The very first item on Jasper's menu in 1954, the Shrimp Livornese was and is all about the sauce. A mouthwatering sherry cream base that the restaurant uses on a host of dishes, it was discovered during the original Jasper's travels through Italy as a young man, and remains a closely guarded secret known only to the current generation of Jasper (Jr.) and his two cooks... except we just told you about the sherry cream base. Oops?