Sponsored By

The Ethnic Food Enclaves That Make America Great
Sponsored By

You're starving, it's way past dinner time, and you're aimlessly scrolling through Seamless. What do you order? It's a hard question to answer when you live in America -- a country with a palate so culturally diverse, you can eat lunch from Israel and dinner from Hong Kong.
Immigrants have built small communities across the US. They've made homes and opened businesses. As a result, they've introduced our nation to the native dishes of their homeland. Today, these neighborhoods are flourishing more than ever. Whether you're looking for a new style of cuisine or just want to visit home base for the Polish pierogi in America, here are nine ethnic food enclaves that have changed the way we dine in the US.
Russian delicacies in San Francisco
In SF's Richmond District, pelmeni (pork-filled dumplings) and piroshki (fried buns with savory filling) are consumed almost twice as fast as they're prepared. The high demand for traditional Russian fare began when the Russian Revolution of 1917 and subsequent civil war caused many to flee the country. The waves of escaping Russians turned to The Richmond for a new home.
At Cinderella Russian Bakery in Inner Richmond, the cooks and bakers (and owner Mike Fishman) are all immigrants from the Soviet Union. The menu is full of recipes from Russia that Fishman brought with him when he came to the US (like the bakery's Russian black bread, an even more sophisticated pumpernickel).
Born in Moscow, Fishman's family was always in the food business. When they came to SF in 1988, Cinderella's original owners -- two older women -- were looking to retire, and the Fishmans quickly became American business owners. Since it was established in 1953 -- making it the oldest Russian bakery in the Bay Area -- you can't just up and change the piroshki on people. "They passed on their recipes and trained us for months," Fishman says.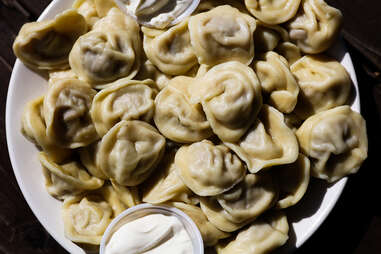 Since 2008, Fishman and his wife have been the sole owners. "The original menu from 1953 remains the same," Fishman explains. "Some items bring nostalgia, and remind our clients of their childhood [in Russia]." That's not to say he ignores the younger generation of foodies. Old-school items like solianka soup (a spicy mixed meat stew) appear on the menu right next to new innovations like blinchiki (crepes) with Nutella. You've got to give the people -- all the people -- what they want. At the end of the day, "it's key to be unique, affordable, use the best ingredients, and keep up with the trends while not forgetting the old."
And The Richmond is ever-advancing. Just north of Golden Gate Park, you can walk down any street -- Balboa (where Cinderella is located) or Clement (where you'll find Red Tavern), for example -- and be greeted by locals with coming-to-America stories just like Fishman's. Restaurateurs at Katia's (on Balboa and 5th) or Moscow & Tbilisi Bakery Store (on Geary and 20th) can answer all your menu questions, and tell you what makes Russian food... well, Russian food. (Namely, huge feasts, cabbage, tons of meat and almost never fish, and lots of sour cream.) Then ask them to direct you to the best napping spot in the park. You'll need a breather after a giant Russian lunch.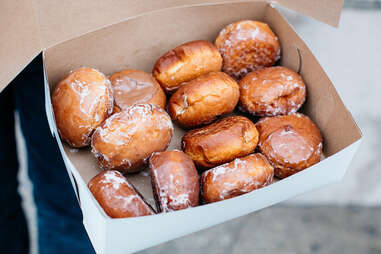 Polish pierogi in Detroit
Next time you're driving your Dodge Durango, take a second to thank the car company's founding brothers for opening their first auto factory in Hamtramck in 1910. The move caused an increase in Polish immigrants, and by 1920, nearly two-thirds of the city's population was Polish-born.
While the demographic has diversified since, parts of the city remain inherently Polish. Stroll through the Joseph Campau Historic District and you'll be surrounded by that early 20th century influence, from family-owned businesses to street names (like Pulaski Street, named after Polish hero of the American Revolutionary War, Casimir Pulaski). And during certain times of the year, the town feels even more like an eastern European country. On Pączki Day (celebrated on Fat Tuesday) residents hit up Polish bakeries for pączki (a traditional pastry similar to a doughnut) and then celebrate at bars with live music.
Up and down this strip, you'll find dishes like kielbasa, potato pancakes, and, of course, pierogi. Srodek's Campau Quality Sausage, Co. makes over 29 varieties including corned beef and swiss, spinach and artichoke, and classic potato.
A staple in the Hamtramck community, this market opened in 1981 when Walter and Marianna Srodek emigrated to escape communist rule. Magdalena Srodek, who is granddaughter of the original owners, runs the store now with her brother Rodney, and told Metromode Detroit: "When it comes to deli meats and things of that nature, we make everything in-house," she says. "We go to the extent of barreling our own sauerkraut and even make our own homemade farmer's cheese that my mom curds."
But of course, Srodek's isn't the only key player in Hamtramck. You'll want to stop by Polish Village Café and Polonia to compare schnitzels, but we hear Krakus is as real as it gets. In a review, the Detroit Metro Times described the experience like going to a "small private club in the 1970s." This no fuss-no frills joint has been open since 1981 and its decor reflects exactly that. With just a few tables and one waitress (her name's Agatha and word on the street is that she's a complete badass), Krakus is all about the food (made lovingly by one woman who might remind you of your grandmother) -- and the live Polka music on Saturday nights. Go for the Ukrainian borscht with shredded beets and Hungarian potato pancakes. Just make sure you're not too full to dance.
Bold Ethiopian flavors in Seattle
When Ethiopians relocated to the Pacific Northwest, it wasn't a blissful journey -- but it does have a happy ending. It started in the late 1960s-early 1970s when students arrived in Washington to get an education. Unfortunately, plans changed when a civil war bought oppression and fear to everyone in Ethiopia. Thankfully, when the Refugee Act of 1980 was passed, many were granted permission to make Seattle their new home. With the influx of Ethiopians, associations were organized so that the refugees could learn to assimilate and build a world of their own in Seattle. And that they did: today, Ethiopian businesses dot the city -- many of which you can visit up and down Cherry Street.
In 1982 the first Ethiopian restaurant, Kokeb, opened its doors, and for years it was the only place to get East African dishes. Kokeb brought things like kitfo (raw beef marinated in a chili powder spice blend), injera (sourdough flatbread made over the course of two days from teff flour), and wot (or tsebhi, a spicy stew/curry) to the Seattle area -- completely changing up everyone's palate and satisfying cravings the residents didn't even know they had.
Of course, many followed suit. By 2010, nearly 25,000 Ethiopians were living in Seattle. Today, the Central District, specifically East Cherry Street around Martin Luther King Way, is lined with Ethiopian businesses. You need more than one hand to count the eateries (that are all within a 10-block radius of one another) and probably multiple stomachs to sample all the delicacies. Favorites Meskel Ethiopian Restaurant, Assimba, and Cafe Selam might seem similar, but with specific flares distinctly their own, it's worth checking out every joint in this flavorful 'hood.
Mexican fare in Denver
If you know anything about US history, it shouldn't surprise you that the Latino population in Colorado is the eighth largest in the country. At about 1.1 million, that's nearly 21% of all the state's residents. And in Denver specifically, one-third of the population has Hispanic roots. When the US won the Mexican-American War in the mid-19th century, Mexico gave up 500,000 square miles of territory. Today, that land is better known as Arizona, California, Nevada, New Mexico, Texas, Utah, as well as parts of both Wyoming, and, you guessed it, Colorado. Those who chose to stay became U.S. citizens and enhanced the country in deliciously cheesy and spicy ways.
You can't take a breath in the North Denver neighborhood of Highland without inhaling the cultural influence of Mexican-Americans. Bobby LeFebre, longtime resident and founder of Cafe Cultura, a nonprofit dedicated to bringing Indigenous peoples together through creative expression, describes it this way: "The Mexican Community in the Northside, specifically Highland, is diverse, close-knit, resilient, proud, hard-working, [and] socially conscious." He should know -- his great-grandparents, grandparents, and parents also all grew up there.
From recently-arrived immigrants who only speak Spanish to those who've been in the southwest for six or seven generations who only speak English, LeFebre said the community "is not and has never been homogenous" -- and neither has the food.
It's not a one-stop shop (because seriously, sometimes it's just a cart or someone pushing a cooler) and it's not just guacamole and tacos. Mexican food means beans, Oaxaca cheese, chipotle peppers, lime, tortillas for chilaquiles and enchiladas, oregano, and so many other ingredients. And LeFebre knows where to go no matter what you're craving. Barbacoa? Juarez Restaurante on 38th is the joint. For a smothered bean burrito, it's gotta be Tamales by La Casita. "On Sunday afternoons, get Tacos de Asada and Tacos al Pastor from the taquero (taco vendor) in the parking lot of Our Lady of Guadalupe Church," he says. And when it's warm out, "flag down the traveling, on-foot paletero (popsicle vendor) ringing a bell and get fresh fruit paleta popsicle. Cantaloupe and lime are my favorites."
Pasta, pizza, and pesto in Philadelphia
Right around the turn of the 20th century, South Philly saw an influx in Italian immigrants. While most Italians farmed and lived off the land in their home country, that model was becoming less and less sustainable, and a combination of poverty, overpopulation, and scarcity of resources led many Italians to emigrate towards the end of the 1900s. Because of its rapid rate of industrialization, Pennsylvania attracted a ton of immigrants since they could easily get work. By 1890, Pennsylvania had the second highest population of Italians in the United States, only behind New York. It remained that way until 1960, when it dropped to third behind New York and New Jersey. As a result, this community taught us most of what we know about pasta and pizza.
While East Passyunk Avenue started as a retail destination, the food soon became the strip's main calling card. Back then, East Passyunk's staple eateries were few and far between -- but they were beloved. Places like Marra's (a casual pizzeria opened by a couple from Naples) and Mancuso's Cheese Shop have been feeding hungry residents and tourists since 1927 and 1940, respectively. At Marra's you don't need to get complicated; the brick-oven joint's pepperoni is a crowd favorite. Manuco's makes every cheese fresh on the premises (we heard the ricotta is a must-try) and if it's not made there, it's imported from overseas. Of course, even the world famous Philly cheesesteak has Italian roots: inventors Pat and Harry Olivieri, sons of Italian immigrants, opened their famous shop, Pat's King of Steaks, in 1930.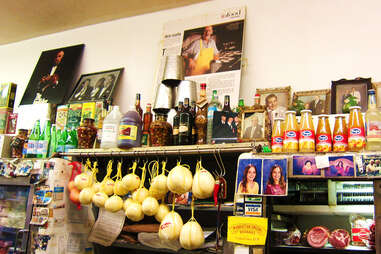 Then there's the Italian market, which runs along 10 city blocks of Ninth Street from Wharton to Fitzwater Streets. It started to take shape in the 1880s when Antonio Palumbo opened a boarding house for his fellow immigrants. To serve the needs of the community, residents began opening businesses like butcher shops and produce stands. Today, it remains one of the oldest and biggest open-air markets in the country.
While some of the old-school joints are no longer standing (like Palumbo's, a nightclub and restaurant that was often frequented by Frank Sinatra, Frankie Avalon, and the likes), other early players remain. The DeLuca family's Villa di Roma has been operating since 1963, serving up classics like shrimp scampi and ravioli. (They also claims to make the best meatball ever… so they went on Food Network's Food Feuds to defend the claim -- and won.) If you want to cook up your own batch, you can hit up Grassia's Italian Market Spice Company -- which Giovanni Grassia opened in 1902 -- and get some of the freshest Italian spices around, including basil, oregano, and garlic, as well as international mixes. From prepared dishes to authentic ingredients, South Philly has all of your Italian food needs covered.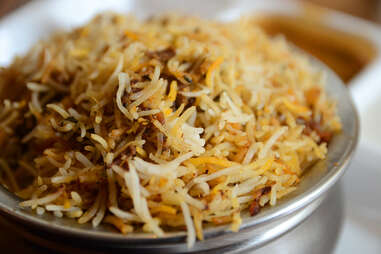 Cardamom-spiced everything in Atlanta
Drive by Decatur's most inconspicuous strip malls and the smells of richly-flavored Indian cuisine will consume you. From the complex seasoning packed into biryani, a traditional rice dish, to the yogurt and spice-marinated tandoori chicken, Indian food isn't for the picky eater. It's said that any given dish uses a minimum of seven ingredients, like some combination of chili pepper, black mustard seed, cardamom, cumin, turmeric, asafoetida, ginger, coriander, and garlic.
In today's Decatur, Indian markets, herbal shops, and restaurants greet you at every corner -- but it wasn't always that way. The US only began accepting immigrants from non-Northern European and Germanic nations after the Immigration and Nationality Act of 1965. It was then that Indian Americans made their way to the New York metropolitan area, Chicago, Los Angeles, and Atlanta, among other cities. According to the 2010 census, Atlanta's community is still strong, with about 79,000 Indian Americans populating the area and enriching the food landscape with dishes like panipuri (bite-size pieces of crispy dough filled with chili, chutney, spices, potatoes, onions, and chickpeas) and haleem (a rich stew with some sort of wheat, barley, meat, lentils, and spices).
Chef Asha Gomez, who made a name for herself when she opened the now-closed James Beard-nominated Cardamom Hill on Northside Drive, showed Atlanta Magazine her go-to spots in Decatur. After you fill up on traditional lunch and dinner food at Luqma Indo-Pak (where Gomez recommends the goat brain masala) and Gokul Sweets & Restaurants (where it's all about the masala dosa), the last stop on her tour is Zyka for malai kulfi, ice cream churned in a clay pot and scented with cardamom. It's a treat so distinct, even the lactose intolerant Gomez can't pass up a taste.
Fish sauce and pho in Portland
With nearly 13,000 Vietnamese Americans in the city of Portland, you can bet you'll feel the cultural influence (and be able to get an insanely good banh mi) almost everywhere. Back in the mid-90s, Sandy Boulevard, AKA "Saigon Boulevard," was the spot -- nowadays, 82nd Avenue continues to expand into your one-stop-shop for Vietnamese eats.
Vietnamese immigrants came to the US in waves -- the most recent influx taking place in the 1990s and early 2000s, when the Humanitarian Operation Program opened US doors to Vietnamese citizens who'd been persecuted by the communist government after 1975. Before that, refugees fled via boat just after the Vietnam War. And while most Vietnamese-Americans reside in California (in cities like San Jose and San Diego), this smaller, northern enclave is as real as it gets.
Driving along 82nd Ave, you can stop nearly every block if you want. At Fubonn (which claims to be Oregon's biggest Asian mall), get lost shopping for fish sauce, shrimp paste, rice, soy sauce, and fresh herbs. Never fear though: whatever you don't find there is surely at Hong Phat, also on Southeast 82nd. With both Chinese and Vietnamese ingredients, this huge supermarket might feel endless, but the staff will help you decipher between exotic fruits. (How do you even cut into a jackfruit, anyway?)
There's also endless options for pho. Believe it or not, the national dish of Vietnam -- made up of beef or chicken broth, ginger or coriander, rice noodles, bean sprouts, and some sort of meat among other add-ins -- is typically eaten for breakfast. The soup has taken off here ever since it showed up, and Americans love it for any meal, at any time of day. From Pho Oregon to MeKha (which is said to have the best veggie pho in the city) to Pho Van, you can eat your way up and down 82nd.
Bratwurst and beer in Cincinnati
German immigrants began calling Cincinnati home shortly after steamboats were introduced on the Ohio River in the early 1800s. It was at this time that they started arriving at a near-weekly basis, and by 1850, the city had just over 30,000 German-born residents (out of a total population of 115,436).
The working-class naturally created an area for themselves -- a place where they could open restaurants, share meals, and start families. That place became known as Over-the-rhine. The name (Über dem Rhein in German) references how many workers would get to the neighborhood each day (by walking across bridges over the Miami-Erie Canal -- which separated Over-the-rhine from downtown Cincinnati). Of course, they nicknamed the canal "the Rhine" in homage to the river in Germany. Today, this Ohio enclave is one of the largest, intact urban historic districts in the U.S. -- covering about 362.5 acres and comprising of over 1,100 buildings.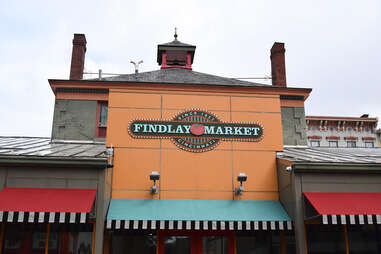 In a neighborhood that big with roots that run that deep, the old-school eateries swat away gentrification attempts through the sheer force of their authenticity. Freshmade Bierwurst (pork sausage) and goetta (a meat-and-grain sausage patty specific to the Cincinnati region) can all be found at Eckerlin Meats, which has been around for almost as long as Over-the-rhine itself. Opened in 1852, the German butchers expanded just a few years later when Findlay Market (which is now the state's oldest continuously operated public market) opened for business. The market also features, Kroeger & Sons Meats, started by Paul Kroeger in 1972. Kroeger mastered his craft by training as a "Master Sausage Maker" in Germany before relocating to Cincy. He passed his business down to his two sons in 1994, before they trained their replacements in 2005, ensuring that two generations of Kroegers go into their can't-miss selection of pork and lamb sausages (including "Reubenwurst" and "Bier Metts" made with golden lager). Call ahead if you want a specific kind though; it's that fresh.
It's not all schnitzel and bratwurst and potato salad and pork kassler though. It's about the beer, too. Bavarian immigrant Christian Moerlein opened his brewery in Over-the-rhine in 1853 where he dominated the craft beer sphere long before craft beer was a thing… until Prohibition closed down his operation in 1919. But today, the label's been resurrected in its historic neighborhood. You can visit the malt house taproom on Moore Street, sip on pints, and tour portions of the underground caverns that were used in the brewing process from the 1860s -- all while deciding which lagers pair best with which sausages and cheeses.
Bibimbap and kimchi in Boston
The Korean community in Allston-Brighton has been growing steadily for the past 10 years. And when about 1,600 of a neighborhood's residents have Korean roots (a 54 percent increase from the decade prior, and one-third of the Korean population in all of Boston), the businesses, atmosphere, and food reflect it.
According to Allston Village Main Streets, a nonprofit that assists the town's local businesses, of the 264 storefronts in Allston Village, 1 in every 10 is Korean-owned -- so it's pretty much guaranteed you're gonna find a great meal in this enclave.
The main streets to hit are Cambridge Street and Brighton, Harvard, and Commonwealth Avenues, where you'll find a wealth of traditional Korean cuisine. Based on meat, rice, and vegetables, ingredients like sesame oil, soy sauce, garlic, ginger, and cabbage can be found in many dishes. Some of the more well-known are kimchi (spicy, fermented cabbage typically served at every meal), bibimbap (mixed rice bowls that your hipster friend can't get enough of), and seolleongtang, or ox bone soup.
Seoul Soulongtang is the place to go for seolleongtang in Allston-Brighton. The bones simmer for so long, the broth develops a near-milky consistency. Throw in some brisket, bone marrow, thin flour noodles, and salt and scallions to taste, and that's how they hook ya.
Then there's Bibim on Harvard Avenue, owned and operated by mother-son duo Ed and Young Kim. Ed told the Boston Globe he moved here about a decade ago when he was 18 and studied biology at the University of Massachusetts Amherst. Knowing his mother, Young, always dreamed of having her own restaurant, he decided to help her make it a reality. And now it's one of the most highly regarded spots in town, serving up dukboki (rice cakes in hot pepper sauce) and what they're most known for: patinbingsoo, a dessert consisting of red beans, shaved ice, mochi, ice cream, and sweet syrup. The Globe wrote, "Nothing at Bibim has been Americanized and the heat hasn't been turned down either."
When places like Bibim stay true to their culture, they help enrich ours. An American food scene without Italian immigrants spreading their cuisine across Philadelphia, or without Mexicans incorporating their culture into downtown Denver, is not really America. So next time the Seamless options appear endless and the decision for that night's dinner seems futile… isn't that the best problem?