The Fastest-Growing Fast-Food Chain in Every State
We've already predicted the regional burger chains that might take over the world, and mused on which restaurants we think might be the next Chipotle impersonators, but for the actual numbers behind the growth of fast food in America, we turned to AggData.
Growth was judged by increased percentage of locations ranging from Q3/Q4 2014 to the most recent data available, typically January 2016. With such an enormous data set (533 pages' worth!), it was necessary to set up a few guidelines to narrow the field and weed out misleading percentages. AggData defined what constitutes a fast-food chain (which admittedly includes some faux fast food like ice cream):
Each must have at least 40 locations nationwide
Each must have at least 10 locations statewide
Increase of at least five stores (except in cases of super-small states)

This methodology is meant to rule out super-low growth, but super-high percentage, and naturally favors smaller chains (especially in big states). But since the companies with the most overall nationwide growth by pure location count (Domino's, Starbucks, and Dunkin') won 11, eight, and six states respectively, and big chains like Taco Bell and Subway took smaller markets (New Hampshire and Vermont), it gave us confidence that our methods rewarded the little guy more than they punished Big Burger.
Speaking of Big Burger, the largest burger chains didn't fare well by these stats. Up-and-comers like Carl's Jr./Hardee's and Checkers did OK, but the biggest categories by far were pizza (Domino's, Marco's, and Little Caesars), subs (Jersey Mike's, Jimmy John's, and Subway), and coffee-centric businesses like Starbucks, Caribou, and Dunkin'.
Click on the map here to zoom in on the data, then scroll down to find the number count per state.
Alabama
Papa Murphy's
This was a close call, with companies like Domino's and Dairy Queen making double-digit bounds, but bake-your-own pizza chain Papa Murphy's saw the most substantial gains, growing from 14 to 20 locations for a 43% increase.

Alaska
Starbucks
Many chains in Alaska fell below our 10-location threshold, but Starbucks stood out as a tundra-defeating coffee bastion, growing 12% from 42 to 47 locations.

Arizona
Firehouse Subs
Arizona saw a spike across all sandwich shops, including Jersey Mike's and Jimmy John's, but the biggest mover was Firehouse Subs, an up-and-coming chain founded by a pair of fire-fighting brothers that has over 950 locations nationwide and grew 63% from 24 to 39 locations in the state.

Arkansas
Domino's
In Arkansas, both Jimmy John's and Domino's saw 36% growth rates, but since Domino's added more locations (33 to 45) it took home top honors.

California
Pieology
Massive states like California make metrics like this difficult. Dunkin' Donuts' arrival in the market meant huge gains, but since it started from fewer than 10 locations, it missed the cut-off for our story. Also, large chains like powerhouse Domino's added a whopping 64 stores, but the percentages didn't compare to the 107% increase of newcomer custom-pizza chain Pieology, whose national store count went from 40 to 92 overall, and 30 to 62 in California alone. Expect to see more growth in 2016, as Panda Express just invested.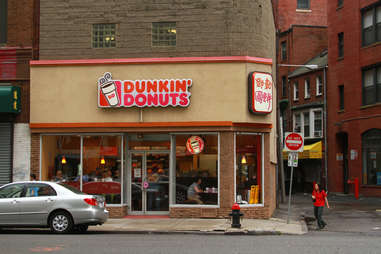 Colorado
Dunkin' Donuts
Our Denver-based writer wasn't surprised to see Dunkin' win his state with a 127% increase from 11 to 25 locations, as outposts popped up almost simultaneously in Boulder, Denver, and the airport last year.

Connecticut
Starbucks
Although Dunkin' did add 13 locations to its fleet of 520 sprinkle-slingers, percentage growth was low across the board for the Connecticut fast-food market. Challenging Dunkin', Starbucks saw the biggest gains with an 8% increase from 100 to 108 stores.

Delaware
Starbucks
Starbucks barely edged out Domino's by one store, adding five more shops (18 to 23) for a 28% growth, and giving idiots a much wider range of location options if they want to camp out for 18 hours.

Florida
Culver's
Jersey Mike snuck his way down the coast to add an impressive 26 stores, but the beloved Midwestern purveyor of custard and butter burgers, Culver's, had them beat with a 118% growth, expanding from 11 to 24 custard shops.

Georgia
Domino's
Georgia is Chick-fil-A turf and its biggest market other than Texas, but since it's already reached full nugget saturation, the growth wasn't enough for the company to claim its home state. Domino's saw the biggest growth, adding 49 pizza purveyors to grow 37% (134 to 183 locations).

Hawaii
Starbucks
Hawaiians like their lattes, as evidenced by a 9% growth for Starbucks (88 to 96). Data is inconclusive as to whether those lattes are iced.

Idaho
Carl's Jr.
Carl's Jr. made huge strides in Idaho, growing 44% from 18 to 26 shops. That's way more than Carl's, Sr.

Illinois
Checkers
Checkers nearly doubled in size with a 90% growth from 10 to 19 locations. That's quite the rally.
Indiana
Five Guys
It seems like every small town in Indiana might have already endorsed Five Guys locations on the front page of their local newspapers, but there's apparently still room for more outposts of the peanut-shelling burger joint, which grew 26% from 19 to 24 spots.

Iowa
Cold Stone Creamery
Ice cream haters may debate whether Cold Stone Creamery qualifies as fast food, but we stand behind our bros at AggData, and it's hard to argue that an increase of 130% from 10 to 23 brain-freezers wasn't felt by the proud caucus state of Iowa.

Kansas
Domino's
The one thing you absolutely have to eat in Kansas is the Z-Man sandwich, but if you must have pizza, Domino's is your spot. It's much more available now that six new locations have been added (24-34) to grow 42%.

Kentucky
Dunkin' Donuts
Kentucky now runs on Dunkin', which grew 43% from 14 to 20 stores.

Louisiana
Hardee's
Carl's Jr.'s identical cousin Hardee's is making big moves in Louisiana, growing 70% from 20 to 34 locations.

Maine
Starbucks
Maine's the kind of easy going place where small changes are big deals. Case in point: Starbucks' addition of three stores -- now totaling 31-- represents the biggest growth in the state, chain-wise.

Maryland
Domino's
Another win for Big Pizza here: Domino's grew 38% from 80 to 110 locations.

Massachusetts
Domino's
Starbucks gained ground in Massachusetts with 29 new locations, but that couldn't compare to Domino's 27% increase from 94 to 119 stores.

Michigan
Jersey Mike's Subs
The real story in Michigan might be the proliferation of lesser-known coffee chains like Biggby (160-193) and Tim Hortons (217-242), but by the percentages, Jersey Mike's was the leader here with a 64% growth from 11 to 18 stores.
Minnesota
Cold Stone Creamery
It would make sense for a state with objectively the worst winters in the country to make big strides in the coffee realm, but despite both Caribou's and Starbucks' growth (13 and 22 more locations, respectively), an unlikely chain took top billing: Cold Stone Creamery. That's right, apparently Minnesotans have a dire need for more ice cream shops, leading the chain to increase 46% from 24 to 35 scoop stores.

Mississippi
Little Caesars
Mississippi is hot and ready for more Little Caesars, as evidenced by its 36% growth from 42 to 57 stores.

Missouri
Dunkin' Donuts
By location growth, Jimmy John's was the big mover in Missouri, gaining 18 shops, but percentage-wise, Dunkin' once again won out by adding seven (15 to 22) stores for 47% growth.

Montana
Starbucks
Big Sky country is also trenta coffee country, as Starbucks jumped 38% from 24-33 locations.

Nebraska
Starbucks
Ten new Starbucks shops opened (42 to 52) for a 24% growth, which continued the trend of coffee concepts taking root in more sparsely populated states.

Nevada
Domino's
Given its dominance of so many states, it was a safe bet to wager that Domino's would take Nevada with a 52% growth from 29 to 44 pepperoni palaces. Which it did.

New Hampshire
Taco Bell
There wasn't much of a fast-food boom in New Hampshire during 2015. Only Taco Bell's three new stores (17-20) are really notable. Maybe it's time for a jonnycakesalupa.
New Jersey
Little Caesars
Jersey is no stranger to pizza, but apparently there's still room for extra cheese in the state famous for the tomato pie, as it welcomed 10 new Little Caesars locations for a 33% growth (30 to 40).

New Mexico
Carl's Jr.
New Mexico saw a 33% growth in chains endorsed by Kate Upton, with Carl's Jr. adding five new restaurants (15 to 20 locations).

New York
Jimmy John's
New York is another state where our methods admittedly start to break down. Jimmy John's took top honors with 58% growth (12 to 19), and although the small number of new locations might seem like a drop in the Big Apple bucket, it's worth noting that many chains in New York actually lost locations (Cold Stone, KFC, Jamba Juice) or saw no growth at all (Burger King, Arby's).

North Carolina
Marco's Pizza
Big Pizza made its mark on North Carolina with 56 new Domino's shops, but lesser-known Toledo-based chain Marco's Pizza won the percentage game with a 47% increase from 17 to 25 stores. It also won neighboring South Carolina and saw substantial gains across the country, which is not surprising since it recently cracked the top 10 on Pizza Today's list of most successful pizza companies.

North Dakota
Caribou Coffee
Caribou Coffee started in Minneapolis, so it's only neighborly that it would lend a caffeinated kick to bordering North Dakota with an extra 12 stores (35 to 47) for an increase of 34%.

Ohio
Jersey Mike's Subs
Ohio welcomed Jersey Mike's with open arms, embracing a 23% increase in Garden State subs (30 to 37).

Oklahoma
Domino's
Although Oklahomans would probably prefer to have 11 new restaurants from Kevin Durant (shoutout to Kd's Southern Cuisine!), the fastest grower was Domino's, jumping 26% by going from 42 to 53 locations.

Oregon
Domino's
Oregon does local harder than just about anyone, but when it comes to pizza delivery the state falls in line with much of the rest of the country by adding 17 more Domino's (42-59) for a 40% growth increase.

Pennsylvania
A&W
The surprise boomer in Pennsylvania was root beer-centric A&W, which doubled its footprint from 10 to 20 shops.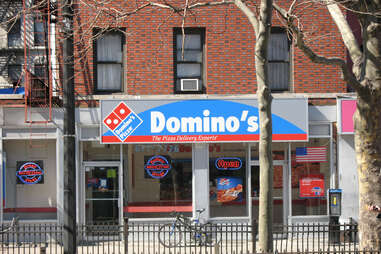 Rhode Island
Domino's
Domino's somehow managed to cram eight new delivery outposts into the tiny sliver of Rhode Island (16-24, 50%).

South Carolina
Marco's Pizza
Like their brothers to the north, South Carolina's largest growth came from Marco's Pizza (21-29 locations, 38% growth increase).

South Dakota
Caribou Coffee
Chains seem to mirror strategies in sister states, a trend evidenced by Caribou's growth in South Dakota, with six new locations accounting for 23% growth.

Tennessee
Domino's
Memphis considers itself the greatest barbecue city in the world largely due to its pork culture, so people there might not be that enthusiastic about Domino's co-opting the term for a BBQ chicken pizza. Regardless, the chain continued its dominance with 28% growth (109 to 140).

Texas
Dunkin' Donuts
Presumably thanks to an aggressive expansion helmed by former Longhorn quarterback Colt McCoy, Dunkin' saw 55% growth (62 to 96) in the Lone Star State.

Utah
Domino's
With growth of 66% (from 32-53 locations), the good people of Utah now have a much better chance of a knock at the door resulting in hot pizza and not somebody there to share religious pamphlets.

Vermont
Subway
Vermont was another state that wasn't too friendly to fast-food expansion, with the biggest gain coming from Subway (47 to 51 for a 9% gain. When it comes to beer, on the other hand...

Virginia
Jersey Mike's Subs
Jersey Mike crawled down the coast to Virginia, where he opened seven new shops for an 18% increase in vinegar-soaked goodness.
Washington
Jersey Mike's Subs
Carl's Jr. made big moves in Washington (24-39!), but Jersey Mike's trek across the country made for a larger percentage growth (87%, from 15 to 28).

Washington DC
Dunkin' Donuts
DC was another market where substantial growth was hard to measure. The only contender for second place was Popeyes, which went from eight to 11 stores, but wasn't enough to challenge the 28% growth of the almighty Dunkin' Donuts from 18 to 23 locations.

West Virginia
Taco Bell
West Virginia was a real oddity, with larger chains making much bigger strides than their upstart counterparts. Arby's and Subway both had substantial expansions (six and 10 new shops, respectively), but percentage-wise Taco Bell beat them with a 14% increase, resulting in 50 Fourthmeal options in the state.

Wisconsin
Dunkin' Donuts
The two largest growers on this list squared off to take Wisconsin, but despite Domino's big gains (67-83), Dunkin' took the state with a 45% increase (31 to 45). In the battle of cheese vs. donuts -- which wages eternal in Wisconsin -- donuts wins. For now.

Wyoming
Starbucks
The least-populated state in the union wasn't able to meet our minimum requirement for five new locations, but it did see the opening of three new Starbucks (19 to 22, 16%) which was in line with the trend of coffee expansion in sparsely populated areas.
Sign up here for our daily Thrillist email, and get your fix of the best in food/drink/fun.
Dan Gentile is a staff writer at Thrillist. He is located in Texas and has noticed a serious increase in Dunkin' Donuts locations. Follow him to the second-best fast-food coffee at @Dannosphere.