From Cinnabons to Hot Pockets, the 5 best stand-up jokes about food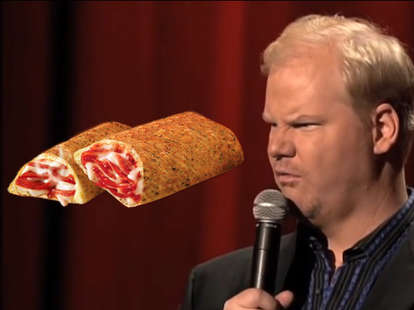 You probably love food and love to laugh, and if you don't, you're likely dead, or worse, have a horrible sense of humor. Get your delicious comedy fill through the five greatest stand-up bits about food and drink from greats like Louis C.K and Mitch Hedberg, all carefully selected for maximum gut-busting. 5. Mitch Hedberg on Club Sandwiches While we're also partial to his classic ducks and bread joke, and, of course, the ol' vending machine bit, Mitch Hedberg reached food comedy heights with his theory on the formation of the club sandwich. Unfortunately, we couldn't find an actual video of him performing the bit, so you'll just have to enjoy the audio playing over these professional (?) sammie history re-enactors.
4. Kyle Kinane on Cheddar Bay Biscuits
This riff on Red Lobster's Cheddar Bay Biscuits goes to some weird places. The possible existence of a Cheddar Bay, sailors cruising through cheese waves, etc. But mostly, it settles on the strange convergence of Michael Jackson tributes and biscuit lovin' that Kyle Kinane witnessed on Facebook back in 2009. Take note, Olive Garden breadsticks Facebook page. This is how you handle celebrity death.
3. Patton Oswalt on Liquor Ads
We don't think it's hyperbole to say that Patton Oswalt is one of the greatest people alive. The man drops
utterly insane Star Wars sequel ideas
like it's nothing, and has turned Twitter trolling
into a fine art
. But he's chiefly a top-notch stand-up, as seen in this bit about mad-depressing booze ads.
2. Louis C.K. on Cinnabons
No one does self-loathing quite like patron comedy saint Louis C.K., particularly when it comes to food. From the amazing new Cinnabon name he throws out, to his desperate account of ordering one in an airport, Louie's ode to the branded cinnamon roll is one of the finest moments from his 2007 special
Shameless
.
1. Jim Gaffigan on Hot Pockets
To make an appropriate analogy, if food stand-up was hor d'oeuvres, Jim Gaffigan's takedown of Hot Pockets would be the lobster-stuffed, caviar-encrusted Kobe beef sliders. It's a bit so beloved, it's the
fourth
Google hit for "Hot Pockets". Before their social media, before their profiles in
Time
, and deservedly so.