That flammable, knife-sharpening BBQ cookbook could finally be yours
All photos by Tramontina<br />
Along with bikini lines and posters of that massive Jesus statue, Brazil's greatest contributions to the world include its proud churrascaria tradition. To showcase their home country's carnivorous passion for flame-licked fare, the high-end knife-slingers at Tramontina created The Bible of Barbecue. Bound cover-to-cover with functional, flammable 'cue components (charcoal sheets, tin foil, collapsible aprons...), this magnificent book is basically the only book you should pick up this Summer.
Here's hoping you can actually lay hands on one.
Turns out, Tramontina originally custom-made a stack of biblias as gifts for Brazil's top barbecue practitioners. When their promo video (above) went viral, they realized that scholarly pitmasters around the world wanted to book it. But there was a problem: no one reported that the book isn't actually for sale yet.
A company rep told us that because of the initial response, they're "reviewing pricing for the production of a simplified version of the book", one that would hit shelves in the near future.
While we wait for that nod from the Brazilian barbecue gods, let's check out what this monster volume has on (and in) its pages.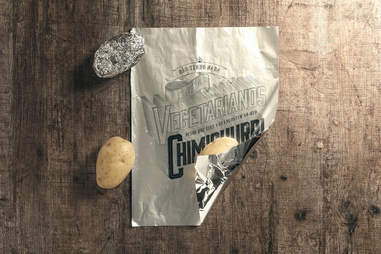 Foil!
A knife-sharpening whetstone! (Bad-ass Portuguese phrase included.)
Cooking cloth! For general cloth duties.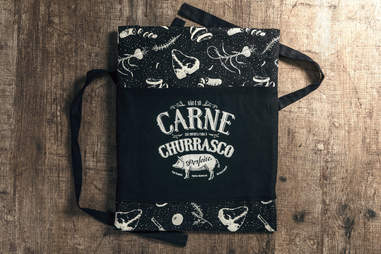 An apron!
A presentation tray! Platter? You don't need no stinkin' platter.
So next time you fire up your grill, pour a little malt liquor over the hot coals, say a silent prayer to The Big Churrasco Papa in the Sky, and maybe -- just maybe -- you'll have a shot to buy this book by Summer's end.
Dave Infante is a senior writer for Thrillist food & drink, and desperately wants to believe in a BBQ god. Follow him on Twitter at @dinfontay.