Paid Content For
The Future of Sustainable Dining is Alive (and Delicious) at These Restaurants
Paid Content For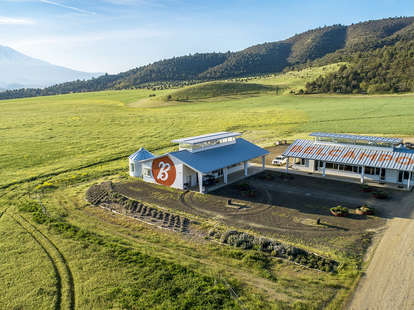 Celia Catalino
Celia Catalino
You hear the terms "farm to table" and "sustainability" tossed around so much these days that they're in danger of becoming marketing buzzwords instead of genuine indicators of a restaurant's commitment to green business practices. But with just a little research, you can find places that are the real deal when it comes to minimizing their environmental impact, restaurants that keep the planet -- and the local community -- in mind at literally every stage of their process. We found a number of venues that go above and beyond when it comes to eco-friendliness, from Mayanoki in New York City to Posana in Asheville, North Carolina, and Nostrana in Portland, Oregon, among others. They all prove that bona fide sustainability is a delicious, rewarding adventure for chefs and guests alike.
Various locations throughout California, one in NYC
Every link in the meat-production chain is encompassed by Anya Fernald's Belcampo Meat Co.: When you order a meal at one of Belcampo's restaurants, you can rest assured your steak, chicken, or lamb was not only bred at Belcampo's carbon-negative, wholly-owned USDA farm, but also raised, slaughtered, butchered, and cooked by Belcampo. (You can also order Belcampo products for home delivery on the company's website.) Take, for example, the Belcampo Burger, an 8-ounce patty made from climate-positive beef served on a local brioche bun and topped with caramelized onions cooked in clarified butter and house-made organic steak sauce. Belcampo treats their animals humanely, too: Their facility was designed by renowned animal welfare expert Temple Grandin. It's all part of Fernald's sustainable, anti-industrial effort to produce a new, and much improved, kind of meat. "I hope to spark my guests' awareness of the connection between animal wellness and human wellness," she says. "People feel vital and energized after eating our food -- that's all about the connection between the caliber and health of the proteins we raise and how our body responds to those proteins." Some of our other favorites among Belcampo's many quality proteins are the lamb skewers, the bone-in ribeye, and the short rib mac & cheese.
Chicago, Illinois
Uncommon Ground founders Helen and Michael Cameron were sourcing local before sourcing local was cool. What started as a coffee house more than 25 years ago has evolved into a restaurant that's become a Chicago institution and the poster child for sustainability in the Windy City. Not only did the restaurant establish the first certified organic rooftop farm in the US (in 2008), it also uses environmentally-friendly cleaning supplies, high-efficiency light bulbs, and solar-heated hot water. The 2,500-square-foot farm (on top of their Edgewater location) includes beehives to uplift the dwindling population of honeybees (and to incorporate fresh, local honey into some of their dishes, of course). At the flagship Lakeview/Wrigleyville location -- where you can nosh on grass-fed beef smash burgers or pumpkin ravioli with sage butter, among other delights -- the team founded Greenstar Brewery, the first certified organic brewery in Illinois. Given all of these qualities, it's no surprise that the two Uncommon Ground outposts were named the No. 1 and No. 2 greenest restaurants in America a few years back.
New York, New York
After hosting pop-up sushi dinners for five years, Mayanoki -- the brainchild of departed Chef Jeff Miller and co-founders David Torchiano and Josh Arak -- settled into a brick-and-mortar home in New York City's East Village. The compact East 6th Street eatery features an omakase menu (which leaves the selections to the chef) consisting entirely of sustainably sourced seafood, much of it from the Eastern seaboard. "At Mayanoki, we honor and respect the Japanese traditions, techniques, and preparations of sushi, but adapt it to our local needs and sensibilities to make it unique to our locale," Torchiano says. So instead of flying fish in from Japan, Torchiano and co. showcase what's available in US waters. Depending on when you stop in, you could feast on bluefish belly from Point Pleasant, New Jersey, sustainably farmed shrimp from the Hudson Valley, or mackerel fillets from Green Harbor, Massachusetts, all while Chef Josh van den Berg fills you in on the stories (and conservation causes) behind the dinner on your plate. All that, plus the James Beard Smart Catch seal, makes the $125-per-person price tag worth it at this eight-seat venue, billed as NYC's only sustainable omakase restaurant.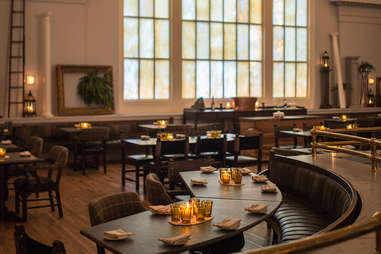 Washington, DC
Founded by James Beard Award-winning chef Spike Gjerde, A Rake's Progress sources the vast majority of its ingredients from the mid-Atlantic region. Gjerde, who also owns Woodberry Kitchen in Baltimore, puts sustainability at the heart of his cooking philosophy. The only non-local ingredients at A Rake's Progress are the coffee, tea, and a few of the wine selections (which are vetted for eco-friendliness). He may be strict about sustainability, but when it comes to the restaurant experience, Gjerde and team are free-wheeling performers: Most dishes are delivered whole, and carved up or prepared tableside, including the spectacular Trout on a Log, which arrives sizzling atop a smoldering slab of wood with a side of brown-butter hollandaise. Capping it all off, the restaurant is housed inside The Line hotel, located in a converted neoclassical church. Green dining doesn't get more exciting than this.
Portland, Oregon
Nostrana's name literally translates to "ours," and speaks to the rustic Italian restaurant's commitment to locally produced ingredients that have had limited travel time, maximizing their freshness and flavor. "We say 'yes' to supporting our farmers and purveyors by showcasing their goods," the Nostrana team says. "We practice whole-animal butchery. We recycle and compost. This is a thoughtful and old-world way of operating in a modern world." A model of sustainability, the menu showcases these local and seasonal ingredients in authentic and resourceful ways. Nostrana's bread, for example, is produced by an on-premise baker who comes in at 3am and bakes it in the wood-burning oven, using the residual heat left over from the previous night's service to conserve energy. So whether you're having the house-made capellini pasta with tomato-butter-onion sauce or one of their legendary wood-fired pizzas, you can rest assured that your meal's preparation adhered to the highest standards of eco-friendliness. "We want guests to feel the interconnectedness we have created," the team says. "We're driven by relationships, both outside of the restaurant with our farmers and purveyors, as well as inside the restaurant with our staff and our guests." Guests are able to feel that interconnectedness -- and they can taste it, too, in the carefully prepared, high-quality ingredients on their plates.