The History of Deep-Frying Foods at Fairs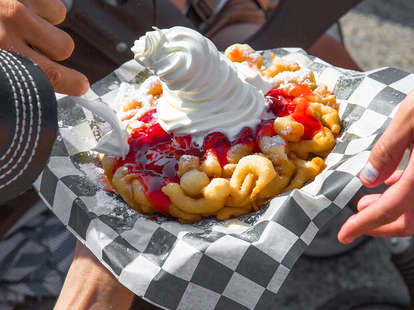 Colin Dewar / Shutterstock
If you attend a county fair after the age of 12, the ultimate thrill ride that ties your stomach up in knots isn't the Tilt-A-Whirl, it's picking out what you're going to eat from the selection of gloriously deep-fried treats at your disposal. Fairs have gone from serving up basics like hamburgers and hot dogs to far more formidable deep-fried deep cuts like Reese's Cups and cookie dough.
Was it always like this? Not quite. Find out how fried foods made it all the way from ancient Egypt to the county fair that's setting up shop a couple miles away from your house right now.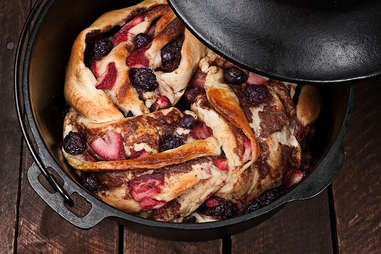 Four score and about a zillion vats of oil ago…
When Egyptians invented deep-frying in the 5th millennium BC, they had no idea
how it would change the culinary world for the better (the batter?). Other cultures quickly followed. Romans next, citing the technique in the cookbook Apicius, named after 1st century food connoisseur Marcus Gavius Apicius. The collection of recipes (which is widely believed to have been published in 1483 but dates back even further) includes chicken dipped in oil, then pan-fried. When Japan learned of the method in the 1600s, they decided to innovate by giving us tempura: a lighter version of most deep-fried treats, consisting of vegetables and seafood dipped in a wheat-flour batter.
A crucial moment happened in the late 1800s, when cast iron cookware became widely available. The extremely durable and heat-retaining material was used to make the Dutch oven (a cooking pot with a tightly-secured lid) as well as pans and skillets. Placing any one of these tools on top of an open flame helped contain the fire, bringing forth a modern approach to cooking. (You can thank cast iron for popularizing Southern fried chicken in all of its hot, crispy glory.)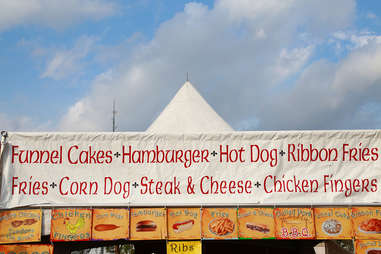 Frying for the masses
Though Dutch ovens are still used today, open flames -- contained or not -- aren't really practical in fair booths, where the lack of space limits your options. Abel Gonzales Jr., who earned the nickname "Fried Jesus" by inventing both fried Coke and deep-fried butter, says he first got creative because a fryer was all he had.
"If you're talking about state fairs and carnivals, you're talking about a very small operating area. It's really tiny in those booths and you have to serve a whole lot of people," he says.
Powered by electricity or gas, commercial fryers come with heat temperature controls and fry baskets. Simply drop something in, let the piping hot oil (anywhere between 350–375 °F) do all your work for you, then raise the food out when it's done. It's a simpler and more efficient -- and of course, much more delicious -- method of cooking.
Consider chicken drumsticks. Baked in an oven, you're looking at 35-40 minutes. Grilled on the stovetop, you'll need at least 30-35 minutes with a 10-minute rest time. Deep-fried? Boil for 10 minutes, batter, then fry until golden brown (about five minutes). Even putting taste aside, the choice seems obvious.
Why we can't get enough of fair foods
But you can't just dip a hot dog in any old batter and drop it in yesterday's oil. Fair frying has its own distinct set of best practices.
When it comes to oil, most aficionados agree. "I use clean 100% vegetable oil and we change our oil every day. And that's it," says Charlie Boghosian, aka Chicken Charlie, creator of the first-ever deep-fried Oreo. Vegetable oil helps preserve the taste of whatever you're frying, whereas something like lard, coconut oil, or even olive oil imparts a distinct taste on your food.
Batter, of course, leaves more flexibility. Boghosian uses seven different types at his restaurant Chicken Charlie's Frybq in San Diego. "[It depends] on what the product is," he says. "Whether it's thin or thick, wet or dry, sweet or savory differentiates them all from each other."
Gonzales says "protecting the baby" is the most important thing to remember when deep-frying. "Whatever you're frying, it's gotta be protected by some sort of outer coating. That's either a batter or a breading," he explains. "You don't just put chicken in the fryer. You protect in some way."
But it's not just the coating that safeguards your product, Gonzales adds. You need to chill whatever you're frying beforehand, too. "It'll survive in the deep-fryer much much better than if you put something at room temperature or something warm and try to cover it. It burns out."
If executed correctly, all of this adds up to the Maillard reaction. At its most basic, the Maillard reaction is a series of chemical responses that occur when a food's proteins and sugars interact with heat. It's at this time that new flavors, aromas, and colors are produced -- and your mouth begins to water. Funnel cake serves as a prime example: As soon as it's dropped into the oil, the Maillard reaction kicks in. As the batter heats up in the oil, the sugars lead the transformation from a beige goo to a brown, crispy, and sweet-smelling snack. What first appeared unappetizing and incomplete is now the fair snack icon we all know and love (and can't stop eating).
How deep-fried fair foods found their fanclubs
Though it might seem like certain fried specialties have always been fair staples, some of the more established treats -- like fried Oreos, for example -- didn't hit the circuit until much later. (It wasn't until 2002 that Boghosian dipped the popular cookie in pancake batter and changed the world as we knew it.) Of course, you'd think a creamy, chocolate cookie would be indulgent enough, but not at a fair… where excess reigns supreme.
In North America, the first agricultural fair, the Pittsfield, Massachusetts Cattle Show was started by New Englander Elkanah Watson in 1811. After this, fairs started popping up everywhere -- including the first state fair in Syracuse, NY. Of course, the purpose of them then (and now, though they've all added even more attractions) was to show off a specific area's agricultural offerings.
"The fairs were started as a way to bring farmers together -- to compare notes," says Marla Calico, President & CEO of the International Association of Fairs & Expositions. There were competitions for everything: Cattle, sheep, swine -- great! Let's judge 'em. Grains, plants, fruits, vegetables -- even better.
Calico says it's this competitive nature that popularized deep-fried fair food. (Say that five times fast.) "We saw the first move into deep-fried territory (other than corn dogs, funnel cakes, and French fries) sometime in the late 1980s," she says. "The cultural phenomenon, however, totally took off in the late 1990s and early 2000s." In large part, she says, this is due to The State Fair of Texas's Big Tex Choice Awards. The annual competition, which began in 2005, crowns winners in two categories each year: Most Creative and Best Taste.
"It quickly found national media attention and everything else followed," Calico adds.
Now entering its 12th year, the Big Tex Choice Awards have been growing steadily. In 2013, judges had to choose from 35 entries. Last year, they had to sample a whopping 55 deep-fried snacks just to decide who'd make it to the semi-finals. Think your palate can handle it? A $100 ticket grants you access to the fair, first taste the of the finalists, and an opportunity to join the exclusive panel of judges.
New kids on the block
Both Gonzales and Boghosian (who works alongside his brother Tony) represent this new wave of deep-frying that's taken fairs from plain drumsticks and pizza to pretty much anything you can stick in an oil jacuzzi.
Dallas native Gonzales spent summers working as a fry cook at the State Fair of Texas before he had his first great idea (frydea?). The theme for the first Big Tex Choice Awards was Elvis Presley, who was known for his grilled peanut butter and banana sandwich obsession. The only logical choice for a state fair? Deep-fry it, flip it, and reverse it.
In 2005, the fried peanut butter, jelly, and banana sandwich won Best Taste. The next year, Gonzales took home Most Creative for fried Coke. It wasn't until 2009 however, that the world lost its dang mind for his deep-fried butter. This Most Creative-winner oozes out liquid butter when you bite into it, unlike the the fried Coke (that just has the flavor throughout). "The first reaction was just more of [disbelief]. Like, what are you talking about? How is that even possible?" he says.
But despite skepticism, both fair-goers and the press lined up to try the creation. Everyone from NPR to CBS and even Oprah Winfrey herself bit into the buttery bites. On the program, Gonzales told the talk-show host that his deep-fried foods were so successful, he only needed to work three weeks a year at the time to support himself. (And though he probably could've kept that up, his business, Vandalay Catering, is thriving in Dallas.) Rounding out the national praise was David Letterman, who poked fun at the indulgent fair treat on The Late Show. In a segment he called "Questions to Ask Yourself Before Eating Fried Butter," the host asked, "Should I be 'heart smart' and get the fried margarine?'" among other quips. If his prior innovations hadn't earned Gonzales the title of Fried Jesus yet, he was certainly Your Holiness by now.
On the West Coast it's Boghosian, who's been called "The Man Who Fries Everything," who dominates. As a teenager, he took a job shucking and grilling corn at the San Diego County Fair. One season turned into 12 and the owner eventually passed the torch to his apprentice -- who renamed the stand Chicken Charlie's.
His first bit of success came when he improved upon the fried Twinkie. After tasting one at a fair in Miami, Boghosian liked the concept -- but the flavor wasn't up to his standards. In 2009 he told the Los Angeles Times, "It had been dipped in a very thick, wet batter and you could barely taste the cream inside." Instead, he gave it an egg wash and rolled it in dry, sweet flour. The result was so crispy and crunchy that when it debuted at the L.A. County fair in 2001, he sold 10,000 of them.
With all eyes on Boghosian, the pressure was on to deliver something extraordinary the following year. But he was on the rise, and as you already know (and love and have probably eaten by the bagful at fairs and feasts), the next year he came up with deep-fried Oreos.
Today, Boghosian is responsible for deep-fried Kool-Aid and the Zucchini-Weeni (a hot dog stuffed inside a zucchini and then deep-fried) among other creations. In 2008, Boghosian started deep-frying whole White Castle cheeseburgers -- bun and all. He sold 9,000 of them in 18 days.
This summer he'll debut the deep-fried peanut butter meatball. Next summer? The fry is the limit. "I deep-fried a man's shoe. I will fry your glasses if you let me. I'll fry anything," he says, not at all jokingly.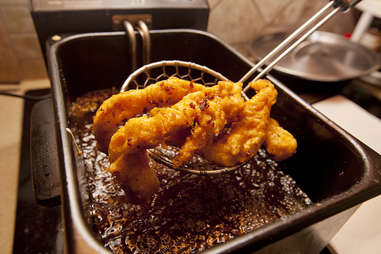 Oh, the things we will fry
The world's been going fry-crazy for the past few decades, and professional chefs and just plain curious cats alike started frying up everything they could batter.
At the Minnesota State Fair they've deep-fried pig ears; jelly beans at The Big E in Massachusetts; and in good ol' Texas one year they deep-fried just sugar cubes. We assume someone said, "Why waste time turning the sugar into something else?" And you know what? Maybe they had a point.
Then there's the matter of washing all those down. Draft, bottle, can, or fried? Texas serves its beer four ways. And if you're under 21, Indiana State Fair's got you covered with fried Pepsi.
You see, this Midwestern staple might not be as big as Big Tex, but what it lacks in size it makes up for in options -- like, a lot of options. Last year, vendors at the Indiana State Fair deep-fried brownies, cookie dough, Ho Hos, Klondike bars, M&M's, Milky Way and Snickers bars, pork rinds, pork chops, sauerkraut balls, s'mores, birthday cake… Do we have a word limit on this article? This list goes on and on.
Now, we need not forget the importance of a balanced diet. In 2010, someone at the State Fair of Texas decided enough was enough with all this fried nonsense. It's time we eat our vegetables. They took some ham, chicken, shredded iceberg lettuce, carrots, cherry tomatoes, sharp cheddar, romaine, bacon, and some croutons and made a cobb salad. They rolled it up in a 12-inch spinach wrap... dipped it in some batter… and oh man, whoops. They stuck that in the fryer, too. OK, kids: Only after you eat your Fernie's Fried Cobb Salad can you have your fried s'mores Pop-Tart. Then straight to bed.
Whether or not every deep-fried fair food appeals to you, half the fun is just seeing if it can be done. And if it can be done, what on earth will it taste like?
"We came out with thrill foods. We came out with these 'I-dare-you-to-try-it' foods. They went hand-in-hand with, 'I dare you to ride that ride.' " Gonzales says. "It's part of the entertainment. [In the past], it was like, hey, the food's good, but the rides are fun. We became almost like a ride. And we just created this synergy to what it is now."
So next time you find yourself in front of a deep-fried Twinkie stuffed with malted milk balls and gummy bears, topped with ice cream and sprinkles… OK, so that doesn't exist yet. But consider this an official dare.