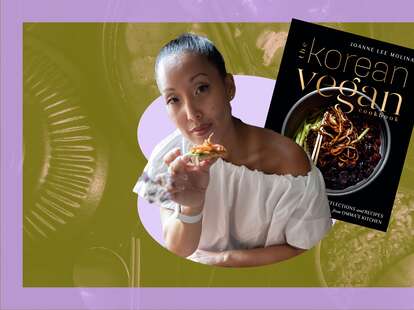 Photos courtesy of Joanne Molinaro; Design by Chineme Elobuike for Thrillist
Photos courtesy of Joanne Molinaro; Design by Chineme Elobuike for Thrillist
When Joanne Lee Molinaro speaks, her presence is commanding. It's not in a way that is abrasive—her voice is soothing, her words thoughtful, her stories uniquely her own, yet undeniably relatable. That's partially what has made her a successful attorney in Chicago, as well as helped her build a TikTok following of more than 3 million avid viewers under the moniker The Korean Vegan.
Although Molinaro's videos show her hands at work, preparing rolls of kimbap, glistening jjajangmyun, or vegan fried chicken, her voice weaves in stories about family, difficult challenges she's overcome, and hope.
"I wanted people to hear my voice. I want to be imparting something, if not directions on the recipe," Molinaro explains. "There's a popular phrase that people are using: 'Love my food, love my people.' And that was really the organic idea behind it, which is, my food is wonderful—but I also want you to know the people behind my food. That's really the idea of The Korean Vegan."
Although Molinaro has been on TikTok just over two years, The Korean Vegan began in 2016 as a creative outlet separate from her high-powered career in law. "I was told by a couple of my colleagues, 'Hey, Joanne, you need to have something outside of work. You need to have a hobby,'" she explains. "When I went vegan, I was so nervous that I wouldn't be able to eat Korean food anymore, and I couldn't find any other real blogs out there that did what I needed. So I was like, 'This is an opportunity for me to understand Korean cuisine better, to ensure that I actually get to continue eating the way that I want.'"
It feels like so much of Korean food is entrenched in animal products: spreads of brisket and short rib are found at Korean barbecue restaurants, pork shoulder is often the centerpiece of ssam, and even kimchi is made with fermented anchovies.
"I missed that emotional connection that I had to food, which was Korean barbecues, my uncle on the grill, my dad preparing the marinade, and stuff like that—like I couldn't be part of that anymore," Molinaro admits. "But there's this whole world of cuisine out there in Korea that I was previously not aware of. I don't think Buddhists think, 'Oh, this is vegan food,' but [temple food] is certainly a rich and plant-based tradition in Korea."
With that in mind, and upon reflection, Molinaro has realized that although a lot of the food she grew up with included meat, her family's dinner spreads were—for the most part—composed of vegetables. "I just make sure my whole table looks exactly like it did when I was growing up," she says "Yes, there would be meat every once in a while, but 80% of the table is vegetables."
"I wanted people to hear my voice. I want to be imparting something, if not directions on the recipe."
Molinaro's recipes and work as The Korean Vegan is all culminated in her debut cookbook, aptly titled The Korean Vegan: Reflections and Recipes from Omma's Kitchen. Omma, of course, is the Korean word for mom. "I associate food with the comfort of my family. Because growing up, anytime anything major happened, whether it was a birthday, graduation, or my uncles coming from Korea, we would always get together for a big meal," Molinaro grins.
Each page of the cookbook boasts Molinaro's signature storytelling style. The recipes, it feels, can not be separated from Molinaro's rich family history, dreams, and being. It's not just a cookbook—it's a memoir, and Molinaro's voice rings true.
It reminds me of Pachinko, the epic intergenerational novel by Min Jin Lee, and I tell Molinaro as much. "That was literally the nicest thing anyone has ever said. Min Jin Lee is my goddess hero," she beams. "In 2017, I started sharing my family stories because I felt a personal urgency. I wanted to do something that wasn't the lawyer thing to do—an answer to what I viewed as this divisiveness that was splitting apart our country."
That answer was The Korean Vegan. "The Korean Vegan is [us] sitting at a table eating food, breaking bread together, and sharing stories so that maybe [we] can be a little bit more compassionate and empathetic towards the immigrant story," she says.
With millions of followers, hundreds of supportive comments, and an unapologetic cookbook, Molinaro's vision seems to be working.
Soondoobu Chigae Recipe (순두부찌개 Silken Tofu Stew)
Serves 4
Ingredients:
1 tablespoon sesame oil
2 tablespoons gochugaru
¼ onion, diced
3 cloves garlic, minced
1 small potato, diced
½ cup hobak or regular zucchini half-moon discs (⅛-inch thick)
2 teaspoons salt
½ teaspoon freshly ground black pepper
1 tablespoon soup (light) soy sauce
2 cups Vegetable Broth (recipe follows)
1 (16-ounce) block silken tofu
2 scallions, chopped

Directions
1. In a medium dolsot or Dutch oven, heat the sesame oil over medium heat. Immediately add the gochugaru and stir with a wooden spoon. Make sure the gochugaru does not burn (turn dark), as it will get bitter.
2. When the gochugaru starts to bubble and froth, add the onion, garlic, potato, zucchini, salt, and pepper. Continue to cook until the onions begin to turn translucent, 2-3 minutes.
3.Add the soy sauce to deglaze the pot. Pour in the vegetable broth. Add the silken tofu, breaking it up gently with your spoon into large chunks (you do not want it to look curdled). Reduce the heat and simmer until the potatoes are tender, about 20 minutes.
4. Add the scallions and cook for 1-2 more minutes before serving.
Vegetable Broth
Makes 6 cups
Ingredients:
2 tablespoons sesame oil
2 carrots, roughly chopped
1 stalk celery, roughly chopped
3 cloves garlic, unpeeled
2 white onions, unpeeled and roughly chopped
4 green onions, untrimmed and roughly chopped
1 russet potato, roughly chopped
½ cup roughly chopped daikon radish, unpeeled
2 large or 3 small dried shiitake mushrooms
2 large or up to 4 small dried porcini mushrooms
7 to 8 leaves light-colored cabbage
1 large sheet dashima, broken into smaller pieces to fit your pot
1 tablespoon black peppercorns

Directions
1. In a large soup pot, heat the sesame oil over medium heat. Add the carrots, celery, garlic, onions, potato, daikon, dried mushrooms, cabbage leaves, and dashima to the pot and cook for 2 minutes.
2. Add 12 cups of water and the peppercorns and bring to a boil over medium-high heat. Reduce the heat to low and simmer for 30 minutes.
3. Remove the dashima and let the broth simmer until reduced in half, about 3 hours.
4. Discard the vegetables and pour the stock through a fine-mesh sieve or cheesecloth to strain out any bits and pieces.
Note: Be sure to clean all the vegetables thoroughly, because you will be keeping the peels on many of them.
From THE KOREAN VEGAN COOKBOOK: REFLECTIONS AND RECIPES FROM OMMA'S KITCHEN by Joanne Lee Molinaro, to be published on 10/12/2021 by Avery, an imprint of Penguin Publishing Group, a division of Penguin Random House, LLC. Copyright © 2021 Joanne Lee Molinaro
Kat Thompson is a senior staff writer of food & drink at Thrillist. Follow her on Twitter @katthompsonn.