There is no more American way to dine than by eating at that Guy Fieri restaurant in Times Square while wrapped in an American flag that itself is wrapped in an American flag grilled meat out of the back of a pick-up truck on a Sunday morning in a football stadium parking lot. But with the rise of foodie culture and celebrity chefs, it was only a matter of time before tailgating was elevated from plain old BBQ and cheap beer to a smoked rattlesnake and pheasant cassoulet with harissa infused creme fraiche, freeze-dried guacamole, and gremolata on grilled polenta... and beer. Craft beer, but still, beer. And thanks for a collection of some of Denver's finest independent restaurants hosting a Monday Night Football tailgate, we got to see what happens when crazy talented chefs take control of gameday eats.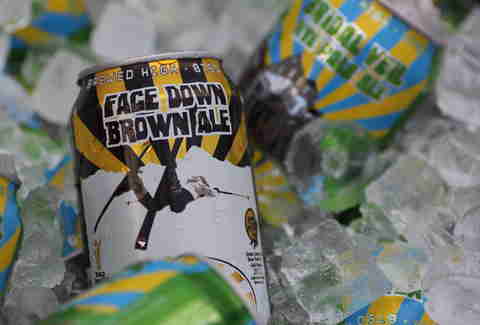 As a beer alternative, there was a Bloody Rivalry cocktail (the Broncos were playing the hated Raiders that night), made with tomatoes pureed from the bartender's garden mixed with lemon and basil, and spiked with Downslope Pepper Vodka and Telluride's Bridal Veil Pale Ale.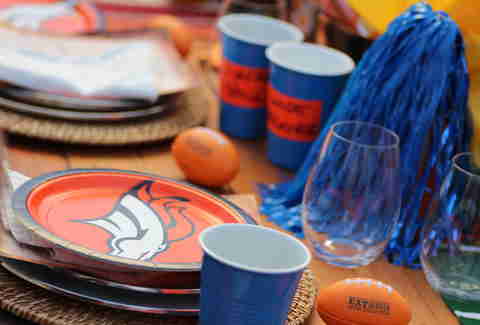 The tailgate wasn't in a parking lot. It was inside The GrowHaus, a greenhouse a few miles from the stadium that grows vegetables and sells them to the neighborhood. It is notable for being the only greenhouse in Colorado not used to grow weed.
This is completely unrelated to the food, but a guy at the tailgate was wearing this shirt. On the back it says, "6+6+6=18." Hard to argue with science.
These look like plain ole wings, but Punch Bowl Social's version have a spicy cilantro sauce (a 3 out of 10 in terms of heat) and a housemade blue cheese on the side.
Now we're talking: smoked baby back ribs with a peach-porcini glaze from fancypants restaurant Barolo Grill. They keep making these babies and their fancypants will not fit them anymore.
Modern comfort food is Second Home's specialty, and they knocked it out of the park with these pork belly sliders with jalapeno mustard and house pickles.
The legendary Biker Jim (of Biker Jim's Hot Dogs fame -- Anthony Bourdain loves him, probably because he makes some of the best hot dogs in the country) whipped up these coffee and cocoa rubbed potted pork cheeks with a wild mushroom puree and shallot chutney on toast. The sage leaf on top really ties the proverbial room together, says Jim.
Wings are transformed by these buffalo chicken rillettes from Coohill's, and are made even more delicious with celery root and blue cheese salad hoisted on top. Seriously, these were damn good.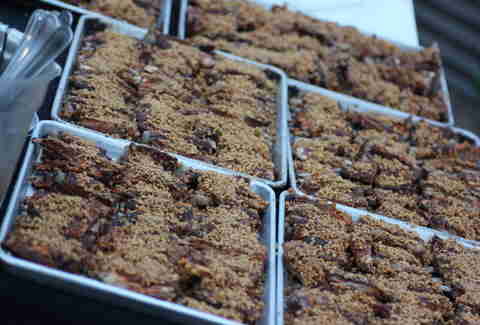 The highlight of the evening for many were these surprisingly sweet Colorado lamb ribs covered in beer wort. The beer wort added a nice crunch, and it has a lot of sugar in it, so the sweetness makes sense. When you say it out loud, beer wort sounds like beer "wart", which would totally be the coolest skin problem to have!!
Biker Jim heaped this freeze-dried guacamole onto a smoked rattlesnake and pheasant cassoulet. Fun (made up) fact: this stuff is also what Mexican astronauts eat when in space.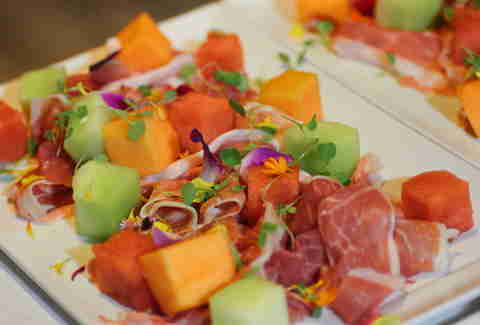 This Super Caprese Salad offers a bounty of Colorado produce, including Rocky Ford cantaloupe, local heirloom tomatoes, and burrata with olive oil powder and basil puree, all topped off with edible flowers.
It says something when the final course is some extremely tender smoked brisket and chicken thighs with a black bean barbecue sauce, and people are too full to eat it. That there in the middle is some grilled squash and pickled pepper slaw. And that's how you tailgate.