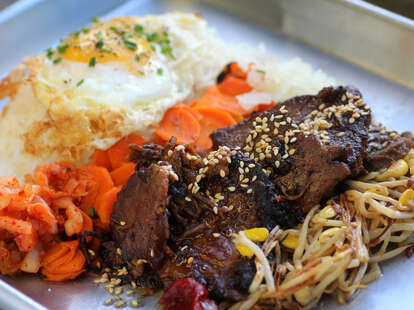 BBQ is steeped in tradition. But, much like we'd never have "Wrecking Ball" if Hannah Montana didn't rebel against Billy Ray's firm, but fair stance on pants, we'd never have the wonders of smoked fried chicken or lamb belly were it not for these firebrands bucking tradition. And while our hearts still belong to traditional BBQ (and Billy Ray Cyrus), we're also very entranced by these nine amazing innovations in BBQ.
Smoked whole goat neck
Ducks Eatery (address and info)
New York City, NY
Although not a traditional American BBQ meat, goat's rich flavor deserves a celebrated place in the canon of smoked meats. East Village Vietnamese BBQ fusion joint Ducks takes it to the next level, celebrating the neck cut with a heavy hand of Punjabi spices, yellow curry, Bing cherries, and coconut rice.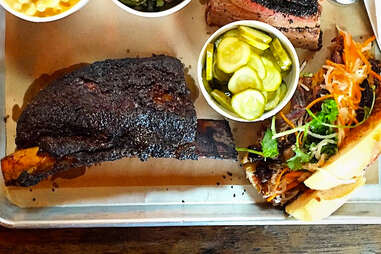 Lamb Belly Bahn Mi
Hometown Bar-B-Que (address and info)
Brooklyn, NY
The Brooklyn boys at Hometown smoke plenty of creative meats, from the Jerk Baby Backs to sriracha hot wings, but their most innovative move is using a hunk of lamb belly as the protein for everyone's favorite Vietnamese sandwich.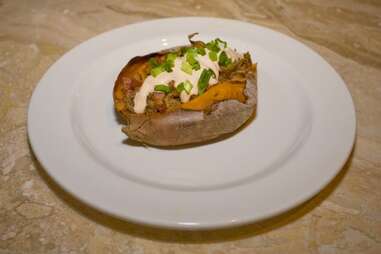 The "Hot Mess"
Pecan Lodge (address and info)
Dallas, TX
The Pecan Lodge in Dallas might have the heaviest smoke flavor in the city, which is on full display in its creative calling card: The "Hot Mess." It's a sea-salt encrusted sweet potato under a mound of South Texas barbacoa, chipotle cream cheese, butter, and green onions. Your move, Dave Thomas.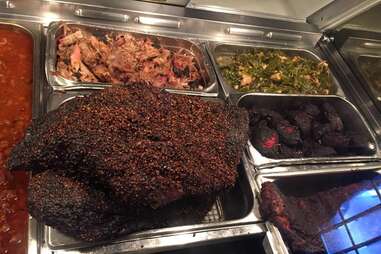 Pastrami beef tongue
Fette Sau (address and info)
Brooklyn, NY
Fette Sau's Williamsburg outpost is one of the major players in Brooklyn's BBQ renaissance thanks to its focus on using only the highest-quality meats. You can't go wrong with the brisket, but it goes full New York style with a pastrami that soaks in brine for three days and which, if you arrive on the right day, is available in the form of thick beef tongues.
BBQ Brisket Bibimbap
Smalls (address and info)
Chicago, IL
Chicago's premiere Filipino smoke shack is known for flipping the script on several other BBQ classics (like green papaya slaw'd pulled pork), but the standout is the soy/maple/sesame-glazed brisket served bibimbap style with rice, a fried egg, and pickled veggies.
Micklethwait sausage
Micklethwait Craft Meats (address and info)
Austin, TX
Nine times out of 10, you're going to see the same sausages on every menu. Tom Micklethwait in Austin breaks that norm by casing sausages of the day that defy traditional jalapeño-cheddar conventions and err more towards creative proteins like venison, lamb, goat, and duck, chased with unique touches like cherries.
Bone-in pork belly
Killen's BBQ (address and info)
Houston, TX
Pork belly had its moment, but Houston's most lauded pitmaster has elevated this fatty cut above fad status by making the rare move of serving it bone-in, which he equates to the pork version of beef short ribs and thinks might just be the next big thing in BBQ.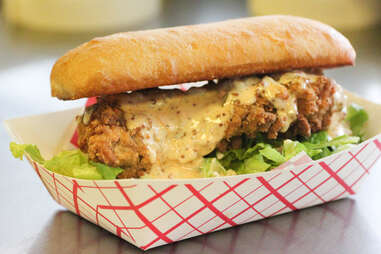 Smoked fried chicken sandwich
Pinky's Kitchen (address and info) & The People's Pig (address and info)
Seattle, WA & Portland, OR
Contrary to popular belief, Seattle and Portland are not the same place. But both are doing wonderful things with smoked fried chicken. Seattle's Pinky's, a parking lot Q operation, doubles down on its chicken sandwich in a totally not-KFC way by smoking, then frying the chicken patty, thus earning its way into our list of Seattle sandwiches you MUST eat. Meanwhile, in Portland, People's Pig piles a homemade bun with jalapeño jelly and a hunk of meat that tastes like bacon and fried chicken had a love child, and the result is one of the best hunks of fried bird in the US.
Bar-B-Q Spaghetti
Jim Neely's Interstate Bar-B-Que (address and info)
Memphis, TN
This old-school Memphis pitmaster has all the traditional pork dishes his fair city is known for, with one special kicker: a plate of spaghetti topped with his signature chopped pork that proves that creativity in the BBQ world doesn't always mean weird proteins, fancy ingredients, or foreign fusions.
Dan Gentile is a staff writer on Thrillist's national food and drink team. He is a purist when it comes to BBQ, but makes exceptions for smoked and fried chicken sandwiches. Follow him to a wavering moral compass at @Dannosphere.