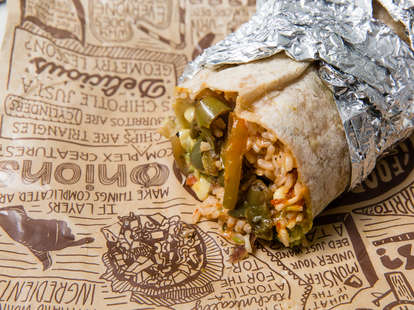 Cole Saladino/Thrillist
Cole Saladino/Thrillist
The Most Underrated Order at Your Favorite Fast-Food Chains
When it comes to fast food, Americans are creatures of (often too frequently repeated) habit. We have our go-to orders and a roster of favorites we fall back on, which is all fine and dandy, but often means that some gems buried deeper on the menu get left uneaten. These are the most underrated items at every major national fast-food chain. Try them out and find out what you've been missing.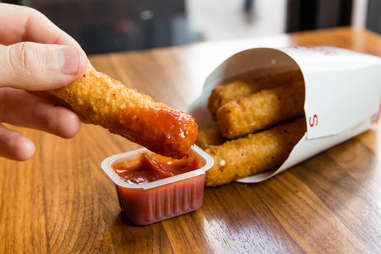 Arby's
Mozzarella sticks
Look, we're not saying to skip the curly fries. Don't do that. They're the best in the biz. But don't get them at the expense of these formidable cheese logs. It's not surprising that so many fast -ood joints have crapped the bed on the humble mozz stick. But it IS surprising that the home of the Beef n' Cheddar happens to fry up orders of batter-dipped cheese that might be better than the ones you'd get at your favorite pub. Yet you never hear Ving Rhames growling about them... -- Andy Kryza
Wendy's
Spicy chicken wrap
We hate to degrade the Baconator, but let's be real: The spicy chicken sandwich is the best thing on Wendy's menu. However, what doesn't get enough love is its tortilla-enclosed cousin the spicy chicken wrap. Limp tomato is replaced with cheddar and ranch, which cut through the spicy seasoning in a way that mere mayo never will. -- Dan Gentile
Chick-fil-A
Chicken, egg & cheese bagel
Yes, it seems blasphemous to skip that biscuit, but the multigrain bagel does wonders when paired with the fried chicken, which also pairs remarkably well with egg. Does it taste like a real bagel? Nah. It's more like a firm roll. But it's still damn delicious, and if you miss the biscuit, well, you can get one on the side. Except on Sunday. -- AK
Burger King
Hot dogs
When 50% of your brand's name is literally "burger," wieners are relegated to the B-squad. But what BK accomplished here is a true rarity in fast food-dom: a quick-serve hot dog that is not only competent, but excellent. Available in either classic (with ketchup, mustard, relish, and chopped onions) or chili-cheese variety, the frankfurter is cheap as heck and virtually identical in taste and appearance to any dog you'd grill -- yes, these have BK's distinctive grill-lines -- in your backyard. I'd like to propose a re-branding to "Weiner King," but that just doesn't have the same ring. -- Wil Fulton
Shake Shack
Mushroom burger
This unsung hero of Danny Meyer's burger/chicken leviathan is, unequivocally, the best non-potato-based vegetarian option in all of fast food-dom. And that's all we should have to say about that. -- WF
A&W
Cheese curds
You could argue that pretty much everything at A&W is underrated, considering the place seems to fly completely under the radar unless it's paired up with a KFC or still features roller-skating waitresses unstuck in time. But the cheese curds, well, the cheese curds are a hidden treasure, little fried balls of Midwestern comfort that function like a more poppable version of a mozz stick. And because of A&W, many cursedly curd-less regions now know the pleasures Wisconsinites have felt for generations. -- AK
Dunkin Donuts
Hash browns
The hash browns that Micky D's slings obviously eclipse all other fast-food breakfast taters in terms of sheer popularity, but one would be remiss to gloss over DD's hash. Here's a hot take that will get your munchkins rattling: Dunkin's are actually better. They are mini, basically as adorable as fried tubers can get. They are have just the right amount of crunch, and are absolutely dripping in grease (if you are reading this list, you probably consider that a good thing). Get them while they are hot -- literally -- and be prepared to never snag another donut at Dunkin again. -- WF
In-N-Out
Cheeseburger
Not the Double-Double. Not the Flying Dutchman or the Reverse Bokononian Thunderclap or whatever the hell stupid thing they make you say to get a burger that's slightly different while speaking to a teenager with an iPad and a paper hat. Just a regular cheeseburger, as it appears on the menu, as In-N-Out and God -- who is quoted on the cups, mind you -- intended. Possibly as a side to a Double-Double, but still. -- AK
Taco Bell
Double Decker taco
Taco Bell is the hands-down winner of the fast-food LTO arms race, but despite that, one humble mutant taco remains best in class. The Double Decker takes Taco Bell's two most basic items -- crispy taco and bean burrito -- and wedges them together into something bigger than the sum of their parts, which is, coincidentally, a way to make you bigger than the sum of your parts. -- DG
Dairy Queen
Chicken strip lunch
Lest you're a child or stuck in a barely habitable part of Texas, you're probably not ordering savory food at DQ, but the chicken strip lunch is worth considering. It's got everything a kid could want (crispiness! Fries!) and everything an adult with an aversion to heavily processed beef can tolerate. Plus, it counts gravy as a dipping sauce. -- DG
Culver's
North Atlantic cod filet sandwich
It's easy to keep it turf at a place with ButterBurgers front and center, but Culver's surf game is strong. It'd better be: This place hails from Wisconsin, where fish fries are a way of life. And the sandwich nails it, from the big filet to the unique tartar sauce kicked up with capers and olives to the addition of a little Wisco Cheddar. It's basically like dining at a particularly clean VFW on a Friday during Lent near the Dells. -- AK
Jimmy Johns
The Gargantuan
It sounds intimidating, this gigantic sub with pretty much every meat and topping piled into a sturdy Jimmy John's bun. But really, it's just a big-ass Italian sub with added roast beef, which generally makes most things better. Don't be scared. -- AK
Popeyes
Loaded chicken wrap
So much of what the soul food chain does well is fully encapsulated in this lil' wrap. You have the chicken (yea, duh), with red beans and cheese (a highly underrated side in itself) getting all cozy in a corn tortilla wrap that... is actually pretty good. And the fact that you can so easily swap "Louisiana Wrap!" into the chain's earworm "Louisiana Fast!" jingle just seals the deal. See, aren't you singing it to yourself, right now? -- WF
Sonic
Boneless wings
There's a strong temptation to order popcorn chicken, but the problem there is that 30% of your order is just plain breading with no meat inside, a sad result of bags getting dumped lazily into the fryer. The boneless wings are basically the same, but you're guaranteed to get meat. Consider them saucy chicken nuggets, but better. -- AK
Jersey Mike's
Buffalo chicken wrap
Tell your average Jersey Mike's fan that you are going to order a wrap instead of the big-ass subs America's fastest growing fast-food chain has become famous for, you might get some combination of "fughedddabout it," "sleep with the fishes," "take the sub, leave the cannolis," and smattering of other stereotypical gangster phrases. Brush them off. The Buffalo chicken wrap is a perfectly acceptable (and healthy-ish, maybe?) alternative to deli meats and cheesesteaks. And while I normally wouldn't advocate for cheese -- especially American cheese! -- to accompany Buffalo chicken dishes, something about Jersey Mike's cheese/Buffalo alchemy works. And like a direct order from Tony Soprano, it's best not to question the decision. -- WF
KFC
Popcorn chicken nuggets
These poppable little bastards meet at the confluence of chicken tender and chicken nugget. It's a beautiful intersection. -- AK
Five Guys
Grilled cheese
If you've ever thought to yourself, "Man, a Five Guys' burger might be even better if you flipped the buns upside-down, grilled them, then removed every filling except the artery clogging, ultra-gooey layers of American cheese," you might have too much time on your hands. But, you'll also be pleased to know FG's grilled cheese is your (weirdly specific) dream come true. It's a super basic, ridiculously grease-tastic grilled cheese, but you can add any of their standard toppings for free. A mushroom grilled cheese is a lot better than you'd think. And it's only $3. Four out of five guys agree that's a damn steal in today's brittle economy. -- WF
McDonald's
Fruit and maple oatmeal
Ordering oatmeal during breakfast at McDonald's feels wrong. But it tastes so very, very good. Opt in for the this oatmeal -- which has all of the McGriddle's weirdly satisfying syrup flavoring, without the soul/gut-crushing meat and carbs -- for a dish that feels very un-fast food like, and what might be the most underrated order in the entire industry. For real. If you close your eyes, you can even picture yourself in a little cottage in Nova Scotia, enjoying a fresh, homemade breakfast bowl before a misty, mid-morning hike. They have mist and oatmeal in little cottages in Nova Scotia, right? -- WF
Chipotle
Veggie burrito
The biggest trick Chipotle ever pulled was convincing its customers that the protein was the meat of its burritos. Sure, adding a few ounces of carnitas is a reflex, but eschewing meat altogether is an underrated move because it allows for free guac, saves a few bucks, and adds an extra day or two to your life, probably. -- DG
Carl's Jr./Hardee's
Monster biscuit
Carl and his buddy Hardee make some of the best biscuits in the fast food game, so logic would dictate piling that sturdy, allegedly-scratch-made bastard with a lumberjack breakfast. So they did, stacking two eggs, sausage, Swiss and American cheeses, and bacon into an unholy tower too salacious for the average bodega. -- AK
Church's Chicken
Chicken-fried steak
You know that thick, flaky, salty breading that makes Church's fried chicken so delicious? Now put it on a steak and smother it with country gravy. It's exactly as good as it sounds. -- AK
Long John Silver's
Fish taco
When considering the fish taco at LJS and its under-the-radar merits, first consider the world's preeminent quick-serve taco chain (rhymes with "Shmaco Tell") has never ventured into these waters, so to speak. Basically, Long John Silver's takes the fried fish the chain has built its legacy on and stick it inside a soft taco shell. The place isn't reinventing the wheel. They are taking the wheel and putting it in a taco. But in this case, the wheel is a slab of fried fish. Look: It's really good. You get it. -- WF
Subway
Italian herb and cheese bread
Subway's meats might be interchangeable, but the bread makes a big difference. You could slice up a yoga mat and serve it on 12 inches of Italian herb and cheese and it'd still taste better than a roast beef on nine-grain wheat. -- DG
Whataburger
Honey butter chicken biscuit
We've lauded the beauty of this breakfast sandwich before, but it's worth repeating. Amongst all Whata-items, the HBCB is the one that you won't find anywhere else. The perfect savory/sweet flavor profile isn't complicated with things like vegetables, and its scarcity due to the somewhat illogical breakfast-menu placement makes it even more rewarding. It also earns bonus points because it's a fun item to say three times fast. -- DG
Jack in the Box
Sourdough Jack
Yeah, it's just a burger on toasted sourdough discs, but oh how this innovation changes the game, from the structural integrity to the ability to make a largely mediocre burger seem special. Plus, it beats the hell out of those gross tacos. -- AK
White Castle
Breakfast waffle slider
For most of us, the words "White Castle" and "morning" generally appear in sentences like "Holy shit, why did I decide to order a Crave Case and three Chicken Ring sliders at four in the goddamned morning after drinking all day?" But to the knowing, the breakfast waffle slider is a great reason to hit up Whiteys for reasons other than picking up your lost credit card, with sausage, egg, and cheese stacked between two cute lil' waffles. You can also get a regular burger with egg on it at breakfast, but come on dude. Why do you keep setting yourself up for this?! -- AK
Sign up here for our daily Thrillist email and subscribe here for our YouTube channel to get your fix of the best in food/drink/fun.
Wil Fulton is a staff writer for Thrillist. The most underrated part of him is actually X-rated. Follow him @wilfulton.
Dan Gentile has eaten enough fast food professionally to terrify a medical professional. Follow him to a collection of empty French-fry containers at @Dannosphere.
Andy Kryza is still upset that Arby's doesn't shove a couple mozz sticks in its Meat Mountain. Follow him to other easily remedied fat-kid complaints @apkryza.