Hidden among every fast-food chain's glossy limited-time offerings and tenured combo-menu favorites there's at least one underrated gem worth ruining a New Year's resolution over. In an effort to freshen up drive-thru orders everywhere, we've compiled a list of the most underappreciated items at every major chain. From now on, may all of your biscuits be honey buttered.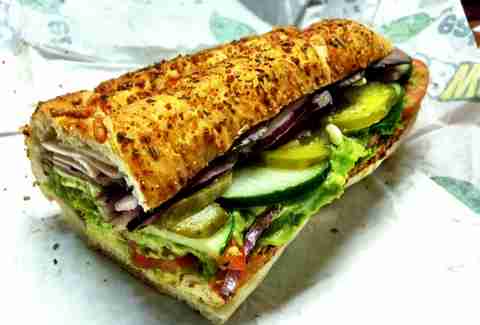 Subway: Italian herb and cheese bread
Subway's meats might be interchangeable, but the bread makes a big difference. You could slice up a yoga mat and serve it on 12in of Italian herb and cheese and it'd still taste better than a roast beef on nine-grain wheat.

Chipotle: Veggie burrito
The biggest trick Chipotle ever pulled was convincing its customers that the protein was the meat of its burritos. Sure, adding a few ounces of carnitas is a reflex, but eschewing meat altogether is an underrated move because it allows for free guac, saves a few bucks, and adds an extra day or two to your life, probably.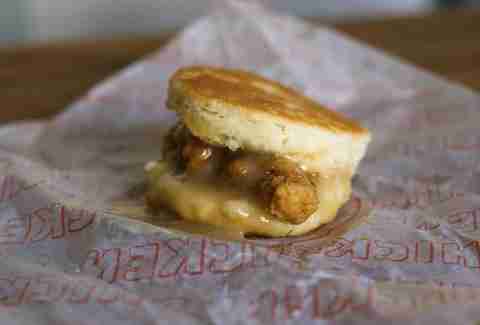 Whataburger: Honey butter chicken biscuit
We've lauded the beauty of this breakfast sandwich before, but it's worth repeating. Amongst all Whata-items, the HBCB is the one that you won't find anywhere else. The perfect savory/sweet flavor profile isn't complicated with things like vegetables, and its scarcity due to the somewhat illogical breakfast-menu placement makes it even more rewarding. It also earns bonus points because it's a fun item to say three times fast.

Taco Bell: Double-Decker taco
Taco Bell is the hands-down winner of the fast-food LTO arms race, but despite that, one humble mutant taco remains best in class. The Double-Decker takes Taco Bell's two most basic items -- crispy taco and bean burrito -- and wedges them together into something bigger than the sum of their parts, which is, coincidentally, a way to make you bigger than the sum of your parts.
Sonic: Cherry limeade
The cherry limeade is a vestige of a simpler time of carhops and hotrods. The ratio of artificial syrup to real lime is perfect, and reminds us of what life was before upscale craft cocktail bars.

Wendy's: Spicy chicken wrap
We hate to degrade the Baconator, but let's be real: the spicy chicken sandwich is the best thing on Wendy's menu. However, what doesn't get enough love is its tortilla-enclosed cousin the spicy chicken wrap. Limp tomato is replaced with cheddar and ranch, which cut through the spicy seasoning in a way that mere mayo never will.
Dairy Queen: Chicken strip lunch
Lest you're a child or stuck in a barely inhabitable part of Texas, you're probably not ordering savory food at DQ, but the chicken strip lunch is worth considering. It's got everything a kid could want (crispiness! Fries!) and everything an adult with an aversion to heavily processed beef can tolerate. Also, pairs well with Oreo Blizzards.

Burger King: Double bacon cheeseburger
"Flame-broiled" might just be a buzzword, but it's BK's bread and smoky butter. Resist the temptation to dress up the patties with unnecessary veggies, brand-name sauces, or Big Mac-cloned middle buns -- simple bacon and pickle accoutrements are all you need to bring out the most royal aspects of the King.
Jack in the Box: Seasoned curly fries
It's unclear why the suits pulling the strings in the fast-food world never put their weight behind the curly fry, but one executive knows better. That little curl, pinch of spice, extra crispiness, and weirdly darker color improve the chain's otherwise underwhelming starch sticks into something special. Even the crumbs are worth eating, which can't be said about many other fries.

Chick-fil-A: Asian salad
There's no way around ordering that perfectly engineered breaded chicken, but the underrated option on the menu falls squarely in the salad category. Vegetables chopped fresh in-store mean that it's heads and shoulders above any other fast-food salad, but the kicker is that the handful of baby greens is basically just an Asian-accented bed for nuggets.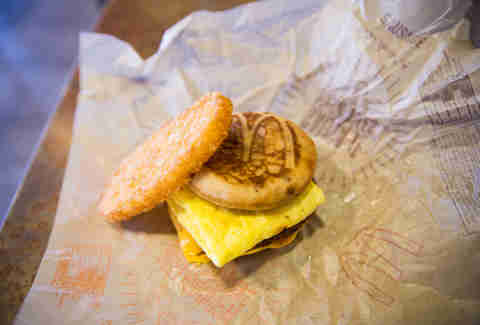 McDonald's: McGriddle (first bite only)
The virgin bite of a McGriddle represents everything that's magical about fast food. These are ingredients that have long been separated, but for no good reason. It's like having Romeo and Juliet kissing for the first time, in your mouth. Diminishing returns be damned, that first bite alone is worth it.

Arby's: Mozzarella sticks
Yeah, Arby's will tell you it's all about meat and curly fries. The real aces in the hole, though, are the mozzarella sticks, which stand up next to any other pre-frozen sticks you'd get at a pub, but for about half the price. Bonus points? The residual seasoning from the curly fries in the fryer clings faintly to the thick batter. If it hybridized the two, Arby's might just be able to take over the world. Or at least finally earn Jon Stewart's respect.
KFC: Popcorn chicken nuggets
The engineered nature of KFC's meat isn't much different from any other chain, but all those bones serve as a haunting reminder of the supply chain. Dodge the fowl facade and order boneless popcorn nuggets.

Carl's Jr.: Teriyaki burger
This thing is weird. The fact that there is a beef patty covered in Swiss and topped with grilled pineapple and teriyaki basically makes it taste like you're eating America's annexation of Hawaii. For a while, you won't be able to tell if you think it's gross or the best thing you've ever eaten. Then you'll go ahead and order another one. -- Kevin Alexander
Five Guys: Bacon cheese dog
The burgers and fries are obviously killer, but Five Guys' hot dog game is just as on point as its namesake combo. The dog is split down the middle, which somehow unlocks an extra bit of umami, but what makes this a truly underrated move is that you'd otherwise need to go to one of the best hot dog joints in the country in order to dress a dog with such a robust buffet of toppings.

In-N-Out: Grilled cheese (with caramelized onions and secret sauce)
First off, let me just say: I don't advocate not getting a burger at In-N-Out (specifically: a mustard-grilled cheeseburger with grilled onions, chopped chilies, lettuce, and no tomato). But I just happen to be friends with a vegetarian who swears by the grilled cheese there, and if you do it right (order the bun extra toasted, get grilled onions and sauce on there), you will enjoy a deluxe grilled cheese experience to rival any you've had in your life. The toasty bun and the melty cheese coagulating with that grilled onion flavor and spread is almost enough to make me OK with not eating a burger. Almost. -- Kevin Alexander
Sign up here for our daily Thrillist email, and get your fix of the best in food/drink/fun.
Dan Gentile is a staff writer at Thrillist. He has eaten enough fast food professionally to terrify a medical professional. Follow him to a collection of empty French-fry containers at @Dannosphere.