Whenever a new iPhone drops everyone asks the same question: will you be able to plug it into a bowl of ramen? And although Apple may never give tonkotsu lovers a broth-proof body, the fine strange people at Oh Hamee! TV! have done the next best thing by creating this surprisingly realistic-looking, ceramic ramen phone stand. And as a bonus, the vinyl fish cakes taste just like the real thing!
Recommended Video
It's Worth Getting Sloppy For This Grilled Cheese Taco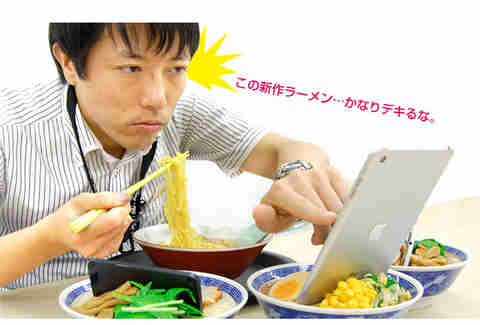 For just a measly 9334 yen (93 USD!) you can be waaaay happy as the noodle fiend pictured above, who looks like he just finished the last episode of the Sopranos. And yes, IT ALSO DOES IPADSSSSSSSSSSS.
In addition to regular tonkotsu, they're also offering miso ramen and a style of Chinese-influenced noodles than translates very roughly to Tokyo Wind, which is also a condition experienced by sumo wrestlers who consume too much bean curd.
For the slightly less cool kids at the ramen shop, they're got versions to fit the iPad Mini and Samsung Galaxy, who despite challenging the iPhone in market share, is also still far, far, away from developing a broth-proof casing.