How to Tackle Intimidating Holiday Roasts Like a Pro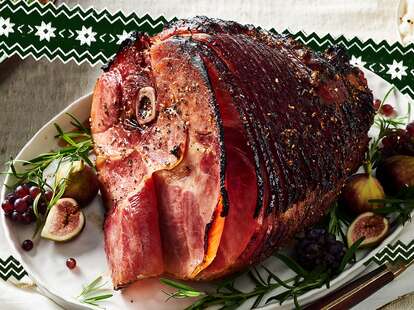 Image Copyright Stephen DeVries / Offset.com|Illustration by Allie Pakrosnis
Image Copyright Stephen DeVries / Offset.com|Illustration by Allie Pakrosnis
With more people staying put for the holidays, many home cooks may be tackling a festive main course for the very first time, which can be borderline scary. Especially when we're talking about traditional holiday mains that are (1) huge, and (2) expensive. So, we called in expert chefs to explain their best tips and tricks for some classic celebratory options. The key: cooking each protein to the right temperature. Using a Yummly Smart Thermometer helps not only take the guesswork out of these mains, but makes it easier to multitask and pull off sides while your entree cooks — which is key to a big dinner. So, say goodbye to holiday roast anxiety, because the pros are about to walk you through it.
Holiday Ham
The prep: One of the most traditional holiday roasts is actually perfect for beginners — since you can buy a pre-cooked ham and customize it to be your own. Or, really "just heat it up," Atlanta-based Chef David Rose suggests, if you're a cooking newb and want a solid roast. If you're up for a special glaze to add a little more taste, Rose recommends reducing bourbon, brown sugar, and honey in a saucepan, and brushing it on your ham during its last 30 minutes of reheating.
The temp: "Precooked ham takes the guesswork out of cooking doneness," Rose says, to those nervous about their first big holiday roast. Reheat the meat until your Yummly thermometer alerts you it's at a 165-170 internal temp. From there: "It's good to go, so you can spend more quality time with family, entertaining, and drinking." (So don't use all your bourbon in the glaze.)
The accoutrements: Holiday ham means full-on comfort food to Rose: Mac 'n cheese, yams, and green beans are perfect sides, and easy to pull off while the ham heats up. Of course, go ham on the leftover meat straight from the fridge with cold sandwiches all week.
Pork Shoulder
The prep: Any occasion Rose has to make pork shoulder is a good one — and he agrees it's a solid option for any winter holiday meal. "I'd definitely start with a nice brine: water, salt, sugar, thyme, peppercorns, and apple juice," he suggests. "Apples and pork go amazingly together." He recommends cooking the pork low and slow in the oven, at about 275 degrees, so the pork's connective tissue breaks down and tenderizes. Keep the meat covered in tin foil for a few hours, and as the internal temperature creeps up into the 100s, remove the covering to let the top of the shoulder caramelize.
The temp: You'll want to roast your pork shoulder until your meat thermometer registers 165-185 degrees, and as the meat's temperature almost reaches its final point, consider brushing on a glaze like apple juice mixed with Worcestershire sauce and honey. "It will take on a lot of flavor; don't be shy with the seasoning," Rose says. You can track the cooking remotely with a Yummly thermometer, too, so there's no need to keep pulling the shoulder out of the oven before it's ready — that can slow down the cooking process.
The accoutrements: Rose loves a full-bodied red, like syrah or cabernet with this type of roasted pork. On the side, mashed potatoes are a must, as are the classic holiday biddies: Sweet potatoes, green beans, Brussels sprouts -- all of which can roast alongside the pork in the oven (or warm up if you made them in advance). Pro tip: have some tortillas and shredded cheese on hand for the next day's leftover pulled pork quesadillas.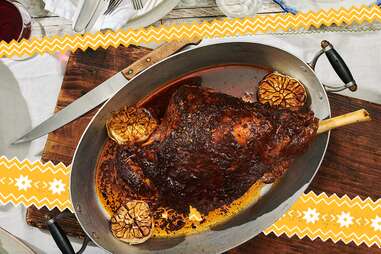 Lamb
The prep: Maybe you're feeling like taking on a challenge this holiday — or, maybe, you want to make dinner at home feel a little more special. "Lamb is a great way to showcase something new and delicious over the holidays," says Jason Ganahl, owner of Denver's GQue BBQ. "Much like a great cut of beef, you want the meat to shine and not be overpowered by any seasonings." Seek out a sustainably raised cut for the best flavor, then season simply with just Kosher salt and black pepper. "If you're feeling a bit more adventurous, garlic and herbs, such as rosemary and thyme, complement lamb nicely," he adds.
The temp: Just like a good steak, you can roast lamb to your preferred doneness: rare, medium, or medium-well. Medium rare to medium is usually the most popular, and getting that perfect pinkness is easy with a smart thermometer like Yummly's (it will tell you the best temp to cook to right in the app.) For Ganahl, he serves leg of lamb at 135 degrees.
The accoutrements: As a self-proclaimed meat and potatoes guy, Ganahl pairs garlic
mashed potatoes or roasted baby potatoes with his lamb. Glazed carrots would also be a nice addition for color contrast. To drink, he'd go either with a light California chardonnay or a rich cabernet.
Beef Brisket
The prep: Even if you're only "hosting" your immediate family, buy more brisket than you think you'll need, especially if you want tender meat. (Which, of course you do.) "Shoot for about half a pound [of] uncooked protein per person, and then add a pound or two for leftovers. Don't go under three pounds or you might get a dry brisket," says Cassidee Dabney, executive chef at The Barn at Blackberry Farm. Dabney, a self-described sucker for braised brisket, has a foolproof method, too. She leaves the fat on, then seasons with salt and pepper. From there, sear on both sides in a large, oven-safe Dutch oven or cast iron pan. Remove the brisket from the pan and layer in more flavor in its juices: caramelize some onion and carrots, then add a few heads of garlic cut in half, bay leaf, thyme, paprika, raisins, and a half a stick of cinnamon. Once those are toasted, spoon in some tomato paste for even more umami and deglaze the pan with red wine.
Once that cooks down, add a few cups of beef broth and put your brisket back in, then set it in a 275-degree oven to braise.
The temp: You can't rush good brisket. This cut is done once it reaches an internal temp of 190 degrees on your thermometer, which will be about three hours. (The exact time will depend on how big your cut is, though!) From there, it should be left to sit and absorb its juices for at least an hour.
The accoutrements: When you braise brisket, you want sides that will nicely soak up all that braising liquid. (Before serving, skim the fat off and strain it for a professional au jus.) Dabney recommends adding roasted potatoes or cheesy grits, sauteed greens or mushrooms, and a dollop of creme fraiche with fried kraut or pickled beets. That braising liquid will also keep the leftovers tender, so don't toss it.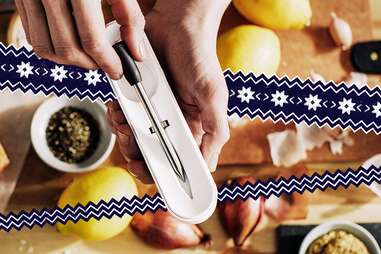 Whole Roasted Fish
The prep: Whether you're a pescatarian, or an Italian-American missing the normal Feast of the Seven Fishes on Christmas Eve, roasting a whole fish is one way to bring some festiveness to a smaller table this year. Opt for something that is medium in size and will pair well with autumnal sides, like sea bass, branzino, or red snapper. Then, start by patting the skin dry with a paper towel. "To me, the best part of fish is the crispy skin, and you need to make sure you remove the excess moisture before seasoning and cooking," says chef Leah Cohen, owner of New York's Pig & Khao. "Season [with salt] inside and out, and stuff the fish with any aromatics [or] herbs you like. Lemon, garlic, lemongrass are all great options."
Cohen starts by brushing the skin with some sort of fat, typically canola or olive oil. "This will help get the skin crispy. Then, place it in a 400-degree oven sans any wrapping or covering with tin foil — doing that will steam the fish, rather than roasting it. "If you like, before removing the fish from the oven, you can flash broil the skin to get it extra crispy," she adds. If you don't have a broiler, Cohen also recommends heating sesame oil and pouring the hot oil on the skin for a nice crispy finish.
The temp: "For a 2-pound fish, I'd cook it at 400 degrees for 30-35 minutes," Cohen says. The internal temp should reach 145 degrees to ensure the fish is fully cooked and the flesh is flaky.

The accoutrements: Go lighter with these sides so the fish isn't overpowered. "Rice. Always rice. I eat everything with rice," Cohen says. Fresh lemon to spritz on the fish is never a bad idea, as are autumnal salads or braised greens.

Duck
The prep: A whole roasting duck typically weighs 4-5 pounds, about the size of a large chicken, and its generous fat content ensures that it's moist and juicy, unlike some smaller turkeys. That makes it ideal for a smaller gathering at home. "I like to make sure to get rid of any excess skin and fat in the cavity or around the neck. There can sometimes be extra skin you don't necessarily need," Cohen advises. From there, she lets it dry uncovered in the fridge, at least overnight. "The best part of duck is the crispy skin, so the dryer the better," she says. "You can also lightly score the skin on the duck to help it get crispy." For an extra sheen, Cohen sometimes rubs the duck with a little honey on the outside before cooking, too.
The temp: Cohen starts her roast out at a high heat, around 450 degrees, for the first 20-30 minutes. From there, she turns it down so it can cook low and slow for about three hours, until the duck is tender. Like other poultry, duck must reach 165 degrees to ensure it's fully cooked.
The accoutrements: Duck fat is one of the tastiest additions to any roasted side dish, so don't let it go to waste. Use it to roast some potatoes and root vegetables alongside your meal for a holiday dinner that would impress the pros.